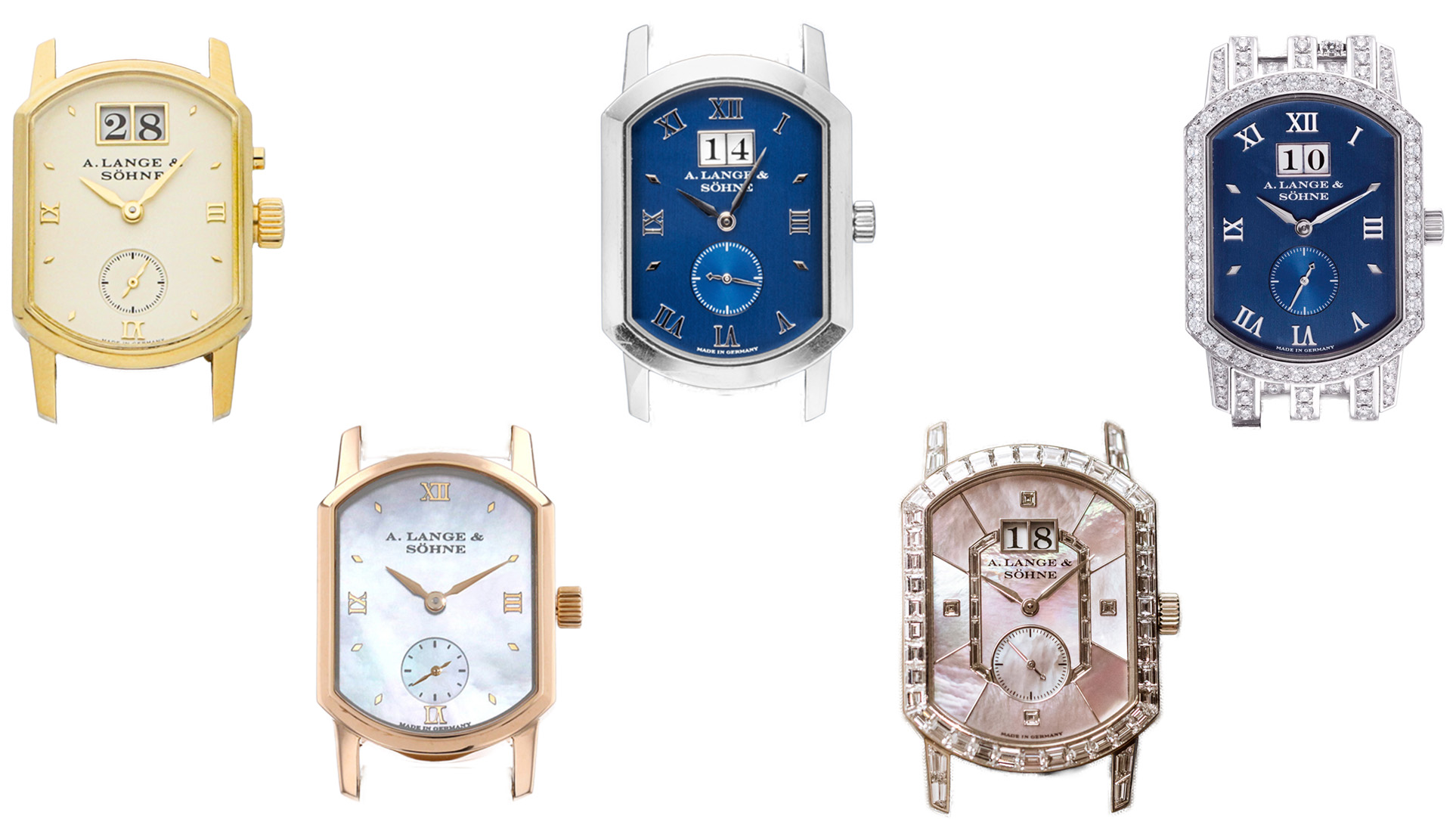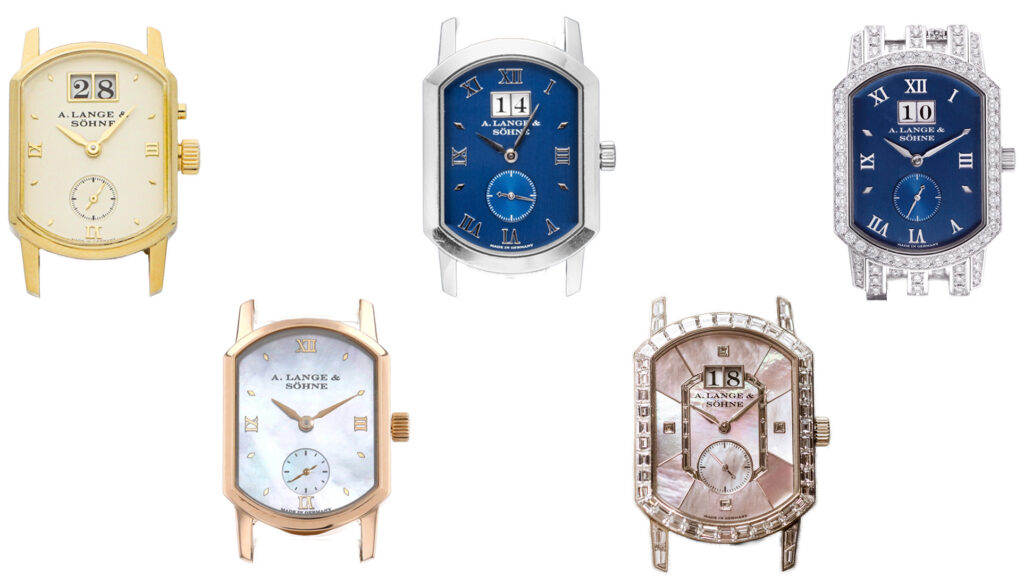 An In-depth Look at A. Lange & Söhne Arkade
Throughout the centuries, Dresden's marvels have inspired men and women alike. Home to some of the world's finest musicians, painters, and artists since the 17th century, Dresden continues to captivate those who gaze upon its baroque wonders, including the Zwinger Palace, Taschenberg, and the renowned Frauenkirche. Such creations have inspired thousands, including A. Lange & Söhne, who brought the A. Lange & Söhne Arkade to life in 1994 as part of their inaugural collection.
A strong start paves the way for success. It provides customers with something to believe in, something to follow, something to be a part of. It signals a promise. Consider where Lamborghini would be without the 350GTV or Porsche without the groundbreaking introduction of the Type 356. A. Lange & Söhne's introduction was equally trailblazing.
Each piece in the 1994 collection was designed to appeal to a specific type of connoisseur. The Tourbillon Pour le Mérite was for the high horology enthusiast, signaling the brand's future innovations. The Lange 1 was for the eccentric collector who sought something unique and exquisitely beautiful. The Saxonia was for the classic collector with a twist, rooted in history. And the Arkade was for the discerning ladies who appreciated both watchmaking and style beyond diamond-studded bezels.
To dissect this information, we begin by looking at how the earliest watches from A. Lange & Söhne were presented to the market by examining the original catalogues. In these printed tomes, we find key pieces of information that still hasn't made it into digital sphere but offer valuable forensic clues to why the manufacturer decided to extrapolate this new release into four different versions with separate reference numbers.
The classic Arkade, launched in 1994 in yellow gold, measures 29 x 22 mm with a relatively substantial thickness of 8.7 mm. Its almost tonneau-shaped design, reminiscent of the arcades in Dresden Castle (or perhaps inspired by Bologna's famous walkways), was where A. Lange & Söhne drew its inspiration on the night of October 24, 1994.
The Arkade is constructed in the classic A. Lange & Söhne fashion, featuring a three-step design with a broad case band, a thinner case back ring, and bezel. It resembles the first-generation Saxonia but in a smaller size, and from the profile view, the Arkade appears like a biscuit, concealing its exquisite craftsmanship within. Its lugs are slender and adorned with multiple facets, perfectly contributing to the Arkade's sleek architecture with fully polished surfaces.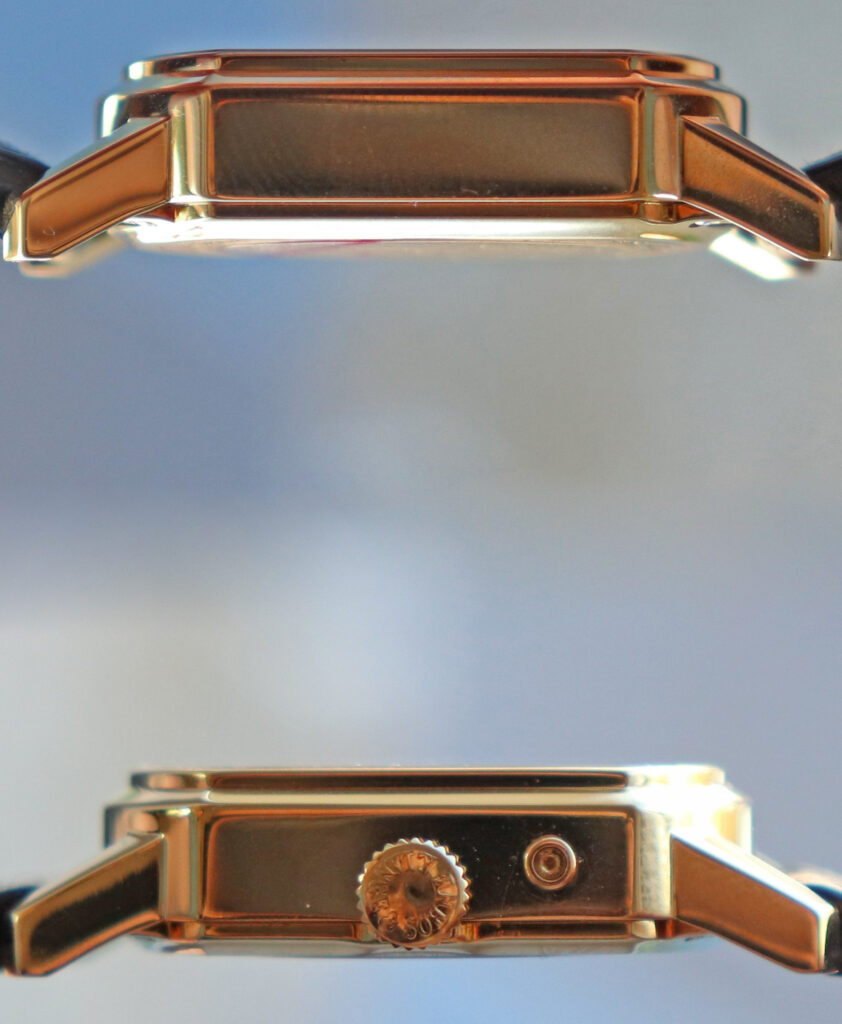 Lange Arkade from the profile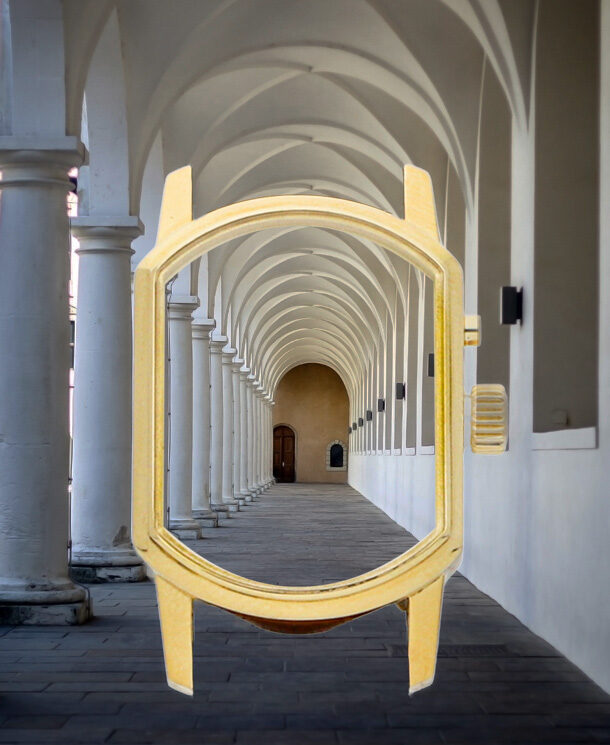 Dresden's famous Stallhof
The Grand Arkade collection measured 38 x 29.5 mm, a significant increase from the standard variants. With the larger size and the same caliber, the dial elements became more pronounced to fill the space, which, in my opinion, compromised the Arkade's elegance.
Below is a list of the main Arkade references with various case and dial combinations for reference:
103.001 – Yellow gold / Champagne dial, closed back (1994 – 1998)
103.007 – White gold / Blue dial (1997 – 2002)
103.021 – Yellow gold / Champagne dial, open back (1997 – 2009)
103.025 – Platinum / Silver dial (2005 – 2007)
103.035 – Platinum / Black dial (1999 – 2009) • 104.001 – Yellow gold / Silver dial with blued hands and printed numerals (1994 – 1995)
801.001 – Yellow gold / Champagne dial with a brilliant diamond bezel and solid back (1995 – 1997)
As is typical with Lange, the Arkade was also available with a bracelet, diamond bezels, mother-of-pearl dials, and pave diamond dials. A similar list applies to the Grand Arkade collection, with references starting with 106.xxx.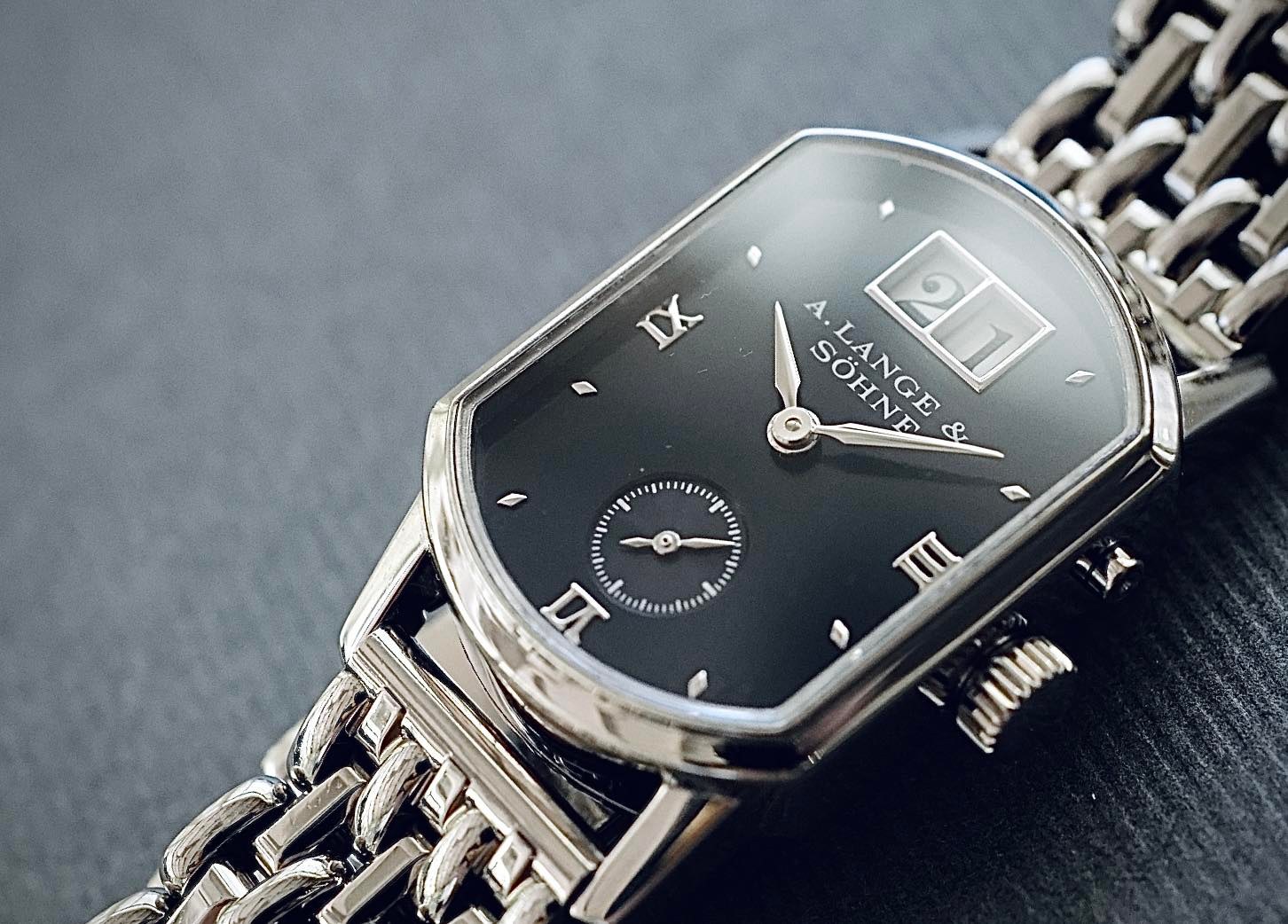 Courtesy of a great collector and a client. Lange Arkade with blue dial and Wellendorff Bracelet.
When examining the 1994 collection, we can observe that A. Lange & Sohne employed the same dial layouts for most models, featuring a traditional aesthetic with prominent Roman numerals and diamond indices. Except for the Lange 1, I believe the Arkade is the most visually appealing watch with such a layout. The negative space on the dial, combined with the case's curvature and the subtle indices, make the Arkade a true gem for women, even without gem settings, which, in my opinion, enhances its appeal.
The signature big date occupies a prominent position, becoming the most eye-catching element on this relatively small dial. Along with the flat A. Lange & Sohne logo below it, the upper portion balances the small seconds subdial below.
In contrast, the Grand Arkade attempts to fill the extra space with Roman numerals at 5-7 and 11-1. However, like the first generation of the Grand Lange 1 or the Grosse Langematiks, these efforts, in my view, disrupt the proportions of the piece, making it less desirable.
Grand Arkade (left) vs. the original Arkade
In the early 20th century, watchmakers sought to create movements as compact as possible to showcase their engineering prowess and create discreet timepieces. One of the most famous examples from that era is undoubtedly the Jaeger-LeCoultre caliber 101, introduced in 1929. Imagine, without CAD or CNC technology, producing thousands of movements with dimensions of only 14 mm in length, 4.8 mm in width, and 3.4 mm in thickness, all while maintaining chronometer-level accuracy. Impressive, to say the least.
I mention this because the caliber L911 is itself a marvel of engineering that is often overlooked. The L911 measures 25.6 x 17.6 mm and has a thickness of 4.6 mm. Within this compact layout, it incorporates a big date mechanism, which is a power-intensive feature on such a small movement, yet it still offers a remarkable 42 hours of power reserve. Here's a quote from a respected collector:
"In fact, I am not at all convinced that the 941 and 942 (used in the Saxonia and 1815, respectively) movements are not similarly derived. This suggests that being the first and the smallest, the Arkade's 911 might be considered the most sophisticated of this group of four, further solidifying Lange's commitment to offering a ladies-sized watch that competes with the best in the world. The movement runs at 3Hz and exhibits all the expected Lange design touches: thorough jeweling (30 jewels), a screwed balance with an engraved cock and goose-neck fine adjuster, as well as brilliant red rubies, gold chatons, and deeply blued screws."
One interesting note about this caliber is that the first-generation Saxonia with closed backs also used the L911 until their backs were replaced with glass to showcase the new series of calibers. Therefore, don't be surprised when you open a first gen Saxonia and find a rectangular movement inside!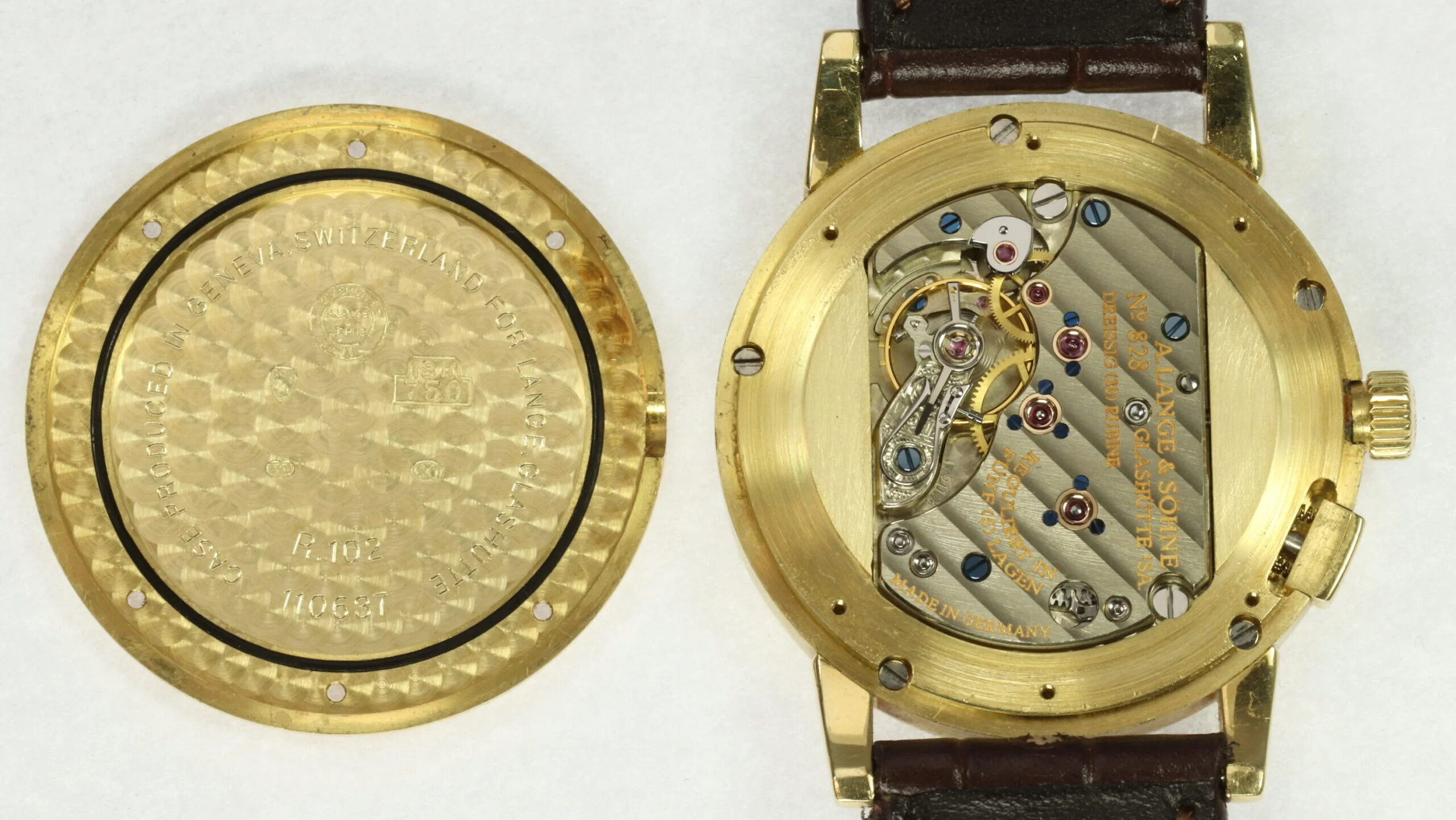 The first generation Saxonia with caliber L911 beating beneath the gold. Read more at Saxonia chapter.
For this section, once again, I am going to refer to one awesome collector (SteveG's Launchpad) and his views of this gem, who purchased one for his wife. A perfect summary:
"On a personal note, I decided to purchase this watch for my wife after finding myself thoroughly charmed by my own Lange watches, and further that I didn't want it to be just another piece of mechanical jewelry. For this reason, I chose the color combination of my 1815 model, and because it has the plain, rather than jeweled, bezel, I have emphasized to her that although it is a fine watch, perhaps the finest current-production ladies' watch available, it is understated and durable enough for everyday wear. If for some reason this line of thinking fails, I can take comfort in the realization that the Arkade's dimensions would make it entirely at home amongst the rectangular watches typical of 50 or 60 years ago, designs I am also fond of, and which fit my smallish wrist quite well…"
In between many references from the main collections of the brand, A. Lange & Söhne Arkade stands as a hidden gem that embodies the perfect fusion of elegance, engineering prowess, and timeless design.
As we explore its history, distinctive features, and aesthetic allure, it becomes evident that the Arkade's allure transcends the boundaries of mere timekeeping. With its limited production, unique dial layouts, and the sophistication of its movement, the Arkade commands not only the attention but also the admiration of discerning collectors. For those who appreciate both the art and science of watchmaking, the Arkade remains a coveted addition to any collection, a testament to the enduring legacy of precision craftsmanship and design innovation.
Especially in our time, where most ladies' watches just focus on ostentatious displays, and not much else. Arkade, with its many faces, is there to be enjoyed.
I hope this was a valuable guide for whomever is looking for a Zeitwerk model or just want to learn the details and history of these pieces. If you'd like to chat, sell or buy a Zeitwerk, please kindly reach out to me via [email protected]
Please feel free to contact:
Follow Langepedia on Instagram:
Watch "A. Lange Story" Documentary, in partnership with WatchBox:
Sign up for the newsletter to get to know first about rare pieces at Marketplace and in-depth articles added to the encyclopedia, for you to make the most informed choice, and first access!