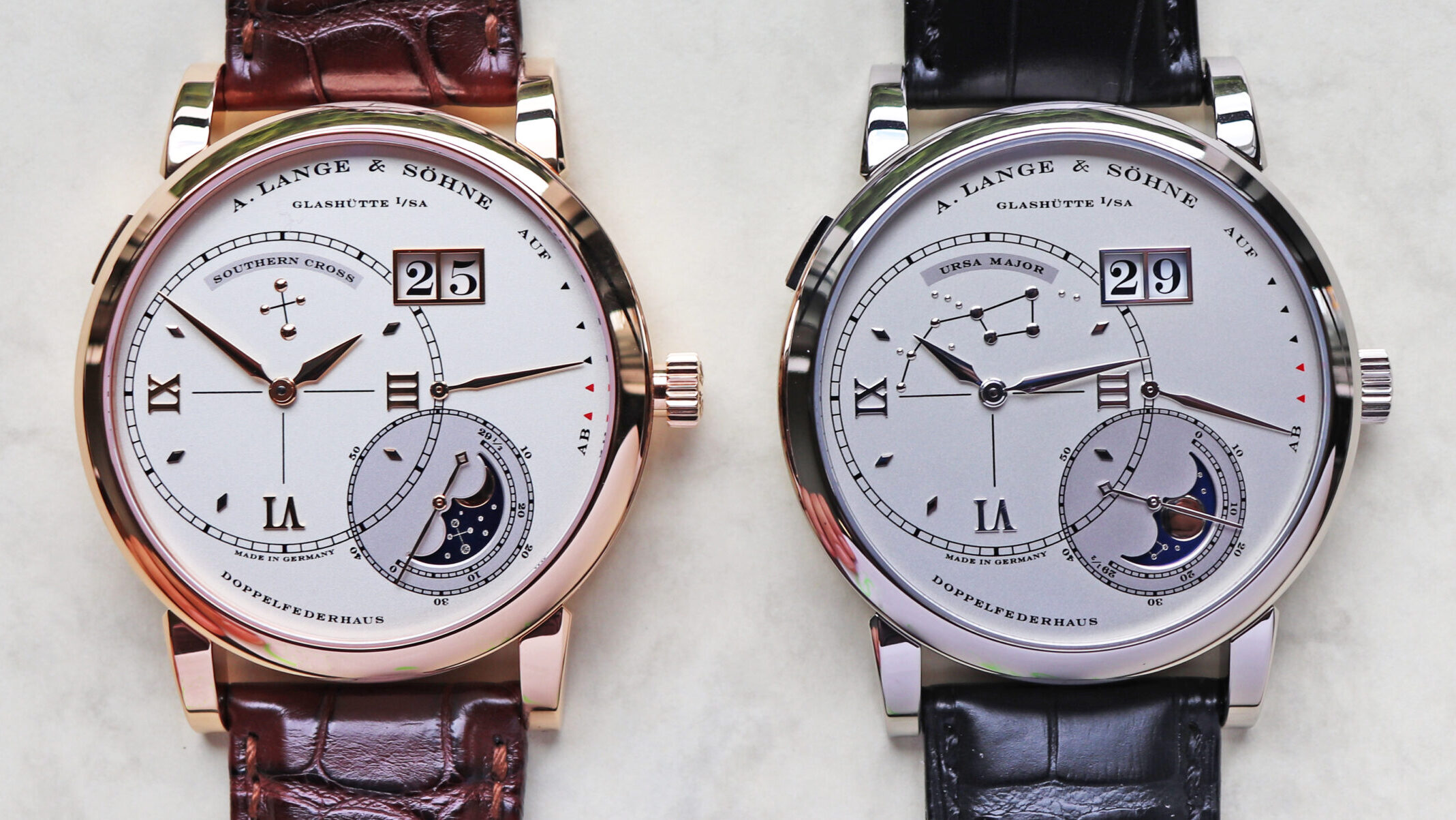 A. Lange & Söhne Grand Lange 1 "Luna Mundi" Set
Throughout its 27 years of modern existence, A. Lange & Söhne introduced a myriad of couple's editions / sets. One can immediately think of the more prominent ones such as the Lange 1 20th Anniversary pieces or the more recent Lange 1 25th Anniversary Box Set. But there are some hidden gems from the early days of the brand – such as this one here: Grand Lange 1 Luna Mundi.
This is a watch that is based on a compromise (more on that on the movement section), yet it exudes an utterly strong identity. A bit peculiar should I say. It looks like a jammed Lange 1 with overlapping sub-dials and seemingly random stars. Yet, the merge of such strange elements brought an inimitable character to the Grand Lange 1 Luna Mundi set. Thus, before deep-diving into this special edition, I think it would be useful to discover Grand Lange 1 itself.
Until 2003, the biggest watch in A. Lange & Söhne catalogue was the Datograph, measuring 39 mm in diameter. On the other end of the spectrum there was Arkade with 29 mm, obviously oriented towards the ladies' market. However, the fashion was changing. The 40+ mm watch market was becoming too big to ignore and A. Lange & Söhne started to venture into the area.
Arkade was the first one to get pumped by a whopping 9 mms – transformed into Grand Arkade in 2002. However, Arkade itself was an under the radar piece anyways; hence, A. Lange & Söhne needed something more substantial and recognizable to show that it wants to cater the mentioned market. In 2003, Lange 1 put on some mass, grew to 41,9 mm from the previous 38,5 mm, thus arrived the Grand Lange 1 with two tone dials, in platinum, pink gold and yellow gold cases.
Grand Lange 1 Luna Mundi was also introduced in 2003 along with the launch of the whole collection – possibly to attract more attention to novelties. The set was introduced as 101 pieces to be sold as couples. Set comes in white gold and pink gold.
Grand Lange 1 Luna Mundi measures 41,9 mm in diameter and 10,4 mm (0,6 more than the standard due to Moon phase module) in thickness. The case construction is standard A. Lange & Söhne: Built on three-levels as the case back, case band and bezel with notched and soldered lugs. The white gold version features a brushed case band whereas the pink gold model houses a fully polished case.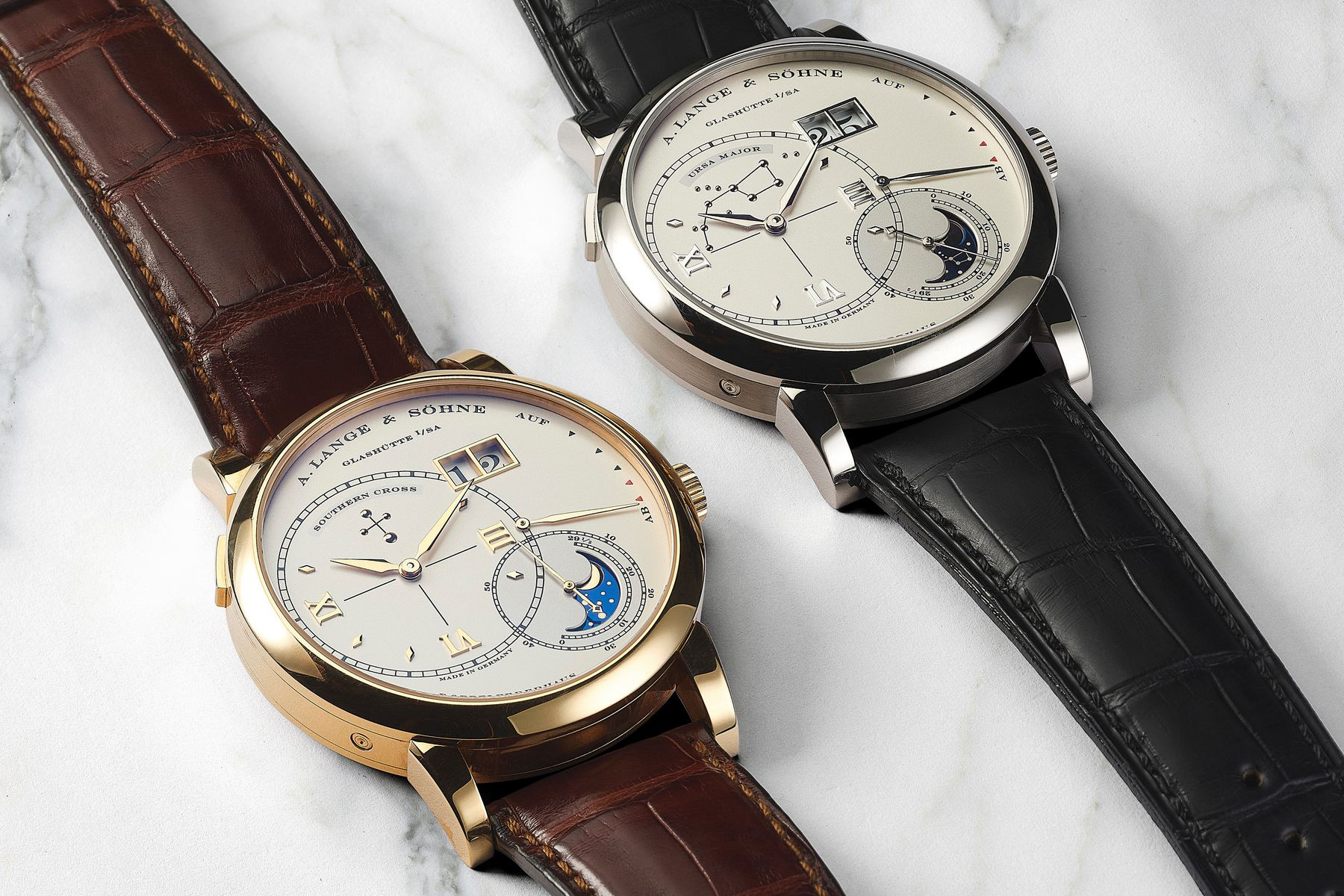 Grand Lange 1 Luna Mundi pair, from Phillips Watches Retrospective Auction back in 2020
However, the star of the show is not the case, not at all. It is this extremely interesting, and if I may say so, experimental dial of the Grand Lange 1 Luna Mundi. Indeed, experimental is the right word to define the brand's early special editions, from 1815 Moonphase Emil Lange to this one here. Experimental because the watch completely departs from the clean and defined lines of A. Lange & Söhne watches, offers something rather chaotic – and that's why it matters.
One of the defining design features of the Lange 1 was that all indications shall be separated and none shall overlap. Certainly, when you look at a Lange 1 piece, you see that the hours / minutes dial sits on its own and the small-seconds' dial cuts just a bit whereas the big date and power reserve have their own spaces. This doctrine was abandoned with the Lange 1 Tourbillon (sub-seconds sitting on hours / minutes dial) and carried to the next level with the Grand Lange 1 collection – especially with Luna Mundi.

As seen from the scale above, first generation Grand Lange 1's pinions sit in the same position with its 3 mm smaller counterpart. A. Lange & Söhne designers obviously wanted to avoid leaving the dial empty, hence tried to fill the dial harmoniously, which brought out something we have never seen again from the Lange 1 collection. Grand Lange 1 Luna Mundi adds the Moon phase on top of the intersecting power reserve, big date, small seconds and hours/minutes indications; increasing the chaos a bit more. Yet; this resulted in something delightful.
A. Lange & Söhne did not introduce the Grand Lange 1 Luna Mundi as a set just only to sell two watches in different metals, no. Infact, the couple completes each other: Pink gold (119.032) features a Moon phase indication for the Southern Hemisphere whereas the white gold (119.026) for the Northern Hemisphere. The pink gold Luna Mundi features Southern Cross on the hours / minutes dial, whereas the white gold features the Ursa Major (Big Dipper) constellation.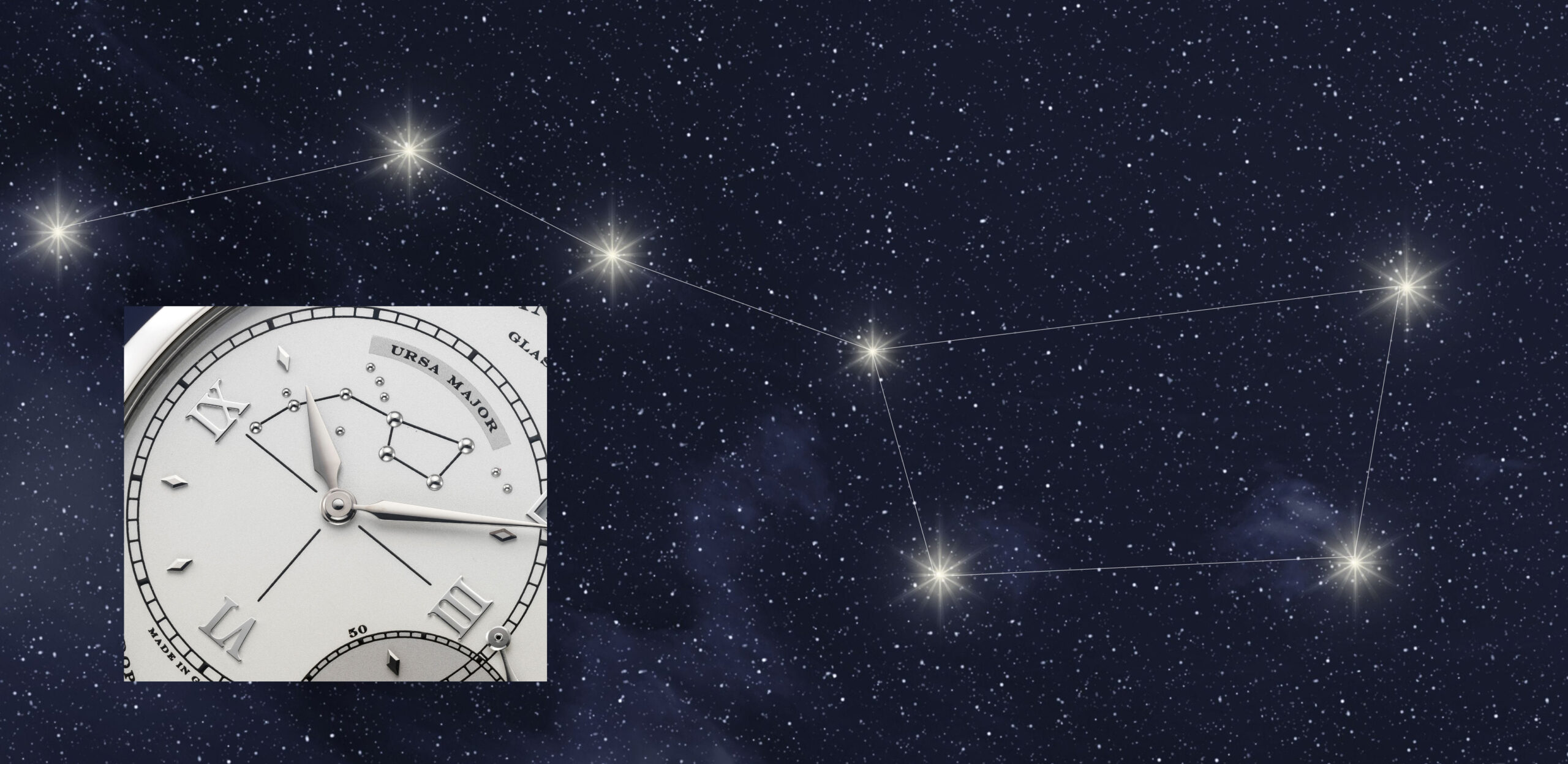 Another lovely detail on the Luna Mundi dials is the usage of two-tone. Grey color perfectly complements the dark blue Moon phase disc and attracts attention more to where it matters. Though I must say that I do not like the fact that the big date windows are relatively small, hence looks out of place. By now you're probably wondering, why is the dial is so out of the place then? Right, and the answer lies within the compromise I have mentioned in the beginning.
One of A. Lange & Söhne's founding principles was one movement – one watch. This was a brilliant marketing strategy which positioned A. Lange & Söhne one step ahead of virtually every other manufacturer who had been utilizing the same movement in many unrelated collections. Albeit the brand stepped on its doctrine just from the start (Saxonia – 1994 utilizing Arkade's caliber), Lange surely deserves a round of applause for having such a rich movement repertoire in a mere two decades.
Alas, following Saxonia, the brand abandoned the mentioned principle once again in 2003 with the introduction of the Grand Lange 1 collection. Instead of developing a new, hence fitting a proportionate movement to the increased diameter, A. Lange & Söhne threw the good old caliber L901.0 of Lange 1 (which was made for a watch measuring 38,5 mm) to its Grand Lange 1 collection.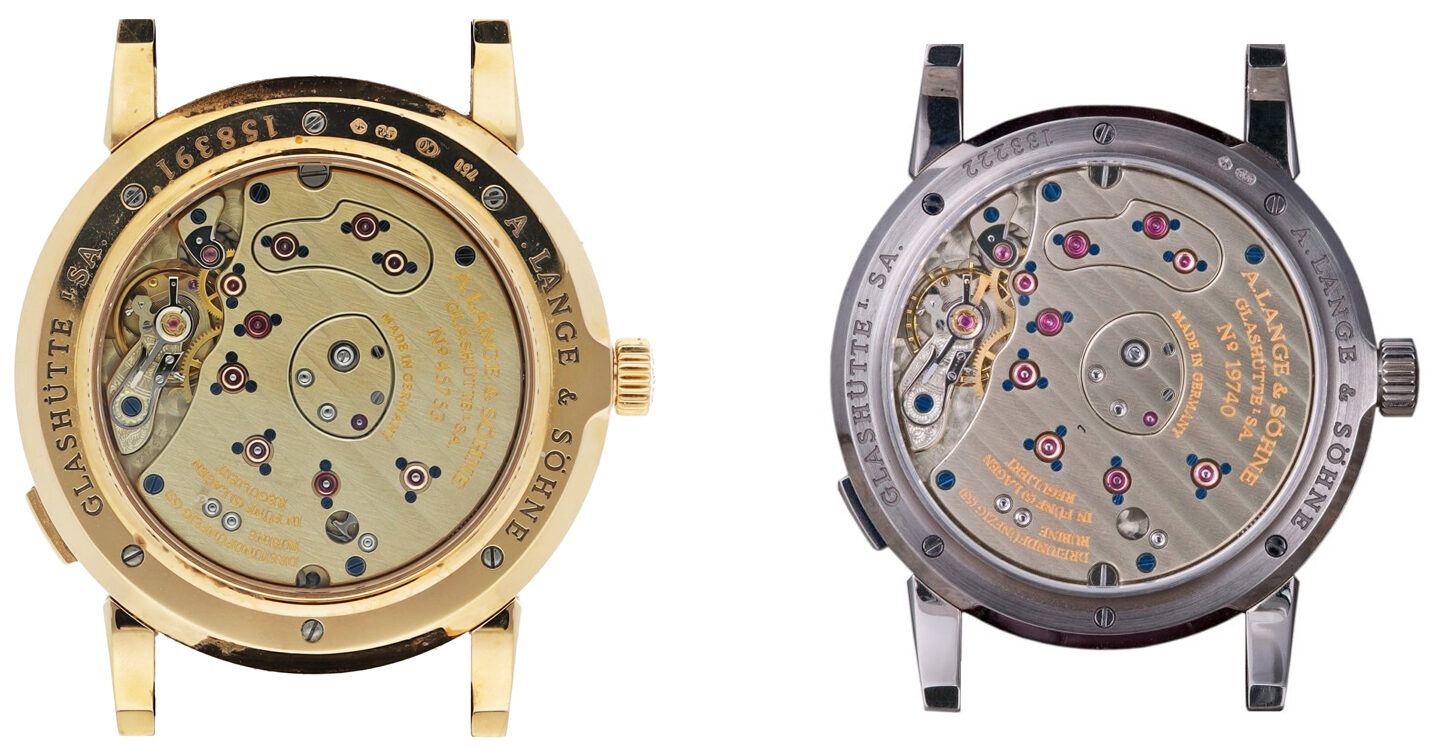 A. Lange & Söhne later introduced a special movement for the Grand Lange 1 Collection
Grand Lange 1 Luna Mundi pieces utilize caliber L901.7 and L901.8 (updates on the base L901.0) for pink gold and white gold models, respectively. Reason for the different caliber references lies in the Moon phase complication. Since the pink gold (119.032) version shows the Moon's phases from the Southern Hemisphere perspective, the reference houses four additional parts (402 parts in total) in comparison to the white gold, Northern Hemisphere model. Grand Lange 1 Luna Mundi pieces feature 122,6 years accurate (if the watch kept running) Moon phase indications.
Caliber L901 is the quintessential A. Lange & Söhne movement with its design, style defining elements such as blued screws, gold chatons, and of course finishing and engraving. Measuring 30,6 mm in diameter, the movement fits superbly to Lange 1, alas not so much to Grand Lange 1, as mentioned. The caliber beats at 3Hz and offers 72 hours of power reserve.
Buying a Grand Lange 1 Luna Mundi
A. Lange & Söhne introduced the pair with a MSRP of $53k in 2003. At the time, the standard Grand Lange 1 models were priced around $22k. This was an understandable premium accounting for the limited production as well as the additional complication. Surely, the Moon phase indication also added more flair to the interesting early Grand Lange 1 dial, hence the piece became a collector's delight in time. It is also important to know that not all of these pieces were sold as sets.
This charm is also reflected in auction / secondary market prices. Grand Lange 1 Luna Mundi appeared at an auction for the first time in 2005 Antiquorum and the white gold model alone sold for $59k. Luna Mundi continued to hold its ground for years to come. The last appearance of the pair was at Phillips' Retrospective Auction and there the couple went for CHF 75,6k.
Grand Lange 1 Luna Mundi is indeed a special pair and a representative of A. Lange & Söhne's early experimenting spirit. It is a piece that the modern brand would never do, and even just because of that, it deserves special attention. With the recent rise in interest towards A. Lange & söhne, this special pair surely broke through its last auction results with an ask price rising towards the north of $100k.
Thank you.
I hope this was a valuable guide for whomever is looking for a Grand Lange 1 / Luna Mundi or just want to learn the details and history of these pieces. If you'd like to chat, sell or buy a Grand Lange 1 / Luna mundi, please kindly reach out to me via [email protected]
Please feel free to contact:
Follow Langepedia on Instagram:
Watch "A. Lange Story" Documentary, in partnership with WatchBox:
Sign up for the newsletter to get to know first about rare pieces at Marketplace and in-depth articles added to the encyclopedia, for you to make the most informed choice, and first access!