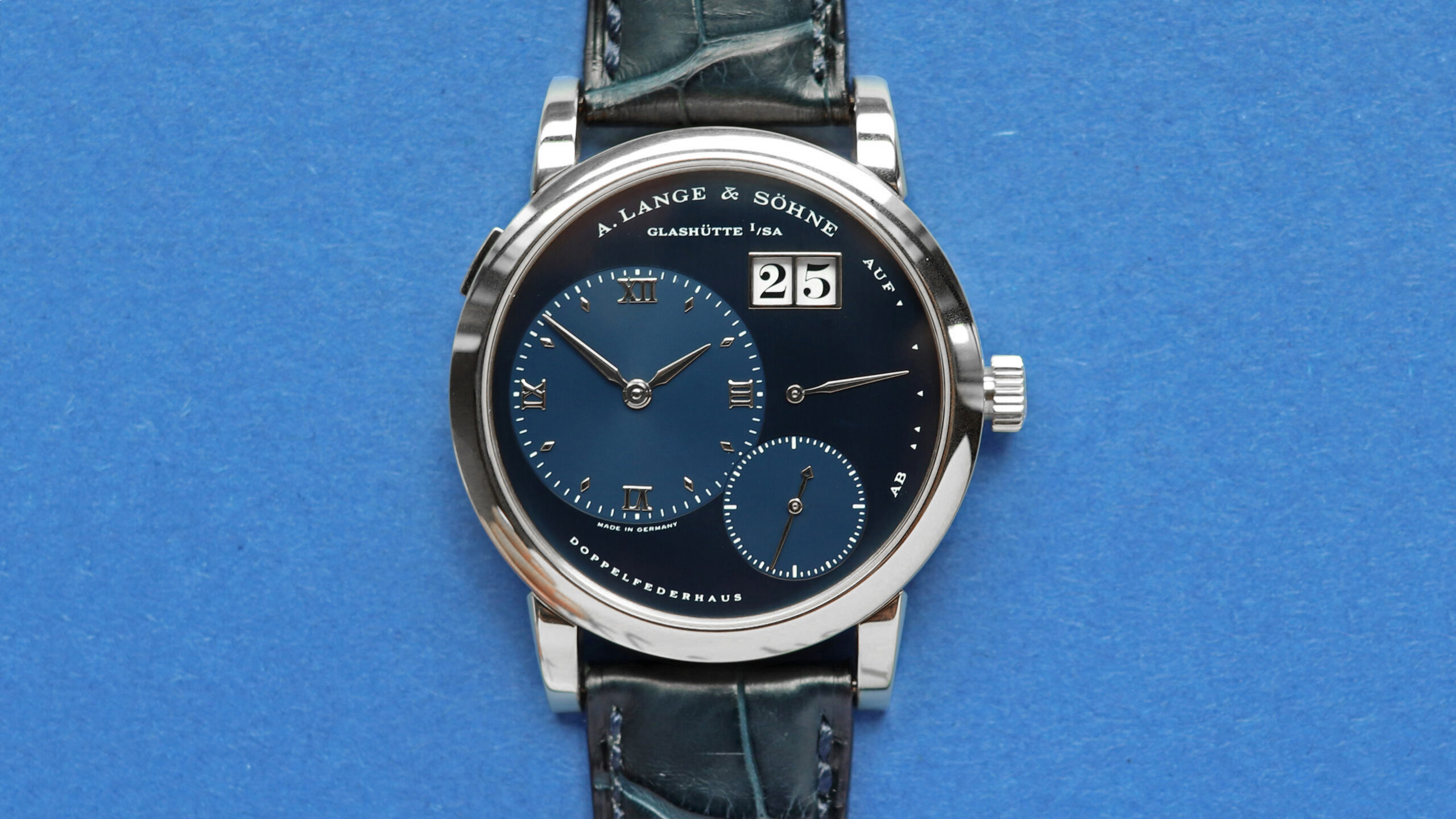 Understanding Lange 1 "101.027"
July 2022 / by Anders B. Kiertzner
As we are closing in on the 30th anniversary of A. Lange & Söhne, the interest and scrutiny from scholars, collectors and enthusiast alike has taken off in a serious way. Demand for particularly the early and complicated models have skyrocketed over the past couple of years, and although some would argue that the manufacturer is just the latest victim of a speculative hype machine artificially boosting one haute horology brand after the other, we here at Langepedia welcome the surge in interest.
Because contrary to other brands, the scholarship of this Saxonian Lazarus is a fairly young discipline and what we are currently witnessing is no more than a long-awaited critical mass of a growing fanbase seeking more precise and granular information in an attempt to grasp the extraordinary levels of ingenuity that has propelled A. Lange & Söhne since the very beginning and inadvertently confined the brand to a coming of age lasting more than a quarter century.
Let's return to a classic and take a closer look at another early Lange 1, the ref. 101.027.
The Lange 1 ref. 101.027 was in regular production from 1997 to 2002 and priced at 27.000 Euro or 31.800 USD at the year of discontinuation. The watch features a traditionally sized 38,5 mm white gold case with exhibition case back, a blue, vertically brushed dial with white gold hands and hour markers and white date discs with black printing. The watch was delivered on a black crocodile and calf leather strap fitted with a white gold pin buckle.
Throughout its production run, the ref. 101.027 was powered exclusively by the original Lange 1 movement, calibre L901.0, which was based on the gear train from Jaeger-LeCoultre's calibre 822. Later in 2017, the watch was reintroduced within the scope of the "Blue Series" as ref. 191.028 with an updated movement and dial finish.
By now, regular readers of Langepedia will have chewed through these paragraphs a couple of times since the mechanical and proportional specifications of all Lange 1s pre-2015 are of a similar ilk. But the ref. 101.027 is a different beast altogether and deserves our full attention, not only because it was the first white gold Lange 1 or because it was the first Lange 1 with a blue dial, but because it marks a seminal period of transition that would forever impact the design of the Lange 1. Case in point, when the model was introduced in 1997, it was made available in no less than four different versions with four distinct reference numbers, namely 101.007, 101.027, 151.007 and 151.027.
To dissect this information, we begin by looking at how the earliest watches from A. Lange & Söhne were presented to the market by examining the original catalogues. In these printed tomes, we find key pieces of information that still hasn't made it into digital sphere but offer valuable forensic clues to why the manufacturer decided to extrapolate this new release into four different versions with separate reference numbers.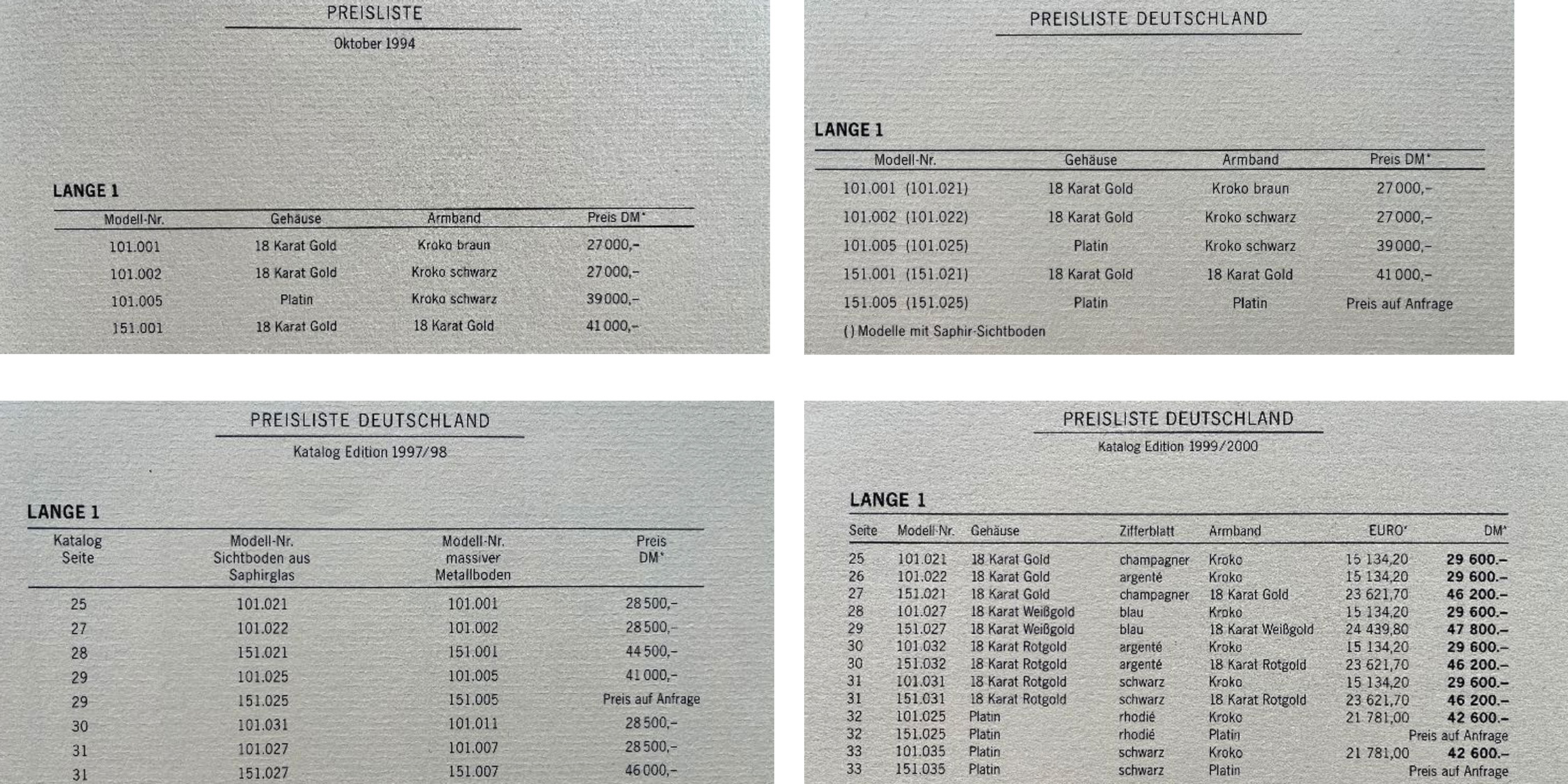 Lange catalogues from 1994, 95/96, 97/98 and 99/2000
In 1994, A. Lange & Söhne only offered Lange 1s with a solid, precious metal caseback, which carried the single-digit reference numbers 101.001, 101.002 and 101.005, respectively.
In 1995/1996, the manufacturer added the option of Lange 1s with a display caseback, which carried the two-digit reference numbers 101.021, 101.022 and 101.025 presented as a secondary option in parentheses next to the single-digit references.
Then, in 1997/1998, this hierarchy is inverted, and the Lange 1s with display casebacks and two-digit reference numbers are now presented to the left, with the single-digit, closed caseback options presented to the right, making them appear as a secondary option.
By 1999/2000, there were no longer any solid caseback options available for the Lange 1. Instead, A. Lange & Söhne introduced an assortment of precious metal bracelets produced by the German jeweler Wellendorff, who had been a partner of the brand from the very beginning. Wellendorff also supplied the integrated bracelet option for the Lange 1, which received its own reference number starting with 151. This is the final piece of information we need to put together the full scope of this spectacular model:
101.007 – Lange 1 with solid caseback (available 1997-1998)
101.027 – Lange 1 with display caseback (available 1997-2002)
151.007 – Lange 1 with solid caseback and integrated bracelet (available 1997-1998)
151.027 – Lange 1 with display caseback and integrated bracelet (available 1997-2000)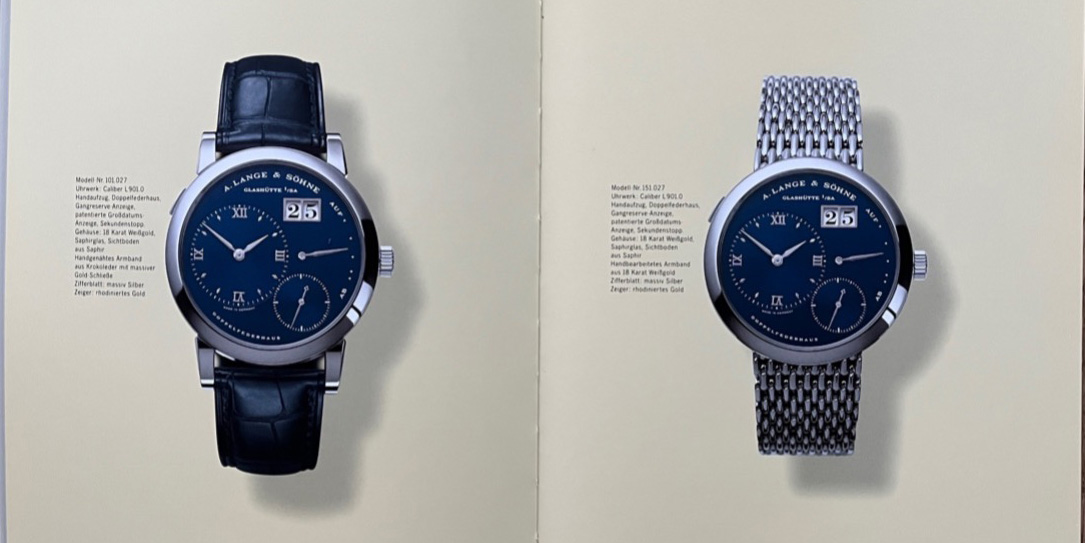 Although both caseback versions were available for purchase throughout 1997 and 1998, we have not seen a factory original, closed caseback ref. 101.007 or 151.007 come to the market, so from what we know today, the rarest version of the four is the ref. 151.027 with display caseback and integrated Wellendorff bracelet, which was discontinued in 2000, two years before the ref. 101.027.
Although we take them for granted today, serially produced watches with display casebacks are a relatively recent phenomenon. If we look outside of Germany, it wasn't until the mid-1980s that Patek Philippe started offering a display caseback option with some of their important, complicated watches like the second series ref. 3970 and 3940.
Even though A. Lange & Söhne is now widely recognized for their exquisite movements and finishing work, the most normal thing a high-end watchmaker could do in the early 90s was to finish the movement, install it in a case and seal it up under a solid caseback. So, to further our understanding of why A. Lange & Söhne transitioned to display casebacks on Lange 1s after only a few years in business, I suggest considering the following contributing factors – disruption, innovation, and adaption.
Throughout the 1970s and 80s, the watch industry saw a massive influx of material and technological innovation. Perhaps the most significant tectonic shift of the era was the introduction of quartz technology in the 1970s, which nearly decimated the mechanical watch industry with its inexpensive and precision-driven approach to watchmaking. This disruption forced the swiss along with the rest of the traditional watch industry to reinvent itself at breakneck speed while still trying to maintain the quality, legacy, and integrity of their manufactures. What came out of these tumultuous times were a set of strategies that would become textbook examples of radical and incremental innovation.
In the 1970s, the big three of Switzerland all released steel sports watches, which was a radical departure from their traditional offering of gold dress watches on leather straps. Moreover, the promotional spiel was remarkably bold and aggressive, as these new watches were marketed not for their craftmanship or inherent material value, but simply because they were made of steel and extremely expensive. The idea of adding a premium to a product that bears no obvious connection to traditional, value carrying traits other than the brand name, was in and of itself radically innovative.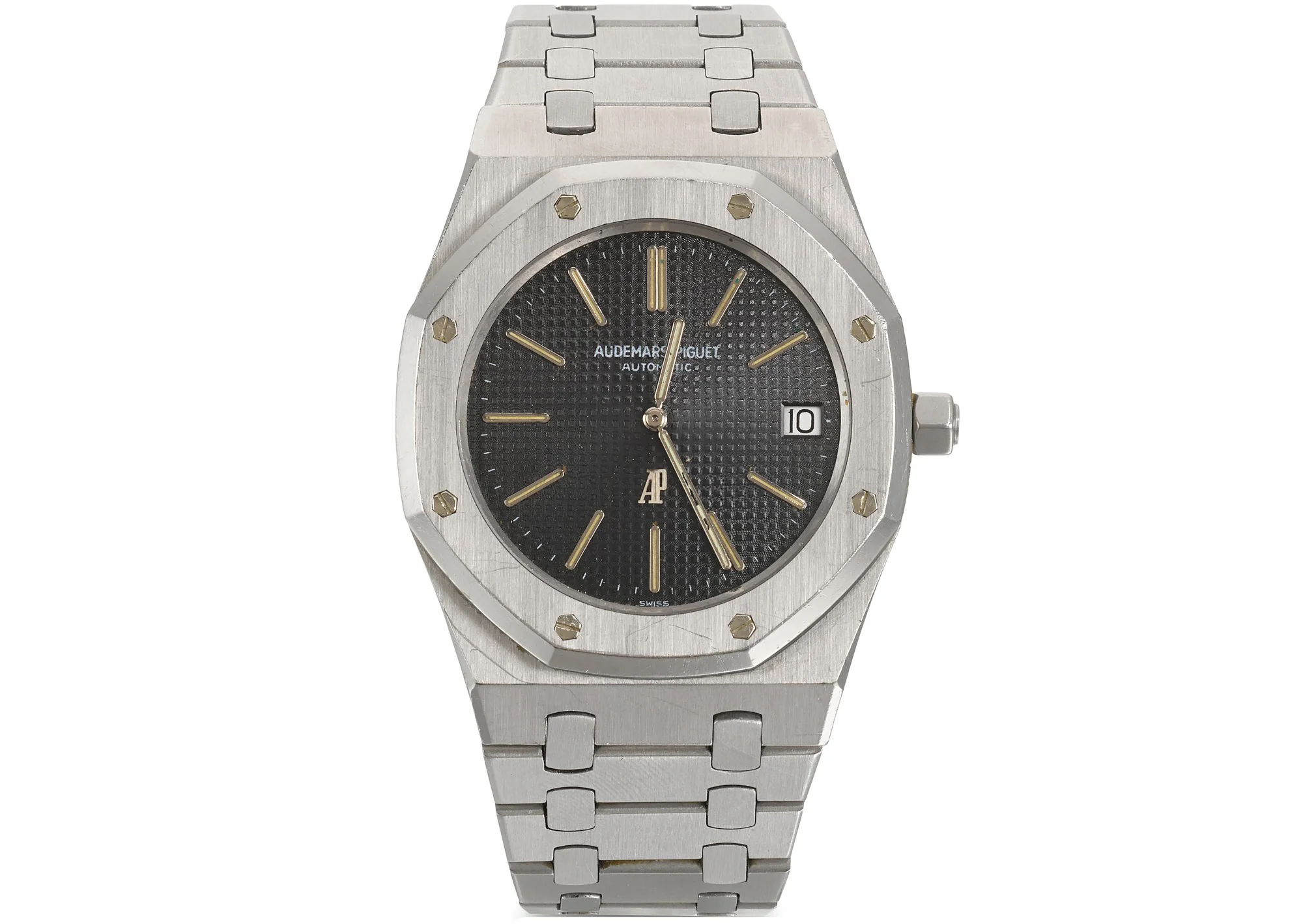 But radical innovation does not come with a promise of fortune and success, so the swiss needed a complementary approach that could produce results both fast and at scale, so through the 1970s and 80s, manufacturers started replacing the acrylic watch crystals with synthetic sapphire, which represented a noticeable upgrade in terms of performance and build quality and was an obvious marketing opportunity that added a sense of both refinement and exclusivity to their existing portfolio of traditional watches.
Moreover, adding a sapphire crystal to the caseback not only cut material costs by removing a coin-sized disc of precious metal, but would also allow the manufacturers to visually remind their customers about one of their greatest assets, the elaborate and
exquisitely hand-finished movements that had been virtually hidden away ever since wrist-worn watches took over from pocket watches in the early 1900s.
In doing so, the swiss hoped to reinstill the notion that true luxury is not just about precision and accuracy, but about maintaining a level of supreme dedication and artistic craftmanship that cannot be matched nor replicated by the quantified immediacy and standardization made possible by modern technology.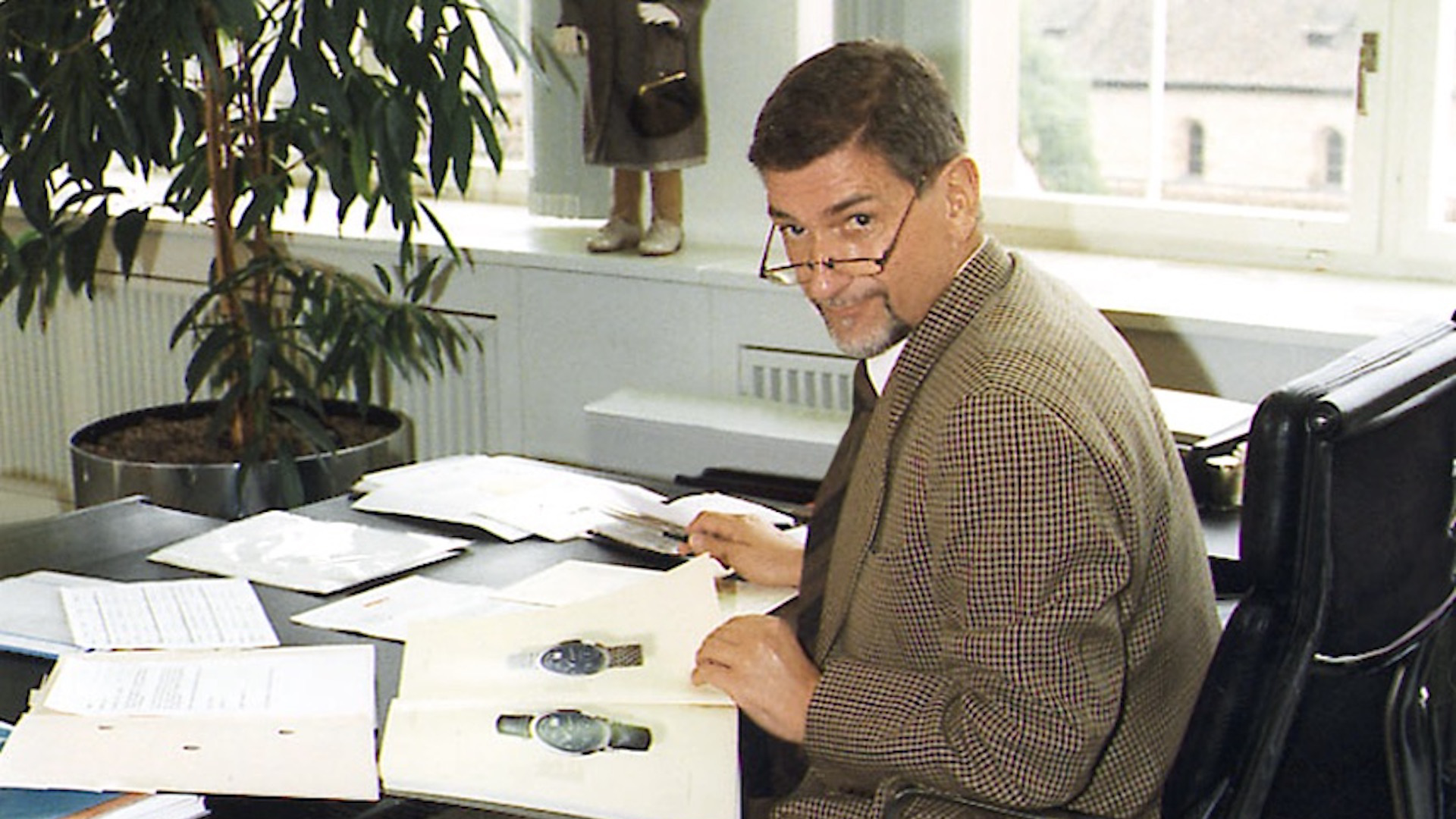 Günter Blümlein, in his office at Schaffhausen, going through the catalogue pictured earlier. Courtesy of Lange Uhren GmbH
The widespread proliferation and adoption of advanced technology in the late 1980s kickstarted an exponential demand for microchips across all industries, which severely impacted the price of gold along with other precious and rare-earth metals used by the semiconductor industry. Looking at historical data, the price of gold started its upwards trajectory in the late 90s and exploded around 2002, followed ever since by a yearly price increase averaging close to 20%.
It is highly plausible that a seasoned industry expert like Günther Blümlein, coupled with the insights from the leadership team of the electronics giant VDO and later Vodafone who owned a part of A. Lange & Söhne, saw this impending shift and opted for a transitional strategy that would reduce the amount of metal per watch over a period of time, so as not to damage the still tender reputation-building of the brand. And just like Patek Philippe in the 1980s, Mr. Blümlein knew the movements he had developed in collaborationwith Reinhard Meis and Kurt Klaus were of the highest quality and more than fit for public display.
Legend has it that, among the many qualities Mr. Blümlein possessed, was one of a true marketing mastermind. By looking back at how A. Lange & Söhne introduced their models through the 1990s, it is clear that the blue dial was intended to become something truly special.
At the time, there were not a lot of blue dial watches around. Manufacturers such as Vacheron Constantin, Piaget and Cartier did limited runs of models fitted with lapis dials and there were a few Rolex-models as well as the aforementioned steel watches from Audemars Piquet and Patek Philippe. But Blümlein wanted A. Lange & Söhne to have a prominent blue dial as well, so he packaged and launched it in a way that would leave no question about its importance: on the face of the 18-piece limited edition, white gold Tourbillon Pour le Mérite ref. 701.007.
Although the dial on the Tourbillon Pour le Mérite ref. 701.007 was a different hue and texture, the reference number set precedence and was carried over to the Lange 1 family in 1997 with the introduction of the four blue dialed models that had a brushed dial finish combined with the circular graining of the subs. The same dial was also featured on the Saxonia ref. 105.027 as well as on the exceedingly rare Lange 1 ref. 101.028 and ref. 111.028, which I covered last year.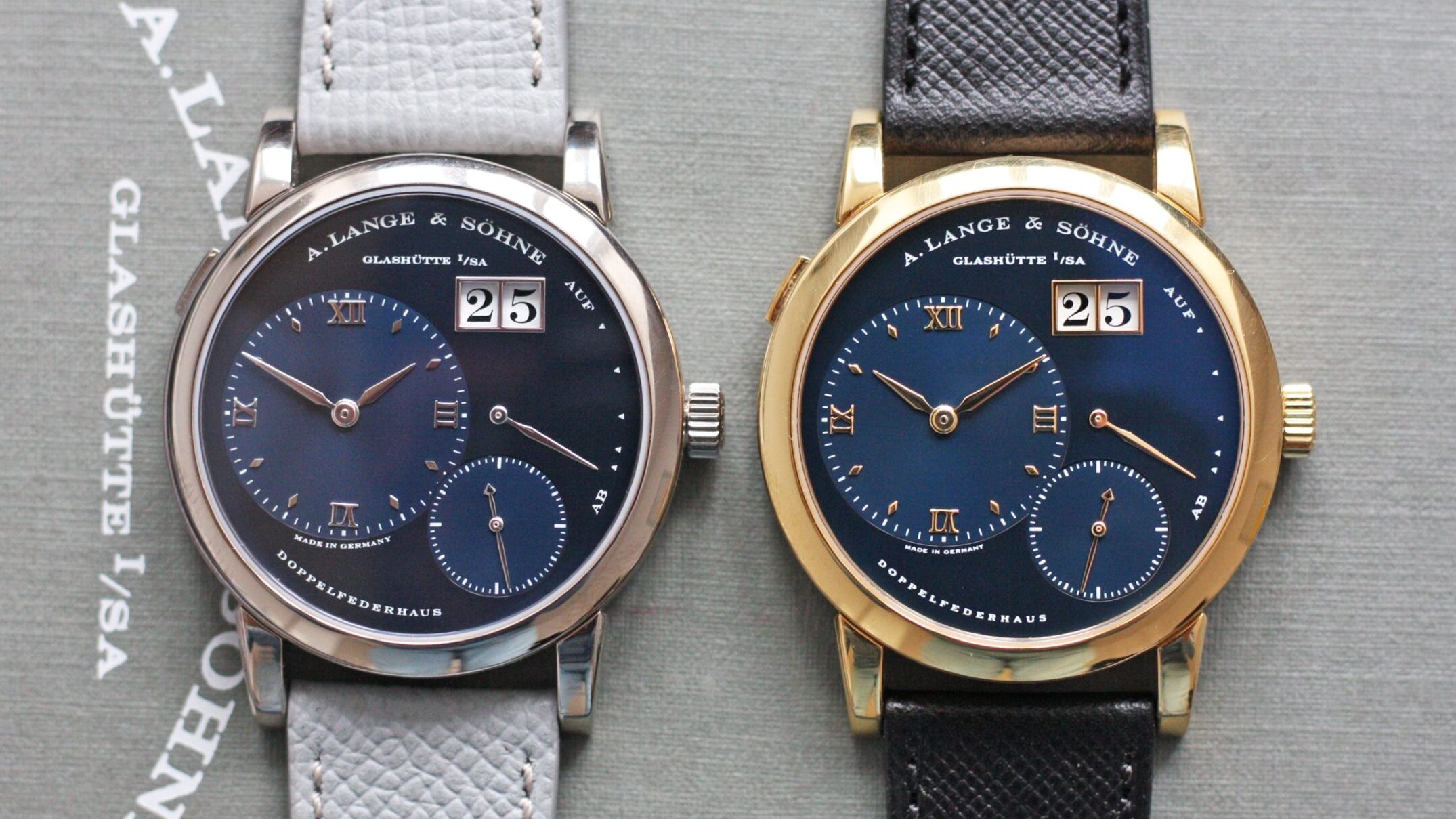 A fine pair of blues. 101.027 (left) and 101.028.
In 2017, the direct successor to the ref. 101.027 was revealed as part of the blue collection and combined a white gold case with a different, evenly textured blue dial. Interestingly, the watch's reference number did not follow the .027-pattern of its predecessors, but instead used the ref. 191.028. At first glance, one could think that this was a subtle nod to the mythical ref. 101.028, but in reality, the .028-reference had already been reused on the Grand Lange 1 reference 115.028 and 117.028 in 2010 and 2012, respectively.
If you want to dig deeper, I highly recommend reading Alp's phenomenal article on the 101.027's inverted sibling, the ref. 101.027X, which is yet another impressive story of how multiple factors can come together to create lore and unexpected appreciation.
And if you want to know just how deep the rabbit hole goes, I suggest looking up the Lange 1 ref. 101.057 that was commissioned as a 25-piece limited edition by Japanese department store Mitsukoshi back in 2010. This white gold Lange 1 features yet another version of the blue dial, with a deep blue hue that almost appears black.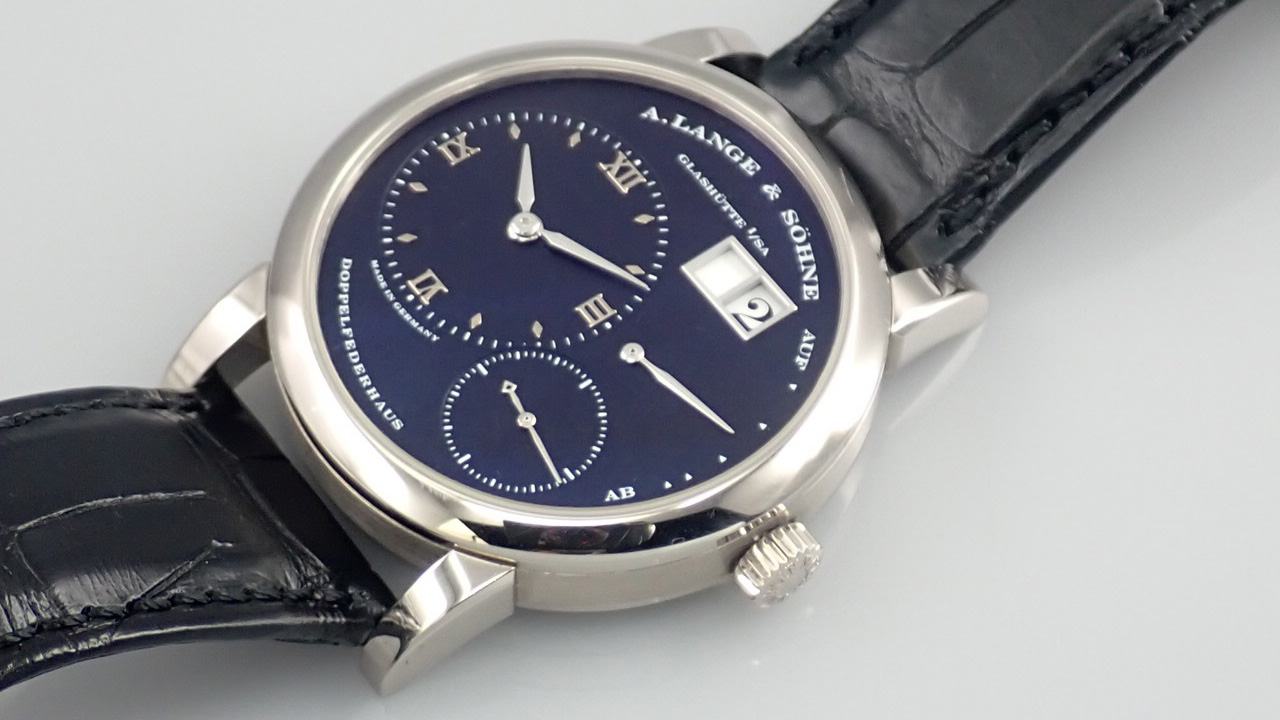 25 pieces limited edition, Lange 1 "101.057" with grained blue dial in white gold case. Courtesy of Commit Ginza.
Buying a Lange 1 White Gold Blue Dial - 101.027
We currently see about a handful of ref. 101.027 come to the market on a yearly basis and the prices appear to have stabilized momentarily around in between $75k – 85k with some exceptions at Phillips auction (as usual), which one example sold at CHF 113k. But with new collectors coming in and scholarship on the rise, I would say that now is the right time to go out and find yourself a 101.027.
With many thanks to Anders B. Kiertzner for this great article.
I hope this was a valuable guide for whomever is looking for a Lange 1 "101.027" or just want to learn the details and history of these pieces. If you'd like to chat, sell or buy an Lange 1 "101.027", please kindly reach out to me via [email protected]
Please feel free to contact:
Follow Langepedia on Instagram:
Watch "A. Lange Story" Documentary, in partnership with WatchBox:
Sign up for the newsletter to get to know first about rare pieces at Marketplace and in-depth articles added to the encyclopedia, for you to make the most informed choice, and first access!