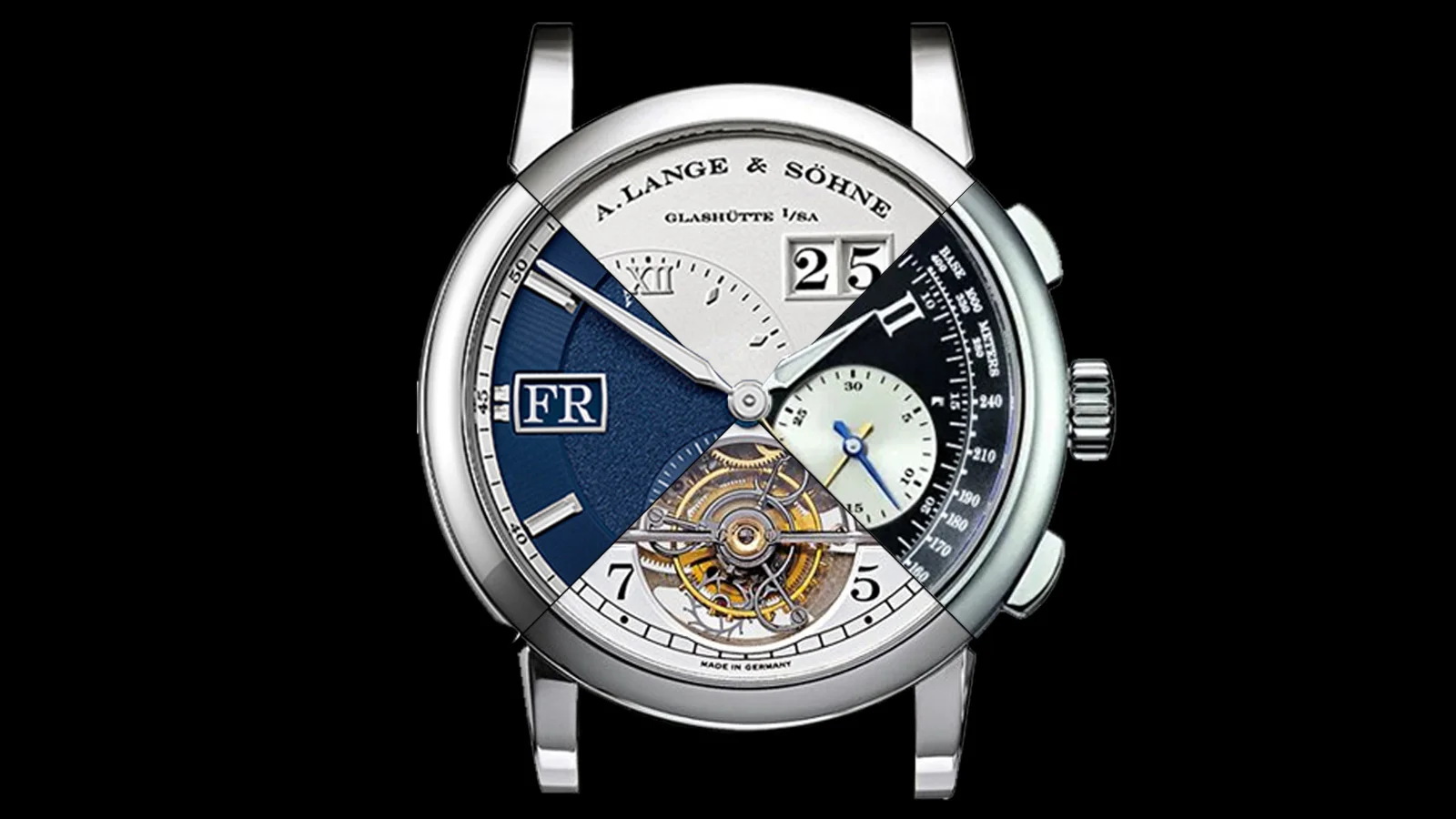 A. Lange & Söhne Stainless Steel Watches
Discovery of A. Lange & Söhne's mythical Steel Watches
The high-quality steel as we know it was first crafted by Chinese (possibly) during the 3rd century AD. Since then, it has served humans in almost every vocation and appliance from guns to screws in your computer and the lid of your desk light… Now who would've thought that this disesteemed metal would surpass the likes of gold and platinum and become the most precious case substance of a certain jewellery industry? It most certainly does not make sense in the first look – after all, it is just steel. Well, it does in its context.
Collecting any object relies on several shared specifications such as rarity, condition, provenance, historical importance etc.. Although each condition has an altering percentage of gravity depending on the situation, most of the time the attention grabber is the rarity. Owning something that the most do not. Hence, this is where the most common alloy in the industrial world comes into a contrasting play within the luxury watch industry.
This is the story of how steel became the collectors' metal, the place of stainless steel in A. Lange & Söhne's production philosophy, an in-depth look at the brand's steel pieces since 1994, and a remembrance to the ones who made them possible.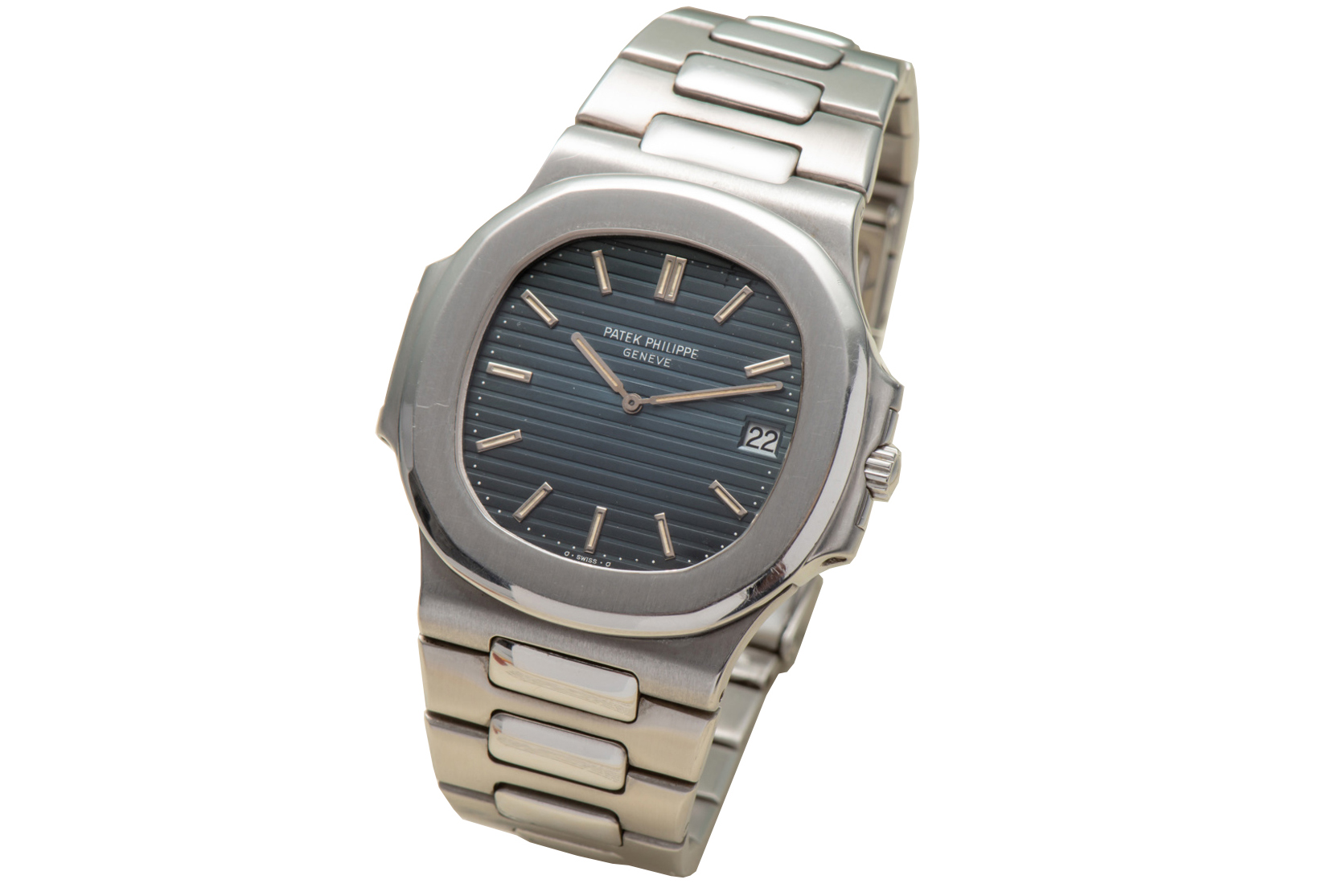 Invention of steel and the humanity mastering its production has a wide gap in between. Prior to the industrial revolution, steel was produced only in low quantities and was very expensive. It was mostly utilized for swords, tools and cutlery. It's only in the 18th-19th century that modern society (mainly Britain as the leaders of the industrial revolution) figured out how to produce the alloy in the industrial scale.
Although plain steel had its place in watchmaking primarily for balance systems, its sensitivity to temperature was causing significant inaccuracies; thus, preventing the utilization of steel in watches. Despite several solutions such as John Harrison's bimetallic strips for his marine chronometers, due to the enhanced steel's hardness (much harder than gold) it was far from industrialization for the watch industry. Ironically, destroying war years would bring the needed advancements in machinery as well as the need from the market (mainly military) and put the steel watches on map.
Steel started to gain popularity mainly with chronographs for military purposes from historic maisons such as Omega, Longines in the 1930s, and a variety of manufactures followed. Among the designs, some were superbly interesting as this Hermés from 1935, some were rugged and intended for military use as Panerai's (or Rolex's?) 3646, and some were superbly refined as Patek Philippe's reference 130 or the majestic 1518 with three body case and concave bezel.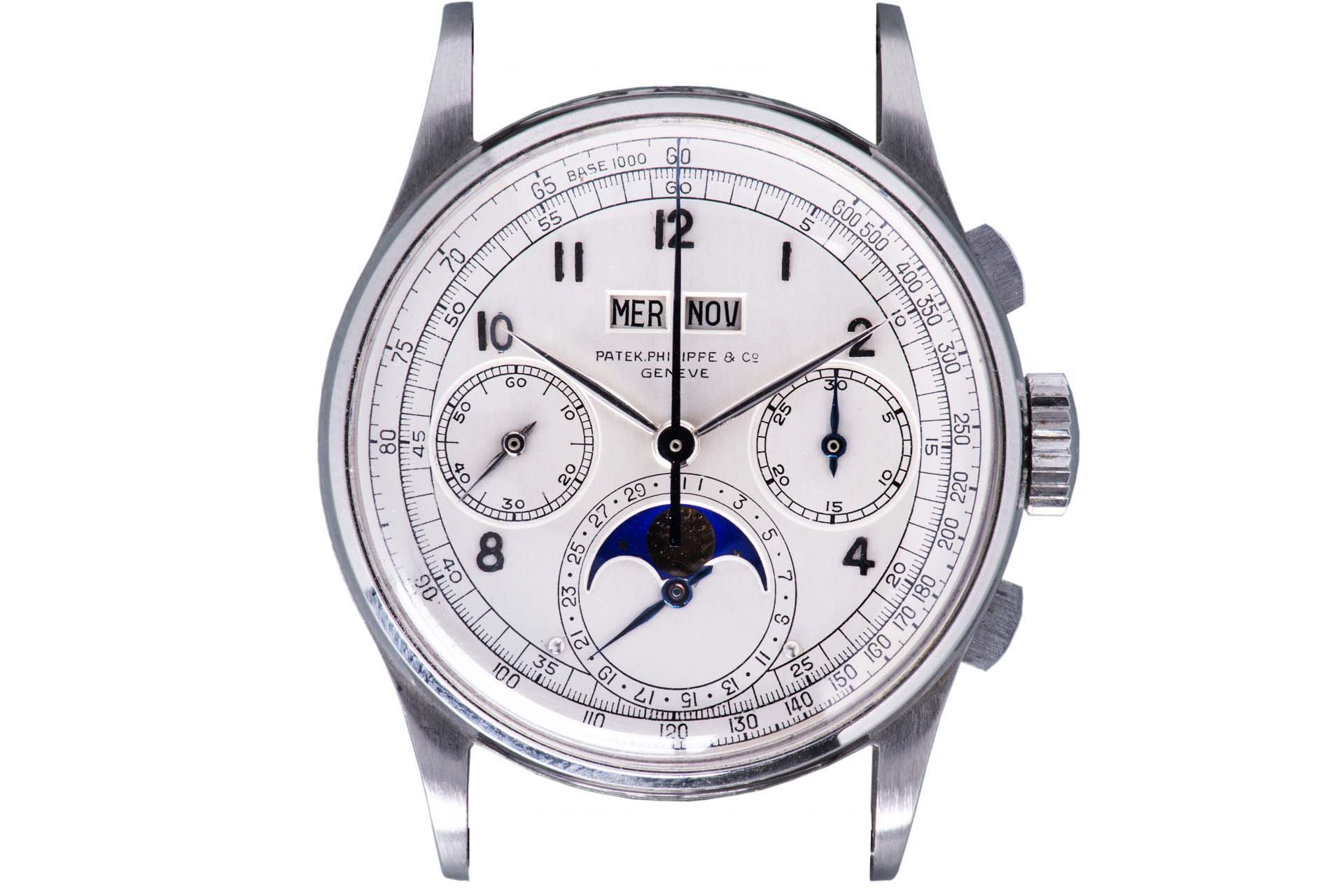 It can be argued that it was Patek Philippe who brought the stainless steel into serial production for haute-horlogerie in order to address a different clientele following the Great Depression with the reference 565 – the first waterproof Calatrava. However, other than the mentioned reference, especially for the complicated references, the historic king of watchmaking would either make them on special orders such as Briggs Cunningham's famous stainless steel 1526 which today resides in Patek Museum or in extremely limited quantities like only couple dozens stainless steel Patek Philippe 1463 despite its 25 years long run.
Years passed by, and high-end watchmakers crafted several stainless steel pieces here and there, but one had an effect that none other had: It was Audemars Piguet who shook the ground with the very first, serially produced, luxury steel sports watch – Royal Oak. Perhaps the rationale was to counter the inflated gold prices combined with quartz crisis but, it worked!
Genta's masterpiece was the messenger of a new era. Although not the most successful model at its launch, Patek Philippe was smart enough to trace the footsteps and poach the designer of its competitor to launch the Nautilus – 3700/001, again in stainless steel.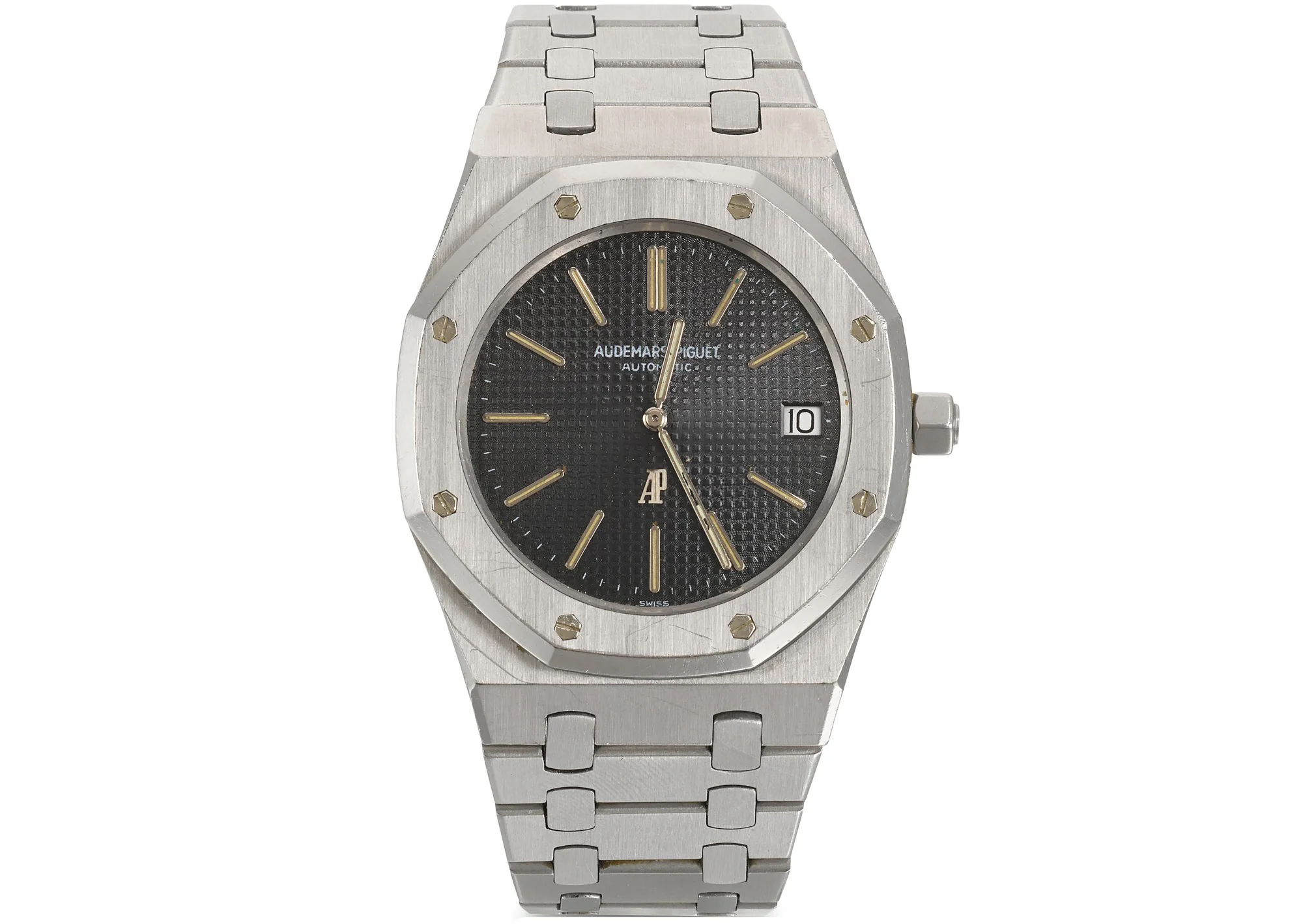 Alas, as with almost everything, the momentum faded. As pointed out in ACollectedMan's article The Rise and Fall of Two Tone Watches in the roaring 80s, the display of wealth became mainstream. Steel was inferior to gold, and understatement was not yet invented. Hence, the manufacturés cut the production of stainless steel watches drastically. Fast forward two decades, this brought one of the strongest impulses of collecting: rarity.
Only recently the stainless steel watches' subtle nature was welcomed by the masses. Today, the steel is the name of the game for high-end watchmakers to launch in limited editions and create waitlists.
A. Lange & Söhne & Stainless Steel
There are two faces of steel watches' rarity in high-end watchmaking: First one is, as stated above, is the limitation caused by the natural progress of technology, the production capabilities of early manufactures, and the second one is the intended scarcity as a branding and sales practice. A. Lange & Söhne's steel watch production falls into the latter category.
Günter Blümlein and Walter Lange established and marketed the modern A. Lange & Söhne as the highest echelon of, not just German Watchmaking, but the industry in general. Indeed, such intention was rightfully supported by unparallelled pieces such as Lange 1, Tourbillon Pour le Mérite or Datograph.
However creation of a brand demands more than a product. It is a living, breathing entity. It needs an identity to speak who you are, where and what you stand for. Following this mantra, apart from the product, early Lange chose the most famous retailers for distribution, made special editions that were truly special (please find them in the Special Editions section) and brought a new understanding to modern watchmaking such as one watch – one movement principle, the uniform double assembly, high decoration and groundbreaking new complications such as the Double Split…
These were all to communicate who they are in a coherent package. Unfortunately, within this majestic stand, some things were needed to be avoided and one of them was the stainless steel – an inferior alloy to the elevated gold and platinum. Albeit Blümlein, an open-minded leader was already in the recognition of steel watches even in 1994. He states the following in an interview with Gisbert Brünner:
"It is well known that steel is currently enjoying an increasing role. It is considered chic to wear a steel wristwatch . Steel is pushing end-user prices down to a lower level. But of course this material reduces the added value. Of course, we too have to adapt. If the market demands steel, it has to get steel. At least at IWC and Jaeger-LeCoultre. Not at A. Lange & Söhne for the foreseeable future."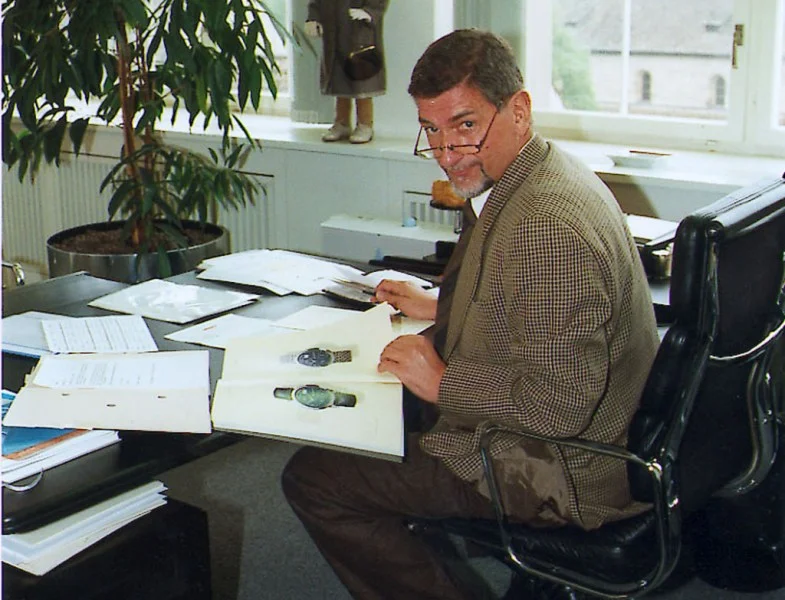 Strategy, however, cannot be fixed and needs to adapt to the changing environment without hurting the core. Though Blümlein said the line above, it was only going to take approximately 2 years for the great Blümlein to change his mind upon a conversation with Mr. Bertini of the legendary retailer, Pisa Orologeria of Milano. It was the conversation that gave birth to arguably the most collectable pieces of A. Lange & Söhne.
So, before diving into watches, in order to understand the context behind such a special series, it is crucial to have a brief idea about Italy's watch collecting scene and Pisa Orologeria in the 1980s.
Triple Split starts to show what it was made for upon a press to the pusher at 2 o'clock – chronograph starts running. If you'd like you can reset it without stopping it via the flyback pusher at 4 o'clock. When you press the rattrapante pusher, the rattrapante hand stops and the super-imposed chronograph hand continues to run below. Another push to the rattrapante pusher and the blue hand catches up with the chronograph hand; and both runs in synchronously once again.
To complete these back-to-back missions though, tens of gears and levers interact with each other on the case back, showcasing the magic of the Triple Split. This is one of those things that knowing how makes it more enjoyable. First, let's see how a basic chronograph work and make our way to rattrapante from there:
Following the devastating WWII, Italy went through an economic boom from the 1950s to 1970s with the help of USA's Marshall Plan. The country became a founding member of NATO, a member of UN, and also the founding member of the European Economic Community which later evolved into European Union. The growth was so impressive, the term Economic Miracle was coined to define the era; which later would be used as Silvio Berlusconi's election propaganda in 1994. In 20 years, the GDP per capita rose at an unprecedented level.
Pictures is the symbol of the economic miracle: Fiat 500.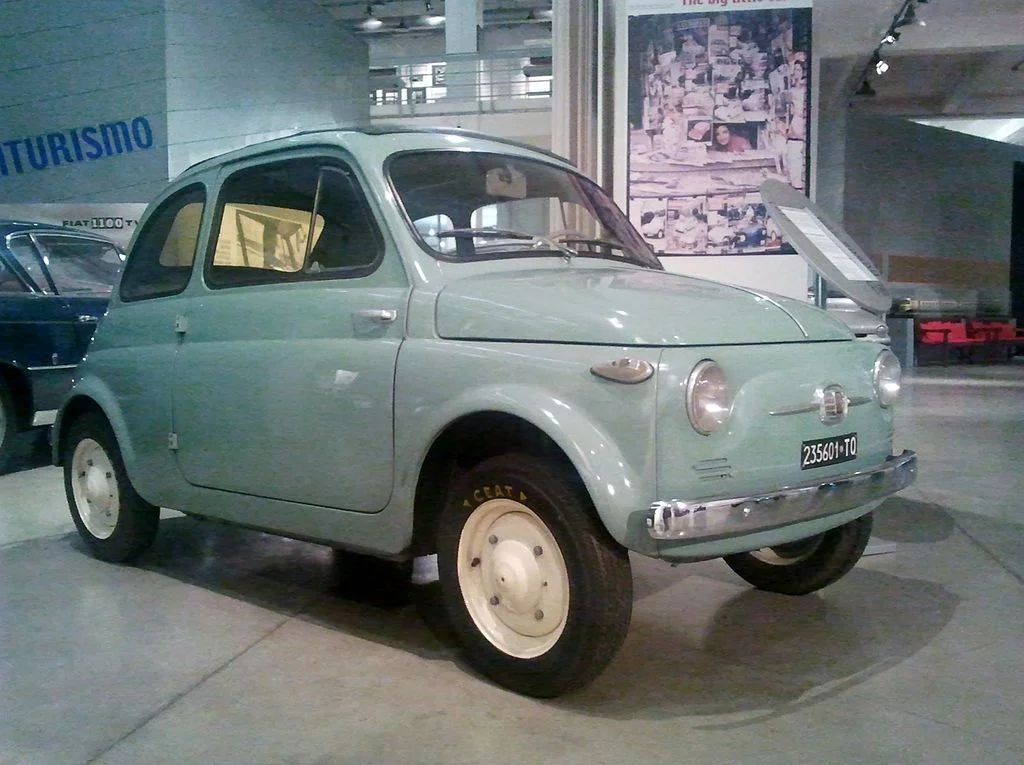 Correspondingly, as happened with Medici's Florence, the prosperity shined onto art, design and fashion. The Italians, which once were the initiators of the Rinascimento once again started their journey towards the top of the beauty. Through a unique aesthetic taste inherited over generations as a cultural heritage, Italians were tastemakers and at the forefront of the mechanical watch re-birth in the '80s.
The watch renaissance in the '80s, stemming from the Italians understanding of collectible objects and unmistakable eye for aesthetics, saved the mechanical watchmaking from the quartz's devastating effects by opening the gates of a huge appetite for once what was merely the timekeeping instruments. They were the ones who made mechanical watches chic to wear and this vision put them in control of the watch market.
This influence can be traced in watches' nicknames such as Tasti Tondi for Patek Philippe 1463, Freccione for Rolex Explorer II or Stelline for Rolex 6062, and many others… More importantly for the article, during this time when gold was "the" metal to have, their avant-garde perception of flair had already put the precious metal and its opulence behind and focused on steel.
It was within this economic and artistic boom, Fabio Bertini of Pisa Orologeria and Günter Blümlein contacted for the first time in the 1980s.
Watch collecting has a huge emotional attachment. It is not just about the destination and the watch one gets; but the journey itself and all of its components. Any seasoned collector would know that above all, it is about the people and relationships harvested through the path. In this regard, relationships spanning over generations become a value in itself and it is extremely hard to replace such components brought by the family-owned establishments.
We are familiar with such notion in the watchmaking scene – Patek Philippe has been rightfully and masterfully reaping the benefits of this irreplaceable and inimitable treat and stand for decades, and some retailers are in correspondence with such mantra. They are the embodiment of Buy the seller. Pisa Orologeria is one such organization, now thriving at its 3rd generation and has been a landmark for watch & jewellery enthusiasts in the industrial, fashion and financial capital of Italy – Milano.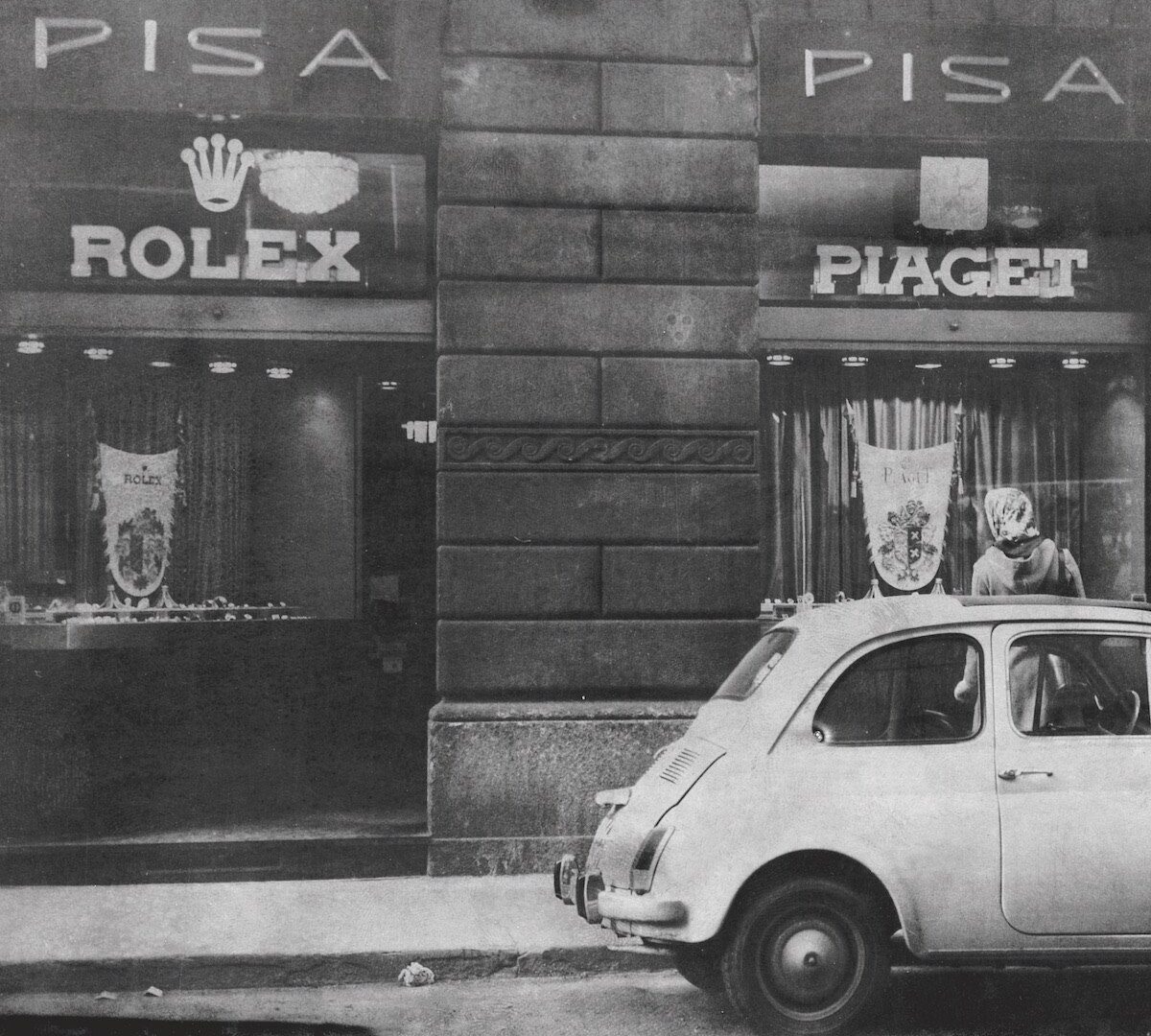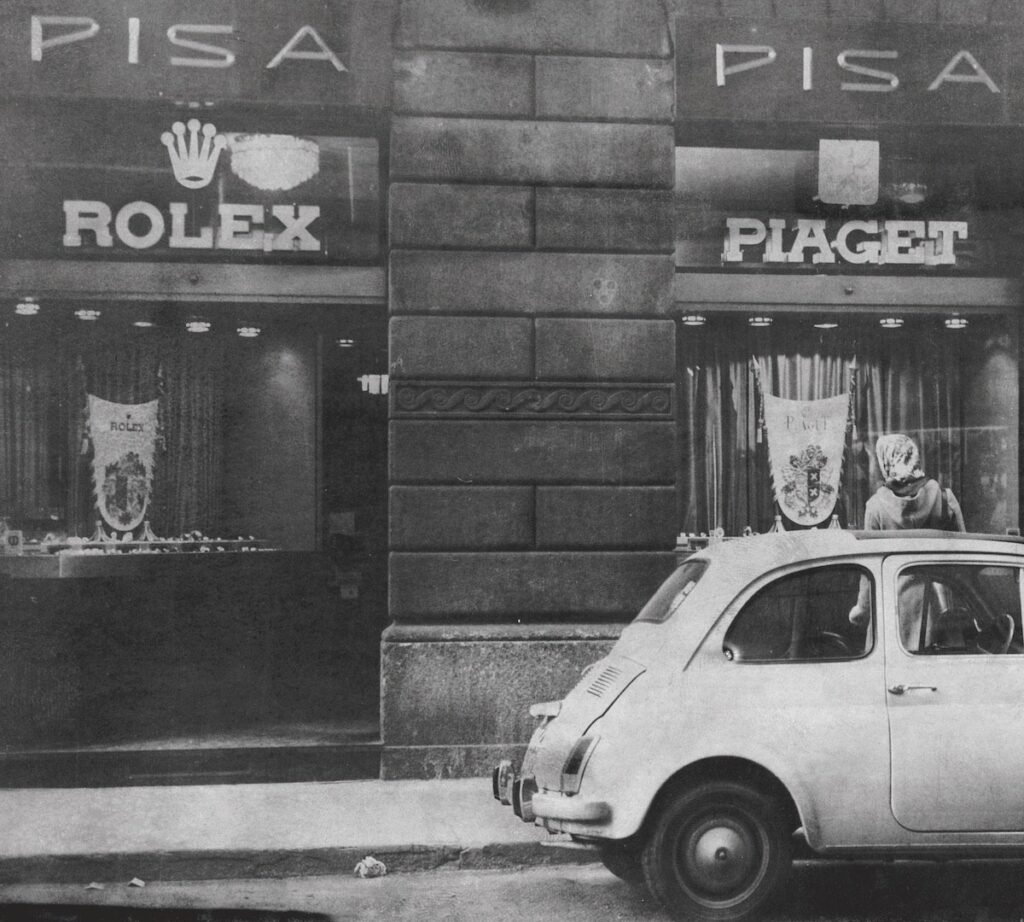 The company was founded as a laboratory in the early 1940s by Divino Pisa, who was also the founder of the first Italian Watchmaking School. Following WWII, the laboratory added sales into its portfolio, and the passing time truly rewarded the family's passion. With the industrial as well as the artistic boom in Italy, this small shop came to be the attraction point for the Italian industrialists, movie stars and athletes who were looking for the best of the watches and jewellery. For it was, they even went on to organize an event a month after Basel to present new timepieces in Italy.
Davide Azzini, the Marketing Director of Pisa Orologeria states: When there was no internet, no direct communication with the brands, the retailer in between was everything for watch people. They would walk into the retailer they trusted the most, ask "what would you recommend" and rely on the relationship. So, when Pisa endorsed Lange, people were intrigued.
When I asked why did you endorse Lange, the reply was clear:
People, soul, product.
In the '80s, it was not only Italy booming. Across the border, IWC and Jaeger-LeCoultre were thriving under the leadership of Blümlein and the meeting of the two giants were inevitable during the watch renaissance. At the time, IWC was defying the destroying nature of Quartz and re-inventing itself with high complications. It was Blümlein's unparalleled understanding of the market which he said:
We make the mechanical watches exciting again, more than ever.
Watches such as Da Vinci Perpetual Calendar Chronograph, crafted with the genius of Kurt Klaus are examples of his success and vision. IWC, hence Blümlein's affection with Italy is evident – in 1987, the brand introduced the Novecento (20th century in Italian), and started addressing the style defining market with full force. Though when no one was looking at stainless steel pieces, it was again Italians who looked the other way.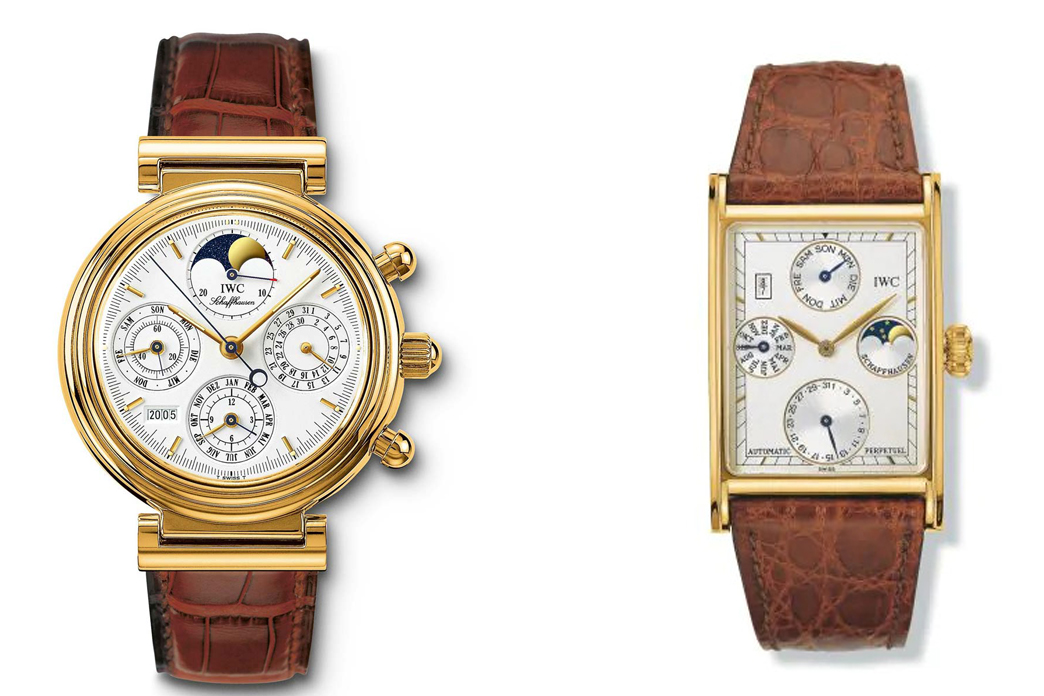 Mr. Bertini is the nephew of the Pisa's founder family and served as the managing director of the company for years. He is a man who breathes watches, smells them in the air and the one cultivates long-lasting relationships with the clients and brands. In an interview with orologi.it he states the following, which explains his understanding just right:
This is a world where whoever gets there first wins. "The winner takes it all" say the Americans. Whoever has a nose wins . I could remember watches born because 'someone' smelled something new in the air, which others did not perceive. Watches that came into the world at the right time in the right place, which surprised the public with their novelty .
It was this nose that detected the Italian's affection towards extremely well made watches in stainless steel. It was this nose that directed him lifting the phone, calling Mr. Blümlein and asking: 
You made many splendid watches. Why not even make one of those in steel?
Since its introduction in 1994, Lange 1 has cemented itself as an icon, a representative of an era and a re-birth. It was a German watch at the highest order, as different and aesthetically pleasing as it gets and the first cavalier of this start-up manufacture against the Swiss Empire.
I thought that its importance can only be truly perceived by the people who witnessed its birth; thus I turned my face to Christian Hübner (owner of one of the first jewelers to get the brand) from Austria who was there on the night of 24th October 1994:
Huh! The big date, the eccentric design, the power reserve… It was like time had stopped. I remember people clapping after 30 seconds of silence. Everyone was spellbound and the applause erupted like fireworks. It was unbelievable. Lange had returned.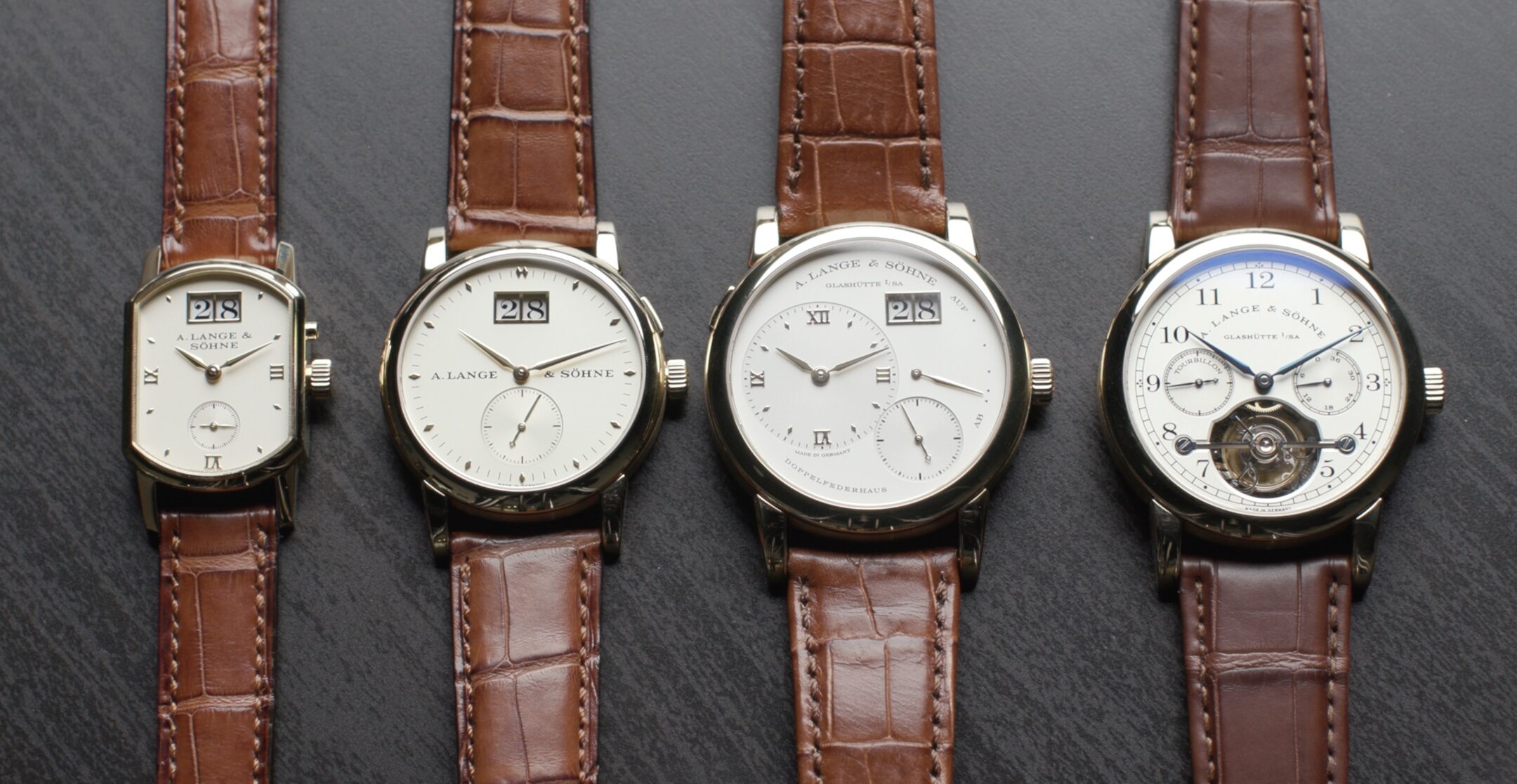 The 1994 Collection – Assembled.
However, when Mr. Bertini asked Mr. Blümlein whether they could make a series of steel Lange 1s for Pisa Orologeria, even though they had a successful prior collaboration through IWC in 1993, Blümlein's reply was a definite no.
As mentioned with the positioning hypothesis above, offering their signature and most precious design in an inferior alloy would decrease the price, hence shake the well thought out strategy. Bertini, however, did not give up and asked once again. This time, the reply was interesting, yet somewhat rightful:
Stainless steel versions are not going to be cheaper than gold ones. Blümlein was simply saying that Lange watches' value do not reside in metal but in their craftsmanship and cannot be treated as commodities.
Mr. Bertini accepted: I do not mind. Let's put a price tag of a gold Lange 1. It is not a matter of price tag, it is a matter of wearability. It is about only the owner knowing its specialty – that it is a steel watch. Italians are going to like this. The agreement was made; thus was born the stainless steel Lange 1 – reference 101.026.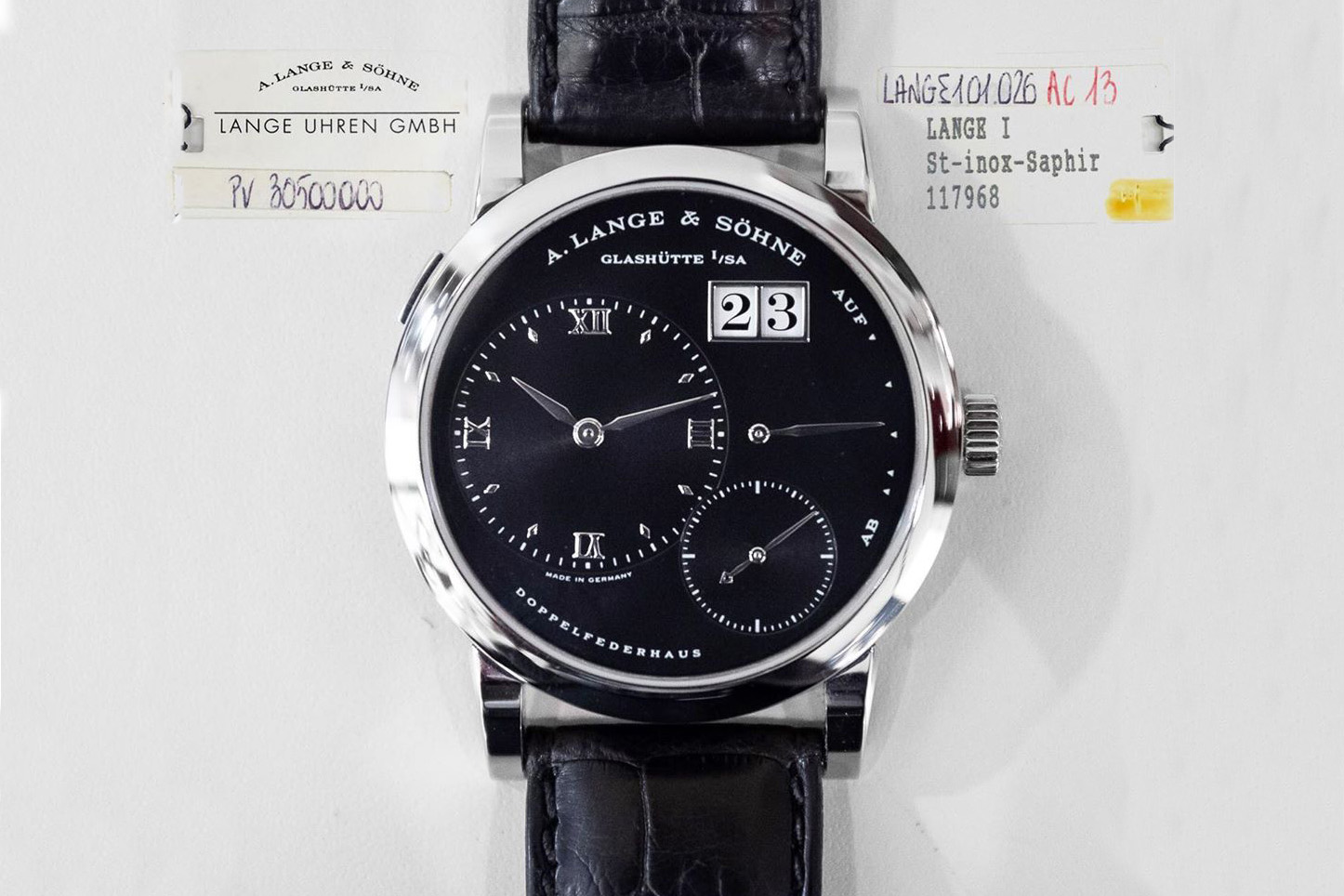 Black dial, stainless steel A. Lange & Söhne from Pisa Orologeria
Pisa Orologeria collected twenty Lange 1 watches in stainless steel – seventeen with silver dial and three with black dial. Pisa kept one of the black dials in the safe (the one above) and sold the rest. One example went through the hands of the famous #NorCalGangof6 and was hammered at Christie's in 2016 for $233k –almost 15 times of the original retail price.
When I asked Davide Azzini if there was an idea of investment regarding these pieces his reply was straight forward: Absolutely not, because we did not know whether A. Lange & Söhne would make them for other retailers too and back then, the watches were not subject to such speculations. Indeed, he was right; and this brings me to the ones supplied to Cellini Jewelers of New York.
Cellini was founded by Leon Adams, who is still the acting president of the famed jeweler, at the peak of the quartz crisis in 1977 in the famous Waldorf Astoria. He is one of the visionaries who saw the rise of mechanical watches and focused his efforts on offering these exceptional pieces to American collectors. Already a dealer of fantastic names such as Vacheron Constantin, Blancpain in the '90s, Cellini Jewelers became the first store to carry A. Lange & Söhne in the new world. This long standing partnership brought two of the few modern retail partnerships for the brand.
To uncover the story of steel Lange 1s delivered to Cellini, I spoke with @gva212, who is a dear friend and one of the handful stainless steel Lange 1 owners; which bought his example straight from Mr. Leons' son.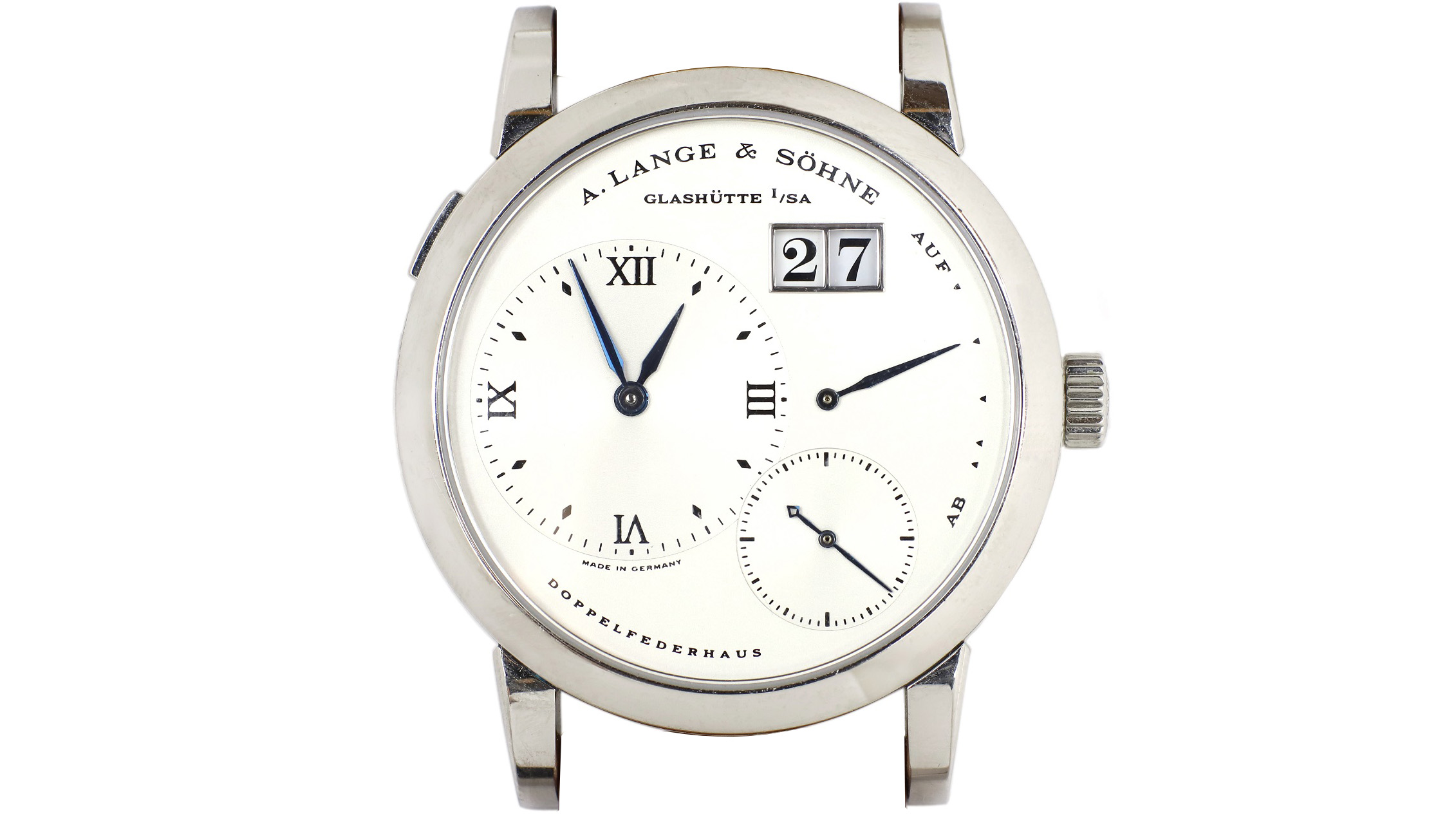 According to @gva212, Cellini Jewelers ordered 8 pieces but received only 4. Interestingly, only after a short while, four examples were called back by Lange only for Cellini to refuse. Cellini did not display any of the pieces for sale. Alas, only after a couple of days, a salesperson sold one example without knowing the rule; thus left three examples in Cellini. One of them was kept in the New Old Stock condition for more than 20 years which was recently auctioned by Phillips Watches and sold for $343k (more on this below).
When I asked Lange on why they wanted the watches back, the brand declined to comment.
Contrary to the popular myth, these two prominent retailers were not the only ones to receive stainless steel Lange 1 watches. A. Lange & Söhne delivered several additional watches both to German and Singaporean retailers. For example one German origin piece recently surfaced at Dr. Crott and sold for €275k.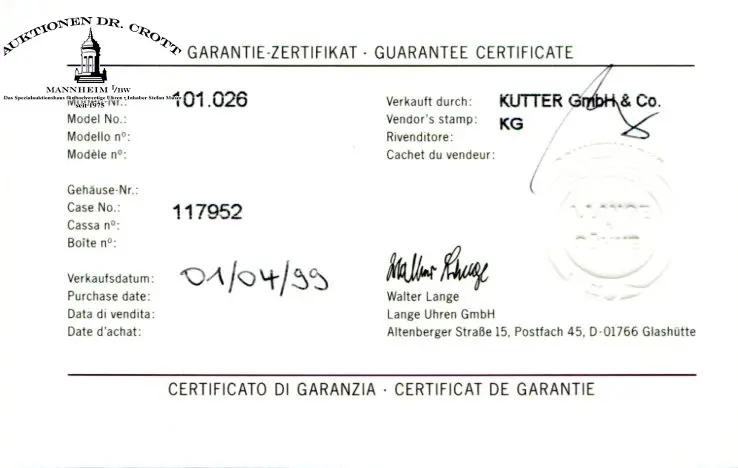 Finally, I'd like to touch upon two possibly unique editions: the one sold by Sotheby's eariler this year with Stefan Muser(current owner of Dr. Crott auctioneers) inscription on the caseback and the blue dial Stainless Steel Lange 1.
Unfortunately, there is no information (yet) on how Mr. Muser get an inscription for an already elusive piece as 101.026 – but he did and it sold at Sotheby's Online Auction for CHF 200k. This makes me wonder if there are any others like this one. The case number 127xxx is a pretty late one for stainless steel Lange 1, so I would not be surprised to see more on this batch.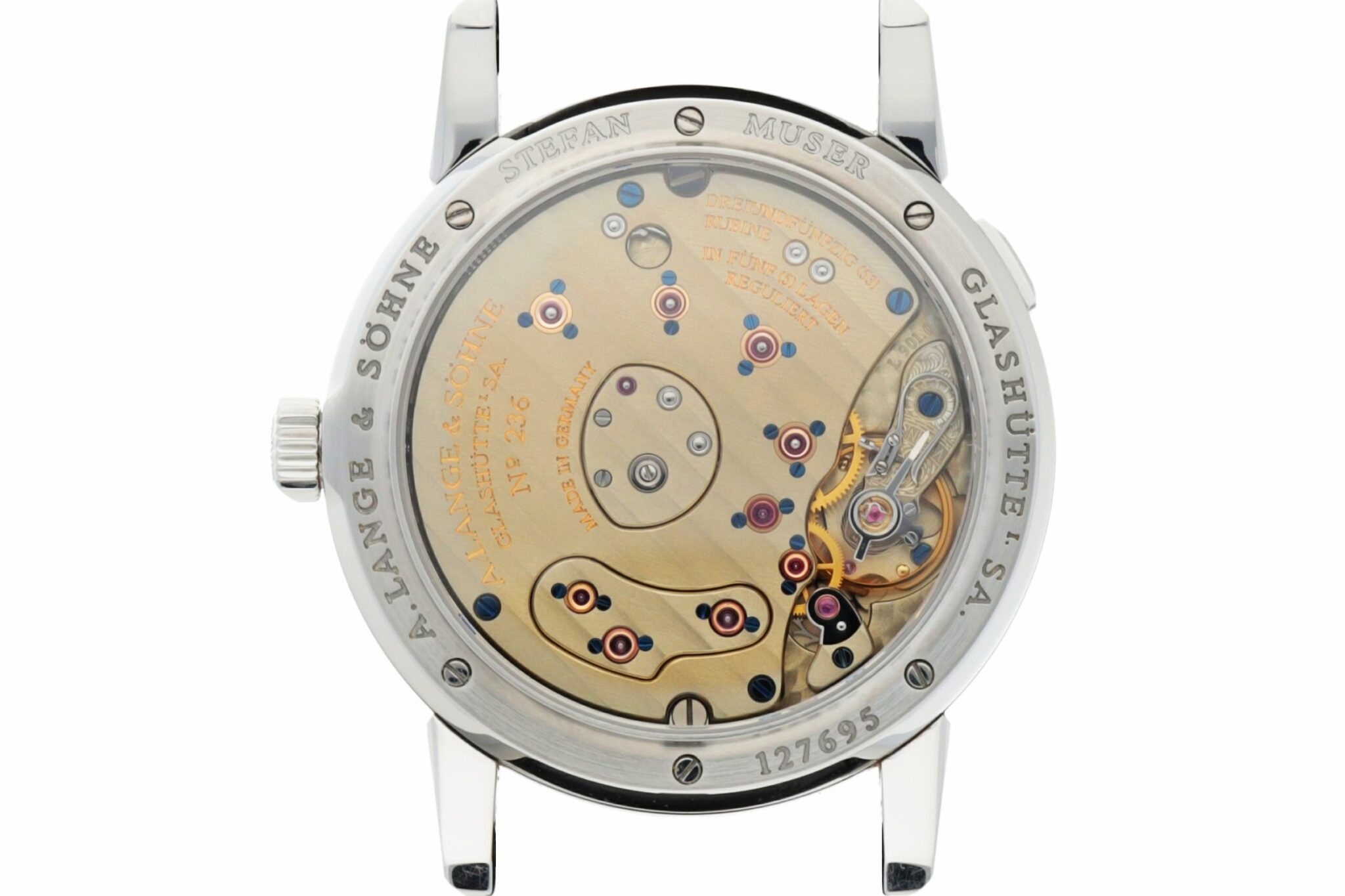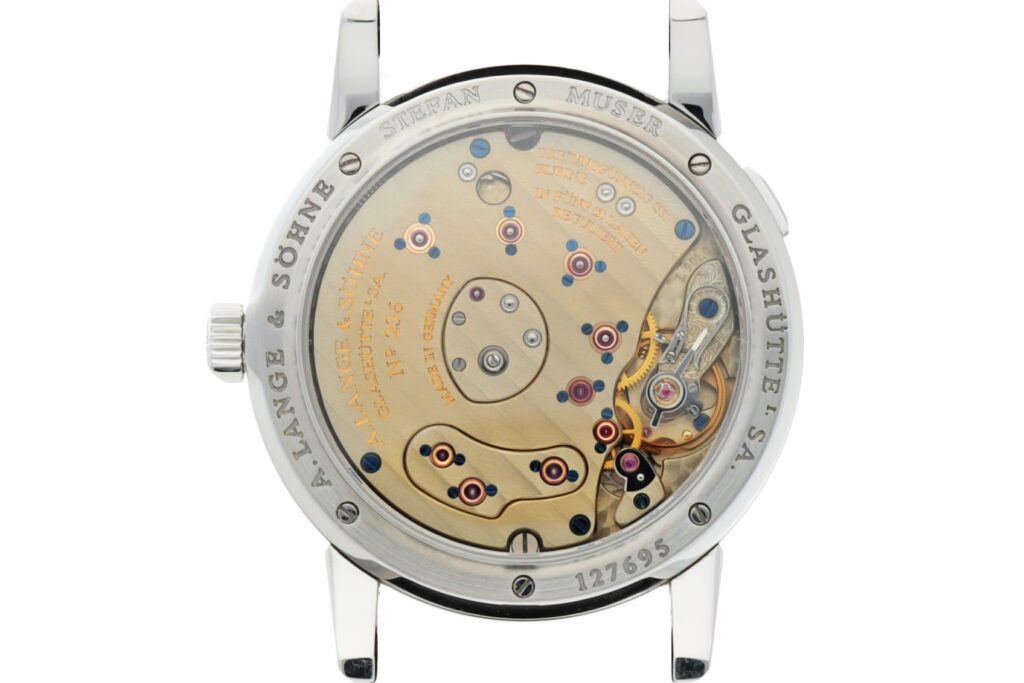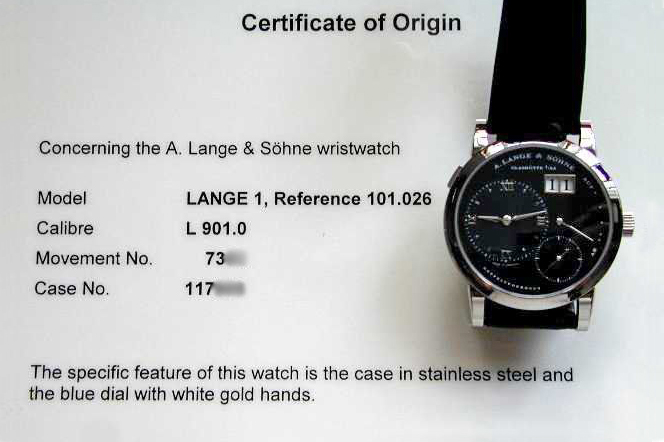 For the latter, thanks to SJX, we spoke with the owner who shall remain anonymous on why he opted for this model and how he got it. The owner of this highly distinguished piece had asked the authorized dealer if they could make one in steel with blue dial; thus it is a made to order piece.
A watch enthusiast with a highly technical approach his main intention for getting a steel watch was that the steel is a better house for the mechanism as it is harder and lighter. Upon his request, he got the same reply as the others: The price is the same with the gold versions. Although we do not know when exactly he got the piece, seeing the letter issued for the owner's piece, the case and the movement number implies that it was made within the same batch with most of the other Lange 1 steel models.
A very foresighted gentleman, he also requested a small note which verifies that this is a factory made watch. Certainly a great move, as today Lange does not speak about these watches at all.
As a final note, I'd like to go over the case numbers of stainless steel L1 watches:
There is a very clear pattern on the so far surfaced 101.026 editions: They range from 113xxx to 127xxx. 8 of the 15 I know carry the case number of 117xxx and four carry 113xxx – 114xxx while the 127xxx belong to the one sold in Sotheby's. Although the case numbers do not necessarily go hand in hand with year of production, we can say that the collection started with 113xxx. Then, continued with 117xxx and finally there is the one with 127xxx, which is a unique piece with a case back engraving.
All in all, there seems to be around 25 to 30 stainless steel Lange 1 watches; assuming there is no other case number batch or more in the 127xxx batch.
A final note: I have handled one, complicated stainless steel A. Lange & Söhne model that is unknown to public. Although the piece houses a geniune A. Lange & Söhne dial, mechanism and case, the brand does not certify the piece as it does not appear in the records. Knowing this, I'd highly suggest to anyone who would like to purchase an early stainless steel A. Lange & Söhne watch to get a confirmation letter from the brand indicating the year it was made as well as official letter proving that it is a recognized Lange piece.
Now onto the next one. The crown jewel.
Stainless Steel Tourbillon Pour le Mérite
The Tourbillon Pour le Mérite was one of the four watches crafted by A. Lange & Söhne for the launch in 1994. It is the first wristwatch to combine the fuseé and chain transmission mechanism and tourbillon. Next to rather classical yet utterly characteristic time – date models, it was A. Lange & Söhne hinting why they came back and what people can expect. Way to launch the brand!
I call it the brainchild of the legends. Conceived by Blümlein and Reinhard Meis, first created by master watchmakers of the most famous movement atelier Renaud & Papi, this art piece thoroughly deserves such moniker.
The Tourbillon Pour le Mérite collection is limited to 200 pieces and the initial idea was to produce 150 pieces in gold and 50 in platinum. However, In addition to the Stainless Steel Lange 1s, Mr. Bertini had one more wish: To get the most complicated A. Lange & Söhne wristwatch in steel… It was again, the temptation of creating such a strong contrast – encasing this majestic piece in an under the radar metal; but more importantly making a client happy. Thus, there are now 149 pieces in gold.
Prior to asking A. Lange & Söhne for the piece, Mr. Bertini already had a client in his head – much like a proof of the mentioned retailer / client relationship. The client did not even know about the watch, but Mr. Bertini knew he'd love it. Therefore, upon receiving the watch, Mr. Bertini immediately called the anonymous collector, told him about the brand, the watch, what makes it so special and why it fits his perception of collecting. Embracing its meaning, the collector immediately bought the watch. Today, the whereabouts of the watch is unknown.
I can wholeheartedly recommend Peter Chong's book "Pour le Mérite" to see the only available photos of the unicorn.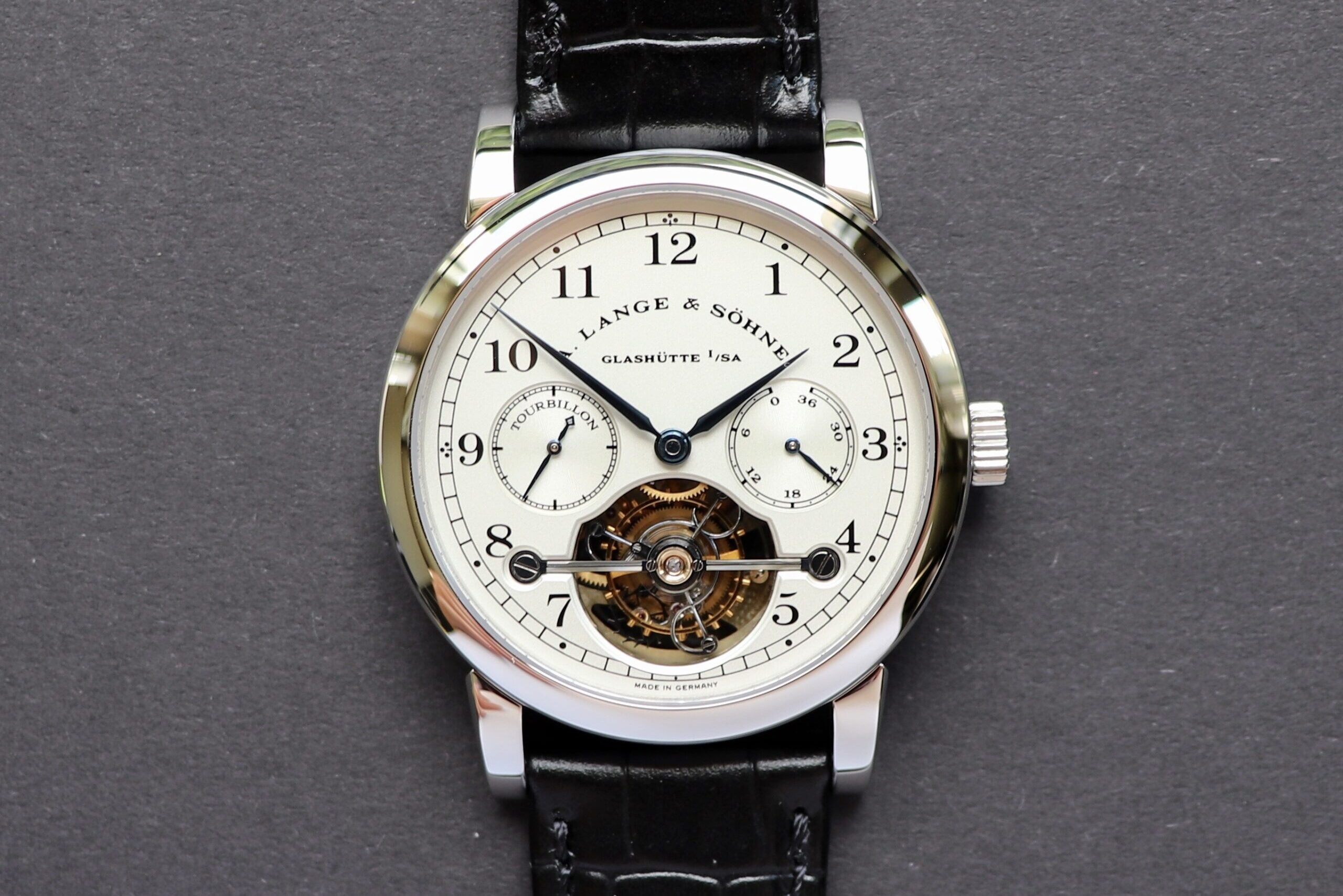 Stainless Steel 1815 Service Watches
Being a new brand in the '90s, as they did with watches, A. Lange & Söhne went above and beyond in customer relations too. If you care to hear long-time collectors of the brand, all would mention one thing: The family feeling, which they also mention as now gone. As part of this understanding, and perhaps A. Lange & Söhne wanted to own its customers' wrists even during the service, the brand introduced 1815 in steel as a service watch.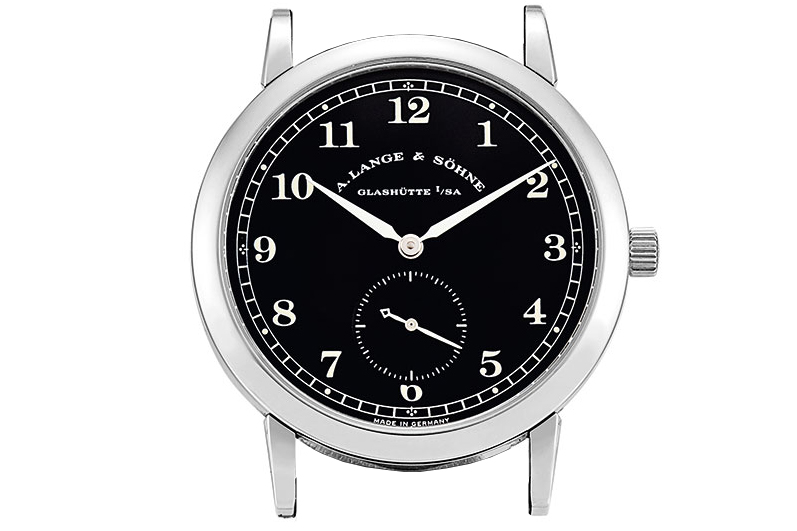 The watch is identical to the regular production reference 206.029 in white gold – measuring 35.9 mm in diameter and 7.5 mm in thickness; but in steel. These watches were not for sale but rather mainly given to important collectors of the brand while their watch(es) are at service. Lange took back steel 1815 pieces after the service is completed.
However, some collectors saw the collectability of these references and kept them by stating that they lost the watch, and offered compensation for it. To my knowledge, after so many collectors claimed that the watch was lost and offered compensation in return along with the ever-growing client base, A. Lange & Söhne discontinued the service. The last time I saw this practice was in 2006 and never since.
Even though the owner paid A. Lange & Söhne some money with a lost claim, it just does not work and we witnessed this not long ago.
One steel 1815  appeared at Sotheby's in November 2019 but the lot was withdrawn. Possibly A. Lange & Söhne intervened and rightfully claimed the watch. So the seller of this piece, basically shot him/herself in the heel by trying to sell this watch publicly. According to a reliable source, Lange has made 100 of the steel service watches.
Stainless Steel Lange Double Split
The Double Split made its debut in 2004 in the most noble platinum and is nothing less than a milestone in watchmaking history. It is the world's first chronograph with a double-rattrapante mechanism. In a usual rattrapante mechanism we have two chronograph seconds' hands and one minute counter whereas the Double Split features two minute counters; thus makes it possible to take comparative time measurements up to 30 minutes. Magically impressive even today, the Double Split was A. Lange & Söhne wearing the crown of the chronograph wizardry – only after 15 years since its re-birth.
Since 1994,  apart from the two versions mentioned above Lange has never issued a steel watch for sale. Although there were prototypes made in steel, they stayed within the manufacture, mostly on the wrists of senior executives. Even today, if you go to a manufacture visit, kindly ask what Mr. Bobe is wearing, you might have the chance to see something special!
However in 2013, something very interesting happened: Christie's offered a unique Double Split in stainless steel. There was no provenance, no caseback stamp for the metal, nothing; it was just there. To give perspective, at the time, the platinum version of the model was discontinued and the pink gold version's price was above $120k. The unique piece in steel sold for $501k – breaking the A. Lange & Söhne's previous auction record set by the unique, platinum Tourbillon Pour le Mérite with salmon dial.
Sources say that the watch was a prototype and later sold to a Lange executive in 2006 and the gentleman took the watch with him when he left the company. Today, the watch resides in one of the finest collections in the world – along with its steel Lange 1 sibling.
Remarks On Steel A. Lange & Söhne Pieces
I have never had the chance to own a stainless steel Lange 1 – nor will I ever have, probably. Therefore, I wanted to talk with a couple of steel Lange 1 owners, who have completely different ownership experiences in order to reflect what it feels like to own such a piece. Moreover to understand why they wanted to include these rarities into their collections – in case one of the readers would like to bid on one some day…
One has gotten it as a wedding gift from an equally watch-geek wife (lucky man)… He is nobody else than Aurel Bacs of Phillips in Association with Bacs & Russo. He kindly accepted to give an interview and opened up his nothing but fascinating story of how he got into A. Lange & Söhne, his views on the brand and how he ended up with a stainless steel example.
The other one is the owner of probably the most famous steel Lange 1 ever sold at the recent Phillips Watches NYC Game Changers auction, Mr. Rawlins. He kindly accepted to talk about the path led him to buy nothing short of an historical artifact and the joy he gets from the ownership of such an important piece.
Mr. Bacs' journey with the brand started right at its re-birth in 1994. Born and raised in Zürich with a family legacy of appreciating the craftsmanship above all and already an avid watch fan at the time, he developed quite an interest to A. Lange & Söhne.
In time, he became good friends with René Beyer of Beyer Chronometrie – the oldest family owned retailer and one of the handful retailers who were called to Glashütte for the launch in 1994. Naturally, Beyer became a Lange retailer following the re-birth of the brand. Mr. Bacs remarks his fascination:
I was struck with quality and simplicity of Lange watches – first favorite the Lange 1 and the latter being the Langematik; yet at the age of 23, there was no chance I could afford one.
Being such a fan and already a figure in the auction industry, Mr. Bacs offered Beyer to host a Lange event in Zurich where they exhibited A. Lange & Söhne pocket watches. Mr. Bacs curated close to 60 pieces and set up the exhibition himself which was attended by Walter Lange.
His love towards Lange only grew from there and as the birds of a feather flock together, he rejoiced with his love on the wrist through the love of his life: Livia Russo.
Mr. Bacs explains: I opted for the steel first – simply because, logically, it would be the cheapest option, right? But to my surprise, the price was the same as a gold one! Moreover, I like white metals as they do not scream, they are just there for me.
Knowing this, Livia Russo picked up a stainless steel Lange 1 and presented the piece to Mr. Bacs as a wedding gift for what would be at a fraction of today's price – which he is not interested at all:
I could not care less. It is not going anywhere, ever.
Little known, Mr. Bacs also presented a first generation, 34 mms platinum Saxonia to Mrs. Russo as a wedding gift.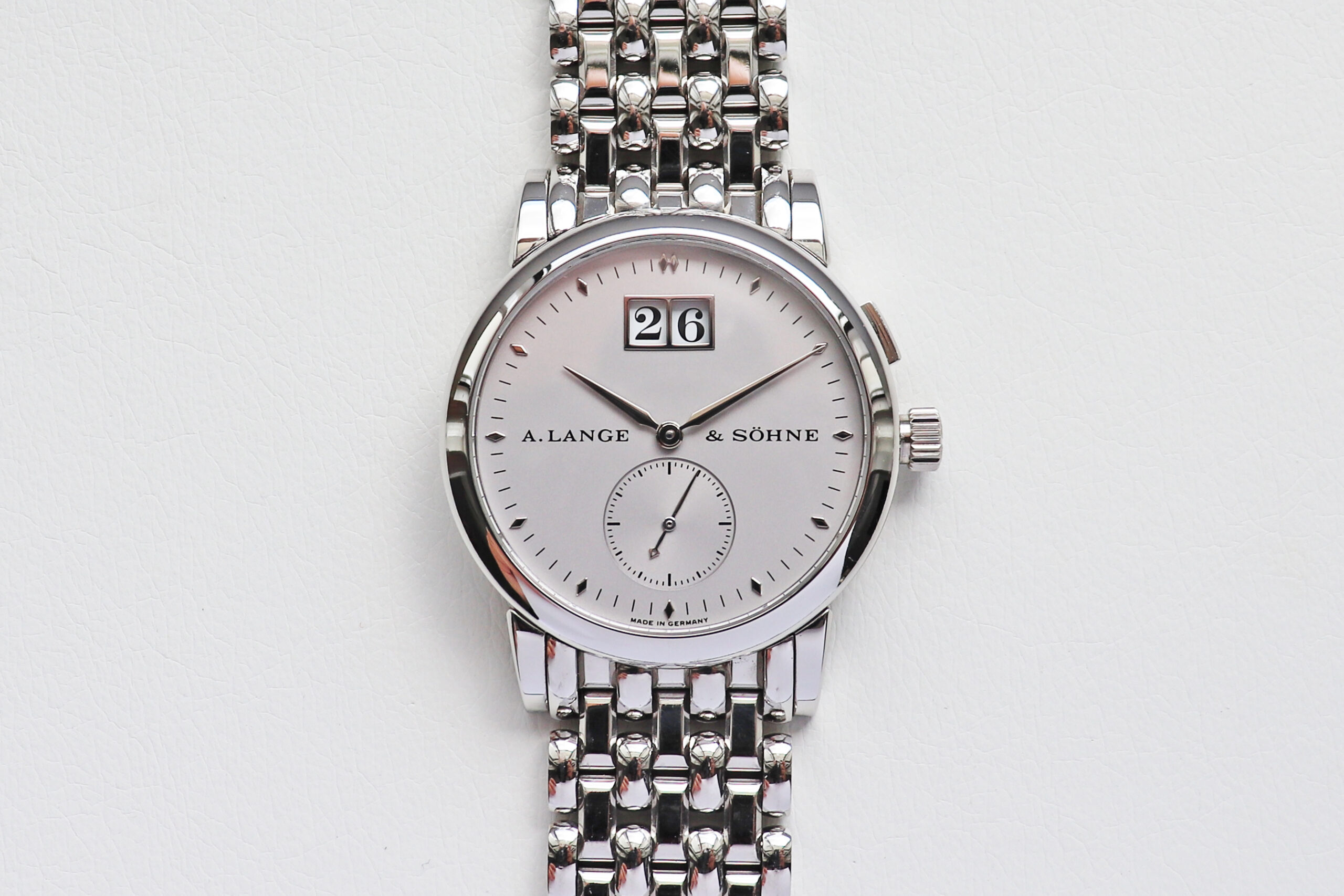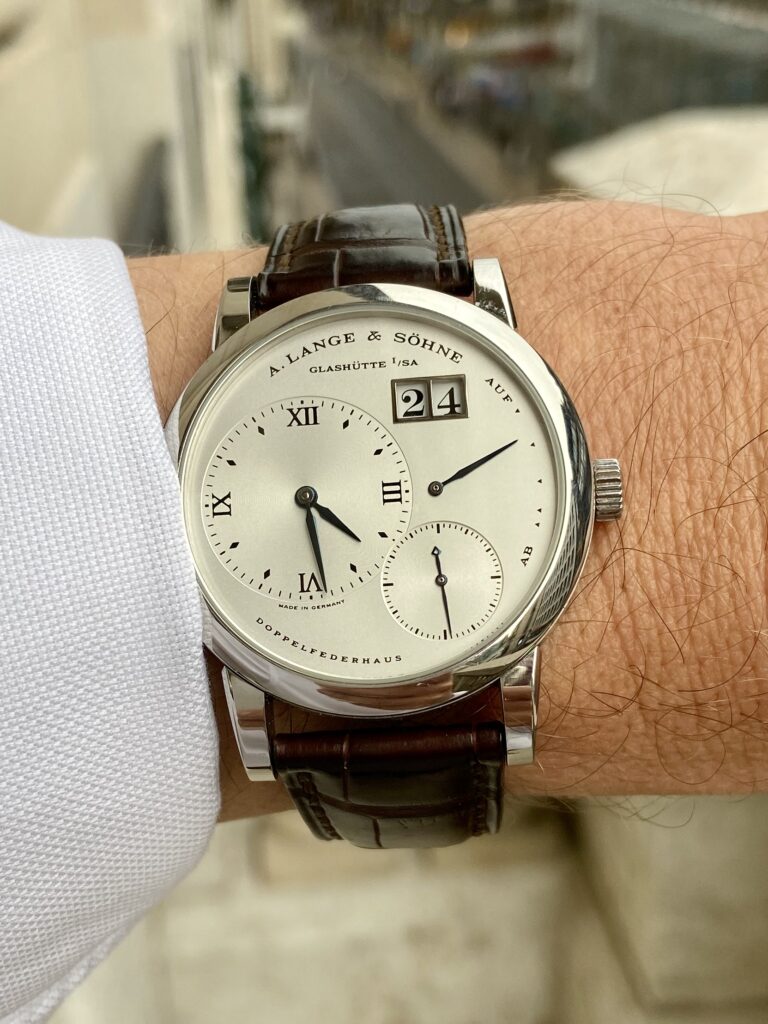 Relying on his almost two decades of ownership, Mr. Bacs opened up on his exemplary perspective on Lange 1:
When I think about it (Lange 1), I think of stability – not in terms of robustness but as a timeless design. It is a bit like a white shirt; can be a very formal with a dark suit, but it can equally be casual on a beach. It is universal. You're seldom overdressed and underdressed. I believe a Lange 1 provides the same service for the owner. It does not scream; but you'll never get rejected.
A Lange 1 owner is a reflection of such lifestyle. Traditional in a sense but not boring as the term usually associated with. There were periods I haven't worn the watch; but whenever I did, I could not help to say, what a great watch! It excites me but does not make me nervous nor distracts. It gives me serenity, like looking at a thousands year old temple. Lange 1 is a yoga on the wrist.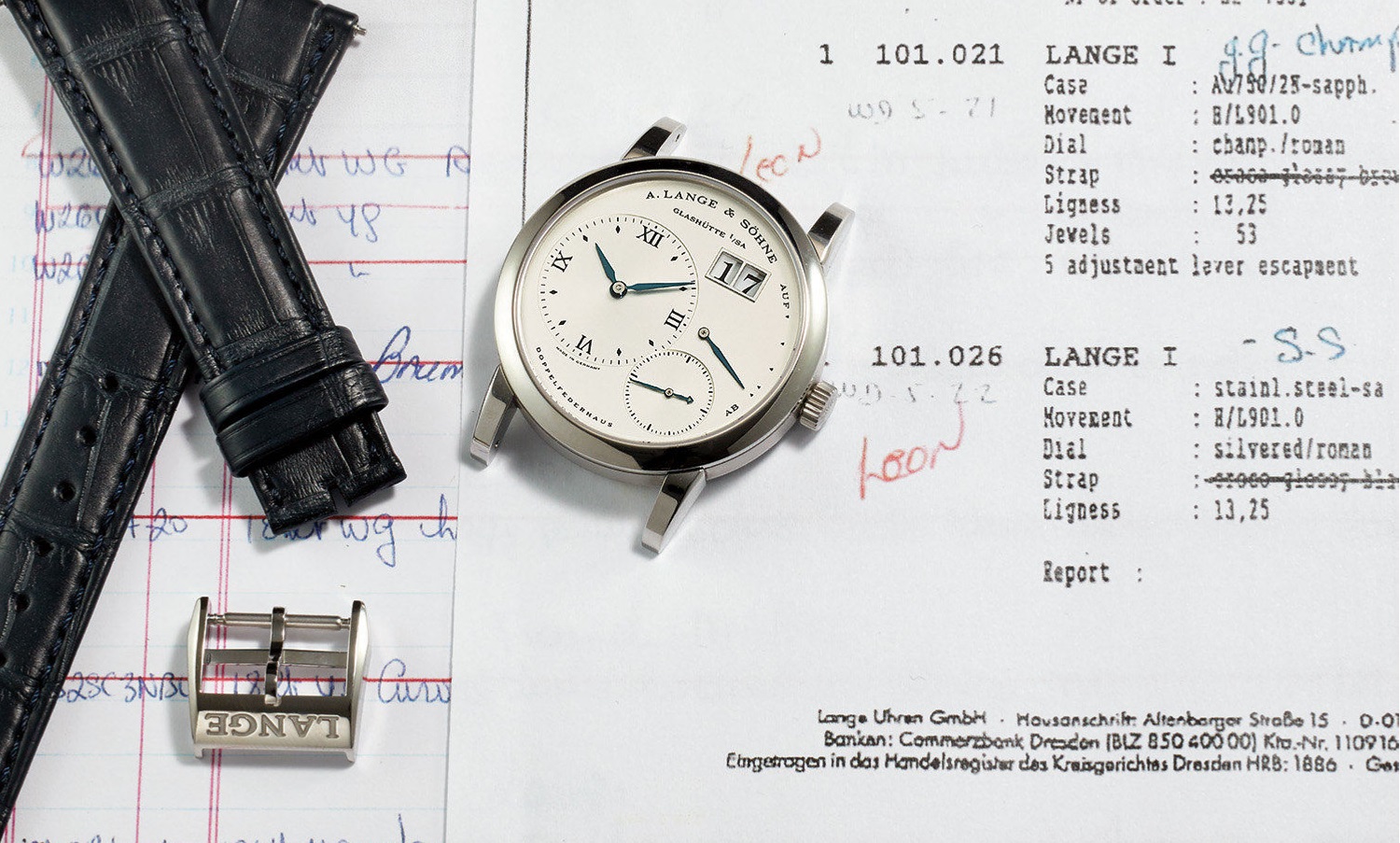 Mr. Rawlins' journey with watches starts with a stainless steel day date given by his father for his 18th birthday in 1982 which he has been wearing uninterruptedly for the last 20 years. His expedition to become a more than one watch man started when he turned 50, with his wife's encouragement – another lucky man. While doing his research, Mr. Rawlins stumbles on Lange, and perhaps like every sane man, he pors the words: That it is absurd to give that kind of money to a watch.
That financial self-control didn't last too long. The genie was out of the bottle and Mr. Rawlins buys both of the 1815 200th Anniversary F.A. Lange models.
When I asked what made him bid on the stainless steel Lange 1, I understood that the watch perfectly fits to his understanding of building a collection:
I knew that Lange 1 and Datograph were perhaps their two most iconic watches.  But something I've found as I have built my collection is that I am attracted to special versions of watches I admire.  My two 1815's are limited editions, Laurent Ferrier Tourbillon Grand Sport with metal bracelet is limited to only 12 (I have #1), and my 1971 Tudor Homeplate is a black dial, of which there is supposedly only 10-20 out there. 
The Speedmaster I bought at Phillips recently might well be the first 2998-1 ever produced (based on the serial number).  And of course there are perhaps 20 or so steel Lange 1's, and I was told by a very senior executive at Lange that mine is probably the only NOS in existence.  So I have found (without really planning it that way), that apart from the esthetics of the watch, rarity attracts me as well.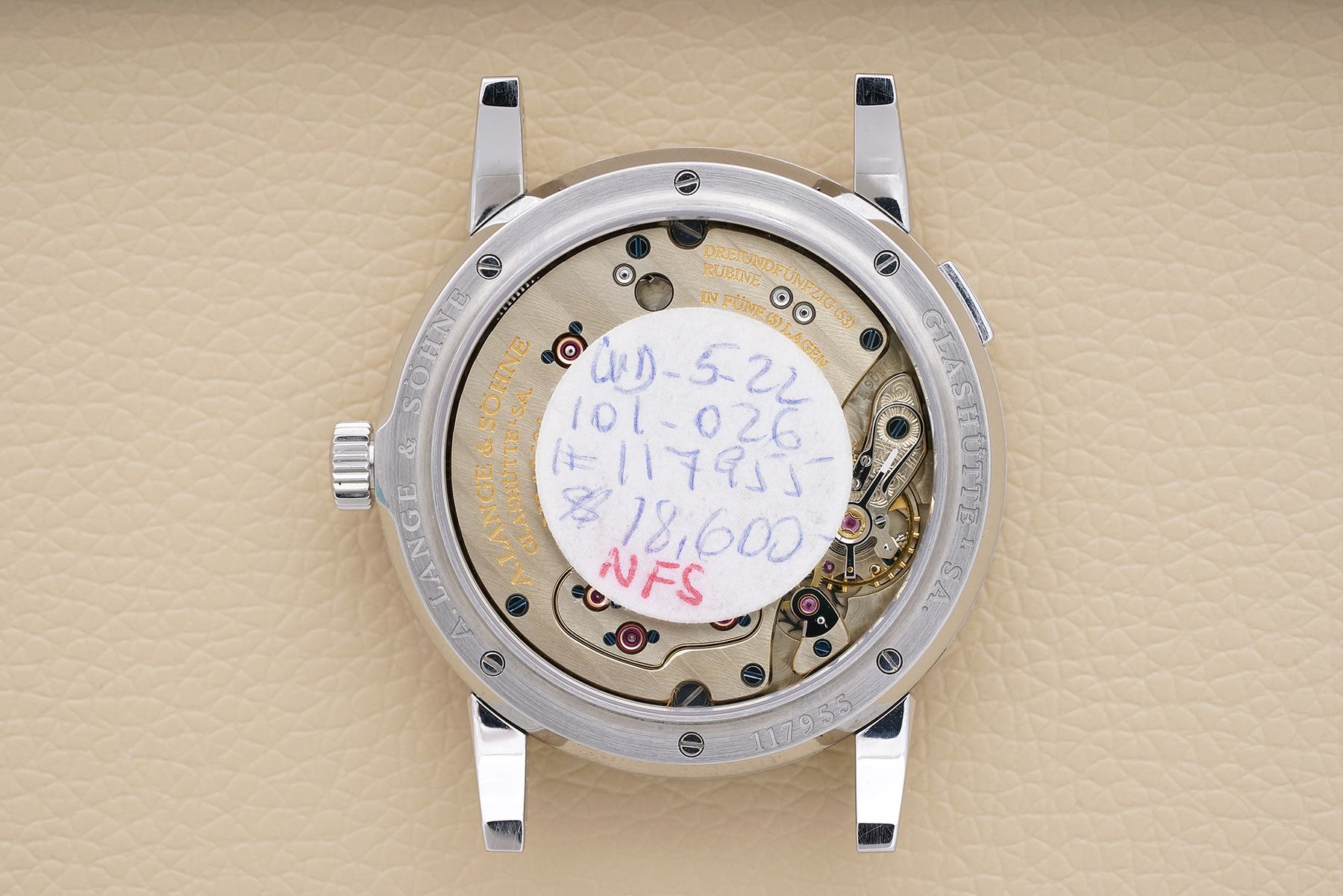 Courtesy of Phillips Watches in Association with Bacs & Russo
Although his main goal was to get the Philippe Dufour Simplicity, such a unique preservation of a 20+ years old stainless steel Lange 1 was worthy to become a primary target next to the Simplicity, says Mr. Rawlins.
When I asked if he still keeps the watch in NOS condition, he replies: It is an historical artifact and what makes it so great is its plastic wrap, separate pins – it is more than a watch; but a collectible as a whole.
I've always told myself that I want to enjoy the watches I buy.  Therefore I wear all my watches.  But for every rule, there is an exception.  Therefore the Lange is still NOS.  And of course the sticker is still on the back of the watch.  I've wound the watch twice to see how it feels, but that's all.  It's sitting in a bank safety deposit box ultimately for me to pass on to the next custodian of this unique and precious watch.
So if I always want to enjoy my watches why is this one sitting in a dark vault?  The answer is I figured that this watch is really not "just" mine.  In a sense it belongs to all Lange fans around the world.  I think it would be selfish of me to assemble it and start wearing it.  It kills me not to enjoy it, but I've decided it's the right thing to do.
I am not going to dive deep into Odysseus – that's going to come later. Rather, I am going to attempt to explore Odysseus' place within A. Lange & Söhne ethos and where it fits or not.
As a long time forum reader, I vividly remember that even the slightest talk of a stainless steel Lange watch was enough to drive mad a significant proportion of collectors. Because in a sense, Lange neither could chase the trends nor encase their exemplary movements and craftsmanship in stainless steel. That would diminish the brand's stand and its overall value. However; there was one person they forgot about: Günter Blümlein himself.
Blümlein was in the recognition of market trends and ready to launch a stainless steel A. Lange & Söhne watch if the trend becomes a reality that is too big to deny – and it did. Stainless steel sport watches' surge in demand became impossible to ignore for a public company (Richemont); thus, Lange was one of the latest ones to hop on the train in 2019.
Does that diminish the brand's value? Most certainly not. As a matter of fact, just as Blümlein did with the steel Lange 1 models (same price as gold), A. Lange & Söhne priced their only stainless steel, water resistant watch quite aggressively at €28.8k – more expensive than many gold models. It was to prove the point that this watch is not inferior to what they have done since the last 25 years – and as a person who examined the model through and through, I can witness such a claim.
Lange's ethos is buried deep down in craftsmanship, attention to detail, engineering and movement architecture. Hence, as long as these principles are preserved, the case material is a completely insignificant attribute. In this regard, Odysseus perfectly fits the brand's philosophy and a great reflection of the DNA – perhaps apart from the bundling…
A. Lange & Söhne keeps the stainless steel watches' existence or any information about them like it is Coca-Cola's secret formula. Of course, the speculation and the mystery behind creates the part of the allure – which Mr. Bacs agrees and draws a similarity to Patek Philippe and Rolex's behaviour.
On the other hand, thanks to the uninspiring yet still beautiful and overly loud Lange 1 "25th Anniversary" Collection, there is a perceptible increase in the early Lange 1 models' market prices as well as their supply to the market. There have been four stainless steel Lange 1 watches offered in the last year, breaking records over records like NASDAQ during pandemic.
For Aurel Bacs, this is completely normal: As the prices go up, there is always going to be someone who wants to part ways to fund another piece. The way I see it, there is still a huge appetite (in comparison to extremely limited supply) for these models; thus I do not see a satisfaction in the market. He also adds that this aspect should never be the reason to enjoy or not to enjoy such a piece.
A stainless steel Lange 1 is the mythical jewel of an era-defining timepiece. Therefore, I'm truly happy for Lange and for all the collectors that this groundbreaking timepiece is finally getting the attention it deserves.
Thank you.
I hope this was a valuable guide for the curious minds over the steel A. Lange & Söhne models and their creation. If you'd like to chat, sell or buy an A. Lange & Söhne, please kindly reach out to me via [email protected]
Please feel free to contact:
Follow Langepedia on Instagram:
Watch "A. Lange Story" Documentary, in partnership with WatchBox:
Sign up for the newsletter to get to know first about rare pieces at Marketplace and in-depth articles added to the encyclopedia, for you to make the most informed choice, and first access!