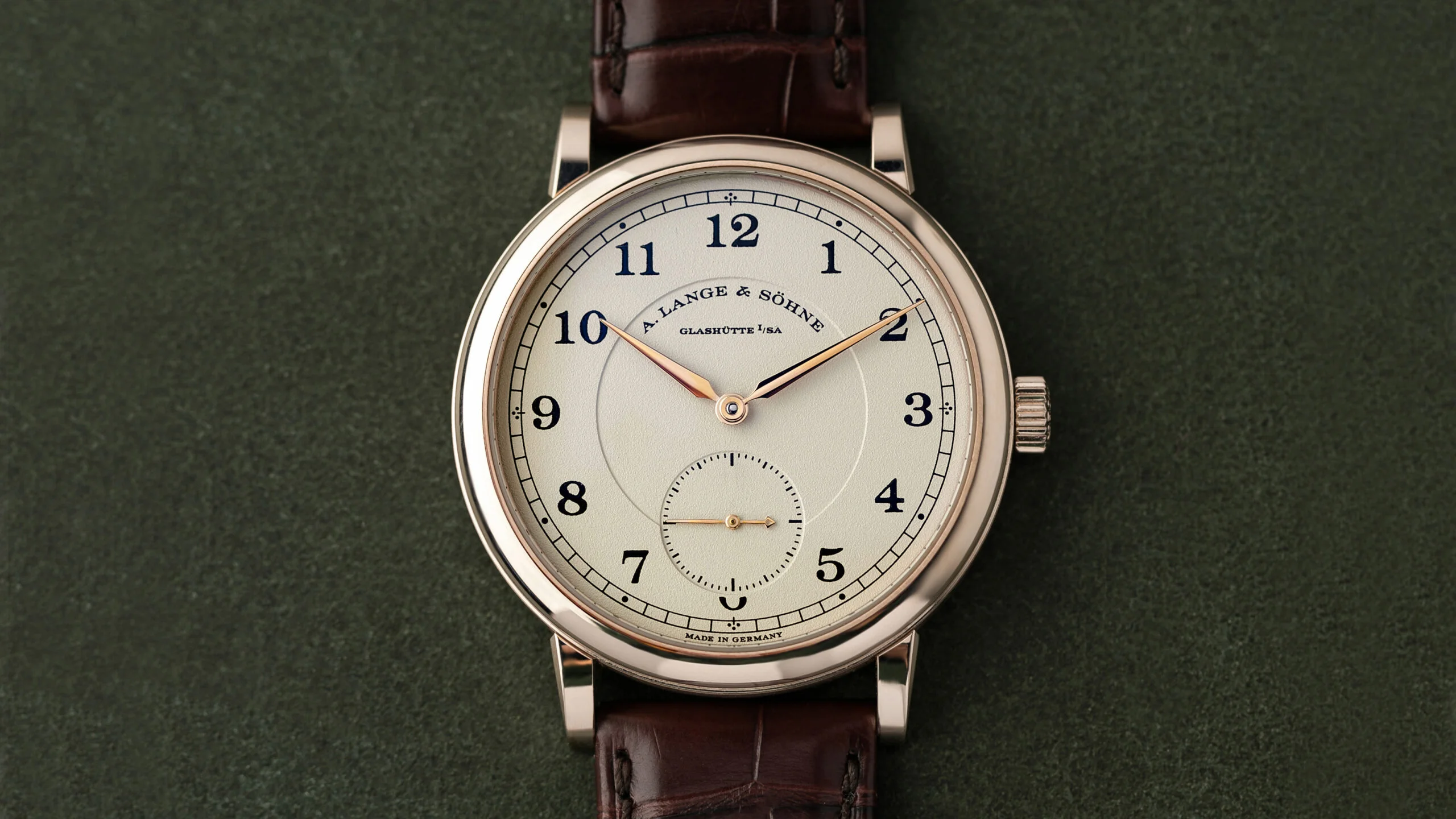 Understanding A. Lange & Söhne 1815
A. Lange & Söhne 1815 is the brand's most traditional, simplified and perhaps the signature collection. It has been in the catalogue since 1995, produced in numerous combinations, sizes to address differing tastes. However, no matter the combination, when you take a glance at an 1815, you see that all share a definitive identity, one identity built with few elements, but as strong as it gets.
But why? Why is every 1815 instantly recognizable no matter the amount of complications it houses? The answer to such a question lies in history. Therefore, in order to truly grasp the importance of this collection, we must travel back to 200 years ago, and make our way here in a couple of thousand words.
Quick Facts:
Introduced in 1995
Available in platinum, gold, steel
Comes in three generations since, each generation differing both in size and movement
The collection is a direct descendant of A. Lange & Söhne's pocket watches
Signature elements are the Arabic numerals, rail-way minute track, three-dots on each quarter marker.
Ferdinand Adolph Lange was born in 1815 in Dresden. A bright mind he was, and when came the age, he joined the Dresden Technical School towards the end of the 1820s. Following his graduation with exceptional marks in 1835, he started his apprenticeship with a watchmaker. Faith it was, his master was none other than Gutkaes, the foremost watchmaker of the region at the time, and court watchmaker later-on, who was also the tutor of Ferdinand Lange at school.
He worked two years with him as an apprentice, from restoring clocks to crafting new ones. Even though his apprenticeship gave him an extremely solid foundation and vastly improved his knowledge, the heart of watchmaking laid elsewhere – in Switzerland, France and England. The urge to learn more whipped the young prodigy. Lange decided to embark on a journey to further improve his watchmaking and technical skills in the hub of the craft. Consequently, he visited Switzerland, England and France and learnt from the best of his times such as Winnerl, John Arnold etc…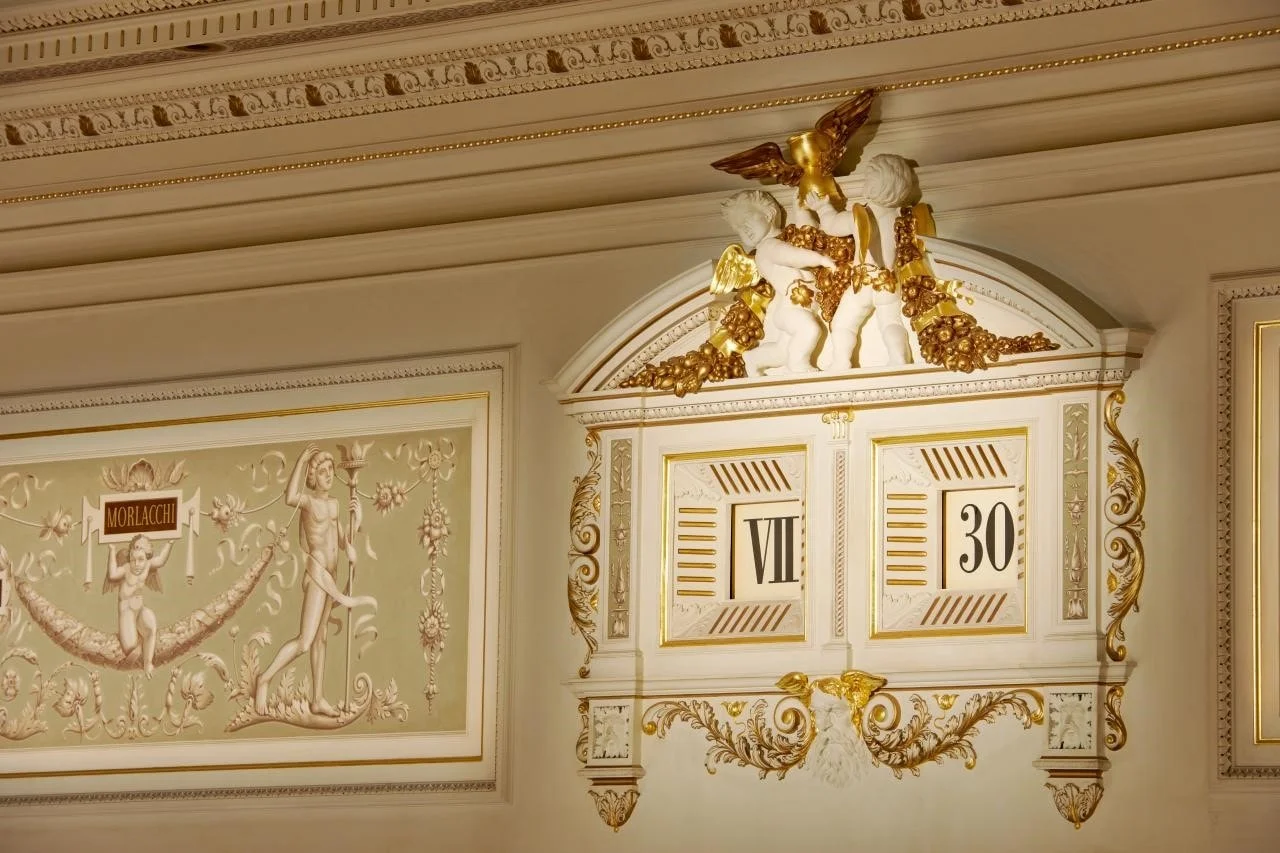 5-Minute Clock in Dresden Semper Opera House made by Gutkaes. Courtesy of Lange Uhren GmbH who is also the sponsor of the Opera House
Before sailing for his journey for knowledge, he received a letter from his master and tutor, and later father-in-law. Don't forget your home! wrote Gutkaes – your hometown and its people need you. Ferdinand Lange did not. Following his journey where he enriched his knowledge, he returned to Dresden in 1841 and immediately became partners with Gutkaes' business. However, in no-time his intention turned out to be much more than just building watches.
After a couple of successful years, Lange revealed his ambition to transform Dresden, and subsequently Glashütte, into a powerhouse for the watchmaking industry. He needed capital, therefore he sent numerous letters to the government minister Von Lindenau and councilor Weissenbach – detailing the business plan and its expected outcomes. He asked the commission to grant him a business license in the less economically fortunate region, Erzgebirge (Ore Mountains) in Glashütte. Mentions in the letter as follows:
"…Should the high council be able and willing to grand the wherewithal for the establishment of an institution and the welfare of 10-15 young people, and to entrust me with its leadership, I am certain that in a near future, livelihood and prosperity will spread among a large number of these unfortunate people…"
On December 7th, 1845, he laid the foundation of A. Lange & Cie, which later became A. Lange & Söhne in Glashütte. He created not only a watchmaking factory that would bear his name; he also established his vision for an entire industry to bring prosperity to the region. Starting with a team of 15 apprentices, to whom he taught the basics of watchmaking, later on, when they had thoroughly mastered the crafts, he encouraged them to leave his company to start their own small supplier firms. Thus, he established a watchmaking cluster, which provided the region with a new means to make a living.
A. Lange & Söhne's 1815 collection takes its roots from such a man and ideal. Indeed, the modern company could have named the collection as 1845; but I believe identifying it with the man instead of the brand carries much more meaning and cohesiveness. As a collection which takes its name from the brand's founder of 150 years ago, Lange 1815 carries the hallmarks of the era which are further examined down below.
A. Lange & Söhne 1815 - Roots
The 1815 family's time only collection, both from the back and the front, is an adage to Lange's old pocket watches made by Ferdinand Adolph Lange and his sons during the first and the second generations of the Lange family.
On the dial, from outside to inside, we have the railway minute track surrounding the dial and forming the plate. Following, three-dots on each 15-minute marker captures the attention – a nod to Saxony porcelains' floral designs. Further into the dial, thick printed numerals complete the design. At last, the recessed part in the middle gives the much-needed eccentric touch and completes the traditional signatures taken from the past.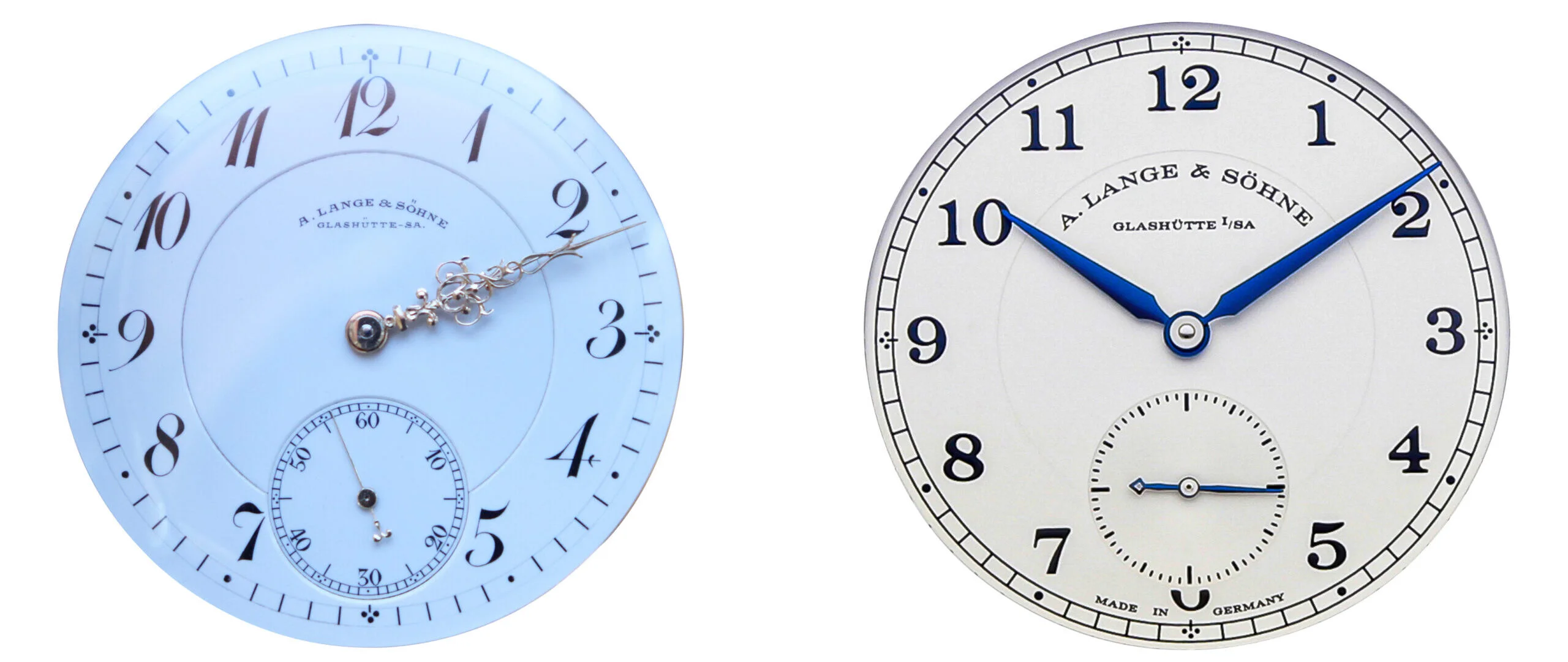 In 1994, when A. Lange & Söhne introduced the first four watches, except Tourbillon Pour le Mérite, the three other pieces were launched with solid case backs. Hidden behind a layer of gold, Lange, therefore Blümlein was actually going exactly the opposite way to one of his famous founding principles: 1 model 1 movement. Because, Arkade's rectangular caliber L911.3 was the beating heart of the 34 mm Saxonia – but away from the curious eyes. They immediately needed a round caliber to open-up case backs.
Urgency brought success, and A. Lange & Söhne introduced the caliber L941.1 only after a year, in 1995. The secret behind the success is that the caliber L941.1 is basically the round version of the rectangular caliber L911.3 hidden behind the Saxonia and Arkade; which was also borrowed from the JLCS 822. So, the 1815 collection's caliber can be viewed as the third generation of a base movement.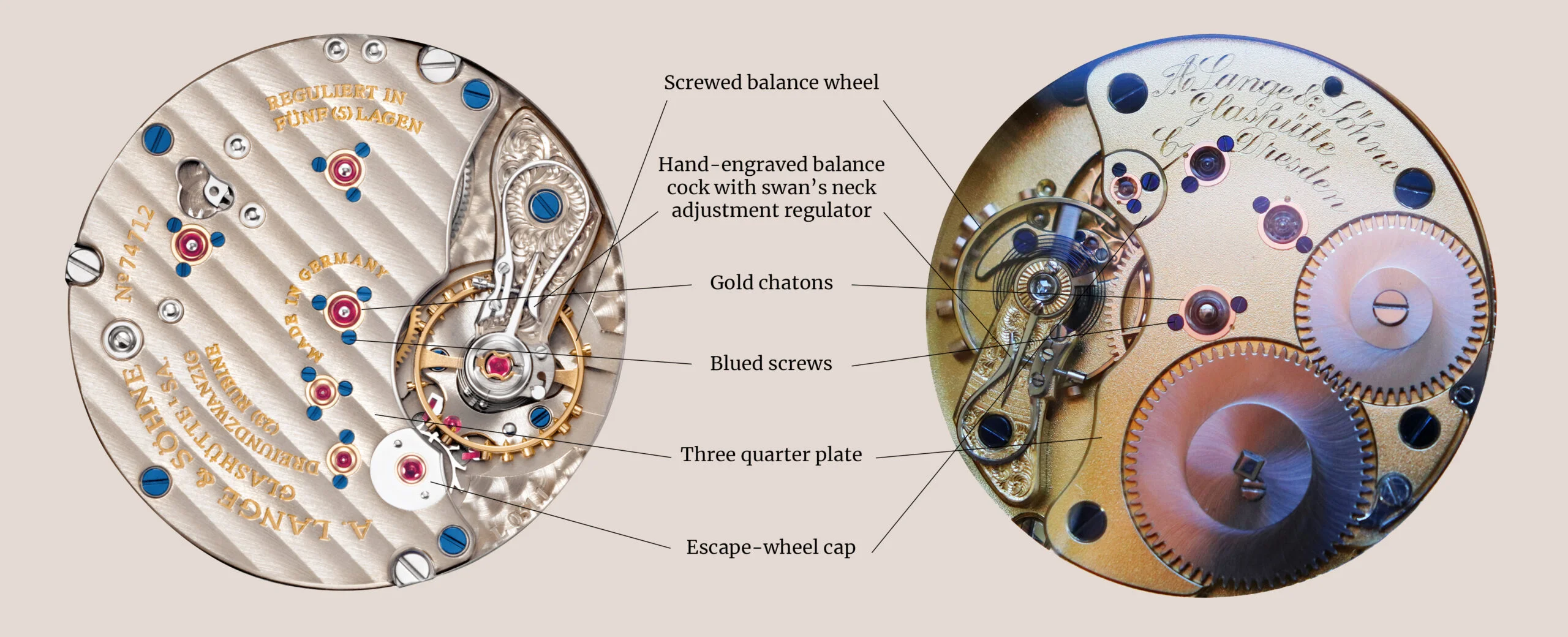 The traditional hallmarks are instantly noticeable. Although largely influenced by British Watchmaking, Ferdinand Adolph Lange is the inventor of the three-quarter plate; thus, it was only logical to implement such a strong and relevant element to a traditionally inspired collection. Seen above, the three-quarter plate of the modern L941.1 is identical in construction to its pocket watch patriarch; right down to its curves and even the jewel placement.
The hand-engraved balance cock, screwed balance wheel, escape wheel cap, blued screws and gold chatons are all in place. I can easily say that at its time, as well as today with its updated version, this basic caliber is one of the best value offerings in modern watchmaking with its character, level of craftsmanship and handwork it offers.
A critique here is due. As you might easily notice from the comparison image above, the old calibers feature exposed barrels whereas the modern basic 1815 pieces do not. Why? Due to cost perhaps? This brings another point that Walt Odets made all the way back in 1999:
… (There are) inconsistencies with which Lange pursues tradition. They sometimes don't pursue when it is expensive (overcoils) or when it is not visible (dial side). Perhaps the tradition was to make the most visible parts of higher quality than the less visible parts, but then this is a tradition that, itself, is not quite honest.
My cost-based assumption only gets stronger when one climbs-up the price scale. Lange uses the exposed and finished barrels in more expensive pieces such as 1815 Up/Down or 1815 Annual Calendar. But; for the basic 1815 and Saxonia, the mainspring barrels are not shown. When a brand claims that our watches carry the same amount of hand-finish from a basic 1815 to Grand Complication which is a rather exaggerated (simply impossible) statement, these shortcomings attract more attention.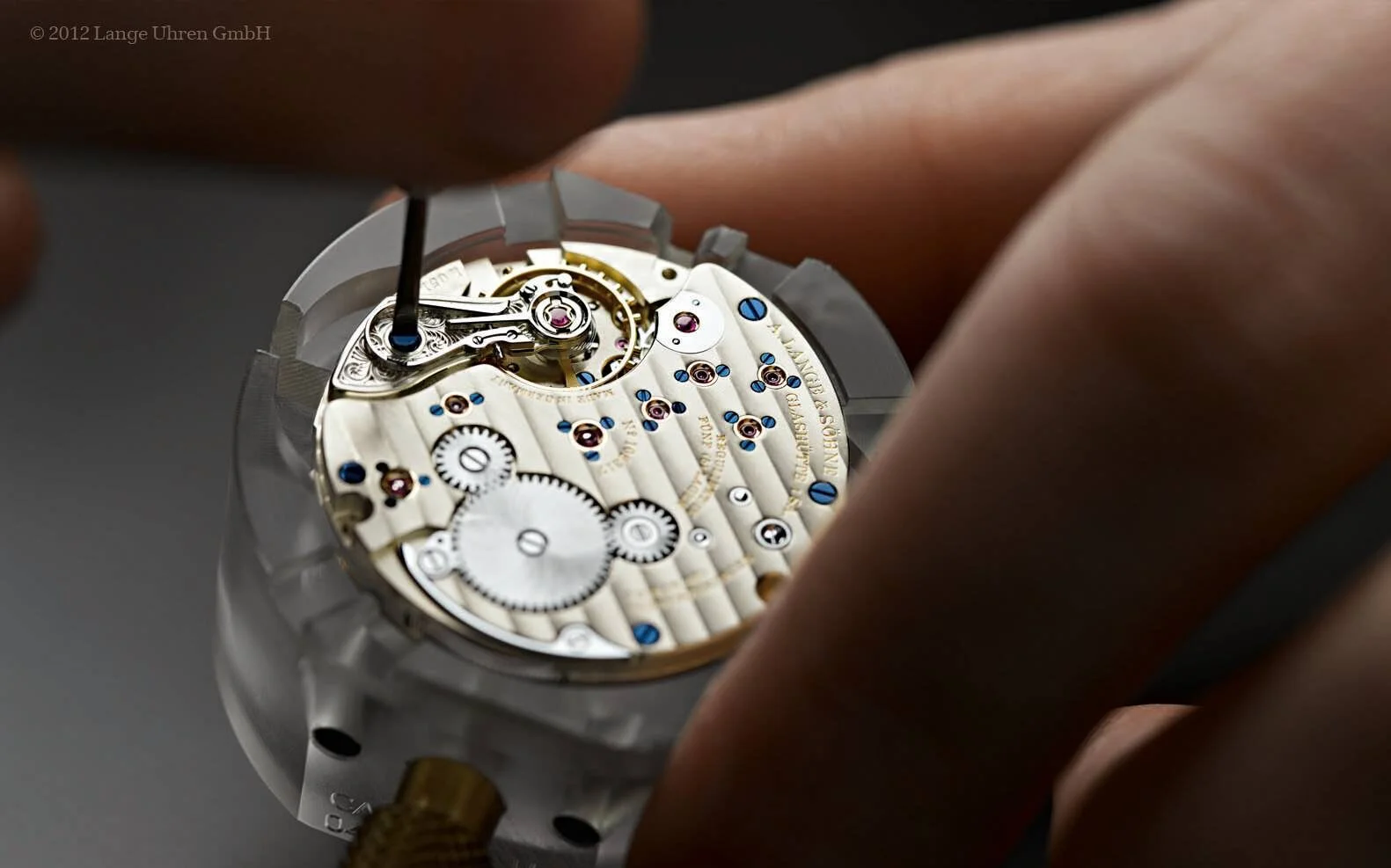 Exposed Ratchet Wheels of the 1815 Up/Down. Courtesy of Lange Uhren GmbH
Not because the movement is not well-finished; on the contrary, it is exceptional for its price point; but, contradicts with the aforementioned marketing claim, thus causes disturbance. A food for thought.
On the technical side, the caliber L941.1 offers 45 hours of power reserve and beats at a traditional 3Hz. It also features a hacking seconds mechanism.
Little known, the 1815 collection was first introduced in 1994 in disguise of the deservedly famous Tourbillon Pour le Mérite. Yet; the first watch with the 1815 in its name entered in Lange's collection a year later in 1995. Although it was utterly classical in appearance, 1815 was actually the weird one among the eccentric gang. Indeed, amidst the outlandish Arkade, Saxonia in 34 mm with a big date and now the legend Lange 1, with its reserved and classic look, 1815 was the outlier.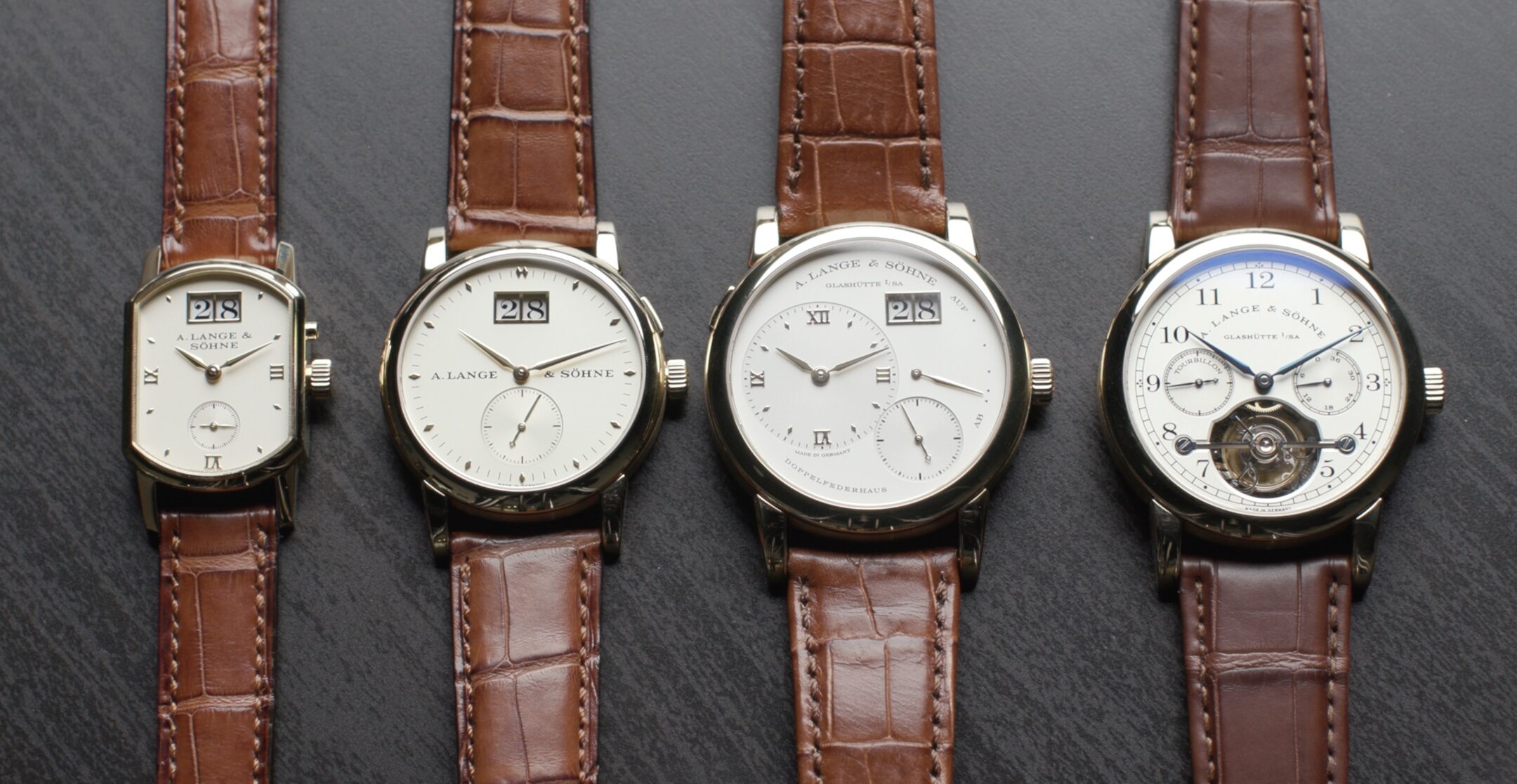 The one of a kind 1994 Collection of A. Lange & Söhne
In the following years, Lange 1815 served as a base for many different designs. Kudos to Lange, the line's character was never lost no matter the complication – be it the 1815 Chronograph or the time only collection you are going to witness here, one glance is enough to understand that they are part of the same family.
Focusing on the time only part of the collection, the first references 206.021 (1815 yellow gold) and 206.025 (1815 platinum) were introduced in 1995, though became available 1996 onwards. The first series measures 35.9 mm in diameter and 7.5 mm in thickness. Reference 206.001 (yellow gold) was endowed with a solid case back – as it was the case with Lange 1's famous 101.001. Yet, Lange discontinued the reference in about 2 years, and replaced it with the open case back reference, mentioned 206.021 above.
The 35.9 mm generation has a lug width of 19 mm and fits for 16 mm buckle.
At the time, Lange 1's retail price was 27k Deutsche Mark for gold (101.001) and 39k DM for platinum (101.005). Compared to Lange 1, the brand offered 1815 as an ultimate bargain piece with lower than half price, 11.9k DM. It was Lange's first foray to expand the clientele base.
The case structure of the models is usual Lange: Simple, defining, solid and characteristic. It is constructed rather than crafted per se, fully serves to the image which was created by Blümlein – Lange watches feel like closing of a Mercedes door, he says.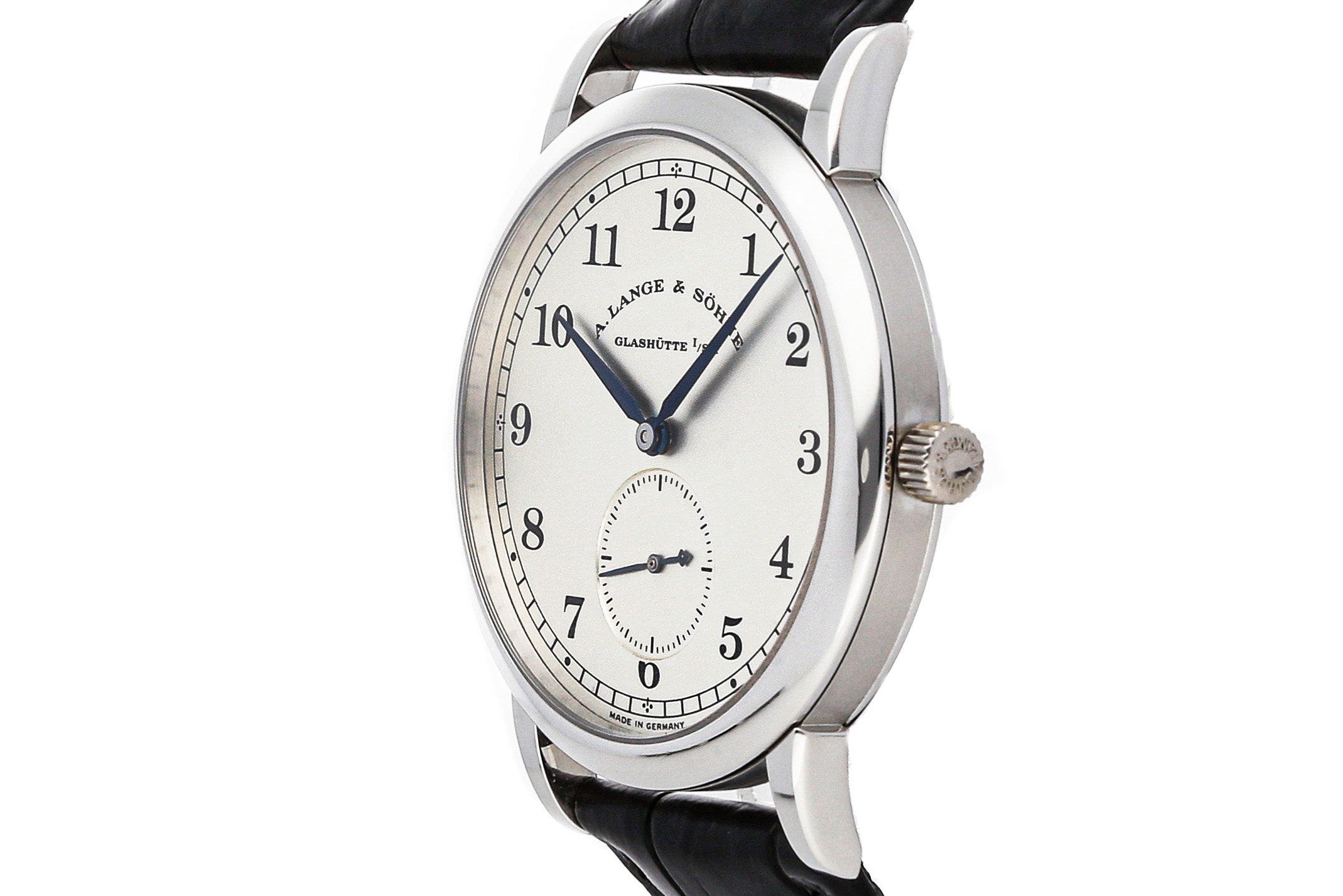 The case follows a three-step construction as bezel (rounded in the first and second generation – stepped in third), case band and case back with alternate finishing. While the top and bottom parts are polished, the case band is brushed, delivers a striking contrast and distinction with the mirror polished and notched lugs.
A note here: While the white gold, yellow gold and platinum versions' case bands are brushed, pink golds' are fully polished. A long time Lange collector and Purists forum member CR comments on the subject as following:
"As those who've followed Lange know, the brand never brushed the middle section of its rose gold cases until relatively recently (2017 or so). This was due to concerns about the rose gold alloy's ability to withstand the same (standard) brushed finishing that Lange used on all of its other cases (YG, WG, PT, HG, SS). I think the specific concern involved tarnishing/discoloration of the brushed finish over time — that the middle of the rose gold case might eventually look too different from the rest of the case if it were brushed.
It always struck me as odd that Lange didn't see this as a problem that needed to be solved before any products could be released. I would have expected Lange to say, "We will not produce any RG watches unless we can apply the same type of finishing that we use on all of our other gold alloy cases." To me, polishing the middle of the RG cases represented a sort of capitulation — like giving up or taking the easy way out."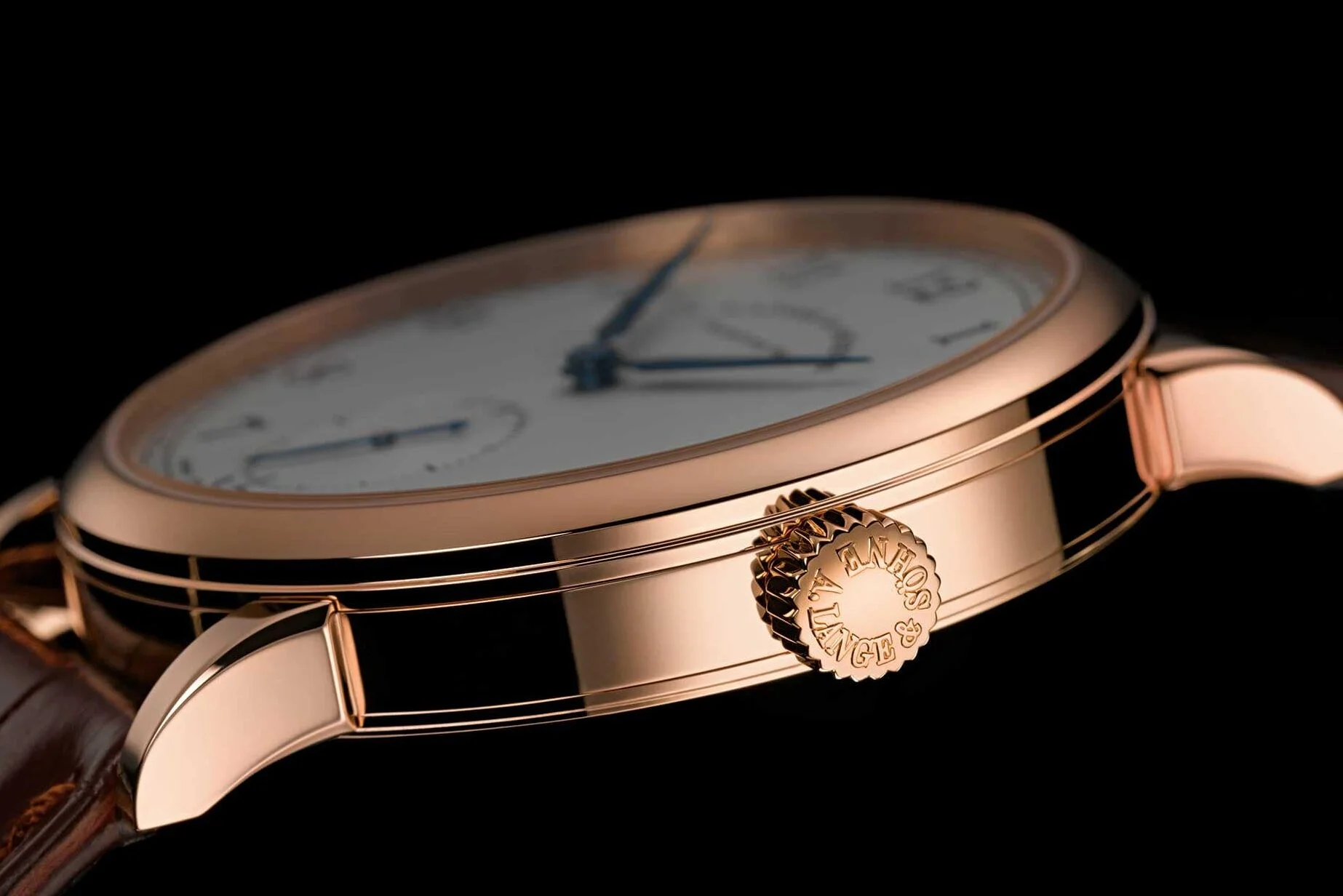 Full polish. Courtesy of Lange Uhren GmbH
A. Lange & Söhne 1815 - First Generation
In 1995, Lange 1815 was launched in platinum and yellow gold, and also with bracelets. In 1998, the white gold (206.027) blue dial joined the Lange 1815 stable as part of the special blue collection at the time. Lange produced the model only for one year and discontinued in 1999.
In 2001, Lange introduced the pink gold version reference 206.032 with pink gold hands and argenté dial. The price was 15k DM at the time, and with the introduction of the Euro, Lange updated it as €8100 in 2003.
The 1815 collection was introduced with handwound movements. Because, in the end, as much modernized as the collection is, 1815 was still taking its roots from tradition. If one looks back, A. Lange & Söhne produced only about 40 automatic pocket watches in its close to 100 years of existance; and none when Ferdinand Adolph Lange was alive.
In 2004 however, the most unexpected thing happened: A. Lange & Söhne introduced an 1815 with an automatic caliber (ref numbers 303.xxx). However, this marriage was disconnected from the Lange 1815 Family's underlying principles. After only two years A. Lange & Söhne discontinued the 1815 Automatik collection in 2006 and offered the legendary Langematik calibers solely in the upcoming Saxonia Automatic family in 2007.
1815 Automatik measures 37 mm in diameter and a slender 8.2 mms in thickness; which are the perfect measurements for me. The dial design is almost identical to first generation 1815 collection with the exception of the increased gap between the rail-way minute track and bezel, Sax-0-Mat inscription on sub-seconds dial and the zero-reset down below.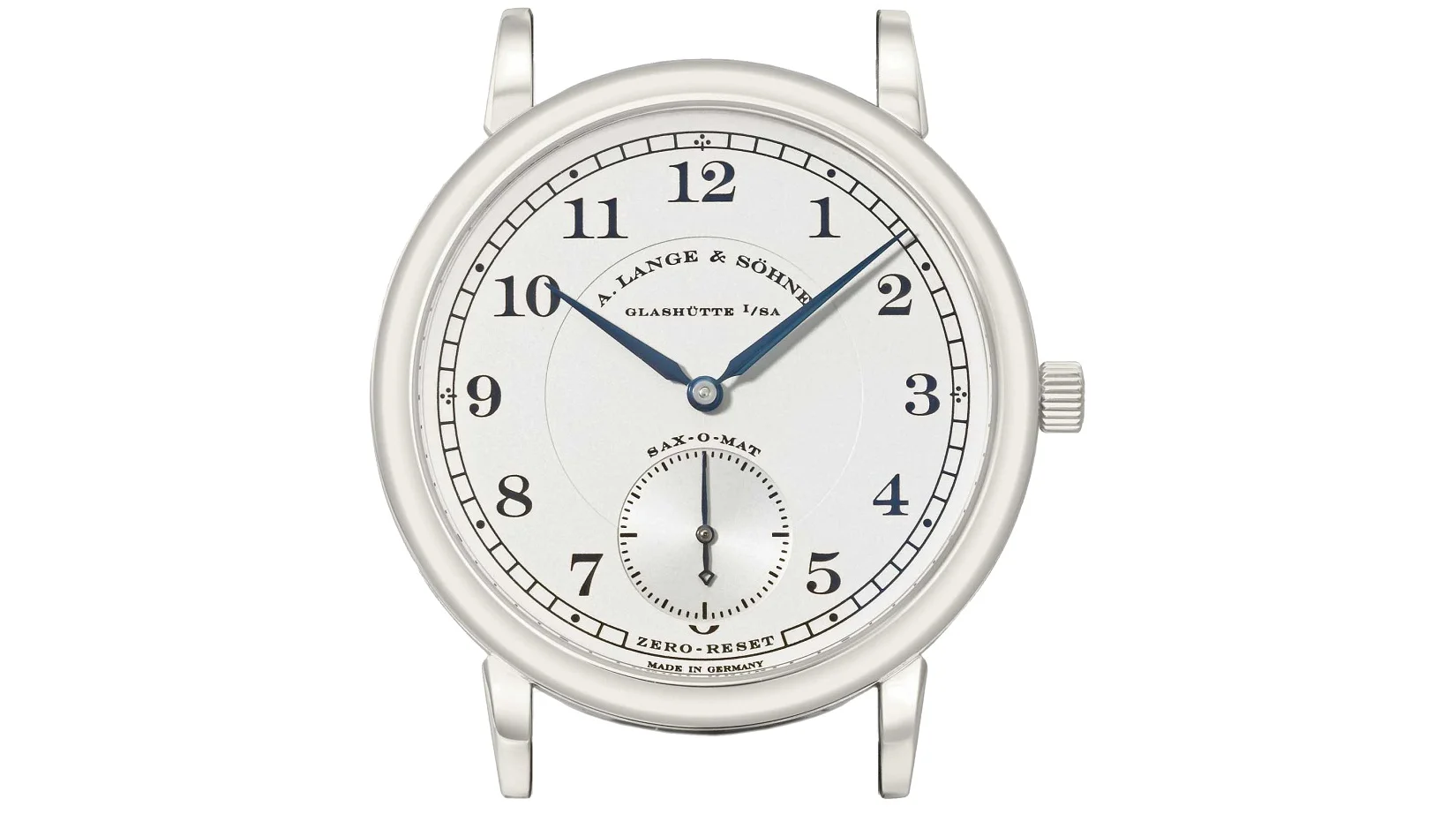 In 2005, Lange diversified the 1815 collection even further with a white gold / black dial (206.029) version – exact replica of the famous 1815 Service Watch in steel, which caused quite a speculation in 2019:
In the first few years, Lange issued 1815 models in steel as service watches. The logic was to loan a Lange watch for clients who had sent their watches for servicing. A start-up at the time, Lange had no chances to cut corners; thus, these watches were finished to the standard Lange level.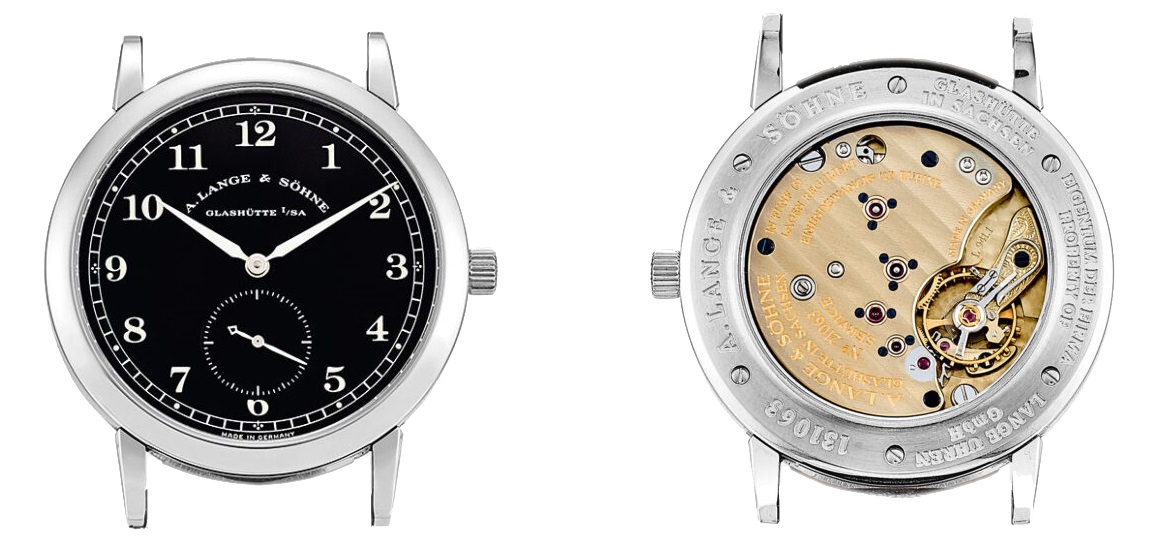 To my knowledge, these were issued only until 1998-1999 and discontinued afterwards. Because collectors know the market. They were aware that a steel watch from Lange could be valuable in time. Indeed, thinking about the steel Double Split or steel Lange 1s, they turned out to be right. Hence, some said; we lost the watch and offered to pay, and some just wanted to keep it… Consequently, in 2019, one service 1815 in steel surfaced at Sotheby's but back and forth with Lange, the auction house withdrew the lot. Perhaps Lange bought it? I do not know.
These service watches are still in use by Lange employees in the manufacture for testing purposes.
An overview of the first generation (excluding Blome and steel) 1815 Collection:
206.001 – Yellow gold case / solid case back (1995 – 1997)
206.021 – Yellow gold case / open case back (1995 – 2008)
206.025 – Platinum case / silver dial (1995 – 2007)
206.027 – White gold case / blue dial (1998 – 1999, part of the blue collection)
206.029 – White gold case / black dial (2005 – 2008)
206.032 – Pink gold case / silver dial (2001 – 2008)
A. Lange & Söhne 1815 "Blome"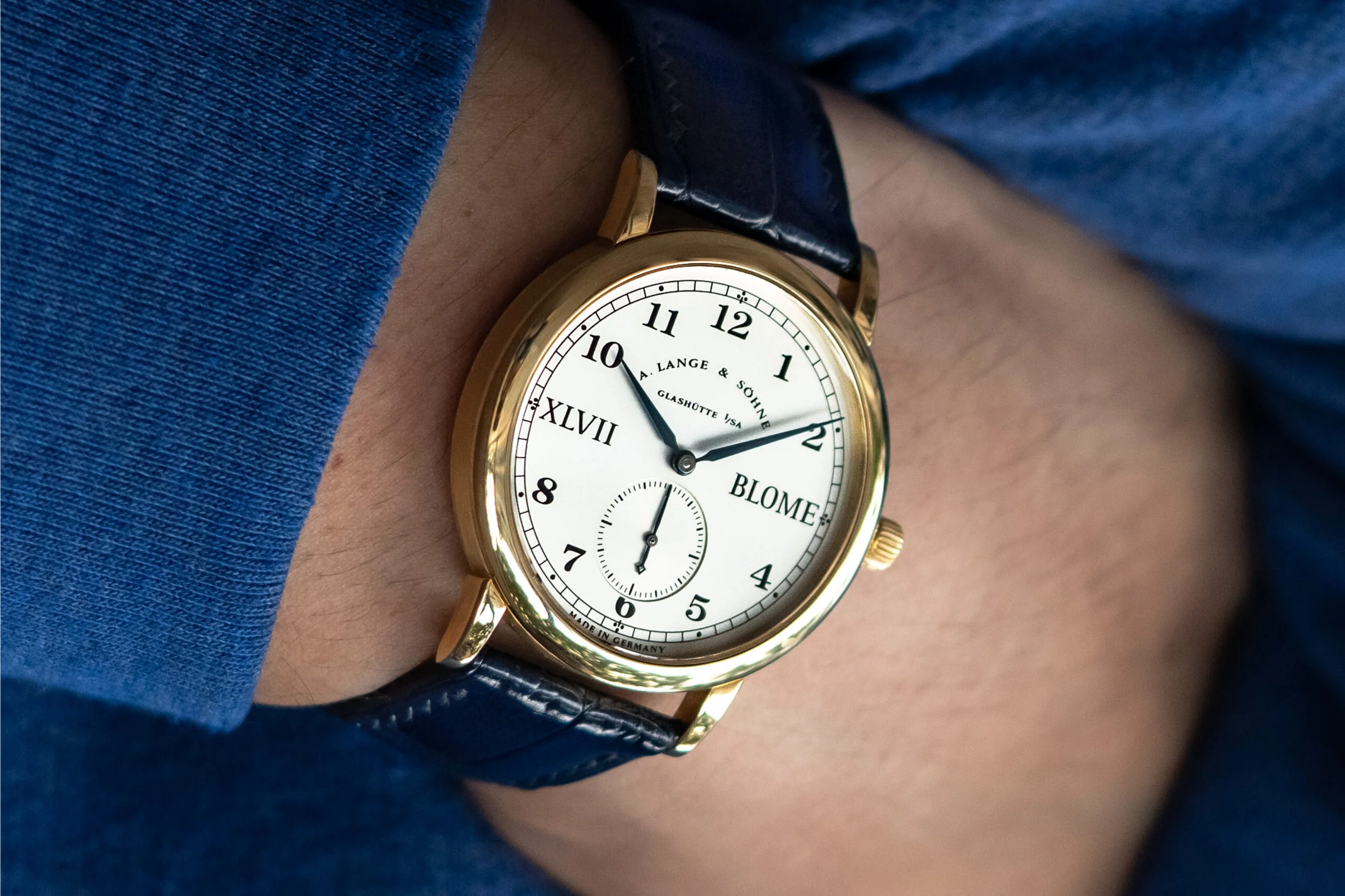 From the inimitable Singapore Watch Club
This watch came to my attention via a dear friend on Instagram, @singaporewatchclub. He is the only owner of this piece that I know. The watch is a result of early A. Lange & Söhne's efforts to find and strengthen ties with strong and prominent retailers; where they made a myriad of different limited editions accordingly. Some of the most famous are Datograph Pisa, Lange 1 Hausmann, Lange 1 Leon Martens and so on.
For the piece above, founder of the Singaporewatchclub Tom Chng generously wrote his description on why it matters to him and what the piece is about:
"I've always been drawn towards unusual watches, ones that tell a story. Watches that marks a specific point in time, distinguishing itself from the past and future. This piece here is one such example. At first glance, it is recognizable as a member of the Lange 1815 line: Arabic numerals mark the hour chapters, in Lange's signature font. Except for "XLVII" at 9, and "BLOME" at 3. This is a striking deviation from Lange's usual reserved and understated style.
Putting aside the inaugural Pour le Mérite of the brand's revival collection in 1994, it was widely believed that the 1998 run of 100 Lange1A timepieces was A. Lange & Söhne's first limited edition series. However, this rare double-signed 1815 predates the Lange 1A by a full year, rightfully Lange's true first-ever limited-edition release.
It was a special order by Düsseldorf retailer @BlomeUhren in 1997, to celebrate their 50th anniversary since establishment in 1947. Hence, the "XLVII" (Roman for 47) and "BLOME" signature, at 9 and 3 respectively. On top of being the only Lange with a double-signed dial, it is also highly unusual to see Lange honoring the retailer's name in a much larger print than its own, both facts being unthinkable of the brand today. Only 10 pieces were produced, interestingly numbered with a special engraving on the 3/4 movement plate, rather than on the case back like subsequent limited editions.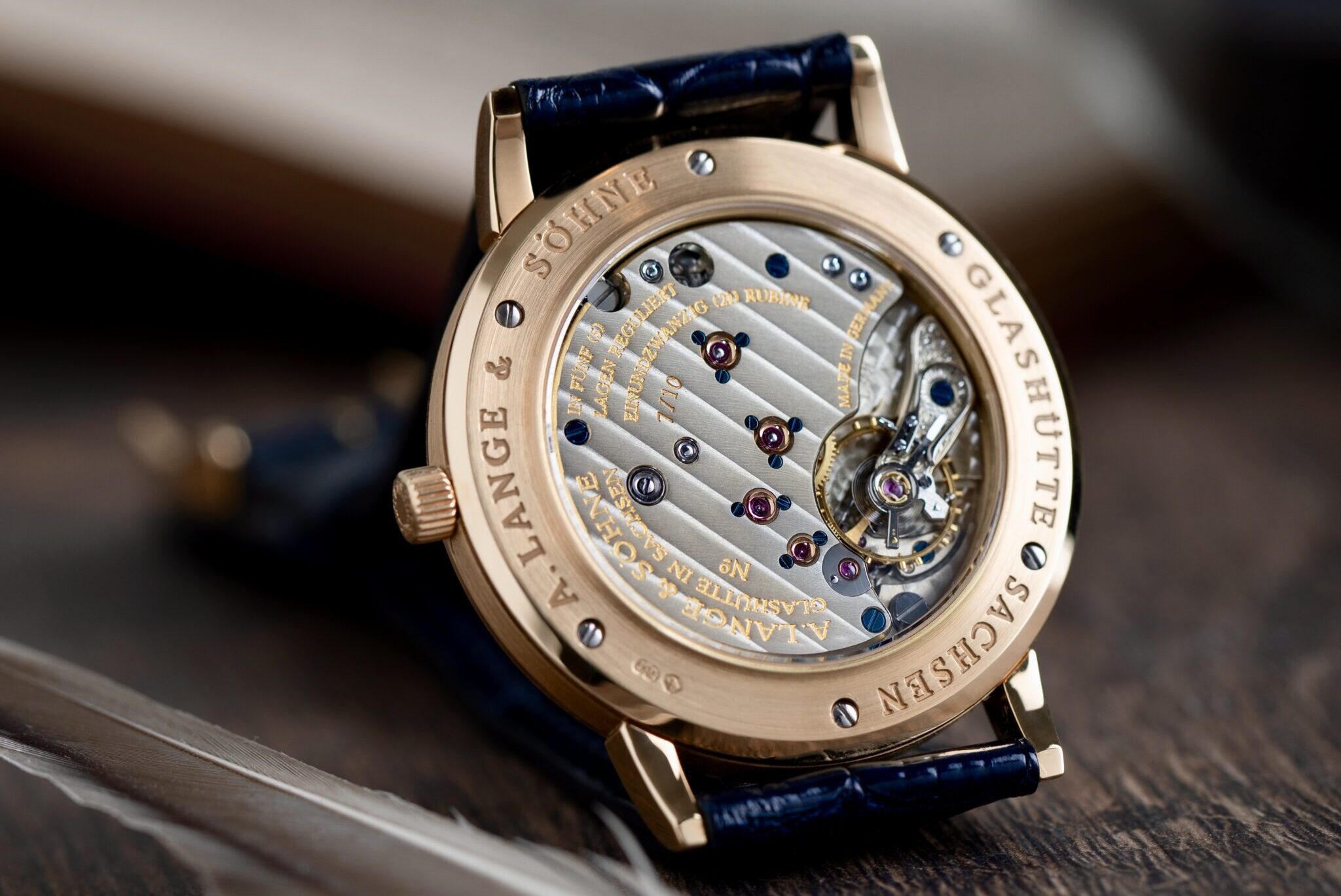 The case back is of course where Lange shine's the brightest. A fantastic exhibition of all the hallmarks of traditional German watchmaking; flame-blued screws, gold chatons, and red rubies sprucing up the warm German silver plate. Finished with black polish, Glashütte ribbing, artisanal bevels, and the unmistakable hand engraving on the balance cock.It came with all the usual accompanying accessories, including original purchase documentation from H.D. Blome. This acquisition is an important and sentimental one for me, a timepiece that I feel a strong connection towards. No doubt one that I will cherish and enjoy for many more years to come."
Around 2005, Lange noticed that the 35.9 size was not feasible in the market anymore, thus wanted to update the entry-level collection with a new case size and as you would expect from Lange, a new movement. Second generation of the Lange 1815 collection was launched in 2009 with the new caliber L051.1.
A. Lange & Söhne 1815 - Second Generation
Introduced in 2009, the new 1815 collection's case size went up to 40 mm from the previous 36 mm. Lange launched the second generation of the collection in all metals except steel; platinum being limited to 500 pieces. The gold versions were priced at a modest €14k whereas the platinum was asking a hefty premium and priced at €26k.
There are few small differences between the first and the second generation. As you might notice, due to increased case diameter, the gap between the small seconds and the center is wider in the second generation. The hours' ring as well as the hour markers are also bigger to proportionately cover up the space, too. The "Made in Germany" inscription is now written in serif font, differing from the sans-serif on 36 mm variants. Apart from the very small proportionate differences, the two generations are completely identical from the front.
Technically, the new caliber L051.1 is not much different from the old workhorse L941.1. It offers 10 hours more power reserve (from 45 to 55) and a different beat adjustment system; the rest are identical. I assume that the reason for the new development was another founding principle of Lange: The movement can never be disproportionately small compared to the case size. The first-generation Lange 1815 models had a case size of 35.9 mm with a movement measuring at 25.6 mm. Since the second-generation's case diameter went up to 40 mm, Lange wanted to balance it and developed a new movement with a diameter of 30.6 mm.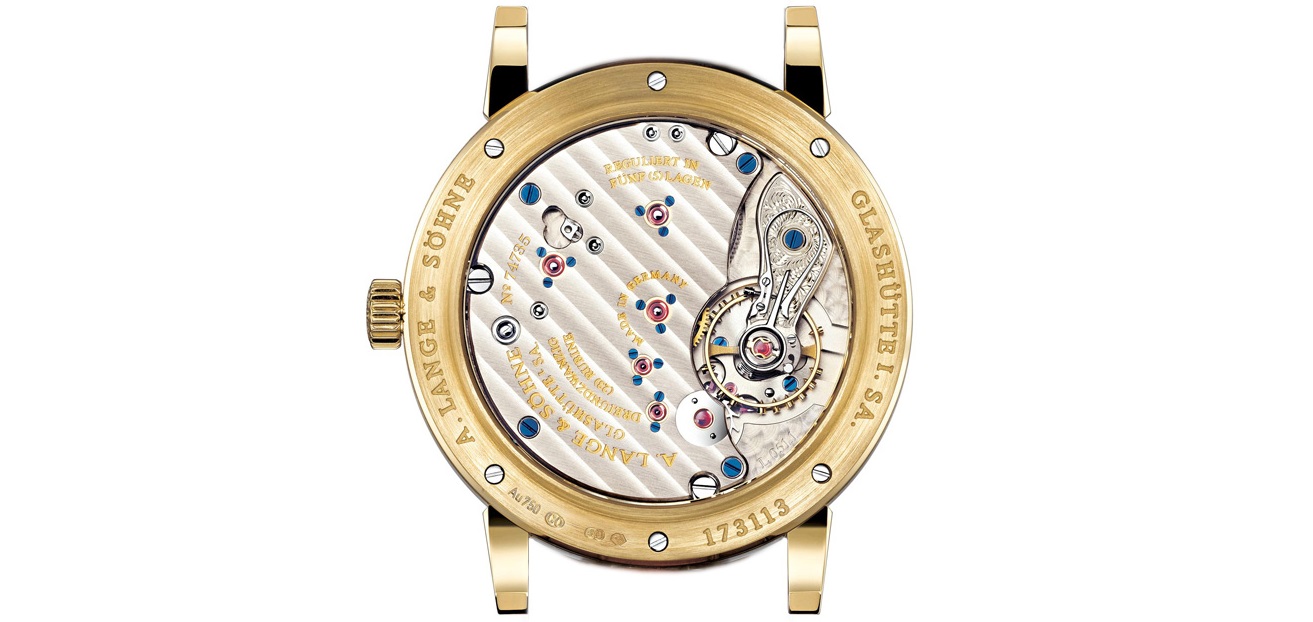 Lange discontinued the yellow gold (233.021) in 2013, possible due to lack of demand; while the rest remained in catalogue until 2016-2017.
The breakdown of the second generation A. Lange & Söhne 1815 references are as follows:
233.021 – Yellow gold/champagne dial – caliber l051.2 (2009-2013)
233.025 – Platinum/argenté dial – (2009-2016)
233.026 – White gold/silver dial – (2009-2016)
233.032 – Pink gold/silver dial – (2009-2016)
A. Lange & Söhne 1815 - Third Generation
The winds of change continued in 2014 and Lange 1815 collection received its second facelift while entering its third generation. The case diameter was reduced from the previous 40 mm to 38.5 mm; which I think is the exact sweet spot between the first and second-generation.
A noticeable difference in the case construction is the stepped bezel instead of the rounded in earlier editions. This gives the watch a whole new modern look, shying away from its earlier classical appearance. In addition, the "made in germany" inscription is now right below the seconds sub-dial; whereas in the previous generations, it was located below the minute track.
Moreover, since the case size is decreased by 1.5 mm, the caliber L051.1 fits much better to case back and offers a much more pleasing view. Here, Lange did not conceive a new movement for the new generation; as the sizes are already compatible with each other.
Launched only in three different shades of gold, the retail price in 2014 was €20k for pink gold (235.032) and yellow gold (235.021); whereas €21k for the white gold (235.026). 8 years down the road, the white gold version retails for €25.6k in 2022.
Perhaps to guide you a bit; in comparison, A. Lange & Söhne offers another manually-wound three-hander collection: Saxonia. The 37 mms Saxonia utilizes the caliber L941.1 (almost identical to L051.1) but costs almost €5k less than the current 1815 collection.
A. Lange & Söhne 1815 - 200th Anniversary
Apart from the standard collection pieces, Lange introduced two limited 1815 pieces in 2015 for the 200th Birth year celebrations of Ferdinand Adolph Lange. Both models were limited to 200 pieces; in honey gold with a grained solid silver dial (236.050) and platinum with black dial (236.049).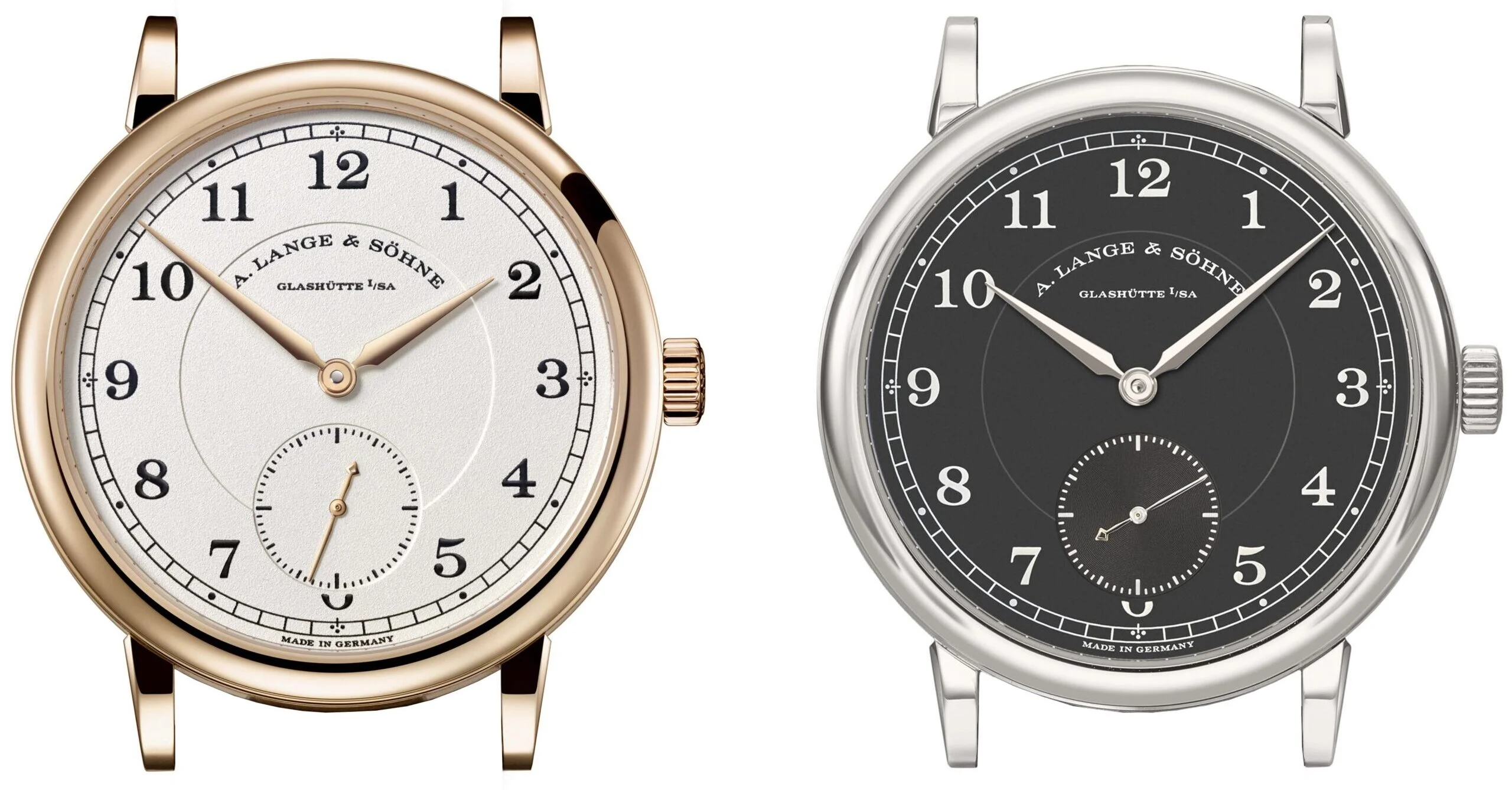 Honey gold is the brand's proprietary material. Lange chooses to utilize Honey Gold only in special editions and occasions. An example, the material's debut was in 2010 for the 165th Anniversary of the brand. Honey Gold is much harder than usual 18k gold alloys (300 Hv vs ~200 Hv) and has a delightful hue somewhere between white gold and pink gold.
Although both editions are absolutely beautiful, the honey gold deserves to be called a special edition more than the other. Unfortunately, the platinum edition looks identical to the first generation 1815 with black dial (206.029); thus, I see it as a lazy attempt. On the other hand, the honey gold version further stands out with its eggshell colored dial and its grainy surface. The harmony between the honey gold's hue and dial's distinct pattern and color is beautiful; putting the reference 236.050 in a higher stand compared to its platinum sibling.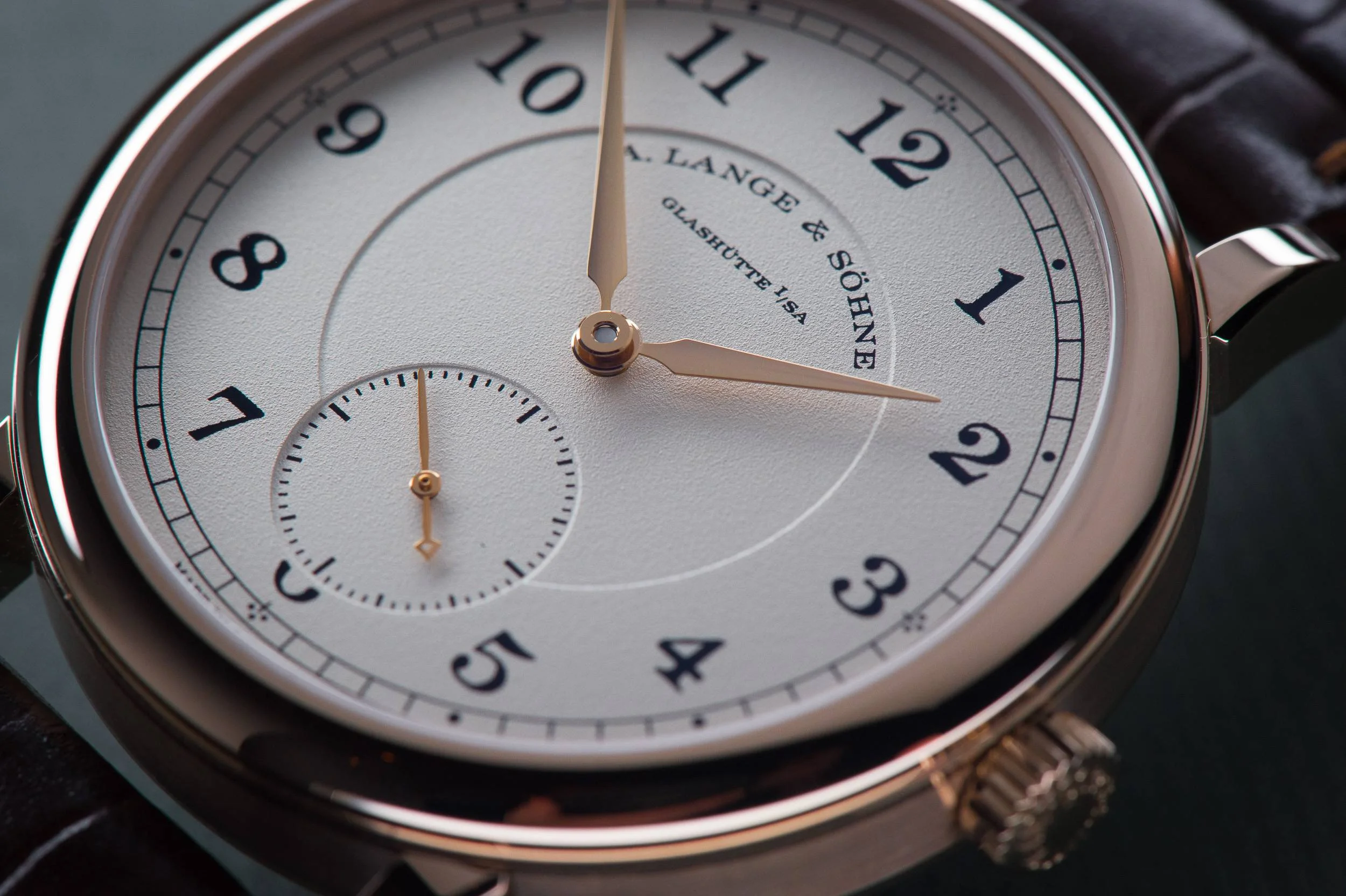 Courtesy of Haute Time Magazine
However, I have a slight beef with these two limited editions. Again, not because they are not beautiful; but because what they represent:
Since its foundation in 1994, Lange's special editions have always been exceptional, noteworthy pieces; distinguished with their new movements and completely new designs. They always offered a concrete value and truly deserved the "limited edition" stamp. Emil Lange, Langematik Anniversary, ReferenzUhr, 1815 Sidestep, Langematik Gangreserve just to name a few. – until 2010.
As I also touched on my Handwerkskunst article over SJXwatches, "(Starting) from 2010, in a more commercially oriented pivot, the brand began debuting more limited-edition watches distinguished by livery, typically with different case metals, dials, or decor.". Unfortunately, the two 1815 limited edition models fall into this category. Although superbly captivating pieces, in terms of differentiation, they do not live up to the standards formed by early A. Lange & Söhne and gives some signals for the future orientation of the brand.
Sadly, my observation becomes only stronger in the light of recent launches; such as Lange 1 "25th Anniversary" Collection. Although beautiful watches individually, it is an uninspiring collection as a whole and I fear that we might be losing early Lange's untouchable creativity and passion.
The 1815 collection is one of the most important pillars of A. Lange & Söhne. It is the historical reference to the brand's past and the region's legendary founder. That being said, Lange managed to modernize the design exceptionally well.
The time only collection of the family is with us since 1996 and without its size, slight changes in dial and movement, it is pretty much the same watch for the last 24 years. Due to its strong character and what it symbolizes for A. Lange & Söhne, I do not think it is going to be changed even in the coming decades. Creating a character with a simple watch is one of the hardest projects one can encounter; and Lange 1815 collection does it masterfully.
Offered in a myriad of colors and diameters, there is an 1815 for every taste and every wrist size. Looking at competition and other offerings, there is no question that a basic 1815 Time Only watch offers some of the best values in high end watchmaking for the last two decades.
Buying an A. Lange & Söhne 1815
Starting from the first generation, at its introduction in 1996, the retail price was around $9k and $12k on its discontinuation in 2007. Up until two years ago, the first generation 1815 collection pieces measuring 36 mm were available for around $12-14k, depending on the metal, set, and condition. Today both with the rising popularity of A. Lange & Söhne and the of 36 mm dressier watches, the first generation 1815 pieces have appreciated significantly. The yellow and pink gold references can be found for around $16-18k, whereas the reference 206.029 and 206.025 asking considerable premium, with an ask of $27-29k.
The second-generation pieces are available at quite distinct price ranges depending on the metal. Yellow (233.021) and pink gold (233.032) being the cheapest versions, both can be found for a bit less than $20k with box and papers. White gold (233.026) on the other hand, asks a bit more premium due to its subtle and more classical look. Platinum (233.025), as in the retail, asks quite a margin and usually available around quite the north of $25k.
I hope this was a valuable guide for whomever is looking for an 1815 model or just want to learn the details and history of these pieces. If you'd like to chat, sell or buy an A. Lange & Söhne 1815, please kindly reach out to me via [email protected]
Please feel free to contact:
Follow Langepedia on Instagram:
Watch "A. Lange Story" Documentary, in partnership with WatchBox:
Sign up for the newsletter to get to know first about rare pieces at Marketplace and in-depth articles added to the encyclopedia, for you to make the most informed choice, and first access!