"Fresh, a little impudent and very imaginative – that also applies to the Cabaret by Lange. The great art of watchmaking, performing on the smallest stage in the world. And giving the most beautiful performance that time is capable of." The Cabaret.
This is how A. Lange & Söhne introduced Cabaret back in 1997 in Basel. A bit frivolous introduction indeed. Albeit perhaps necessary as the Cabaret is A. Lange & Söhne's first truly rectangular (Arkade had more rounded angles) watch. When one takes a deep look, and we will, it is clear why such a name is the most appropriate. As a Cabaret, the collection offers a scene in precious metals crafted with an eye for detail to showcase the endless flow of time.
Quick Facts:
Introduced in 1997
Available in platinum and gold
Available as time-only, with Moonphase and Tourbillon
Available with Mother of Pearl dials
Discontinued in 2012
Part of the Handwerkskunst collection
The Cabaret article follows a chronological discourse with a taste of opinions here and there. It starts with an in-depth look at the Cabaret collection design from the case, dial, and movement perspectives, respectively. Further expands into Cabaret Moon phase; explores its market and differences. Third part takes an in-depth look at Cabaret Tourbillon and explains the particular reference's importance.
However, before jumping on the Cabaret, let's take a look at the untold history of rectangular watches at A. Lange & Söhne.
History of Shaped Watches at A. Lange & Söhne
Markets tend to punish the latecomer if it does not offer a meaningful differentiation from the established ones. Although modern A. Lange & Söhne managed to pull this off, unfortunately the 1920s version of the brand could not. Following WWI, the demand for pocket watches fell sharply and A. Lange & Söhne neither had the know-how nor the material to produce a wristwatch collection – going for bankruptcy.
To avoid a possible demise, A. Lange & Söhne opened up a branch in Switzerland under the name A. Lange & Söhne Genf in 1927 with outsourced movements from the manufacturé Altus SA. Unfortunately, sometimes the brand would put A. Lange & Söhne signature on the movement plates, a practice that the brand sued many others for decades…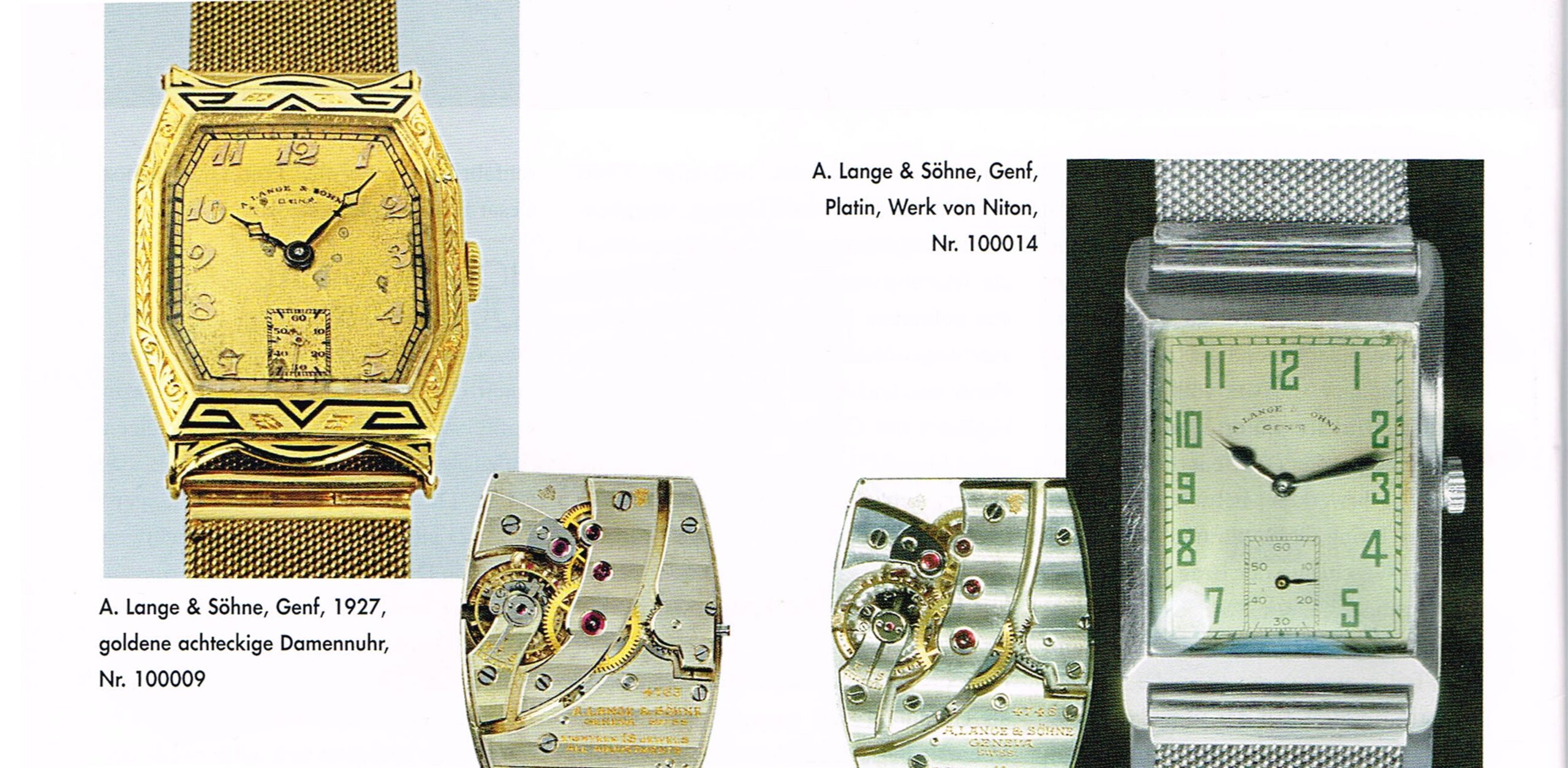 A. Lange & Söhne Genf with Swiss movements. Source: Klassik Uhren Nr.2/2013
From the 1920s to the company's long overdue fall in the 1950s, A. Lange & Söhne bought ebauches, cases from Switzerland and Glashütte, finished in its own ateliers and sold under different names Lange Uhr, Lange Glashütte I/SA, A. Lange & Söhne Geneva.
All in all, as you can see, shaped watches have a long-standing tradition with A. Lange & Söhne and I am sure that this heritage was one of the reasons for the introduction of Arkade in 1994 and then Cabaret in 1997.
Introduction of Cabaret, for me, is one of the most interesting choices ever made by A. Lange & Söhne. Even more so when one takes a look at the model that launched the collection in 1997 Basel: Reference 107.031 – a two tone Cabaret in pink gold. A complete departure from A. Lange & Söhne's established image. But perhaps, that was the intention after all?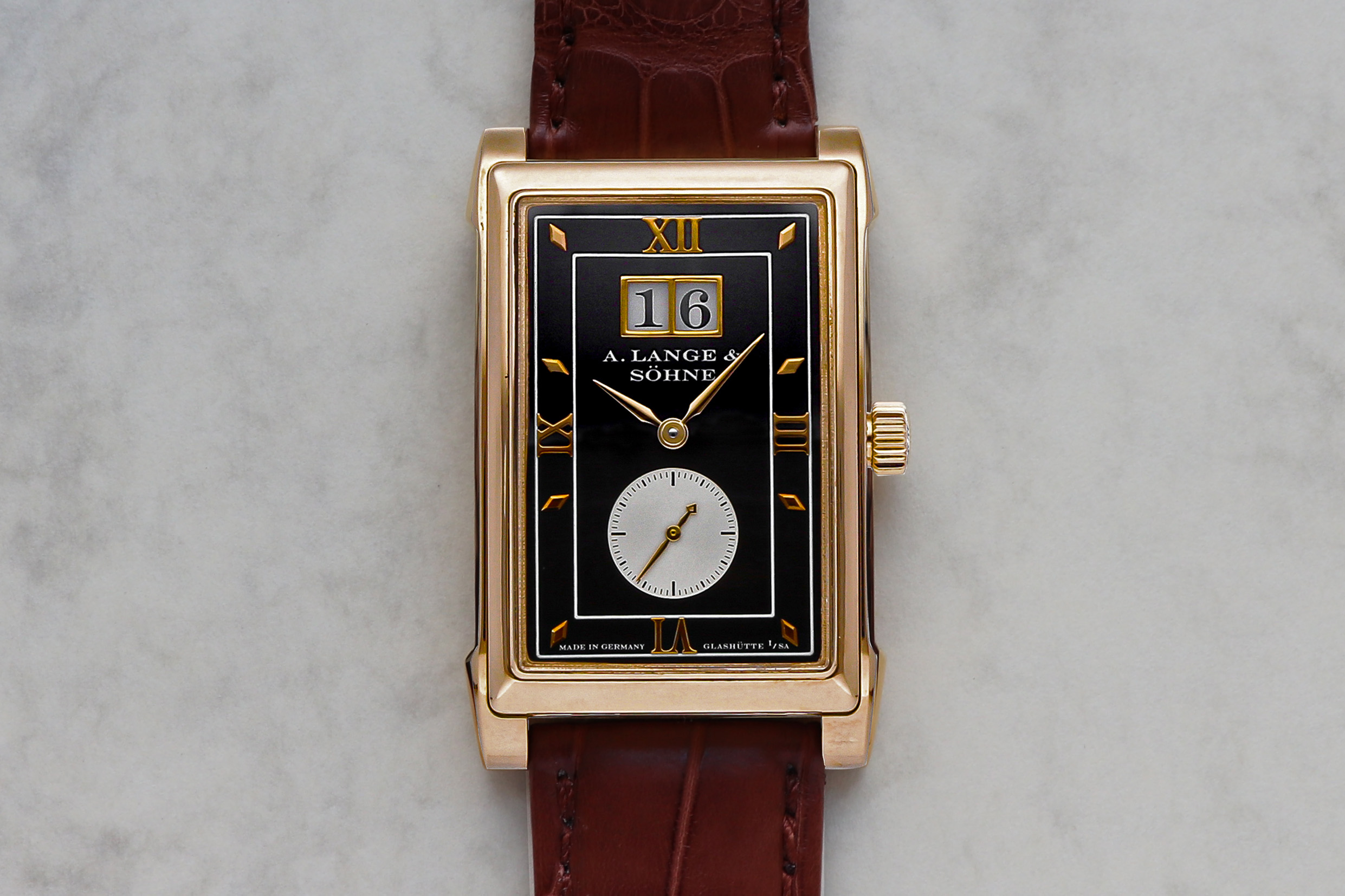 Cabaret pink gold / black dial reference 107.031
Apart from Lange 1's eccentricity, A. Lange & Söhne founded its design language to be pretty oriental with the defining hallmark between the past and the future being the big date. Indeed, when one takes a look at the 33.9 mm Saxonia or even the Tourbillon Pour le Mérite with exceptional mechanics and utterly traditional design, the observation gains rationale. All watches were featuring monochrome dial colors, and rather routine case designs.
A. Lange & Söhne signalled innovation in design with Lange 1 and in mechanics with Tourbillon Pour le Mérite, but what about cases? In the end, as a late comer to the market, meaningful differentiation was the strongest impulse of the brand's initiatives. Günter Blümlein, as a long-standing manager ofJaeger-LeCoultreknew Reverso and possibly wanted to offer something different, something German in the area of rectangular watches.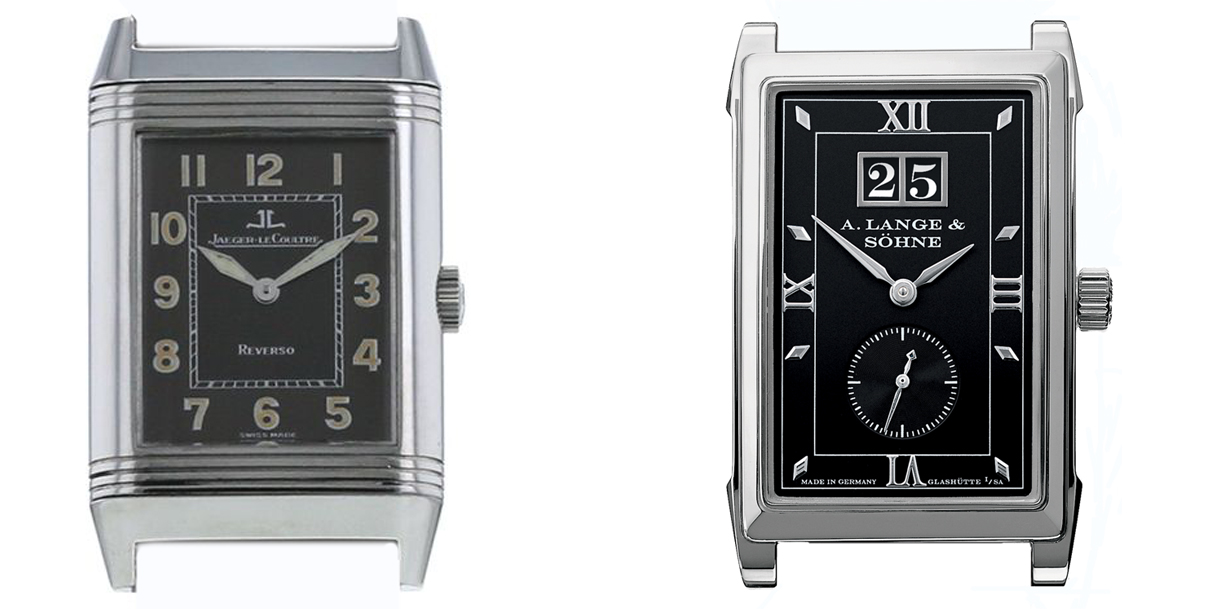 The press release quoted in the introduction uses the following words to describe Cabaret: Fresh, impudent, and imaginative. These carefully chosen adjectives tell us why A. Lange & Söhne chose to introduce a three-body rectangular case and a completely un-A. Lange & Söhne dial design only after three years of the brand's re-birth. They wanted to signal that the brand is going to experiment and means to keep it fresh. Cabaret was the signal of such a mind-set.
The basic Cabaret collection measures 36.3 mms in height, 25.9 mms in width and 9.1 mms in thickness. Even though I do not know why the case dimensions have such decimals, I believe it is due to movement specifications as the Cabaret's caliber is loosely based on Arkade's L911.
Cabaret surely has the most elaborate and detailed case design ever made by A. Lange & Söhne. Apart from the usual hallmarks such as the brushed case band and notched, angled, and polished lugs; the bezel is built on three-steps with sharp corners and a slope on top. The Cabaret's case design is a complete departure from A. Lange & Söhne's previous non-round piece, Arkade with the main differentiator being the protruding lugs. As you might recall, lugs are one of the most important design hallmarks of the brand, which were utilized even at Odysseus along with the integrated bracelet.
Even though the lugs cause the watch to wear rather bigger on the wrist, the delightful curves on the bezel's top, bottom and side surfaces help to minimize this effect. The case back flanks are slightly angled, enhancing the thin appearance of the watch from the sides.
Apart from the strap versions, most of the Cabaret collection was offered with matching Wellendorff bracelets, too. The connection between A. Lange & Söhne and Wellendorff comes directly from Walter Lange as he worked in the jewelry department of the company for some years while he was in Pforzheim.
Following, please see the breakdown of the case / dial combinations and Cabaret references:
107.031 – Pink gold / black-silver dial (1997 – 2010)
107.021 – Yellow gold / champagne dial (1998 – 2010)
107.027 – White gold / blue dial (1998 – 2002)
107.032 – Pink gold / silver dial (1998 – 2009)
107.025 – Platinum / silver dial (2004 – 2006)
107.035 – Platinum / black dial (1999 – 2004)
827.029 – Cabaret Soirée White gold / MOP dial with white tint (2009 – 2010)
827.035 – Cabaret Soirée White gold / MOP dial with pink tint (2009 – 2010)
Non-round watches have been done in a myriad of shapes and dial designs. Some of the most well-known examples are surely from Cartier or Gilbert Albert's designs of Patek Philippe in the 50s and 60s and many others. Yet, with Cabaret, A. Lange & Söhne finds a way to differentiate – thanks to big date, once again.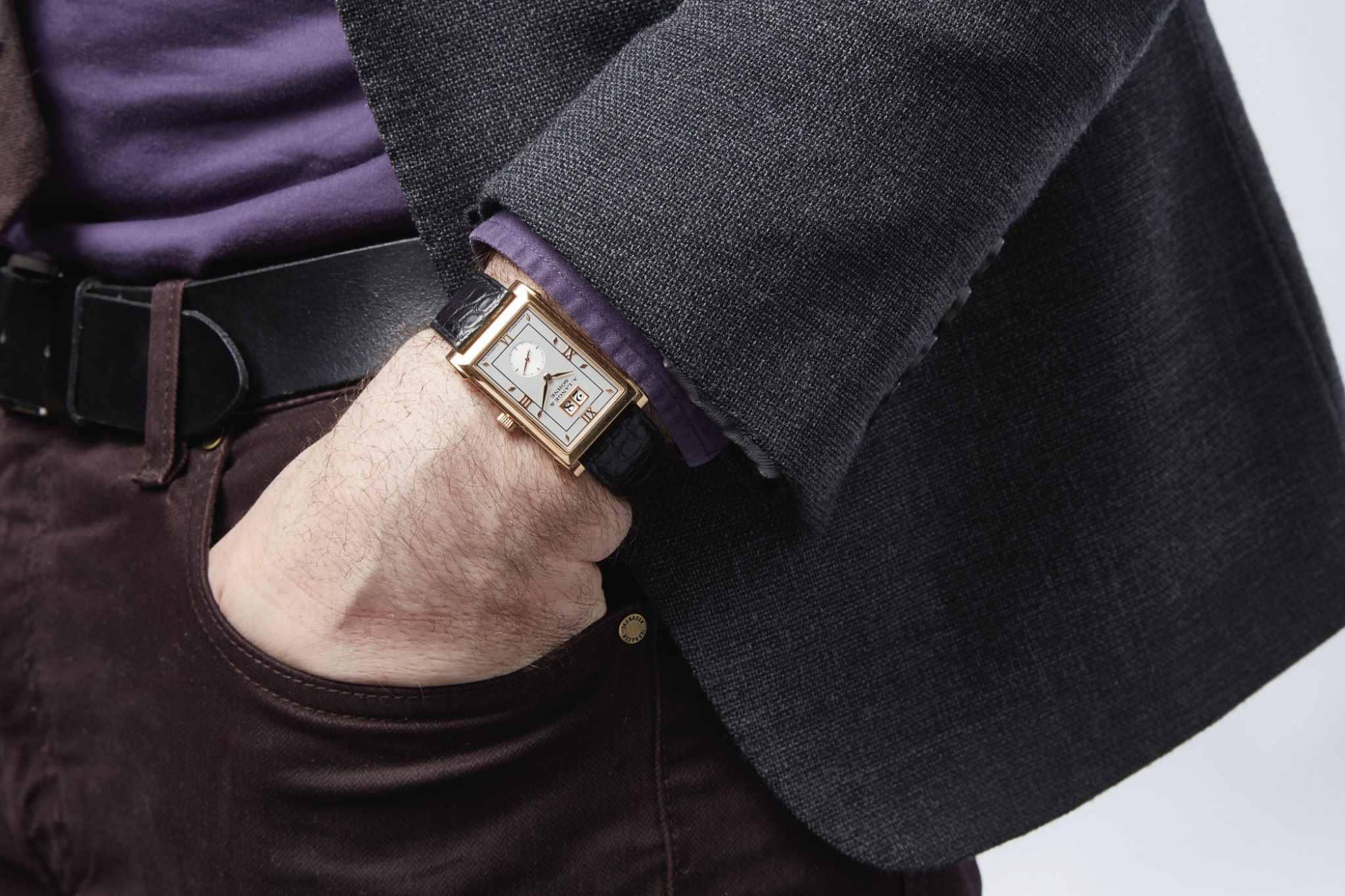 Cabaret 107.032 on the wrist. Courtesy of Sotheby's Watches
One of the most delightful things about Cabaret dial is the positioning of the indexes and numerals. All point towards the center, the focus point. Roman Numerals are borrowed from Lange 1 whereas the diamond shaped indexes are from the first Saxonia collection. The sharp corners are also present in the overall appearance of the dial. There is no oval or rounded shape; from the big date to Numerals, and the circulating rectangular line, everything is sharp and defined; hence harmonious.
A close inspection reveals that the space on the dial is vertically brushed and the seconds' sub-dial is finished with concentric circles. This is more apparent in dark colored pieces, such as reference 107.027 and 107.035.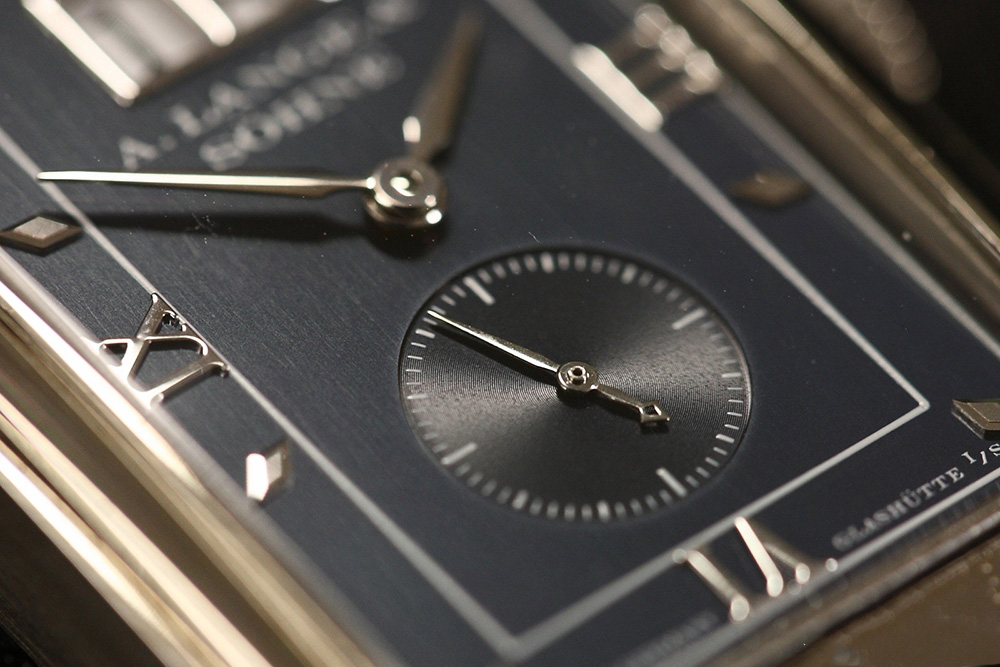 Cabaret's dial is very charming. However, I think it lacks a usual A. Lange & Söhne touch on innovation side. As Blümlein liked to mention, one of the brand's standing pillars is development and production of time pieces that offer a real product benefit: i.e. automatic zero-reset and the outsize date. Even though the big date is present, I would very much like to see an additional value; for hands for example as Parmigiani did something brilliant with the inimitable Pantographe.
Apart from the different colored dials, A. Lange & Söhne offered a different design for Cabaret, too: Cabaret Nota Romana.
Unfortunately, there is not much information about this collection. Some sources say that A. Lange & Söhne introduced the Nota Romana in 2003 Basel and following the bitter reception from the collectors, dealers, the brand never introduced the line. True that it never appeared in catalogues, so this sounds like a plausible theory.
Cabaret Nota Romana was introduced in yellow gold (107.022), white gold (107.026) and platinum (107.036).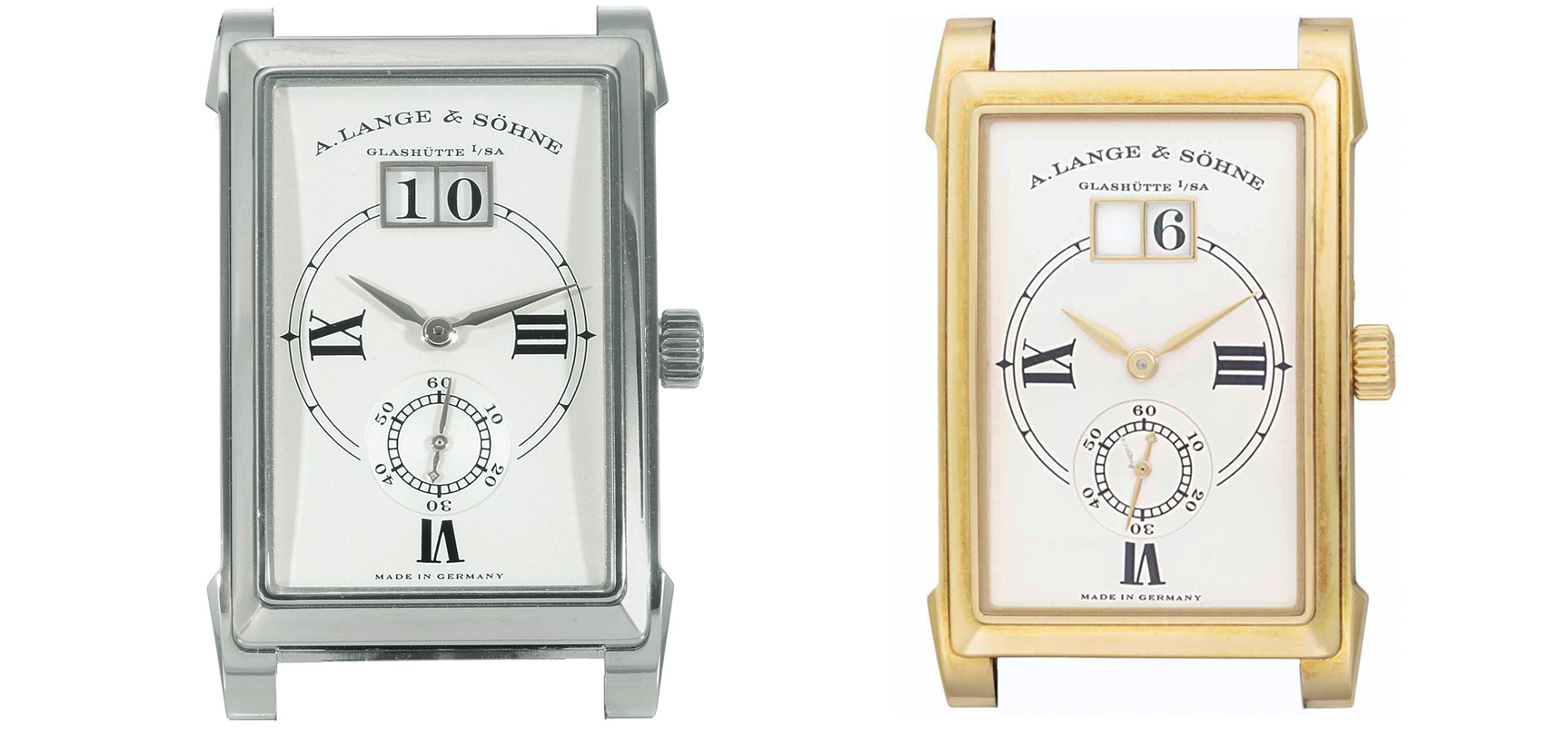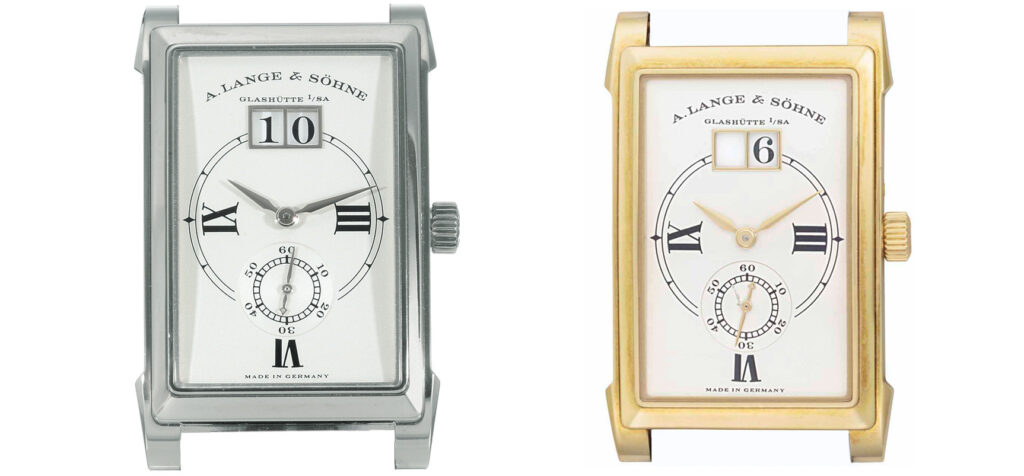 I believe the reason for such introduction was the unpopularity of Cabaret; hence, the brand tried something new to revive interest. Alas, Nota Romana backfired and was not even marketed. Seems to be the right choice though. The space around VI is distracting and sub-seconds placement is not ideal at all.
Finally, there is a special edition Cabaret for the Lange Owners Group, which was made in 2009 in white gold case, grey dial with a limited run of 25 pieces. As a further special touch, the special edition features a recessed engraved case back rather than usual stamping.
Cabaret's caliber is A. Lange & Söhne's second non-round one, following the Arkade's L911 in 1994. From the movement reference, we understand that the work for Cabaret started in 1993 (L93). The caliber measures 25.6 mms in length, beats at 3Hz and offers 42 hours of power reserve.
Aesthetic-wise, caliber L931 is as A. Lange & Söhne as it gets, housing all the brand's hallmarks such as blued screws, gold chatons, mirror polished escape-wheel cap and hand-engraved balance cock. The anglage is very well done and the curvatures are truly delightful.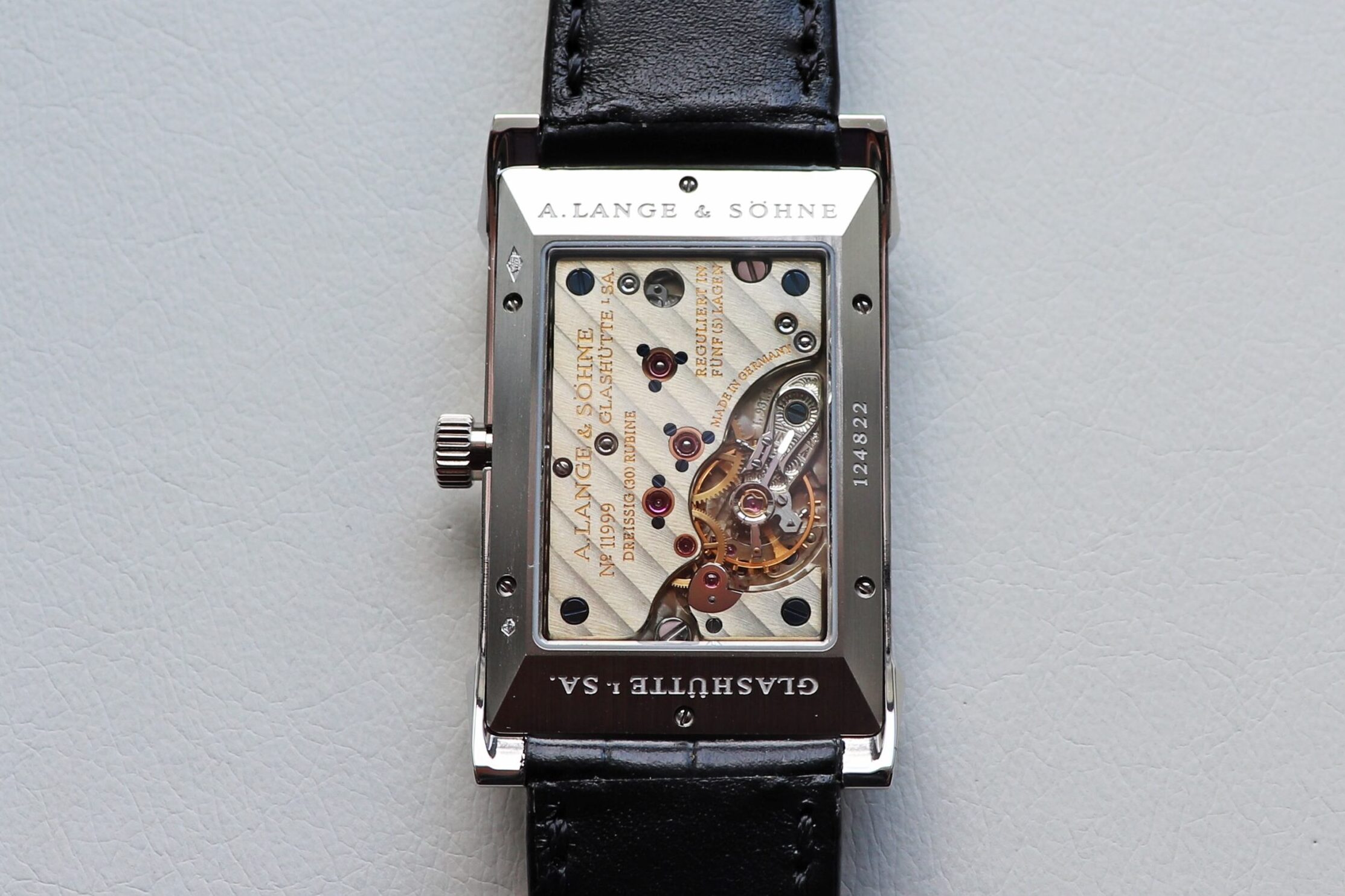 A. Lange & Söhne introduced the Cabaret collection in pink gold with two-tone dial in 1997 with a MSRP of 23,000 Deutsche Mark – which at the time was equivalent to $13,000. The platinum references 107.025 and 107.035 were priced a bit above at $20,000.
Despite numerous attempts of A. Lange & Söhne, the Cabaret collection has never enjoyed a wide popularity or even the popularity to sustain itself. I partially understand this; even though it is a charming piece, it does not offer enough differentiation that I can find at Lange 1, Richard Lange etc. Sometimes, the big date is just not enough.
As of February 2021, any basic Cabaret reference (apart from the diamond versions) is readily available between $16 – 20k. They tend to go even lower at auctions. The most popular versions are surely the platinum / black dial 107.035 and white gold / blue dial 107.027; which are my favorite editions as well.
If you'd like a similar, but far better made German, non-round wristwatch I highly suggest you to check the Moritz Grossmann Cornerstone or Lang & Heyne Georg.
A. Lange & Söhne Cabaret Moonphase
A. Lange & Söhne introduced the Cabaret Moonphase in 2004 in yellow gold (118.021) and pink gold (118.032) cases. Cabaret Moonphase, apart from its Moon detail, does not differ from its ancestor in any way. The line was discontinued in 2009.
The Moon phase indication is done in the old A. Lange & Söhne way: A matching solid gold disc with a few stars on top. In my opinion, with the addition of the Moon phase, the sub-seconds' dial balances out the outsized date at 12 o'clock much better. The blue markers for the Moon phase indication further brings a much-needed color to the dial and makes the Cabaret Moonphase my favorite version of the collection.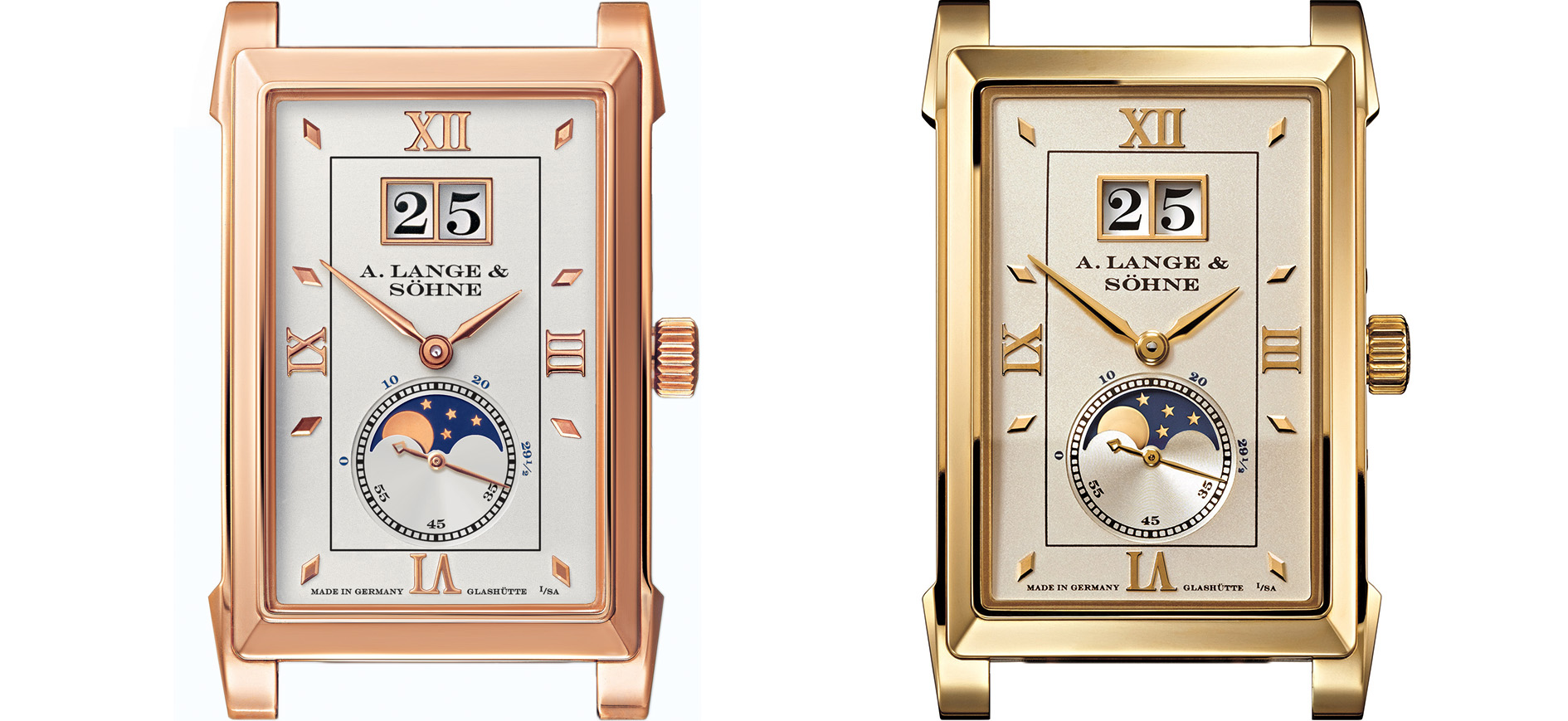 Today, A. Lange & Söhne's Moon Phase indications are driven continuously. However, that was not the case for 2004; hence, for Cabaret Moonphase. Its indication snaps forward once a day between 5 and 7 PM. Moreover, the owner has to advance it a day via the pusher on the case band once in every 32 weeks due to deviation between Moon's precise rotation around Earth and Cabaret Moonphase's gear arrangement.
Cabaret Moonphase was also available with Wellendorff bracelet options for each metal under the references 118.121 and 118.132 for yellow and pink gold, respectively. In 2004, the MSRP for the collection was $20k and $26k when discontinued in 2009. Since then, both the yellow gold and pink gold pieces appeared numerous times at auctions and pre-owned dealers with an average price around $16k.
In 2008, A. Lange & Söhne gave one last big push to Cabaret Collection – a $260k push. I mentioned above that even though the Cabaret is a beautiful watch, it does not offer the user-friendly innovation I expect from Lange. Well, this one does.
A. Lange & Söhne produced Cabaret Tourbillon in platinum (703.025) and pink gold cases (703.032). The reference is the brand's first non-limited watch with a tourbillon – its ancestors being Tourbillon Pour le Mérite(200 limited), Lange 1 Tourbillon(400 limited) and Tourbograph (50 limited). However, A. Lange & Söhne stated that it would be limited production anyways and 45 pieces would leave the manufacture every year. Since A. Lange & Söhne discontinued Cabaret Tourbillon after 5 years in 2013, one can assume that there are not more than 250 pieces of these floating around.
Cabaret Tourbillon differs in size from the rest of the collection and measures 39.2 mm in height, 29.5 mm in width and 10.3 mm in thickness. However, the case structure, finish, and the position of the recessed pusher for the outsized date indication are identical. On the dial side, there is a tourbillon opening at 6 o'clock, running seconds at 8 o'clock and power reserve indication at 4 o'clock.
Now, you might be wondering, why in the world would A. Lange & Söhne price Cabaret Tourbillon at $260k back in 2008? Of course, there is tourbillon and we know that tourbillon means easy money for most manufactures; however, even its existence here does not quite cut it, right? Well, that's because this tourbillon comes with a fundamental invention.
Why the Tourbillon / Caliber L042.1 Matters?
Tourbillon was patented by Abraham Louis Breguet in 1801 with the main purpose of negating the effects of the gravity on pocket watches' balance systems as they mostly stuck in a certain position in the pocket. In time we saw tremendous advancements in tourbillons, from the ones with detent-escapement as Ernest Guinand did in the 1880s to multiple axis ones made by Walter Prendel in 1927 in Glashütte to Greubel Forsey's exceptional art pieces… Yet, none stopped the tourbillon.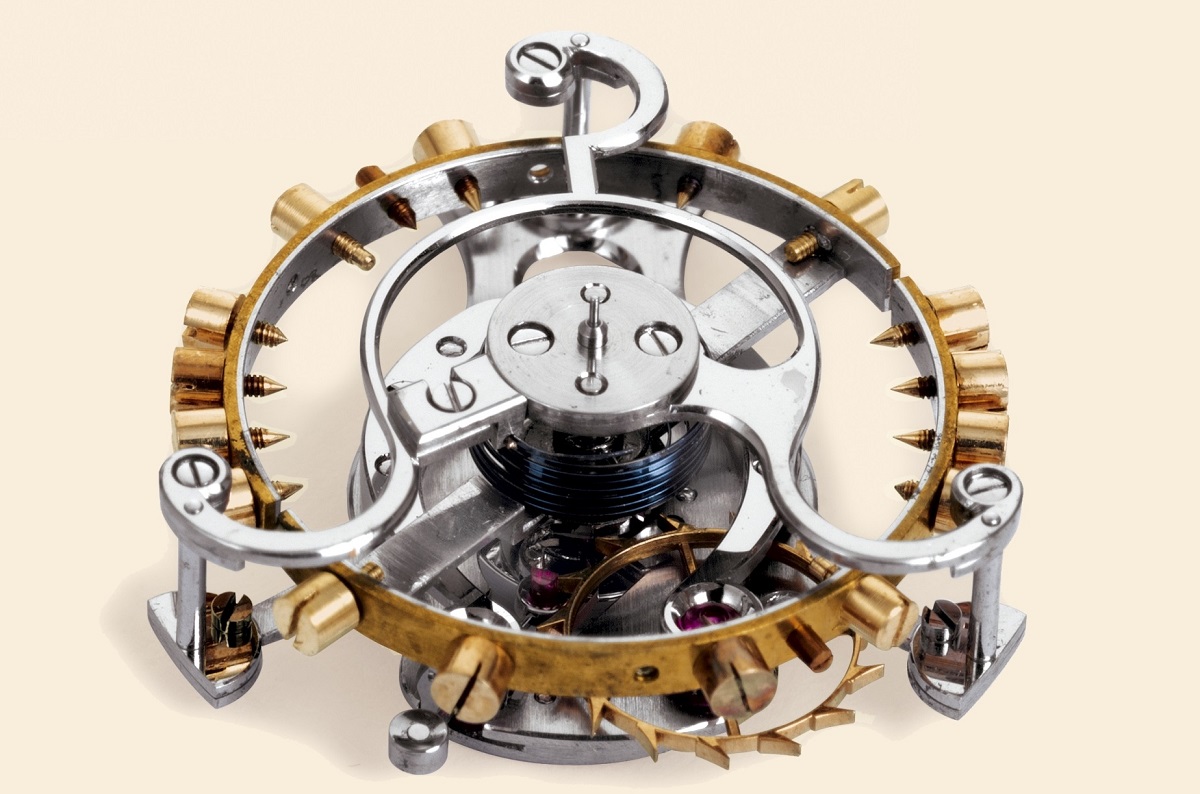 A tourbillon cage from a pocket watch of Auguste Huguenin from 1870s
As mentioned, the tourbillon was devised for pocket watches due to these objects' stagnant nature. I am sure as many of you know, in modern wrist watches that are worn in constantly changing orientations, the need for rate corrections is no longer a significant issue. However, some things are done for the sake of prestige, for exhibiting the expertise and mastery – much like Le Mans for car makers. A. Lange & Söhne's Le Mans cars were Datograph, Double Split and Tourbograph and in 2008, Cabaret Tourbillon joined the garage.
Cabaret Tourbillon's caliber L042.1 is a fantastic example of technicality. With its double barrels, the mechanism boasts 120 hours of power reserve and beats at 3Hz. Caliber L042.1 is made of 373 parts, of which 84 of them belong to the tourbillon weighing 0.25 grams in total. Incredible work. What's more, The caliber L042.1 offers the first world hacking tourbillon mechanism. 5 days power reserve might not be so impressive in comparison to Patek Philippe's 10-day Tourbillon, but I think the stop-tourbillon covers for the remaining days.
Despite being a technical behemoth, caliber L042.1 is visually quite straightforward. A big part of the movement is covered with three-quarter plate, exposing only the ratchet wheels. There are no skeletonization, extra angles, so quite boring actually for a watch of such price. However, also in line with A. Lange & Söhne as a brand; it is not ostentatious and focused on function while retaining signature hallmarks.
Still, there are couple of sharp outward corners surrounding ratchet wheels and the intermediate wheel cock as well as the tourbillon cock are richly engraved. As it was the tradition in the pocket watch era, the Tourbillon cage is held by diamond end-stones on both sides. To be honest, for a watch of $260k, I would like to see a bit more; but that was a ridiculous pricing anyways, which I'm going to touch upon in the end.
The tourbillon cage design is almost a direct replica of A. Lange & Söhne's tourbillons from the pocket watch era; especially by the ones made by Fridolin Stübner. It is finished masterfully. The three-angled tourbillon bridge as well as the cage are black polished, whereas the center is brushed for the contrast. Please note that this tourbillon structure is also identical to Lange 1 Tourbillon's but differs from Tourbillon Pour le Mérite's.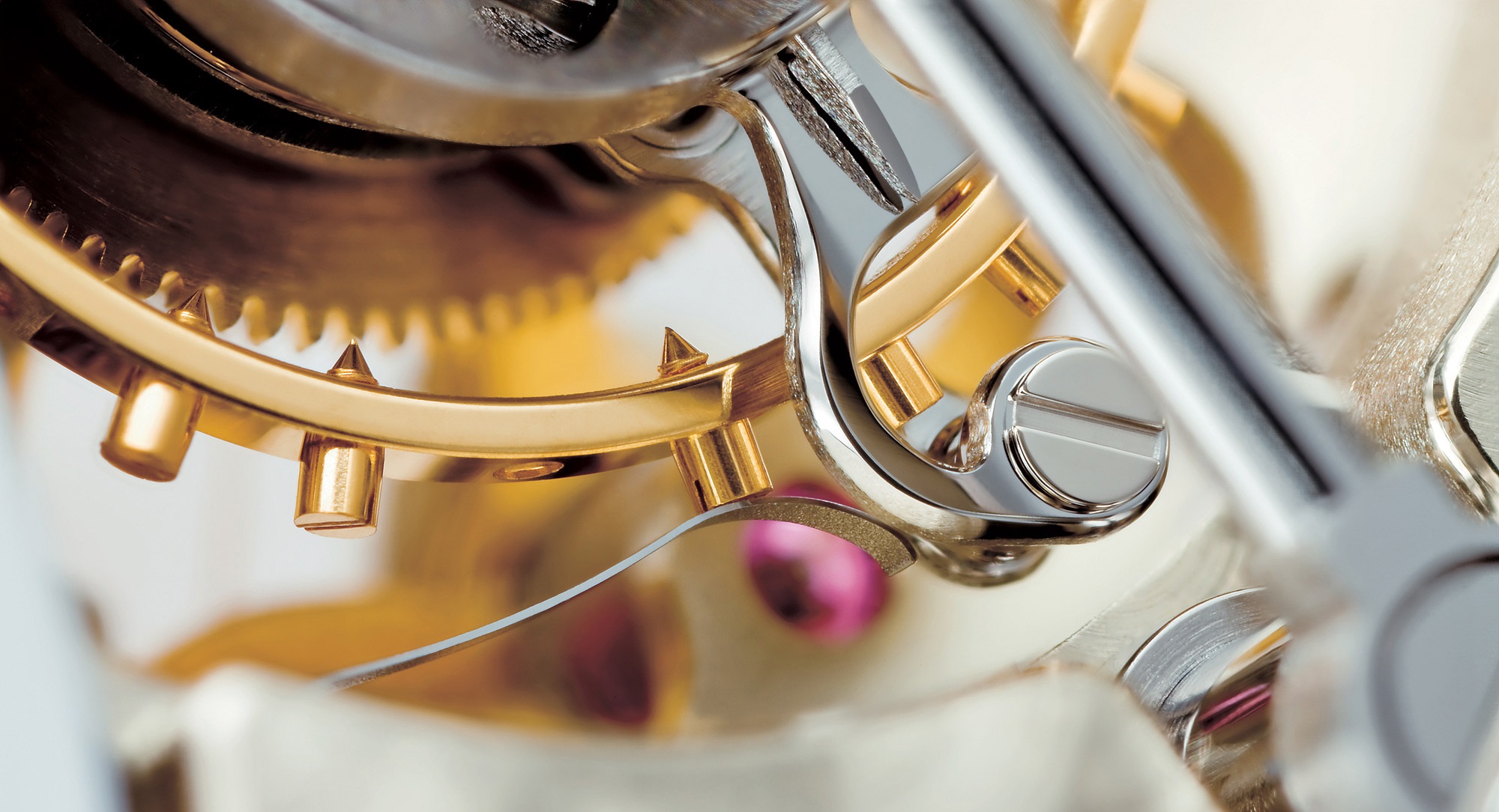 Impeccable. Courtesy of Lange Uhren GmbH
How to Stop the Tourbillon?
Here, I am going to use A. Lange & Söhne's technical addendum published in 2008 for the explanation of the hacking tourbillon mechanism. Who can tell better than the ones who made it, right?
Stopping the tourbillon was possible in several ways. One of them was to force it within the mechanism, which would bring the tourbillon to halt slowly rather than precise motion. Not good enough. A. Lange & Söhne's movement designers wanted the movement to be stoppable in any angular position of the balance wheel and regardless of the orientation of the tourbillon cage. Under no circumstances would they put the integrity of the cage at risk with an abrupt halt. And they insisted that the balance be released again without fail.
The patented construction developed by Lange's caliber designers, brakes the balance wheel directly. The advantage: direct braking preserves the potential energy of the balance spring so that the wheel automatically starts oscillating again when it is released.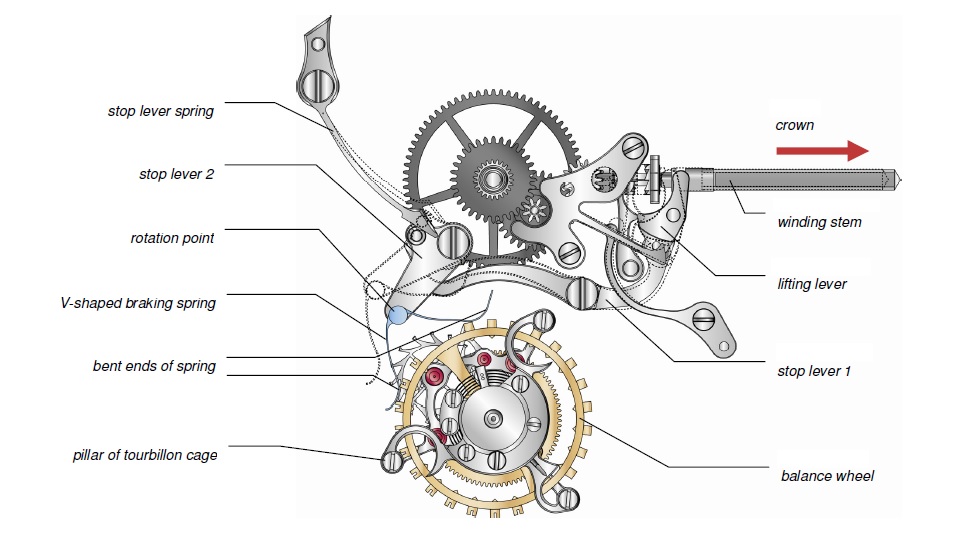 When the crown is pulled out, stop lever 1 is deflected by the winding stem and the lifting lever. This allows the stop lever spring to shift stop lever 2 toward the balance. Stop lever 2 carries the V-shaped braking spring with the two bent ends. The shifting motion of stop lever 2 toward the balance causes the braking spring to engage with the balance under controlled force conditions.
When one of its arms comes into contact with the balance wheel rim or the cage post, it rests against that element and thus pivots the other arm about the braking spring's axis of rotation until it, too, comes to rest on the rim or at a cage post. This stops both the balance wheel and the cage, regardless of their momentary position. When the crown is pushed back again, the braking spring releases the balance and allows it to resume oscillating.
Above I quoted from Blümlein and criticized that Cabaret does not fulfill one of the defined brand pillars as development and production of time pieces that offer a real product benefit: i.e. automatic zero-reset. In this sense, Cabaret Tourbillon completely satisfies all the expectation one can have from an A. Lange & Söhne watch. Aesthetics are utterly subjective; however, it is without a single doubt that Cabaret Tourbillon is one of the most coherent watches that the brand has ever offered.
Buying a Cabaret Tourbillon
Pricing an innovation is always hard. Indeed, it is relatively easier to price a continuation but for something new and unrivaled, that's where it gets tricky. Though I never experienced such a thing, I imagine that along with market data, especially for the watch industry at this level, it takes a bit of gut feeling. So, either the data or the gut put the brand in the wrong path.
At introduction, A. Lange & Söhne priced Cabaret Tourbillon in platinum at $265k and in pink gold at $235k. Please note that neither of the pieces are limited and I have no idea why there's a $30k difference between the two metals.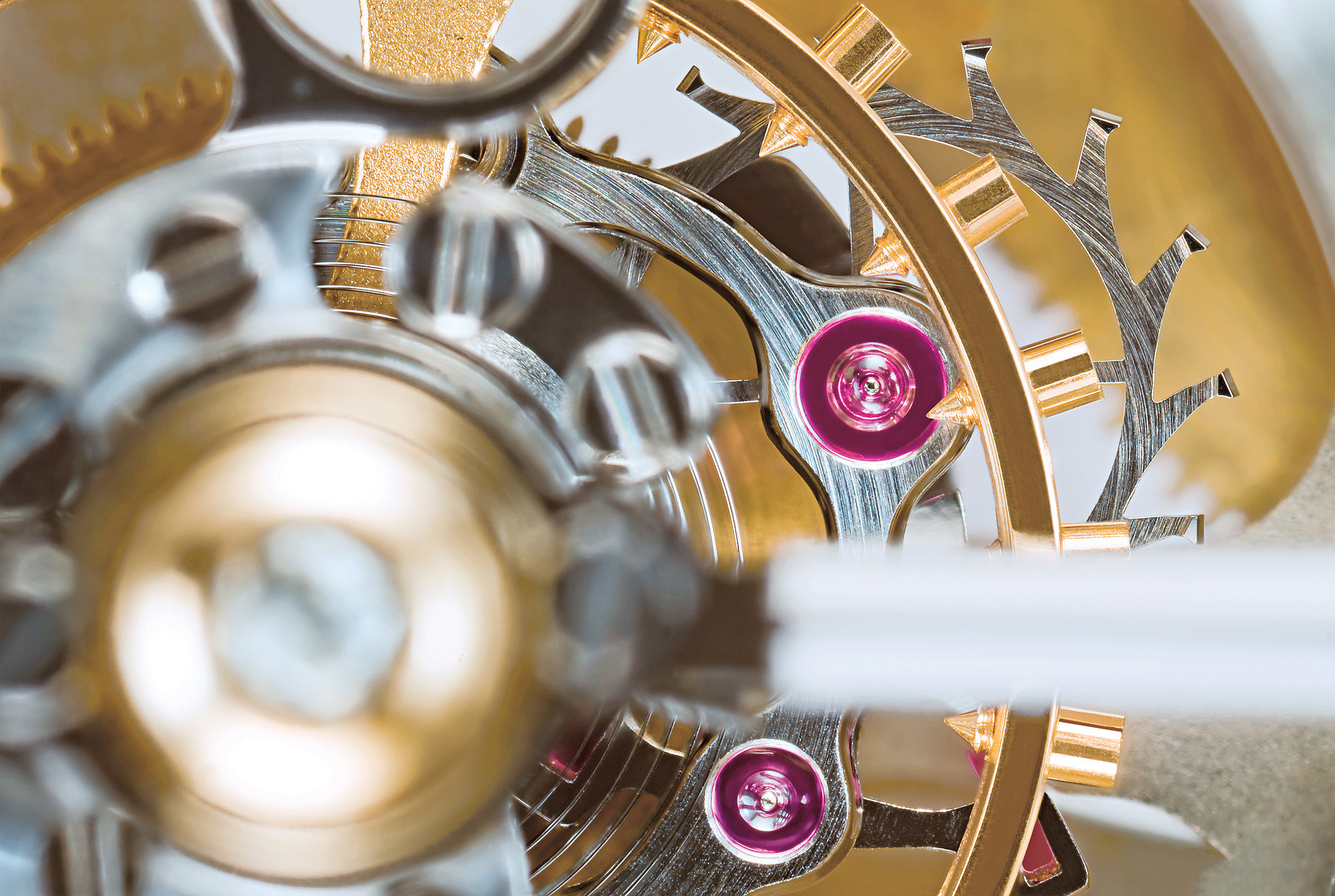 The black polish, the brush, the diamond. Courtesy of Lange Uhren GmbH
What's more, only a year after the discontinuation of Cabaret Tourbillon, A. Lange & Söhne introduced the 1815 Tourbillon (with stop tourbillon and zero-reset seconds mechanism) in 2013. Price? $164k for pink gold and $200k for the platinum. This is $67.5k cheaper than a less complicated wristwatch launched only a few years ago.
In my opinion, Cabaret Tourbillon's market price followed this irregularity. The first appearance of the piece at the secondary market was at Christie's in 2009, only a year after the launch. There, the pink gold reference 703.032 sold for $146,5k – almost with a $100k discount. Following the prices stalled around similar regions until the ultimate fall in 2019 Sotheby's Watches – the reference 703.025 in platinum sold for $58k.
Though the dealers usually put Cabaret Tourbillons for sale around $90k, if you can score one at auction, I think you can get even a greater bargain. It is not a charming watch for me; however, I completely understand it can be for many people and at its current prices, with its historical importance too, Cabaret Tourbillon is a great piece for established collections.
Even in 2021, you can see unworn, unsold Cabaret Tourbillons gathering dust in various A. Lange & Söhne boutiques' windows. When it comes to time-only Cabaret models, just ask to a Lange boutique, perhaps they might still have one back in the factory.
Thank you.
I hope this was a valuable guide for whomever is looking for a Cabaret model or just want to learn the details and history of these pieces. If you'd like to chat, sell or buy an Cabaret, please kindly reach out to me via [email protected]
Please feel free to contact:
Follow Langepedia on Instagram:
Watch "A. Lange Story" Documentary, in partnership with WatchBox:
Sign up for the newsletter to get to know first about rare pieces at Marketplace and in-depth articles added to the encyclopedia, for you to make the most informed choice, and first access!