A. Lange & Söhne Langematik Gangreserve
In-depth look – January 2020
A. Lange & Söhne is not the luckiest manufacturé when it comes to drawing design inspirations from its past. The company was born in 1845 and the 100 years of pocket watch era left only general, common templates behind which gave birth to 1815 and Richard Langecollections. Later on unfortunately A. Lange & Söhne missed in the golden age of watch design, from the 40s to 70s where we saw incredible pieces such as Gilbert Albert's works for Patek Philippe, Crash from Cartier, Vacheron Constantin's Cornes de Vache etc..  However, there are a couple of jewels in the vaults of Glashütte and this one here, albeit an exact copy from the 1930s design, is a masterclass on modernizing an inspiration: Große Langematik Gangreserve for Wempe.
A. Lange & Söhne and Gerhard D. Wempe KG share a history that goes back to the 1930s. At that time, Wempe in Hamburg was an A. Lange & Söhne retailer and furthermore both cooperated in the construction of marine chronometers. Otto Lange, the grandson of the founder Ferdinand Adolph Lange, and Herbert Wempe, who ran the jewelry business in the second generation, also worked together to set up the Glashütte Observatory; which today is still active with a great view over Glashütte.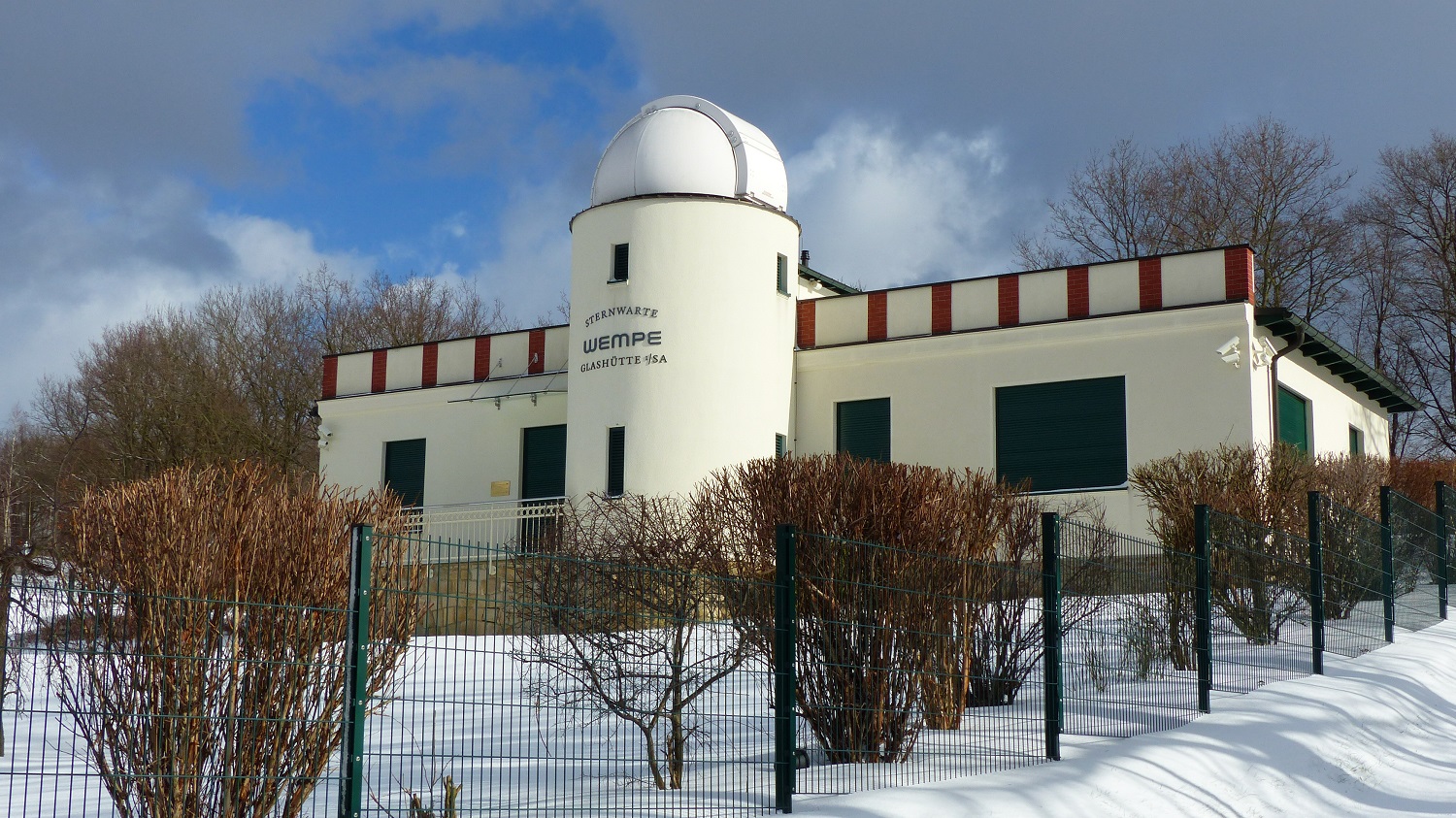 More than 60 years since the brew of the partnership, A. Lange & Söhne introduced its first collection of four models in 1994, Dresden Castle. Günter Blümlein was the manager of Lange, along with the LMH owned Jaeger-LeCoultre and IWC. Hence, as a well-known figure in the industry and through his prior relationships, as well as in line with A. Lange & Söhne's positioning strategy, Blümlein invited only the top jewelers of the era, mostly from the German Speaking countries. Among them Huber, Bucherer and of course Wempe.
Hellmut Wempe, after taking the tour of the manufacturé and seeing the new creations like Lange 1 and Tourbillon Pour le Mérite ordered much more than A. Lange & Söhne could bear. But this was both a vote of confidence and the re-birth of a generations old relationship between Lange & Wempe families. Since then, as a testimony for this valuable relationship, A. Lange & Söhne produced three special editions just for Wempe and Langematik Gangreserve is the second one of the collection.
Große Langematik Gangreserve
A. Lange & Söhne introduced the Langematik Gangreserve for Wempe in 2005. The special edition was launched for the 100th year celebrations of Wempe's Chronometre manufacturé in Glashütte. Lange introduced Langematik Gangreserve in platinum (304.049), pink gold (304.048) and yellow gold (304.047) with limitations of 100 pieces in yellow gold and platinum. Whereas the pink gold edition was produced in 25 pieces solely for Wempe's NY Store, which at the time was celebrating its 25 anniversary.
Langematik Gangreserve measures an unusual (for its time) and rather big 40.6 mms in diameter and a slender 9.6 mms in thickness. I am saying unusual because in 2005, the only A. Lange & Söhne watch over 40 mms was the Double Split with 43.2 mms. Still, I believe the size was a great choice for a design adapted from the marine chronometers; which would look weird in 38 mms.
The case retains the signature A. Lange & Söhne construction. It is built on three levels with alternating finish and soldered lugs. If you look closely, the case band is brushed whereas the bezel is polished, which delivers a great contrast and a strong, constructed feeling to the watch. Signature, notched lugs are also present with mirror polished notches in the base. This detail further separates the case band and lugs from each other and enhances the engineering appearance of Langematik Gangreserve. The lug detail was conceived by Blümlein back in the 1990s to further differentiate A. Lange & Söhne watches from the Swiss counterparts and since then, the construction is an unseparable identity of the brand.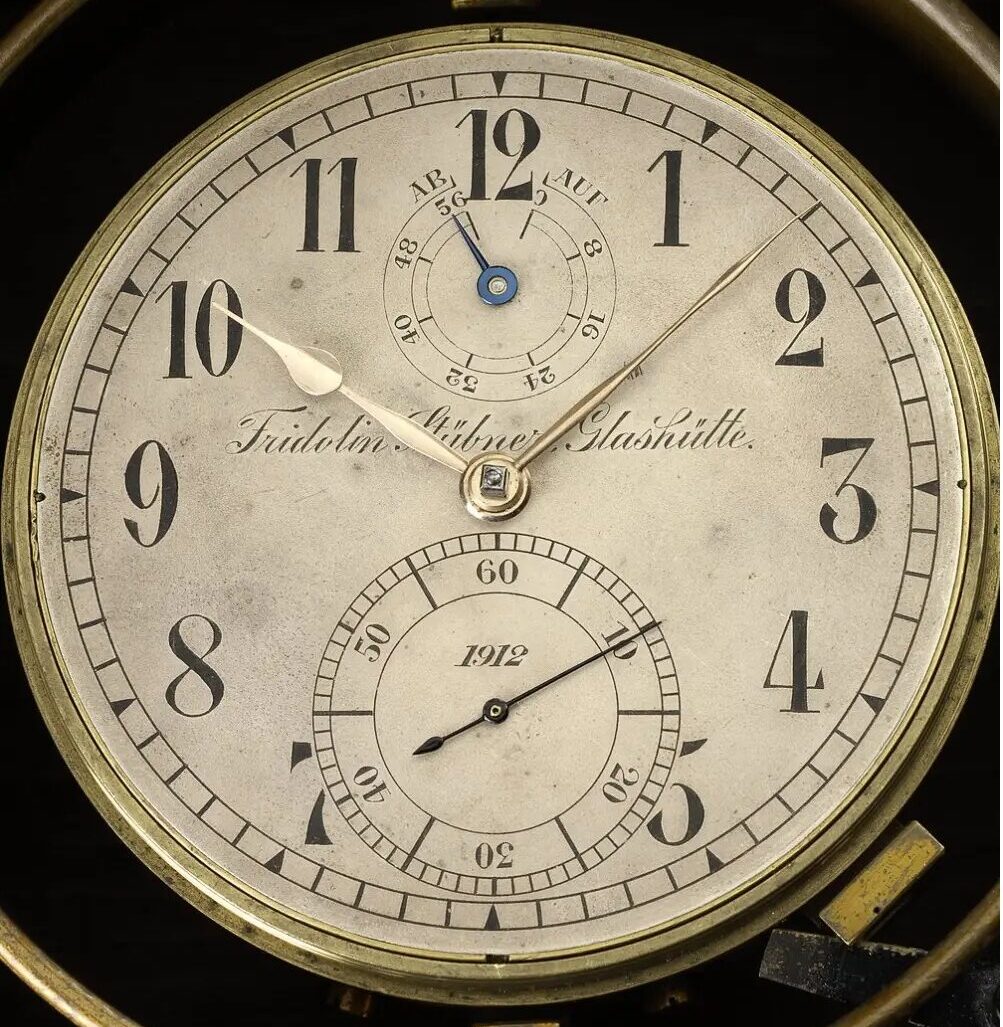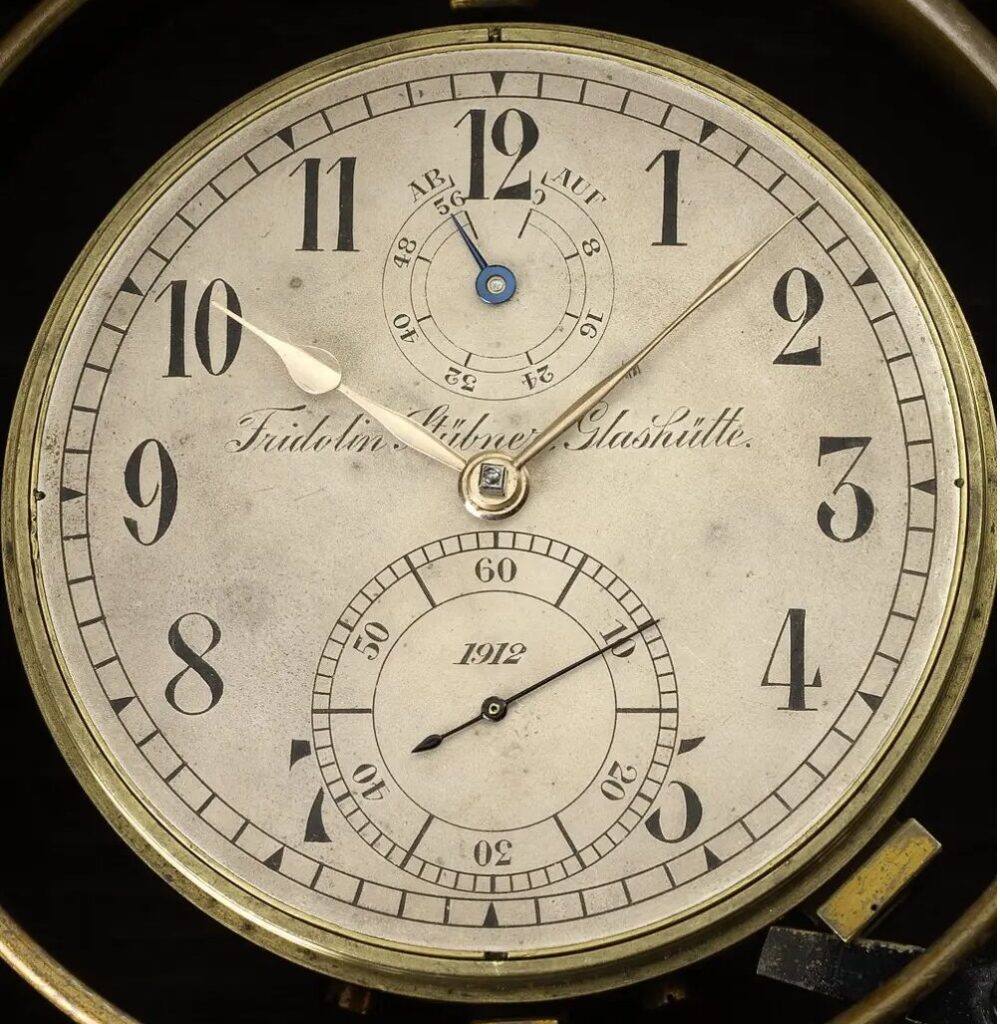 Ferdinand Adolph Lange's foremost intention with building A. Lange & Söhne in the less fortunate Glashütte in 1845 was to transform the area into a watchmaking industry. Indeed, through partnerships and with the advices he gave to master watchmakers such as Julius Assmann and Moritz Grossmann, he succeeded in his mission and the region beacme a powerhouse of watchmaking with various manufacturés. However, a standard in chronometry was still missing in the 1870s.
In 1875, the Deutsche Seewarte in Hamburg launched a chronometry competition; with the intention of encouraging manufacturés to come up with 100% German Made Chronometer. The competition was supported by the Imperial Admiralty with the vision of Bismarck who was eyeing to expand Germany's borders accross the oceans and for such a task, they needed a German made marine chronometer. The competition lighted the fuse and the first chronometers from Glashütte arrived circa 1886 from the hands of Fridolin Stübner – who was also the genius who gave the first tourbillon pocket watches to A. Lange & Söhne starting from 1890.
A. Lange & Söhne crafted around 1000 marine chronometers from the 1880s to 1948 until its exproprieation. Quite possibly the most famous of the thousand clocks was the Large Observation Clock No. 83193 which was sold to to the Zeppelin yard in Friedrichshafen. This exact model was re-incarnated 70 years after with Große Langematik Gangreserve.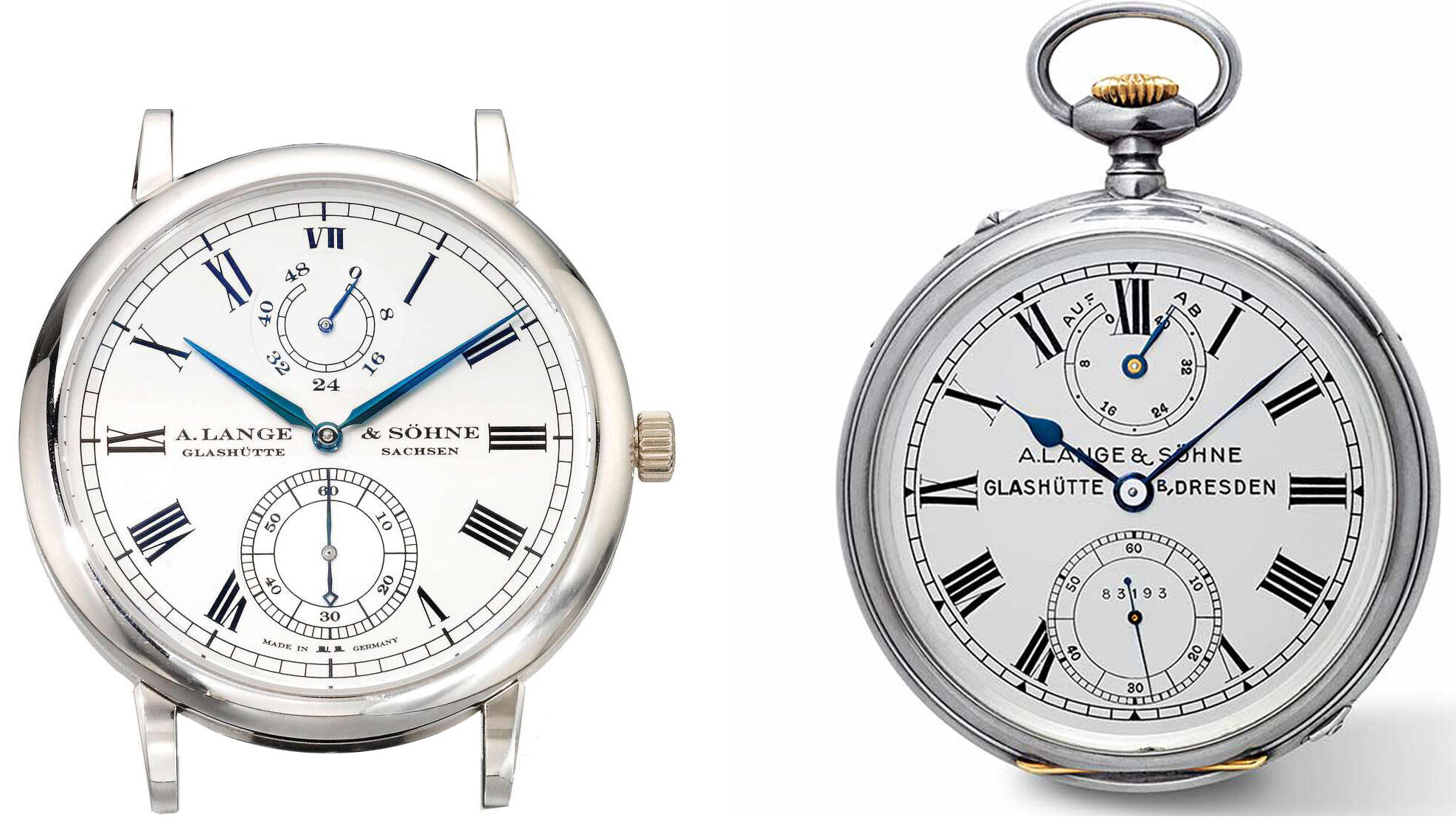 The special edition is almost the exact replica of its ancestor from 1935 with few, notable and I might say delightful details. Starting from the similarities, a rail-way minute track surrounds the slender Roman Numerals. As its inspiration, Langematik Gangreserve's dial is completely flat without any steps except for the sub-dials and all else is different. Since the Gangreserve is not as spacious as its pocket watch equivalent, it had to be simpler and, in my opinion, it is job very well done!
Langematik Gangreserve sports thin 5 minute-markers as opposed to the triangular ones in the pocket watch, which saves from space and reduces the clutter. Furthermore, the XII does not cut the power reserve indication above and leaves much more space for the traditional indicator. I would prefer it to show the reserve as Auf/Ab though. Last but not least is the flat logo and the full German dial with Sachsen rather than usual Saxony. An on-point touch which further emphasizes the regional roots of the watch and its design.
A final note, please keep in mind that this design is not unique to A. Lange & Söhne and very similar pieces can be found within a wide range of budget. For example, Glashütte Original's Senator Chronometer is a tremendous piece with a very similar layout. On the independent scene, I would wholeheartedly recommend Dornblüth & Sohn again for a marine chronometer inpired, hand-made watch.
However, the movement make the Lange watch and Langematik Gangreserve is no exception – powered by A. Lange & Söhne's finest automatic caliber to date: Sax-0-Mat.
The caliber L921 series, which was utilized in all automatic watches of the brand until 2011 was developed by possibly the most famous, and rightfully so, movement designer of A. Lange & Söhne, Helmut Geyer. It is said that Geyer worked on the movement in his spare times and later showed the sketch to Blümlein whether he'd like to develop such a calibre. Amazed by its beauty, Blümlein gives the project a go and Sax-0-Mat borns in 1997.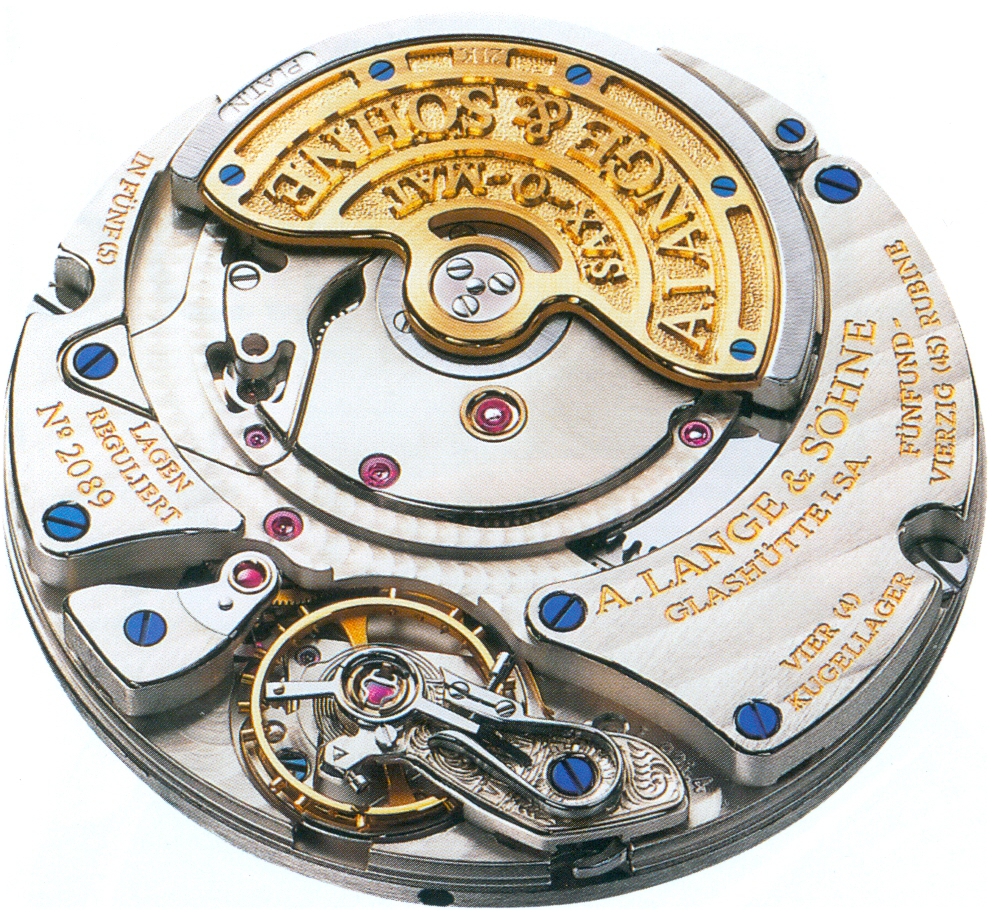 This is a remarkable achievement. Because, I cannot think of any other modern A. Lange & Söhne caliber that is so distant to the brand's heritage as an automatic movement. But, Geyer managed to transform this unrelated part of history to something entirely A. Lange & Söhne – from visuality and finish to technical innovation. As a result, the L921 caliber stands as unique among all the legendary movements of A. Lange & Söhne.
Caliber L921.6 of the Große Langematik Gangreserve is based on the mentioned movement line. It measures 30.4 mms in diameter, offers 46 hours of power reserve and beats at 3Hz. The differentiator however is Langematik zero-reset mechanism. Upon pulling the crown, the seconds hand resets to zero for precise time-setting. An ingenious, user friendly feature of the Sax-0-Mat movements.
The Große Langematik Gangreserve's caliber is exactly how one would imagine a modern A. Lange & Söhne self-winding movement. Even though it is not handwound, it still retains the ¾ plate, which is an unseparable part of the brand's identity. The engraving on the solid gold rotor is deep and looks just astonishing. Moreover, the platinum centrifugal mass is attached to the rotor to increase the winding efficiency. The rest is usual Lange, finishing done at very, very good level from mirror polished escape wheel-cap to hand engraved balance cock and generous bevels around the plate.
As if all these were not enough, A. Lange & Söhne presented the Große Langematik Gangreserve in a box that resembles a marine chronometer with a gimbal system. To date, including special editions worth hundreds of thousands of dollars, this special edition is the most meaningful one, ever.
Each box is also individually numbered with polished rim around the watch.
Buying a Langematik Gangreserve
This is a very special watch. Not just because Lange labeled it so, but it is a celebration of a unique partnership with a stunning modern interpretation of the both houses meaningful past. A. Lange & Söhne has no other watch to draw such inspiration from its marine chronometers.In 2006 the MSRP for gold models were $26k whereas for the platinum it was $39.7k.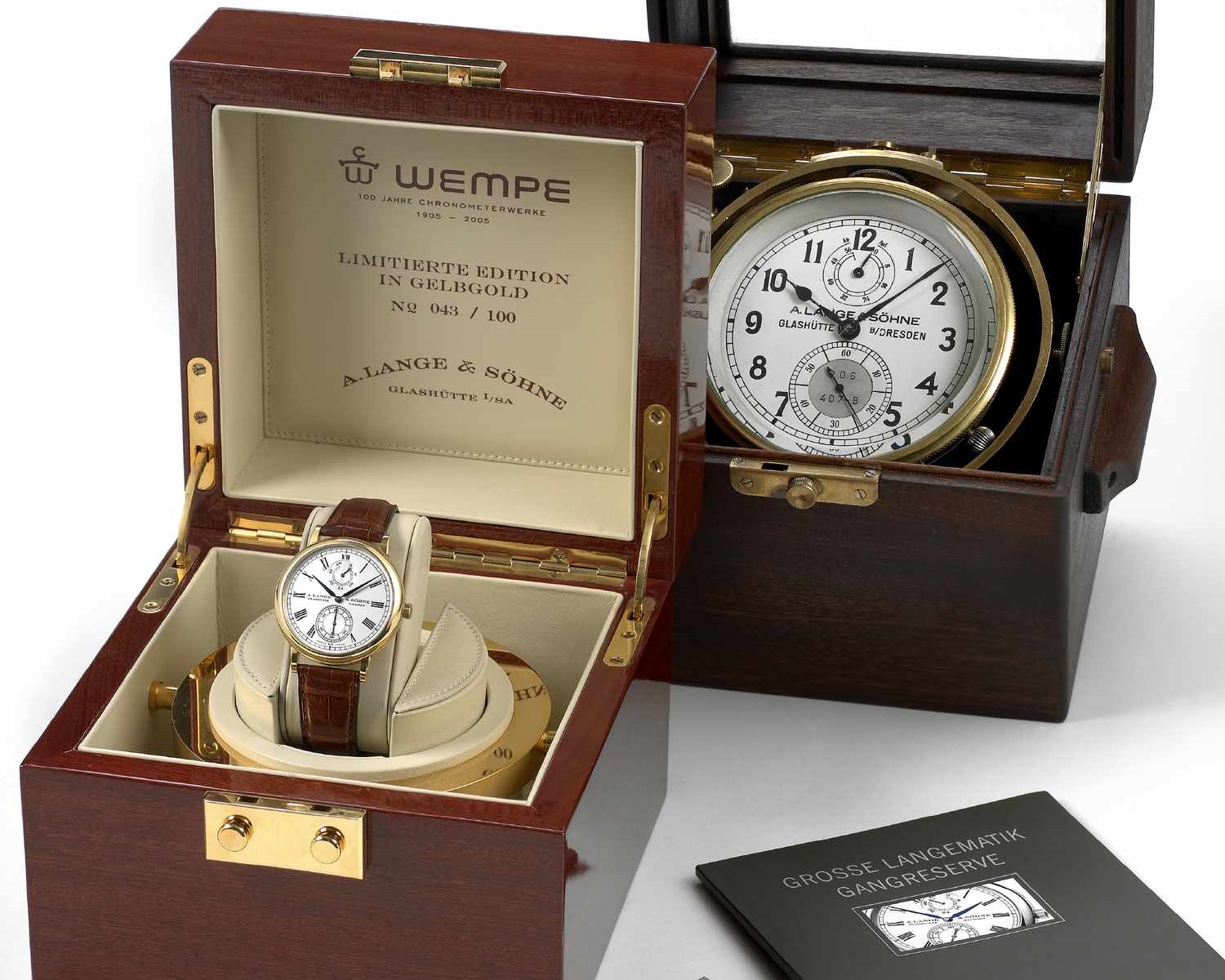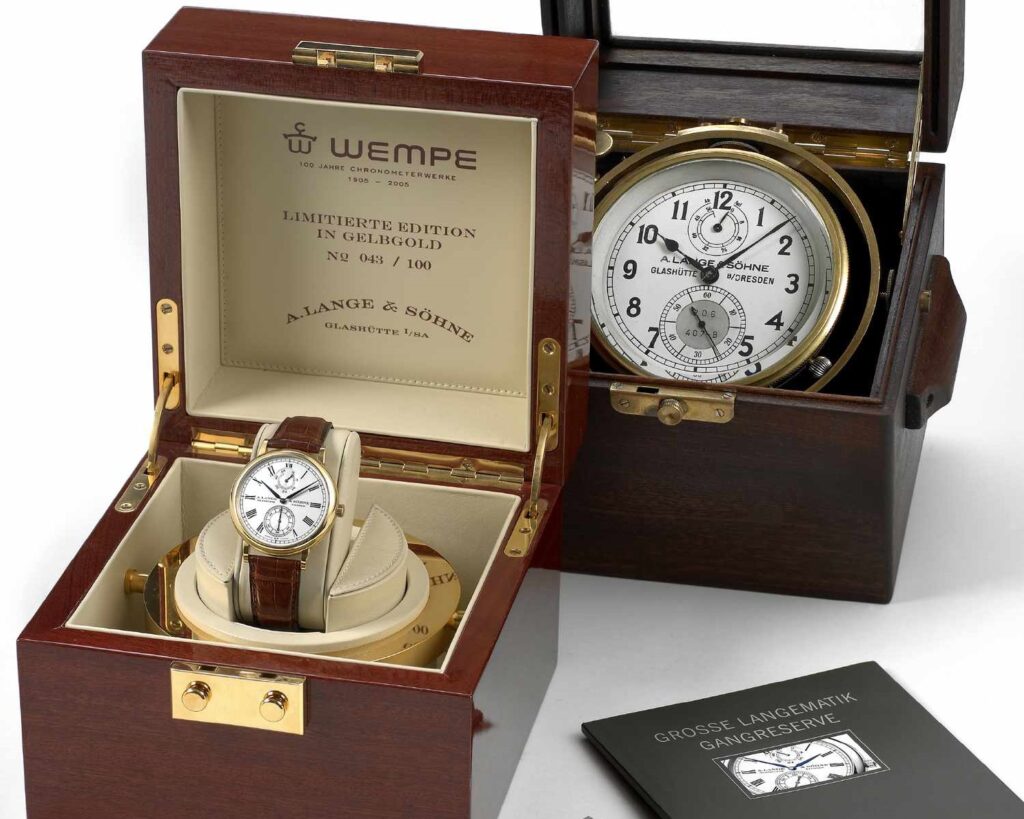 Langematik Gangreserve has a long history with auctions and as far as I could find the platinum reference 340.049 appeared in 2008 at Antiquorum and sold for double of its estimate, at CHF 35k. However, from there it steadily decreased over the years. Since then, at most auctions depending on the metal Langematik Gangreserve sells around $25k to $27k.
As of January 2021, even though there are a couple of them for sale around $35k, I think such price is rather ambitious and I can tell that these watches have been sitting in the window for very long. So if you were to buy one, feel free to ask a discount if the price is above $32-$33k.
As always, thank you for your time.
I hope this was a valuable guide for whomever is looking for a Große Langematik Gangreserve or just want to learn the details and history of these pieces. If you'd like to chat, sell or buy a Große Langematik Gangreserve, please kindly reach out to me via [email protected]
Please feel free to contact:
Follow Langepedia on Instagram:
Watch "A. Lange Story" Documentary, in partnership with WatchBox:
Sign up for the newsletter to get to know first about rare pieces at Marketplace and in-depth articles added to the encyclopedia, for you to make the most informed choice, and first access!