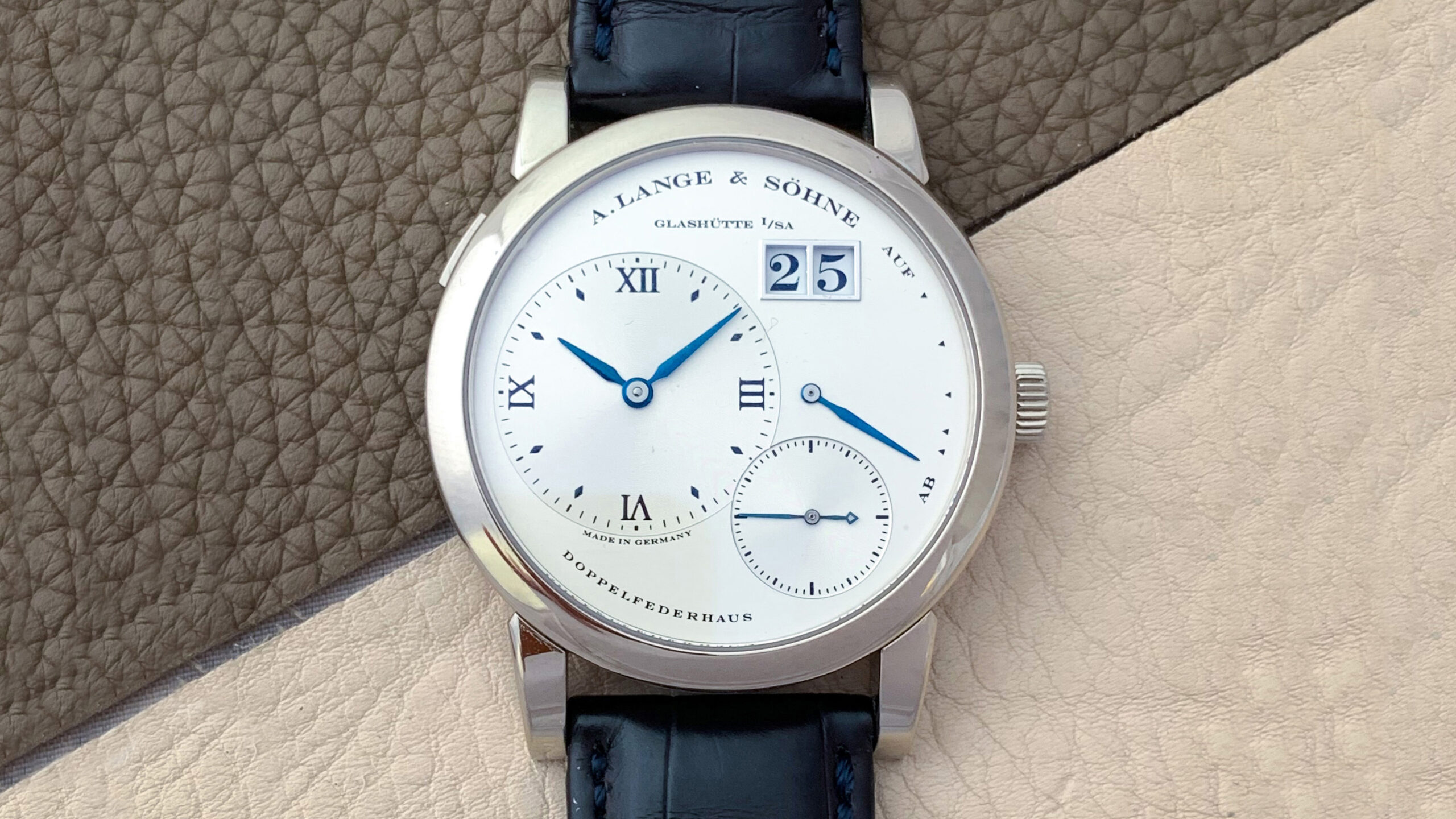 A. Lange & Söhne Lange 1 101.027x
The thrill of the hunt is an inseparable part of watch collecting. It is a true joy to learn about the piece, trying to locate it, negotiate it and finally putting it on the wrist or into the watch box. Such a thrill only increases if there are some watches that are simply covered with mystery. Indeed, there are some watches that do not even appear in catalogues or notes and are known only within collectors' circles. This is the story of such a watch from A. Lange & Söhne: Lange 1 reference 101.027x.
If you found this page, I assume that you are already familiar with Lange 1 collection. Since its introduction in 1994, the eccentric watch has become the face of A. Lange & Söhne, deservedly. Lange 1 is a design that is as fresh as it was in 1994 and I suspect it's going to get even fresher in time. Rightfully, A. Lange & Söhne introduced tens of different variations of such a coveted model with different metal / dial combinations.
The first step out of the comfort zone came in just a year after Lange 1's introduction, in 1995 with a yellow gold case, blued hands and printed markers instead of the previous applied versions – reference 101.022. Definitely a younger looking piece.
With the warm reception towards the 101.022 A. Lange & Söhne continued the adventure and came to the reference 101.027 with white gold case and blue dial in 1997. The reference was followed by many other combinations in white gold, pink gold, grey dial etc…
There are two common points between the references above and many others in between: They are all Lange 1 pieces and they all appeared in catalogues for sales listings. However, there are two references which were never marketed or introduced: The reference 101.026 (the stainless-steel Lange 1) and the topic, 101.027x. Before going into the watch, I'd like to try solving the mystery surrounding its creation.
According to some reliable sources, the reference 101.027x was produced between 2001 and 2005. However, this period conflicts with some of my findings as well as some concrete evidence with watches themselves. To understand the whole story, we need to travel to the 2002 Dresden.
Why the Reference Exists?
In 2002, the Saxony State Government prepared the application to UNESCO with the title of World Heritage Site for the Elbe Valley and submitted the necessary documents in 2003. For those who are familiar with the area, the Elbe river, born in Czechia, cuts through Germany and flows into the North Sea through Hamburg. The areas around Elbe in Saxony are fantastically preserved; thus, qualifies for such an application. Following some disputes, UNESCO awarded the application in 2005 Summer in LingnerSchloss; hence the area became a World Heritage.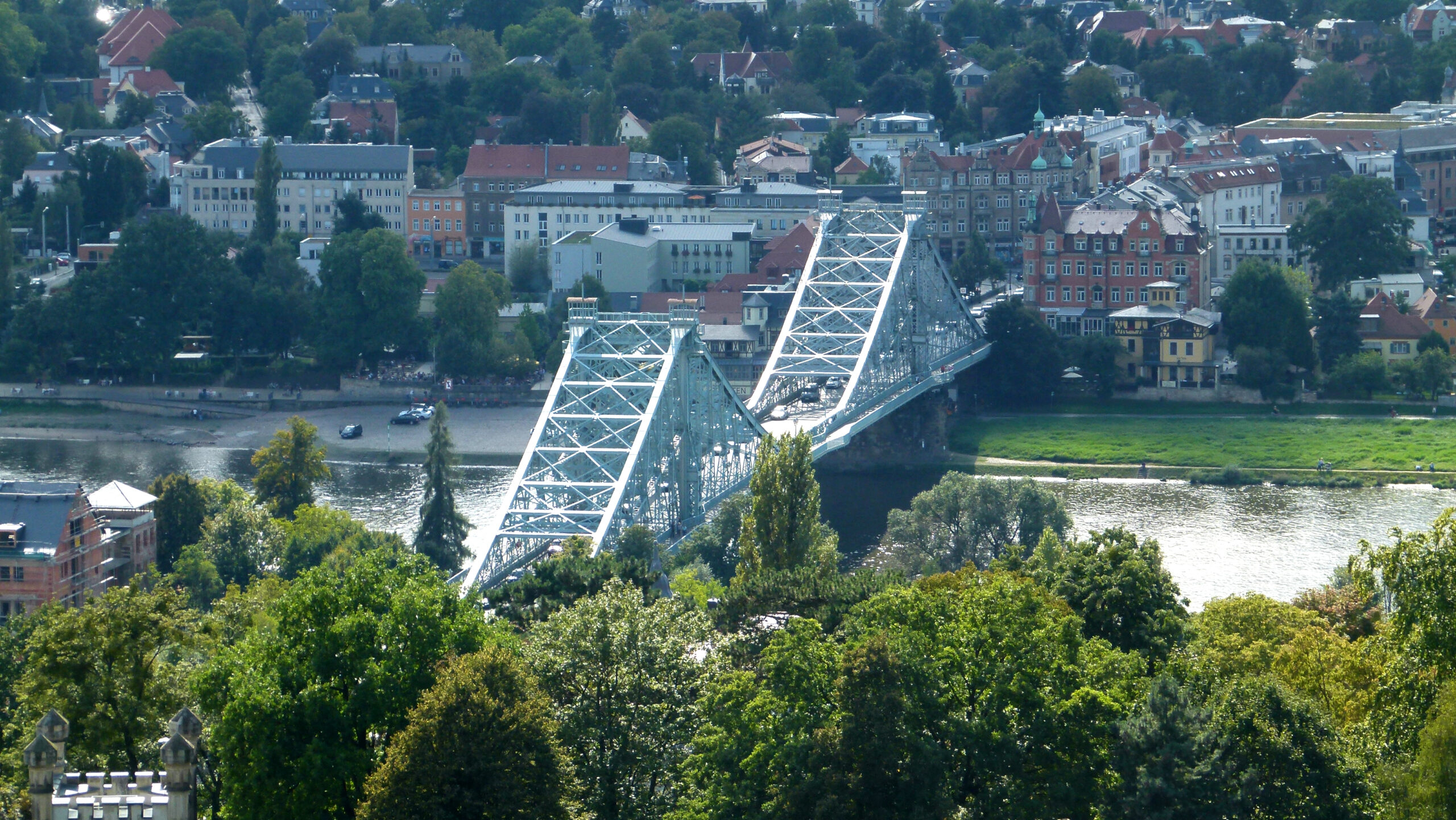 However, UNESCO removed the region from the list only after four years in 2009. Because, the application misrepresented a game-changer location information about the Waldschlößen Bridge which would harm the World Heritage Site's overall harmony. The application mentioned that the bridge was 5 km downstream from the city center; correct would have been: 2.5 km upstream. Though the government later wanted to cancel the project, a referendum in 2005, shortly after the award, resulted in favor of the bridge, the construction started in 2007 and the title was lost in 2009. Which brings us to A. Lange & Söhne and 101.027x. 
The reference 101.027x is actually meant to be launched in celebration of such an important milestone for Dresden and Saxony. Lange 1 was chosen, as it is the face of the brand. A. Lange & Söhne wanted to use the color blue due to Loschwitz Bridge pictured above; one of the signature elements of Dresden also named as Blue Wonder – however there was already the reference 101.027. Hence, the designers fashioned the hands in blue.
Nonetheless, the dispute with UNESCO broke out rather quickly (referendum only after a year) hence A. Lange & Söhne never introduced these watches as intended. They sold the pieces quietly.
The case and movement number data also supports the research on the production dates. 101.027x case numbers span from 13xxxx to 173xxx. Even though the production years / case numbers do not necessarily go hand in hand, 30.000 is a big difference. Movement numbers span from 30xxx to 60xxx, too. Therefore, the numbers tell us that A. Lange & Söhne produced the reference 101.027x on/off for years between ~2002 and 2008.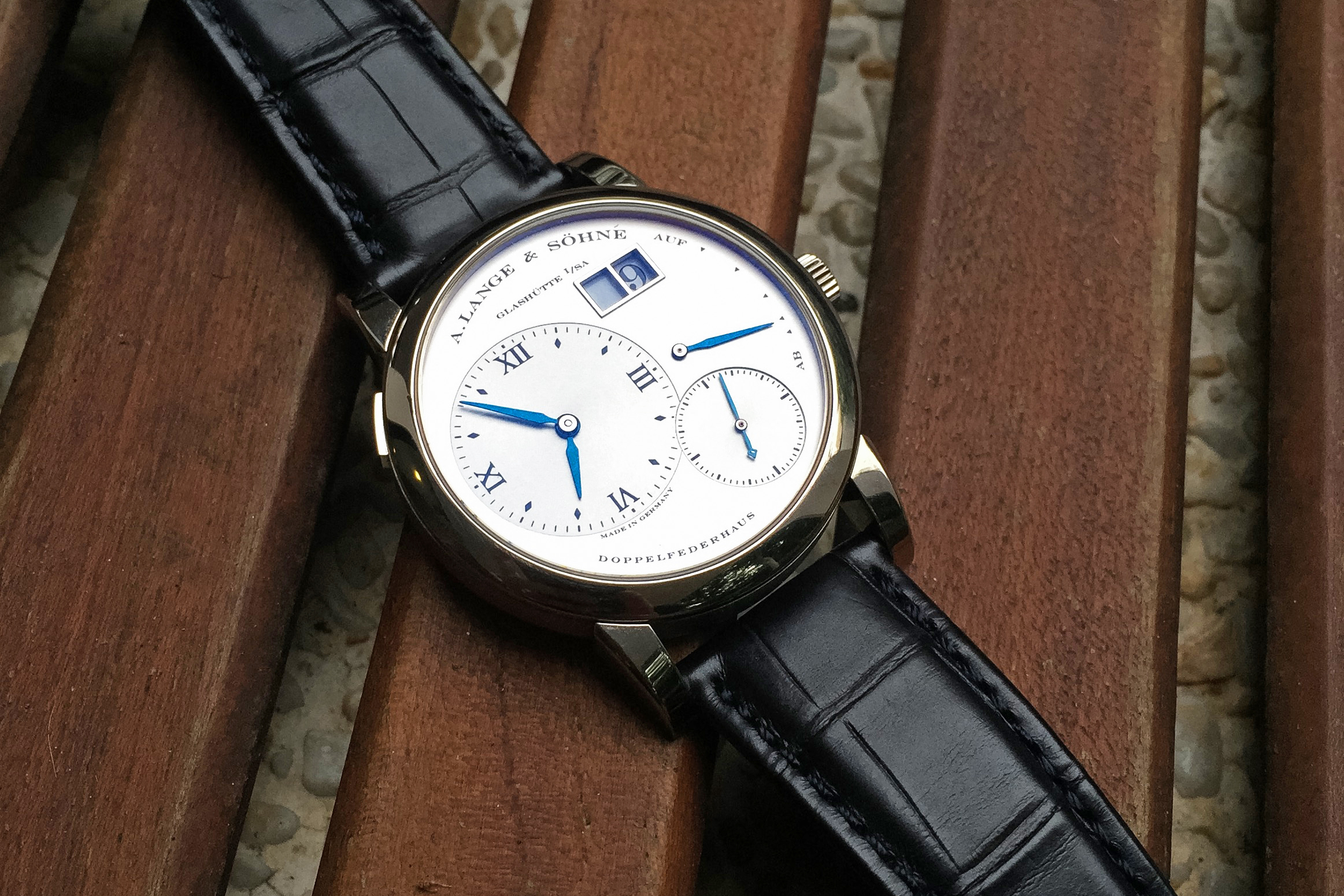 My theory is that either A. Lange & Söhne assembled these pieces on demand from collectors, or with big gaps rather than continuously. Hence, the reason for the huge jumps between case / mvmt. numbers. Production numbers? A long time collector, Ian Chan tells us from a very trustable source that A. Lange & Söhne produced 225 pieces of 101.027x.
However, if you have a 101.027x with a case number that preceeds 13xxxx please do let me know via [email protected] or through my Instagram @langepedia.
On another note, the common speculation is that; Cellini got platinum / blue hands Lange 1 pieces and other retailers wanted to jump on the train, too. Thus, A. Lange & Söhne offered the 101.027x – however, this does not answer the starting question: why the watch was never introduced?.
Like the regular Lange 1, the reference 101.027x measures 38,5 mm in diameter and 9,8 mm in thickness. The case structure, finish is identical to other pieces of the collection: three-body case with alternating finishing techniques as polishing and brushing and mirror polished notched lugs.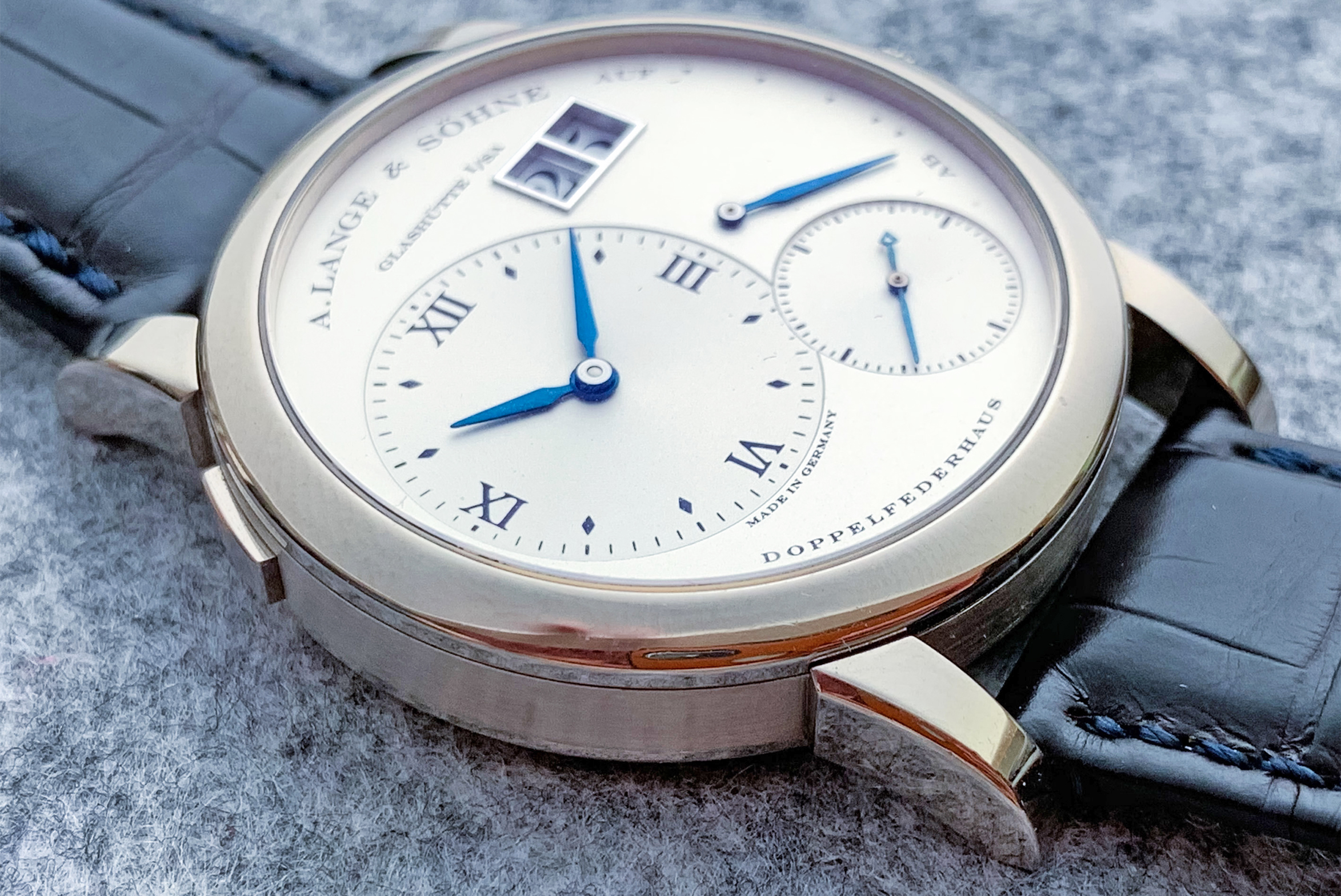 101.027x is a stunning piece. It is the second Lange 1 edition to utilize the printed numerals instead of the applied ones and the combination with white gold is just breathtaking. The whole appearance is so pure, subtle, and superbly versatile. Add the blued hands and we have a winner. No wonder that A. Lange & Söhne recreated the template with Lange 1 25thAnniversary Collection in 2019.
However, 101.027x is not the first reference to bring these elements together. The reference 101.026, the stainless-steel Lange 1 uses the exact same design. So, it is almost impossible to differentiate one from the other just by looking. Another very similar piece is the platinum reference 101.025 (Lange 1 stealth) with custom blued hands – which some were done on Cellini's request, and some by collectors' themselves while A. Lange & Söhne was still allowing such customizations.
The 101.027x carries the standard caliber L901.0 without any special engraving or additions. It is of course ever beautiful and worthy of a look.
The reference 101.027x has never been an actively traded piece. It is such a brilliant design; I know that collectors are having a hard time to part ways with such a great watch. Even though it was trading in between $20 – 25k some years ago, this has changed significantly.
Today, people are more aware of Lange 1 and with time, awareness shifts towards rarity & myths and 101.027x is a perfect response for such an endeavor. One friend bought, possibly the last bargain one, a year and a half ago for $30k, and since then the piece appeared only once at a dealer and once at auction. The dealer sold it for around $70k. The auctioneer however was, Phillips… On 2022 May, a full set 101.027x sold for $130k+. Though I cannot simply wrap my head around the result, it clearly signals that there's a strong demand, much more than before.
A little side note; some 101.027x pieces' warranty card is written as 101.027. It is not wrong as they are certified by the company.
Thank you.
I would like to express my sincerest gratitudes to @watchoarder_2 as he generously let me borrowed his brilliant pictures of the reference 101.027x.
I hope this was a valuable guide for whomever is looking for a 101.027x or just want to learn the details and history of these pieces. If you'd like to chat, sell or buy a 101.027x, please kindly reach out to me via [email protected]
Please feel free to contact:
Follow Langepedia on Instagram:
Watch "A. Lange Story" Documentary, in partnership with WatchBox:
Sign up for the newsletter to get to know first about rare pieces at Marketplace and in-depth articles added to the encyclopedia, for you to make the most informed choice, and first access!