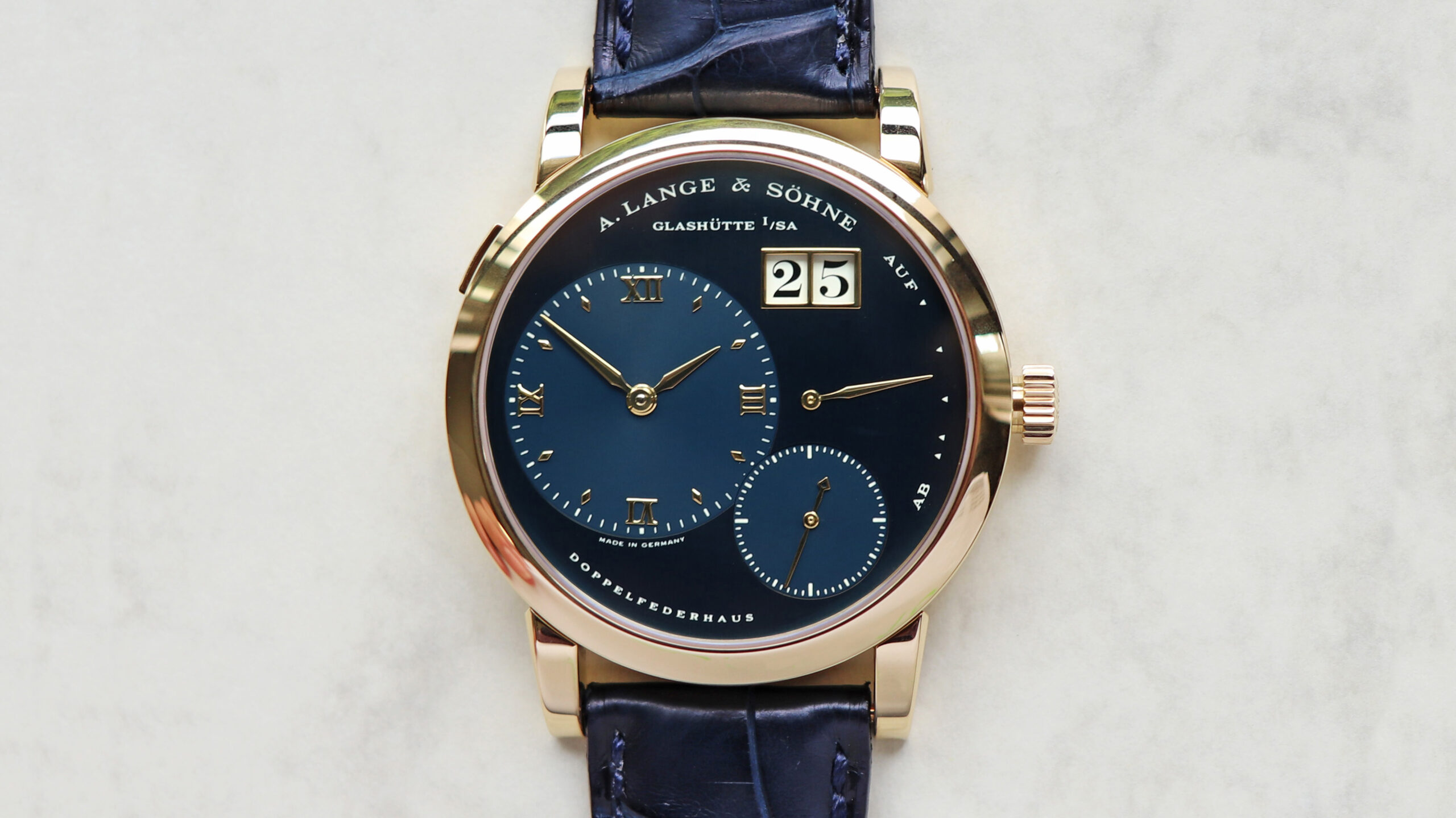 Understanding 101.028 – June 2020 – Written by Anders B. Kiertzner
Throughout the past 27 years, the Lange 1 has been crafted in a variety of different configurations. Strikingly, some of the most interesting were developed during first ten years of production. In 1998, when A. Lange & Söhne was still in its infancy, the manufacturer attended the Basel Fair with a watch that would become one of the rarest regular production Lange 1s with a striking dial and case configuration that would never be seen again: The reference 101.028.
Unlike general consensus that the 101.028 was available only from 1998 to 1999, the Lange 1 ref. 101.028 was available for order from 1998 to 2004 and priced at 28.500 Deutsche Mark at the time, or 13.800 Euros at the year of discontinuation. The ref. 101.028 came in a traditionally sized, 38,5 mm yellow gold case with exhibition case back, a stunning blue dial with yellow gold hands and hour markers and white date discs with black printing.
In addition to the traditionally sized Lange 1, A. Lange & Söhne also presented a Little Lange 1 ref. 111.028, which is aesthetically identical to the 101.028, but in a svelte 36,1 mm case. This watch was retailed at 27.000 Deutsche Mark and was, like every other version of the Little Lange 1, produced, possibly, in significantly fewer numbers than its larger sibling. Both watches were powered by the original Lange 1 movement, calibre L901.0, and delivered on a black crocodile straps with yellow gold pin buckles.
The pictures shown here are from the original 1998 BaselWorld press release, but interestingly, the watches were never featured in any of the official A. Lange & Söhne catalogues or public price lists, which could help explain why so few of both references are known today. Over the past ten years, we have seen less than a handful come to market.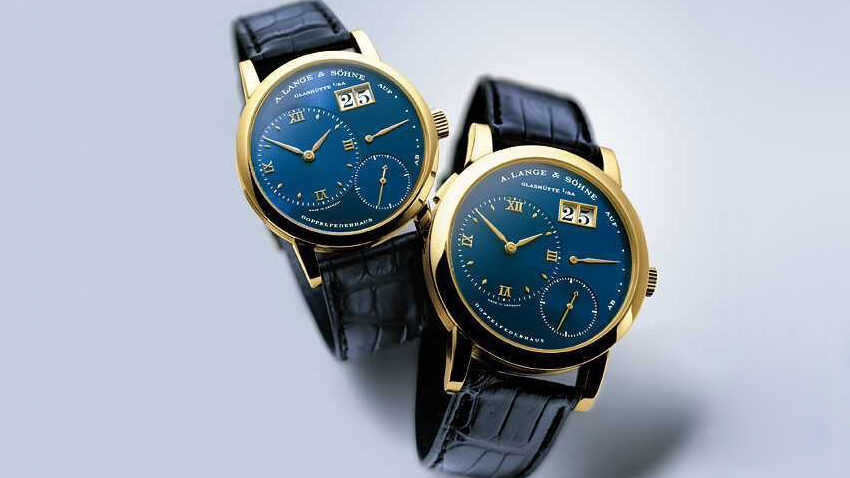 A. Lange & Söhne is a brand of refined details and the 101.028 is no exception. What sets these early blue-dial Lange 1s apart from their silver, argenté or champagne-colored counterparts is the fact that the manufacturer decided to give the dials a strong, vertically brushed finish.
The brushed blue dial on the ref. 101.028 is identical to the one used on the white gold version ref. 101.027, which was in production from 1997 to 2002. The dial is sometimes mistakenly referred to as 'two-tone' because the brushed treatment combined with the circular graining of the subsidiary dials disperse the light in such a way that it creates multiple contrasting tones.
Although these early blue dials are notoriously difficult to photograph, the right lighting conditions will make the brushing bloom and give a vibrant and richly textured appearance to the 101.028, which plays against the industrial construction of the timepiece.
The ref. 101.028 is a prime example of the early, experimental nature of the brand – which we see in many other early limited editions such as Emil Lange, Langematik Anniversary, etc.. In 2017, A. Lange & Söhne re-introduced the blue dial Lange 1 in white gold case ref. 191.028, but the dial had a uniform blue tone with no brushing, giving it a much more subdued and less playful appearance.
Regardless of treatment, the color blue would become an important hue for A. Lange & Söhne, but as history shows, the choice of this particular color might have been more than just a lucky pick.
In her book "The Secret Lives of Colour", author Kassia St. Clair chronicles the accidental discovery of iron ferrocyanide, a compound known today as Prussian Blue. In the early 1700s, the German paint manufacturer and alchemist, Johann Jacob Diesbach, stumbled upon the deep, blue hue when he mixed what he thought was the usual potion for one of his signature colors, Red Lake.
A local purveyor of base chemicals for paints and pharmaceuticals had provided Mr. Diesbach with a wrong solution that reacted to create the stunning blue pigment. What was initially deemed an unfortunate and expensive mistake, would prove to be nothing short of a revelation, as Prussian Blue became the first stable and high-quality blue to be produced chemically.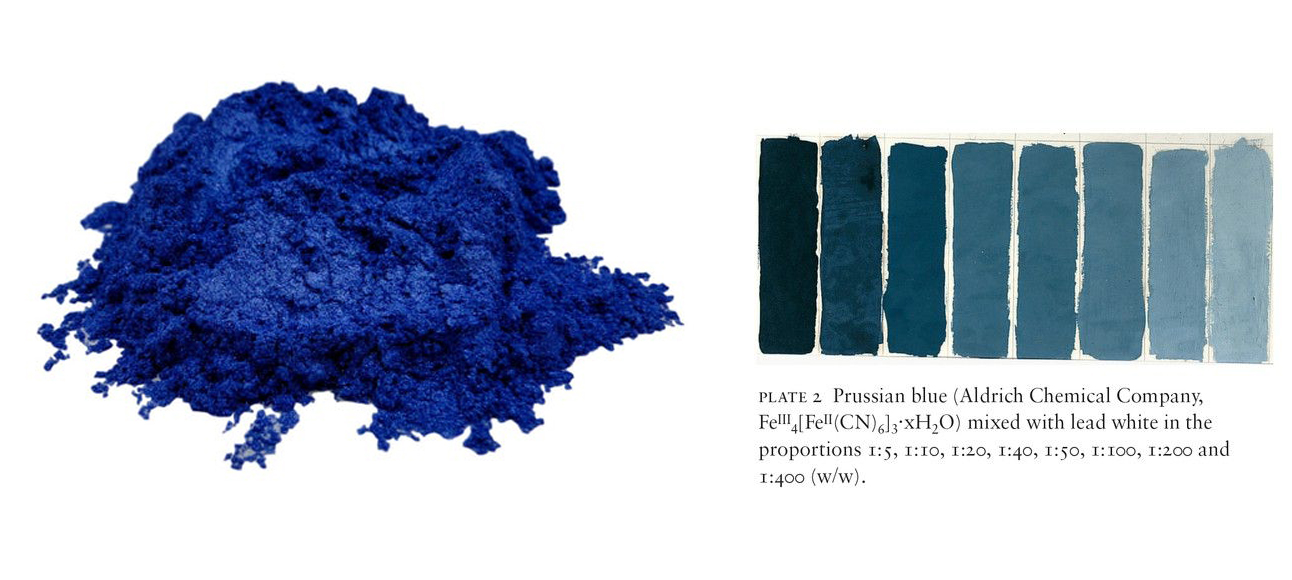 This chance innovation had a profound impact on the world, as the color blue was already of great social and cultural significance. From the 12th Century and up until the discovery of Prussian Blue, Ultramarine was considered the hue par excellence – a divine color, particularly associated with Marian-centered devotion, and literally worth going 'beyond oceans' for.
Ultramarine is derived from the stone Lapis Lazuli, which traditionally was brought up from deep within the mountains of Afghanistan. Much like indigo, which is made from fermented plant leaves, these organic and mineral-based compounds were extremely difficult to extract, process and purify, which made them both expensive and unreliable. So, when Prussian Blue entered the scene with the promise of controlled and virtually unlimited production, it was considered nothing short of a miracle.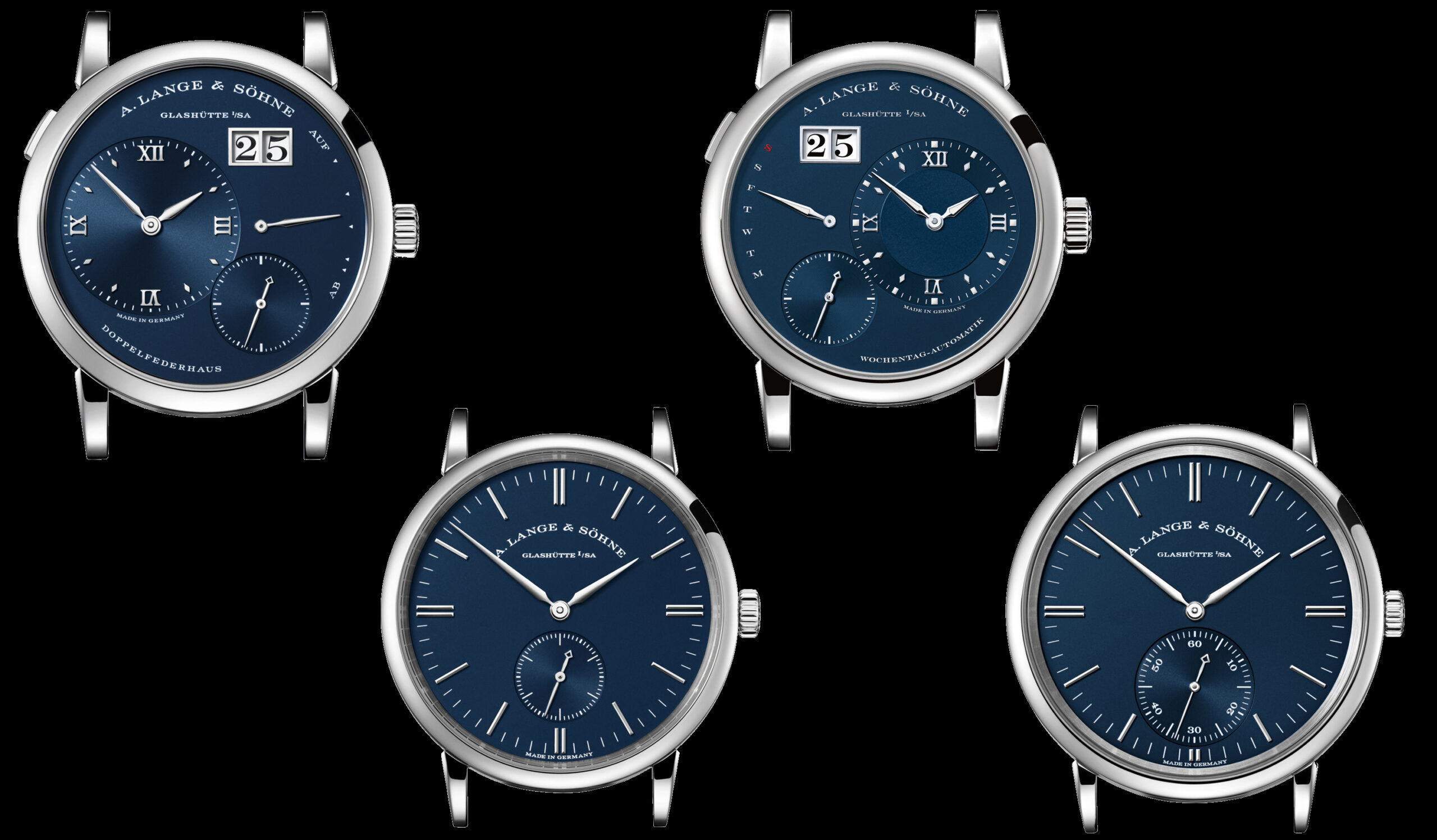 2017 Blue Collection – said to be produced for a year but was available in retailers until a few months ago (2021)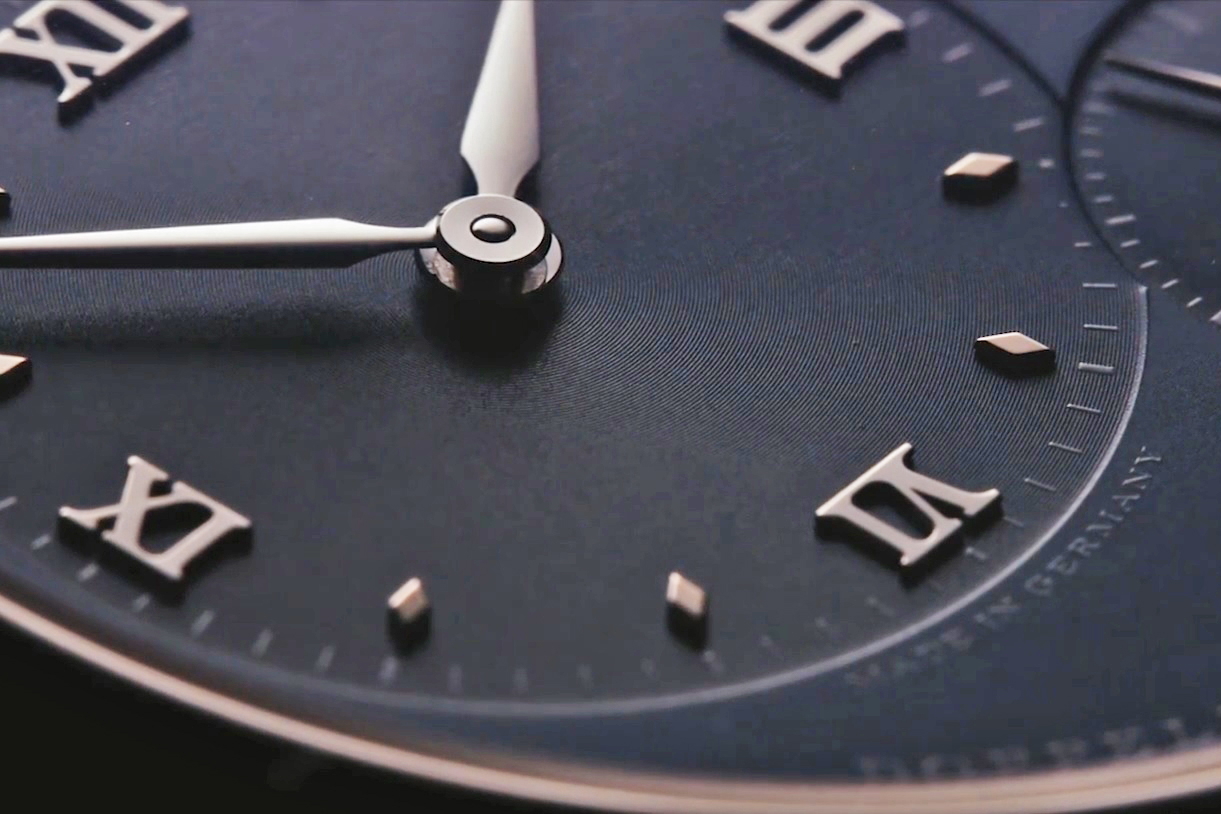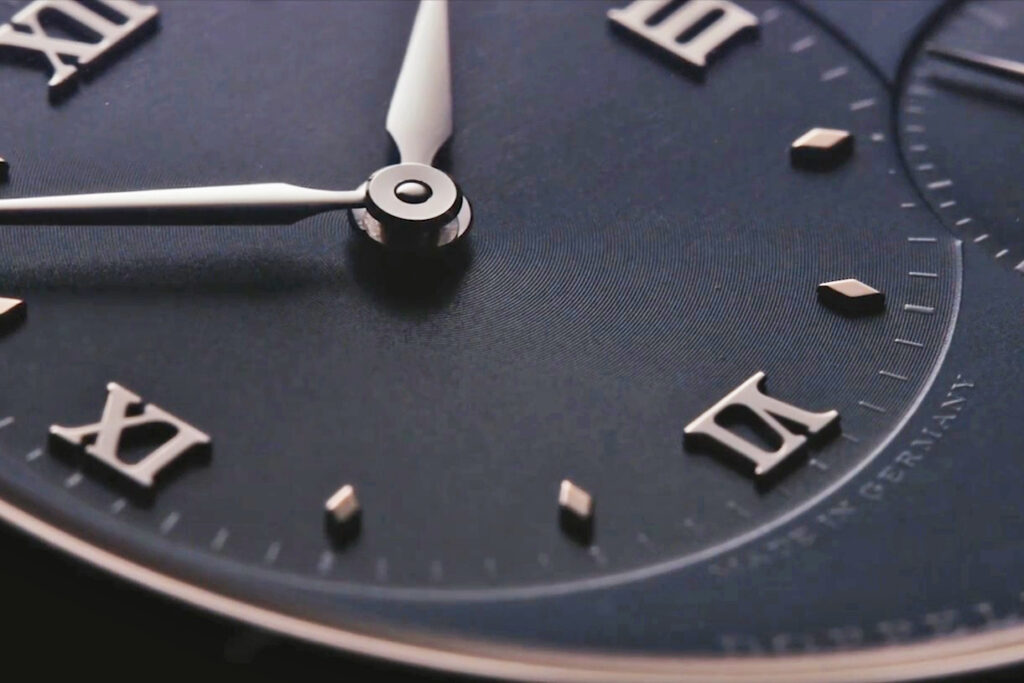 In the world of A. Lange & Söhne, we have seen a number of blue dial watches over the years. Most notably with the introduction of the Blue Series in 2017, which was launched together with an installation piece by British-German artist, Sebastian Kite, and included four blue dial, white gold models such as the Lange 1, Lange 1 Daymatic, Saxonia and Saxonia automatic.
It is, however, the tasteful combination of blue and yellow gold that sets the ref. 101.028 apart, and in order to fully understand this combination's DNA, I suggest going back to the mid-18th Century.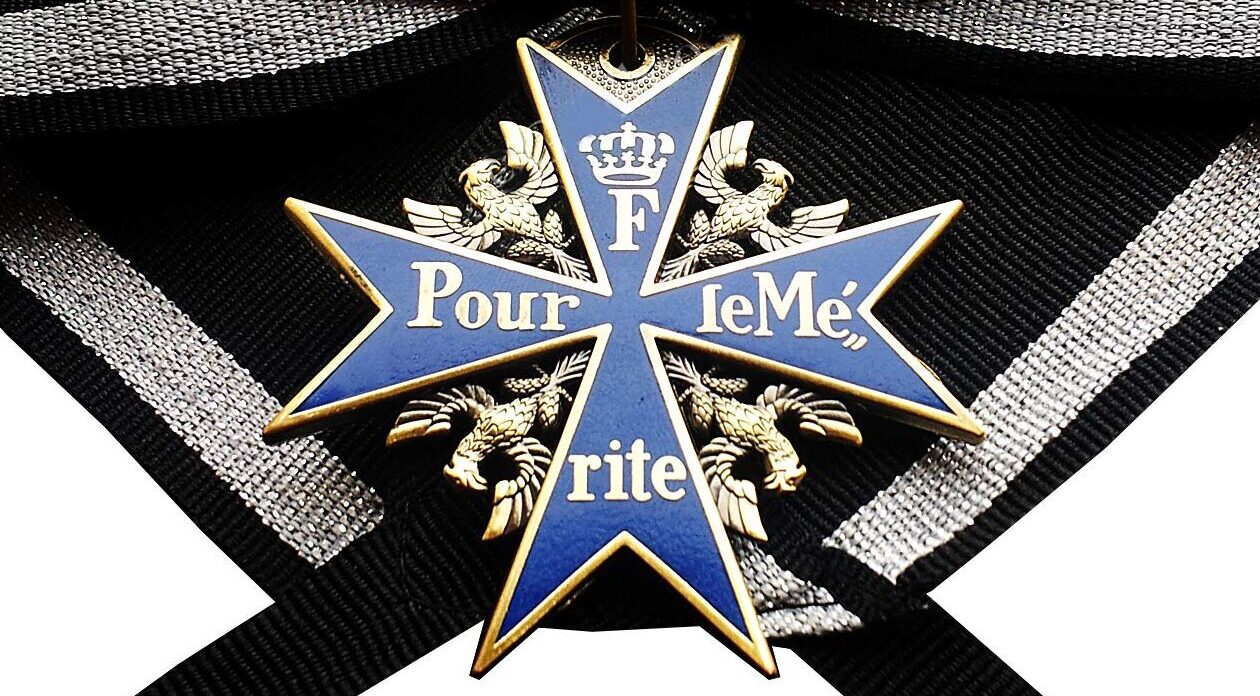 In 1740, King Frederick II of Prussia established the Pour le Mérite or Order of Merit, which was a medal of honor awarded in recognition of extraordinary personal achievement. The medal came in two versions – one for military classes and one for civil.
The medal awarded for extraordinary bravery in military service was informally known as the Blue Max, and its insignia consisted of a blue enameled Maltese Cross with four German Federal Eagles in yellow gold and occasionally an oak leaf for additional distinction.
Discontinued as a military honor in 1918, the civil class medal is still awarded today and has been given to trailblazers within science and art, such as Albert Einstein (1923), Käthe Kollwitz (1929), Lise Meitner (1957), Umberto Eco (1998) and Walter Lange himself, who received it in 2015.
The term Pour le Mérite is well-known in the vernacular of A. Lange & Söhne, as it is used to denote the supreme horological achievement of adding a chain and fusée to a wristwatch, which the manufacturer pioneered with the support of APRP back in 1994. Not only was this a great feat in its own right, but when the Lange Tourbillon 'Pour le Mérite' ref. 701.001 was introduced to the public in 1994, the chain & fusée was also combined with a Tourbillon, which was another incredible first for watchmaking.
Although the popularity of A. Lange & Söhne is on the rise, the manufacturer is rightfully considered a young company in comparison to its Swiss equals, and even though they have been punching above their weight class for close to three decades, sceptics are still discussing whether they can keep up the steam in years to come. But if the past 27 years has taught us anything, then we will continue to see a company who is willing to experiment and innovate at a very high level while maintaining their renowned quality.
it amet, consectetur adipiscing elit. Ut elit tellus, luctus nec ullamcorper mattis, pulvinar dapibus leo.
In summary, what I have attempted to show in this article is that, despite its tender age, the watches from A. Lange & Söhne are often imbued with layers upon layers of rich cultural and historic references that are just waiting to be uncovered, scrutinized, and documented – and is more than worthy of serious attention.
I hope this was a valuable guide for whomever is looking for a Lange 1 101.028 or just want to learn the details and history of these pieces. If you'd like to chat, sell or buy a Lange 1 101.028, please kindly reach out to me via [email protected]
Please feel free to contact:
Follow Langepedia on Instagram:
Watch "A. Lange Story" Documentary, in partnership with WatchBox:
Sign up for the newsletter to get to know first about rare pieces at Marketplace and in-depth articles added to the encyclopedia, for you to make the most informed choice, and first access!