A. Lange & Söhne 1815 Cuvette "Oeding Erdel"
Back in the days the retailers were today's Social Media and Forums. Indeed, they were almost the only place to get together, learn and see new watches. The retailer was the sole connection between the brand and the client; thus, they were (still are) exceptionally important for every imaginable aspect of the business. As a result, many brands issued special editions for retailers or even Double Signed watches to strengthen their ties with mentioned gatekeepers – ACollectedMan has a superb article on the topic.
Due to WWII and its devastating effects, A. Lange & Söhne was late to the scene. They've lost what many refer to as the golden ages of watchmaking i.e. 1950s to 1970s and its costs were severe. Once the best watch manufacture from Glashütte was forgotten by many, its position was lost from people's memories and the competition was intense. Yet, there were few who remembered the name Lange and when the brand launched its first collection in 1994, world's best retailers responded immediately.
However, opening a gate is a tough exercise and the brand knew it. Concordantly the brand launched its one and only Double Signed special edition for Blome, a retailer in Düsseldorf in 1997, only three years after its launch. For the coming years, A. Lange & Söhne produced several, significant special editions for retailers such as 1815 Kalenderwoche or Lange 1 Leon Maartens and this one here is one of those truly special ones: 1815 Cuvette Oeding Erdel.
A. Lange & Söhne 1815 Collection
A. Lange & Söhne introduced the 1815 collection a year after its re-birth, in 1995. Launched in a 35.9 mms yellow gold case with blue hands as a time-only piece, 1815 was an instant and a needed classic. Surely, Lange needed a rather familiar piece among outliers such as Lange 1, Tourbillon Pour le Mérite or Saxonia, hence it was the perfect addition.
The 1815 template of A. Lange & Söhne is an extremely strong one. It is not boring when it is simple and manages to handle exceptionally well with the complex arrangements such as the 1815 Rattrapante Perpetual Calendar. The design takes its roots from the pocket watch era of the brand with thick Arabic numerals, railway minute track and three-dots on each 15-minute markers.
Having such a strong base, Lange offered 1815 in many case materials (even steel), sizes and dial colors throughout decades. 1815 Oeding Erdel however is an outlier among the collection.
A. Lange & Söhne introduced the 1815 Cuvette in 2006 to commemorate the family owned Oeding Erdel's 100th anniversary. A highly respected jeweler, retailer of Patek Philippe and Rolex as well as Lange's from the early days, this was truly a meaningful collaboration between two giants of the German Speaking region.
1815 Cuvette was introduced in pink gold (323.047) and white gold (323.046), each limited to 38 pieces. Measuring at an unusual 40 mms at the time (all other 1815 models were 36 mms) the watch was indeed a special offering. The case construction is Lange as usual: Bezel, case band and case back with alternating polished and brushed finish. The lugs carry their signature notches at the base with mirror polish and brilliant angles on edges.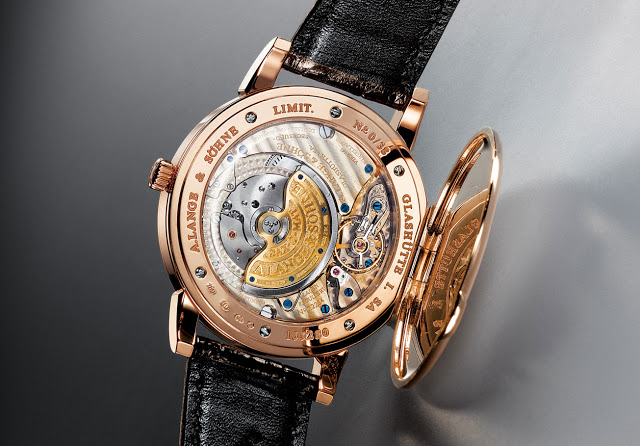 The unusual thing is the watch's caseback. 1815 Cuvette is the brand's first watch with a hinged case back – which later followed by Walter Lange Up/Down, 1815 Rattrapante Perpetual Calendar Handwerkskunst and lastly the Lange 1 25th Anniversary. Completely polished in and out, hailing the pocket watches from the olden days, it is a delightful touch to such an already traditionally designed timepiece. The hinged case back is engraved Oeding Erdel – 1906-2006 inside.
At the time of the launch, the brand was offering 1815 Automatik pieces with a Sax-0-Mat inscription on the dial at 37 mms. Hence, I believe the reason for the red 5-minute markers was to differentiate this special edition from the regular collection. Though the dial is almost an exact copy from the old pocket watches, spiced up with A. Lange & Söhne's custom typeface and arrangement on proportions. Moreover, the lack of Sax-0-Mat on the dial brings out the serenity of 1815 Cuvette even more, causing no distractions and exposes the complete and pure beauty of the dial.
Another delightful detail is the dial material itself. Even though it is an argenté dial as regular 1815 pieces, somehow it has a livelier appearance – almost like an enamel. It begs to be seen at hand and I strongly urge you to do so.
The beating heart of the 1815 Cuvette is the legendary caliber L921.2. The Sax-0-Mat is a result of the 5 years' work and the genius of the now retired movement designer Helmut Geyer. Even today; the caliber L921.2 is "the" automatic movement to have from A. Lange & Söhne. As I was told by several long-time employees of the brand, Geyer came up with the movement idea by working in his spare time and showed it to Blümlein. Amazed by its beauty, the manager decided to put this mechanism into a watch; which led the way to Langematik. It has been 23 years since its birth, and A. Lange & Söhne created many automatic calibers in the meantime; but none is even close to Sax-0-Mat, neither in aesthetics nor in technicality.
Sax-0-Mat is one of the greatest automatic movements for two reasons: Its design is exactly how one would imagine an automatic caliber from A. Lange & Söhne. A gorgeous result from a contrast; an automatic movement coupled with 150 years old traditional hallmarks. Geyer managed to brew historic aesthetics such as three-quarter plate with modern technicality i.e. zero-reset, and the result of such synthesis is something inimitable and nothing but exceptional.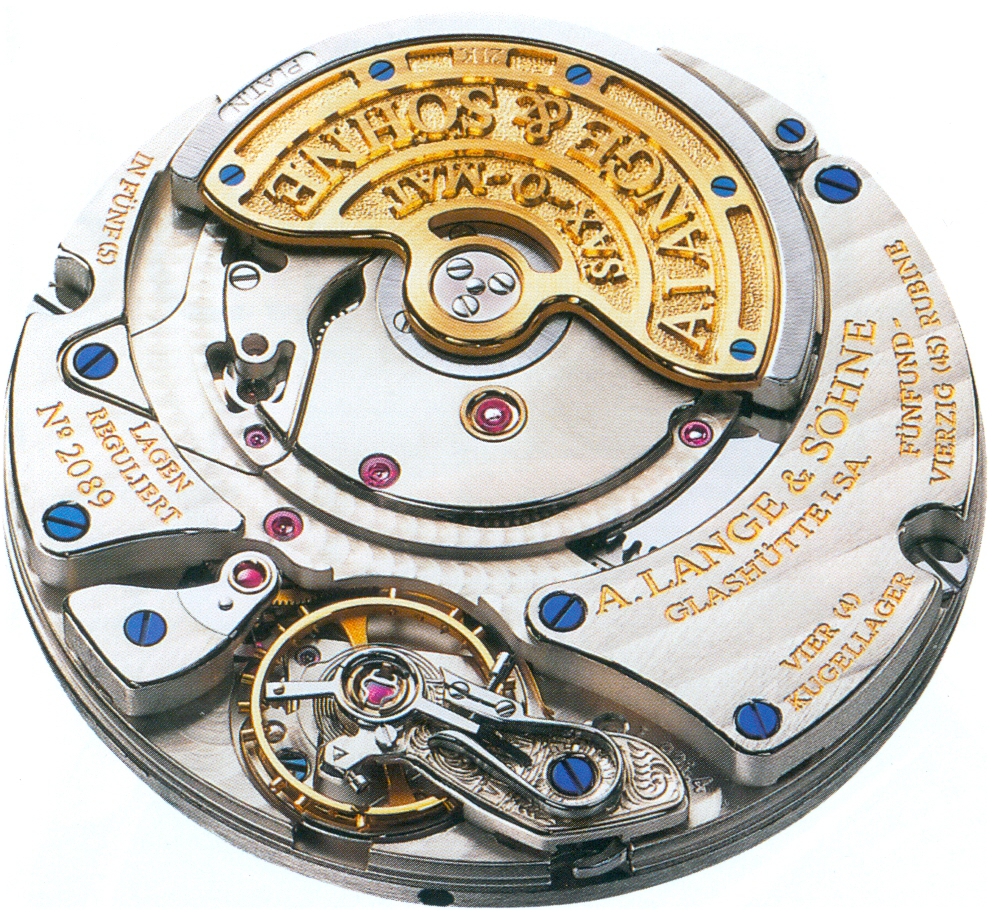 The combination of an 1815 with an automatic caliber is rather obscure. The 1815 line was conceived to be a reference to the past and modernizing its appearance without touching its soul. Hence, an automatic caliber is not the best fit for the collection. Although there were some automatic pocket watches from Lange, they were quite rare with outsourced movements.
All that said, for 1815 Cuvette, this contrast works just perfectly. A ¾ rotor automatic caliber behind an officer's case back is a rare sight, and there are not much more beautiful ones. A delightful surprise behind a thick layer of gold…
Buying an 1815 Cuvette "Oeding Erdel"
1815 Cuvette is one of the most special watches that one can get from A. Lange & Söhne. Apart from being the first officer's case back watch from the brand, it is also from an era where the brand was truly caring and passionate about its special editions. For example, in 2017, Lange launched a Dresden limited edition with a hinged case back, too. Still a beautiful piece, alas, the officer's back was the only difference from a standard version – what an understatement compared to the gorgeous pieces in the early days…
The retail price for the edition was €22,000 in 2006, almost €8k more than its standard sibling which is understandable simply due to new case size and hinged case back. Both references mostly appear at auctions or rarely change private hands. 1815 Cuvette appeared three times at auctions since 2008 and sold for around $20k every time.
Number 27/38 white gold reference (323.046) was sold twice, first at Antiquorum in 2008 and Sotheby's Watches in 2011. With the recent rise of A. Lange & Söhne's secondary market however, it is safe to say that these highly limited and special pieces also went up significantly, in the mid $30s range.
I hope this was a valuable guide for whomever is looking for an 1815 Cuvette model or just want to learn the details and history of these pieces. If you'd like to chat, sell or buy an 1815 Cuvette, please kindly reach out to me via [email protected]
Please feel free to contact:
Follow Langepedia on Instagram:
Watch "A. Lange Story" Documentary, in partnership with WatchBox:
Sign up for the newsletter to get to know first about rare pieces at Marketplace and in-depth articles added to the encyclopedia, for you to make the most informed choice, and first access!