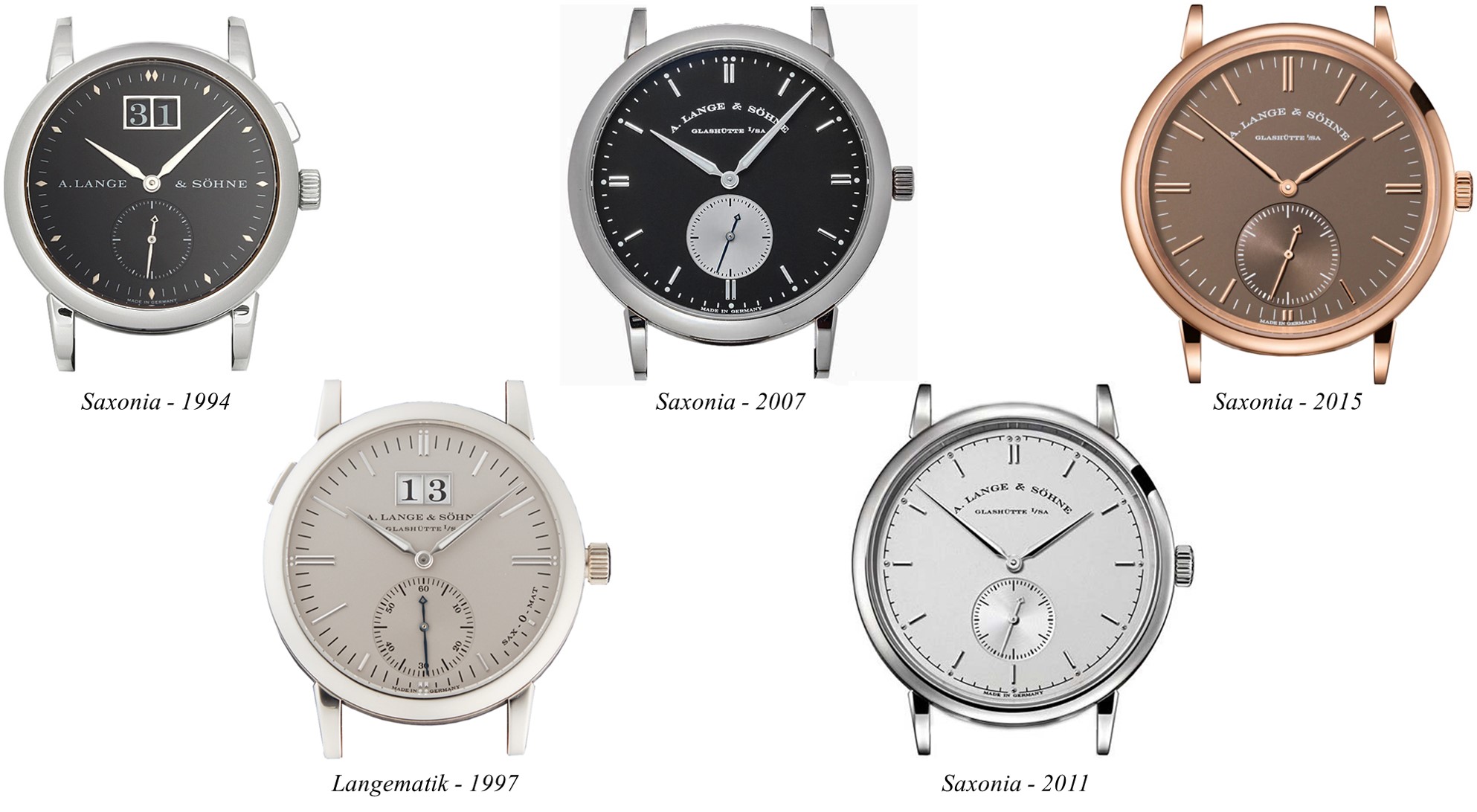 A. Lange & Söhne Saxonia - Langematik
The Collector's Guide – May 2020
As I listen to Richard Wagner while writing this article, the famous composer from Leipzig / Saxony, it becomes more and more apparent why A. Lange & Söhne chose to name their most reserved; yet, profoundly engineered collection as such. Similar to Wagner's music, Saxonia is filled with leitmotifs from the region – carriers of emotions as he says – and as his drama, the Saxonia collection does not use many elements; but everything it uses is an inseparable part of the whole story. 1994 was a revolution in German high-end watchmaking, and it would not be more appropriate than identifying one part of it with its cradle – Saxonia.
Quick Facts:
Introduced in 1994
The Langematik collection was introduced in 1997
The collection went through extensive aesthetic and mechanical changes, the last big one being in 2011
Pre-2011 automatic collection houses the superb Sax-0-Mat movement
Available in platinum, gold and with / without the big date
Saxonia collection is A. Lange & Söhne's most diverse line. For 25 years, the collection housed watches with ranging sizes from 34 mms to 40 mms, as well as self-winding and manual movements. In short, A. Lange & Söhne introduced many, many Saxonia references in 25 years. Hence, in order to keep it simple, I have divided the article into two main parts as manual and self-winding. Each section follows a chronological order in itself.
The Saxonia / Langematik article starts by covering the four generations of the manually-wound Saxonia Collection from 1994 to 2015. Further takes an in-depth look into Saxonia Thin. The final Saxonia Automatic part starts with a recap of Langematik from 1997; which later gave birth to the Saxonia Automatic collection. From there, the article finishes with the current line, which was introduced in 2011.
1994 & Saxonia with a Hidden Back
The first generation of Saxonia for me is the most Germanic watch A. Lange & Söhne has ever produced. Small diamond markers surround the dial, which was also utilized in some Tourbillon Pour le Mérite pieces, too. Further, Lange's custom Serif type and big date brings more character to the modest piece; yet perhaps too much to handle with its 33,9 mm size.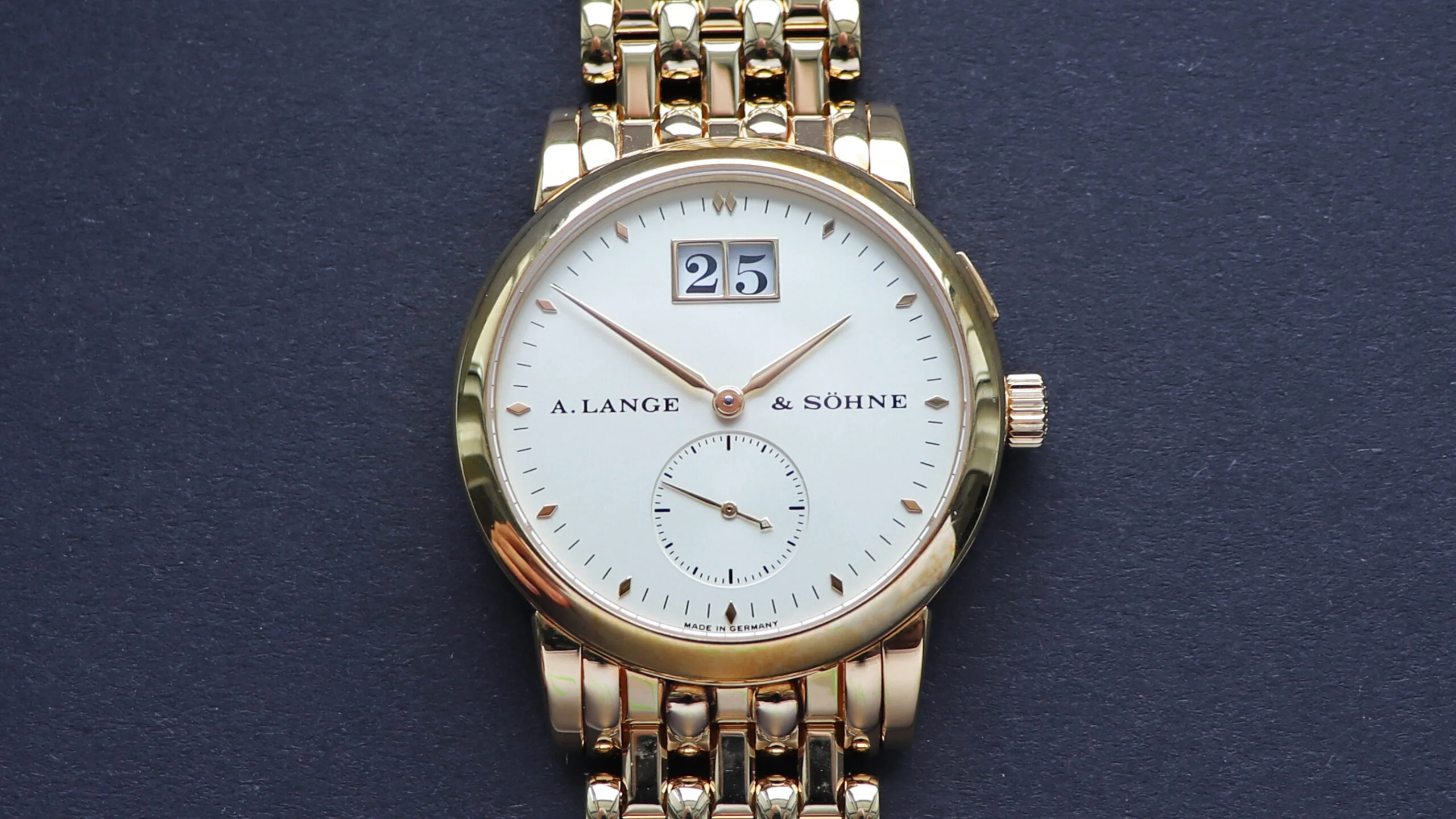 First generation Saxonia on Wellendorff Bracelet
Saxonia was Introduced alongside the Arkade, Lange 1 and Tourbillon Pour le Mérite in 1994. As interesting as it looks, next to the models above, the Saxonia is the most reserved watch in the collection and remained as such until the arrival of the time only 1815 models. Although the collection takes its name from the region, thus, one would expect the Saxonia collection to be a follower of the past, it has became a masterful blend of tradition and useful innovation with modern design. Blümlein explains this as follows:
The 1994 A. Lange & Söhne wristwatches and all upcoming models are anything but epigones of watchmaking legends. Take our big date in the "Arcade," Lange 1 "and" Saxonia ". It is not our intention to celebrate traditional craftsmanship or to compete for the most complicated clock. One of our goals is watchmaking beauty and perfect craftsmanship. On the other hand, innovations and differentiating design are important parameters for us.
The first Saxonia (102.001) model was introduced in yellow gold with the case dimensions of 33.9 mms in diameter and 9.1 mms in thickness. As Walt Odets states in his brilliant (best you may ever read) article Personal Musings on Saxonia, due to its proportions, the watch looks like a biscuit from the side. The signature Lange three-step case structure is apparent with notched lugs screwed into the brushed middle section. The engineered flow from the case band to lugs are absolutely delightful.

Resembles a bisquit, tastes like metal
As it was the norm in 1994, with the exception of the Tourbillon Pour le Mérite, all other models were introduced with solid case backs. Yet little known, Saxonia was hiding a shame behind its thick layer of gold.
Blümlein knew that the collectors were getting bored of watches with 36-37 mms diameters housing movements of 20 mms and seeing the same movements over and over again – if they ever get the chance. Ergo, at the time of the re-birth, one of the brand's founding principles was one watch one movement – which in coming years Blümlein and Lange used many times for marketing and PR purposes.
Alas, Lange broke this principle right at the beginning. The first Saxonia models, reference 102.001 and 102.002, were powered by the Arkade caliber L911.3. Albeit a technically very impressive movement (a big date attachment on a movement of this size with 42 hours of power reserve) A. Lange & Söhne broke its own code right from the start.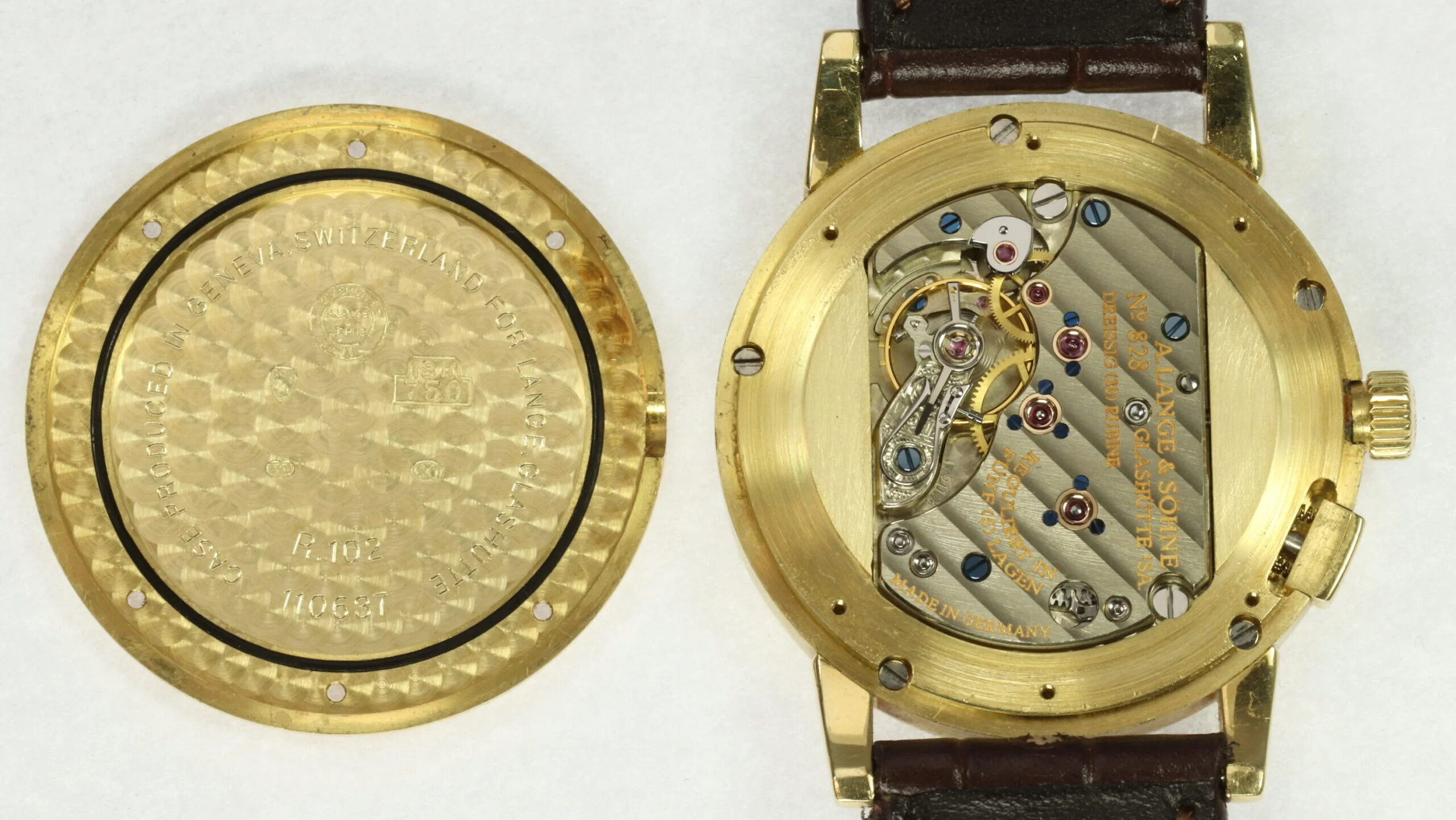 What's behind the Saxonia 102.001
Interestingly, a few years later, a long time scholar Peter Chong asked Blümlein; whether if Lange is going to continue to make new movements with every new Lange model?, and Blümlein's response was quite clear as if the Arkade within Saxonia never happened: Yes. All our product developments are running under this rule. You may expect some more surprises (referring to Datograph) in the future. In the end, companies need to make money, right?
The first references were priced at 16,900 Deutsche Mark in 1994 – which was adjusted as €10k in 2000.
1997 & The Round Movement
Saxonia with solid case back remained in the catalogue with the rectangular movement L911.3 for three years. Only in 1997, the collection received a round movement, caliber L941.3 based on the 1815's caliber L941.1. Following, the reference numbers were re-adjusted as 105.021 and 105.022. Although the one movement one watch principle was broken once again, it was still a huge step forward.
With the arrival of the new caliber in 1997, A. Lange & Söhne aggressively expanded the Saxonia collection with platinum and white gold cases as well as bracelet and gemsetted versions, while still preserving the case dimensions at 33.9 mm x 9.1 mm.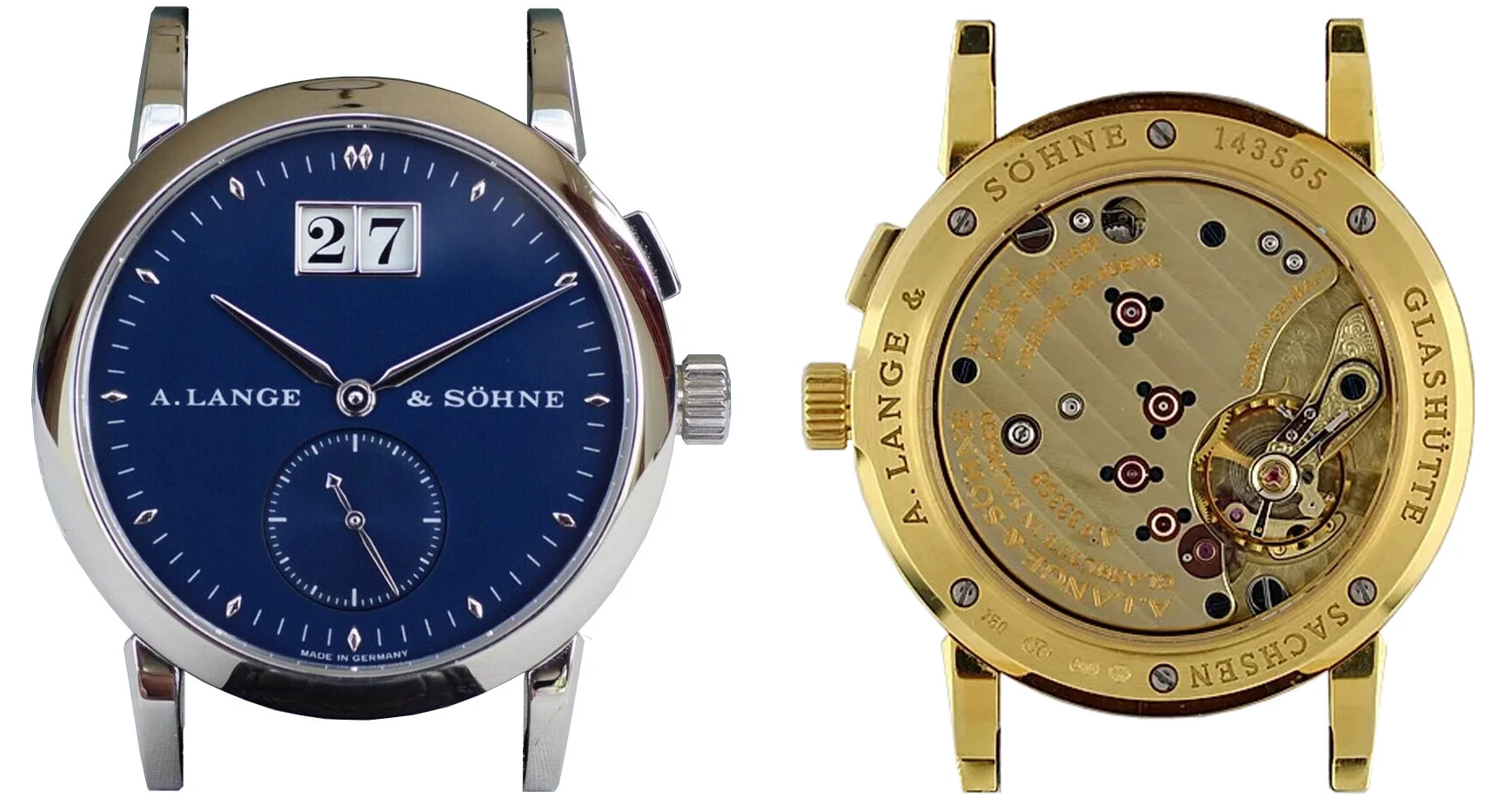 Caliber L941.3 consists of 164 parts, beats at 3Hz and offers 45 hours of power reserve with a diameter of 25.6 mms and thickness of only 3.2 mms. Finished with usual Lange quality and featuring traditional Glashütte watchmaking hallmarks such as three-quarter plate, gold chaton and hand-engraved balance cock, it is one of the signature movements of the brand. No wonder, even after 23 years, it still powers the current Saxonia collection.
Even today, I would easily argue that it is one of the best movements one can get for its price range; at least from the big companies and not counting independents such as Kudoke, Dornblüth, Laine…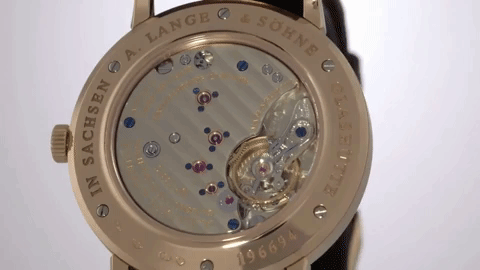 Lange kept the 34 mm Saxonia models in catalogue until the introduction of the updated versions with 37 mms in 2007. Through its 13 years of lifetime, especially after 1997, Lange introduced many diamond pavéd editions of the 34 mms Saxonia family. As I see it, Blümlein noticed the trend towards the bigger watches among men; thus, wanted to capitalize the small Saxonia models over ladies by transforming the collection as well as to reap off the initial investment.
Below, please find the first generation, 34 mm Saxonia references and production dates:
102.001 – Yellow gold/champagne dial – solid case back with L911.3 (1994 – 1996)
102.002 – Yellow gold/champagne – solid case back with L911.3 (1994 – 1996)
105.021 – Yellow Gold/champagne – new caliber (1997 – 2007)
105.025 – Platinum/silver (1997 – 2007)
105.027 – White gold/blue (1997 – 2002)
105.022 – Yellow gold/argenté (1998 – 2004)
105.035 – Platinum/black (1998 – 2002)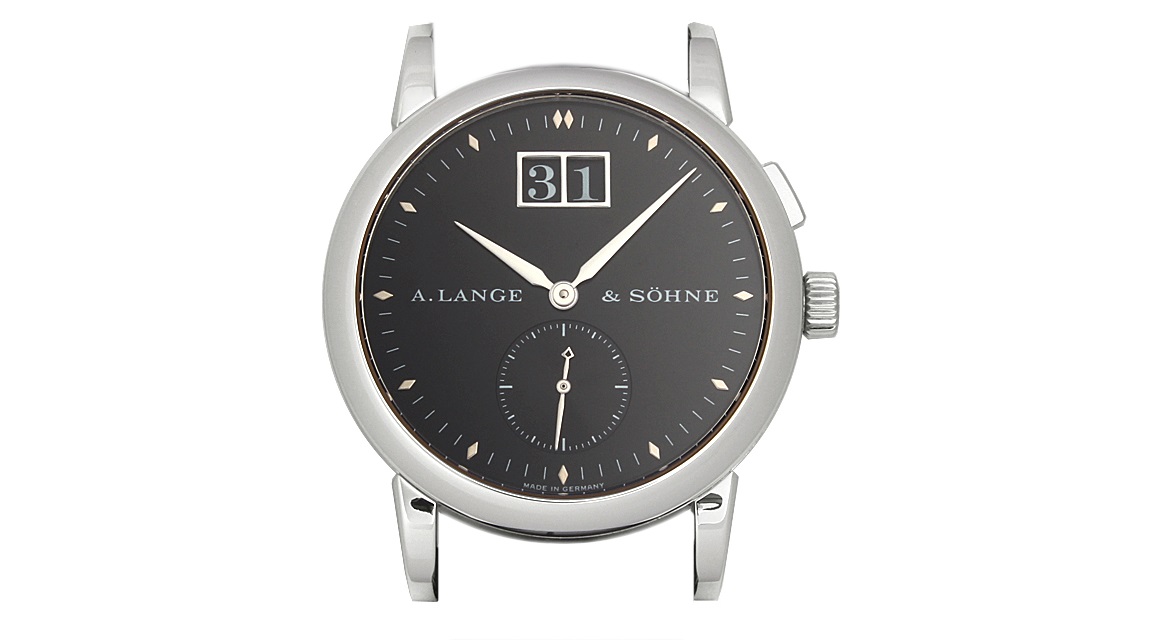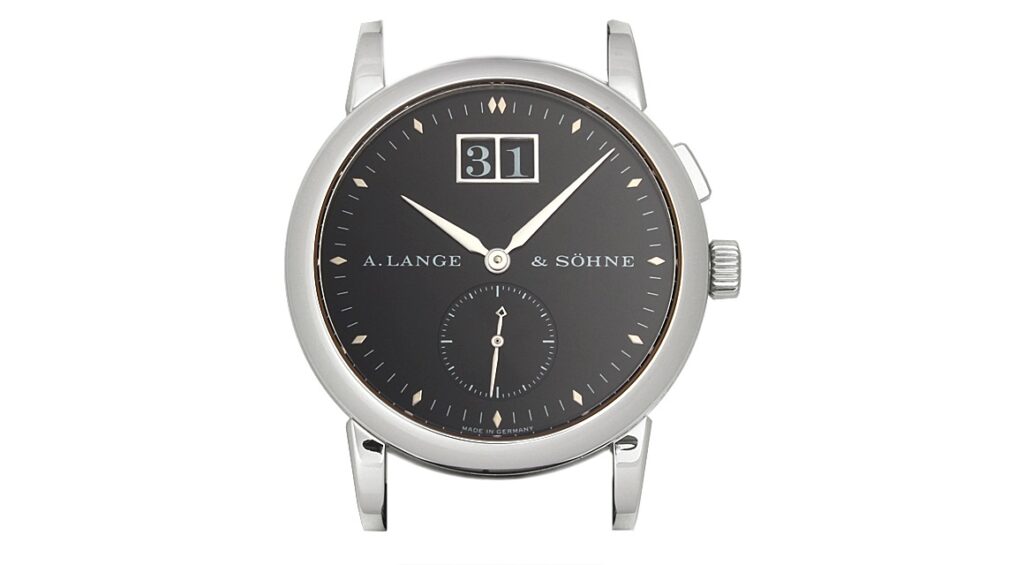 A. Lange & Söhne presented the long-awaited second generation of the Saxonia collection in 2007. The line finally received a radical size update to a more appropriate and modern 37 mms whilst keeping the caliber L941.3.
The new generation came in a completely modernized façade with three different case materials; in yellow (215.021), white and pink gold(215.032 – 215.033). Diamond shaped hour makers were replaced with multi-faceted batons, minute chapter markers were notably shortened, and the big date was gone. The seconds sub-dial is placed exactly where it should be, not interfering with the baton marker at 6 o'clock, neither too close to the center.
The case size grew by 3 mms to 37 mms and the thickness was successfully reduced by almost 2mms down to 7.3 mms –freed the watch from the biscuit look. Thanks to the brilliant update, Saxonia was transformed into something utterly classic, reserved, characteristic and elegant.
With the updates, the dial became free and easily breathing without any clutter. In my opinion, 2007 Saxonia pieces are the best of the collection whole line since 1994. Apart from the many delightful combinations in pink, white and yellow gold cases; for me, the one that truly stands out was the reference 215.049 – made on a request of a highly regarded Japanese collector as 25 pieces in white gold.
Second Generation, 37 mms Saxonia:
215.021 – Yellow gold/champagne (2007 – 2011)
215.026 – White gold/argenté (2007 – 2011)
215.029 – White gold/black (2007 – 2010)
215.032 – Pink gold/argenté (2007 – 2011)
215.033 – Pink gold/grey (2007 – 2010)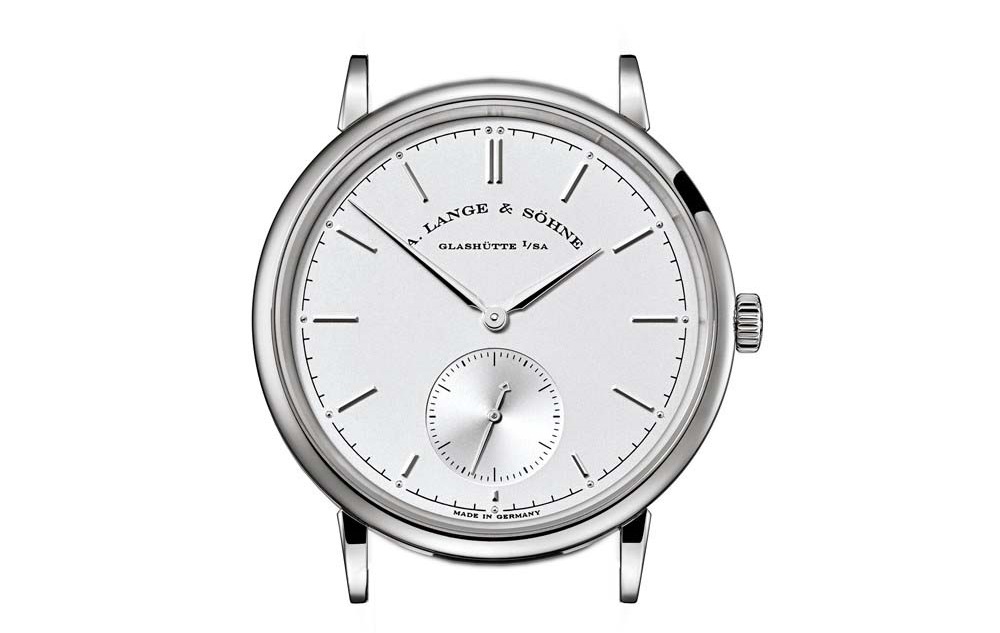 Lange ventured into the new era of Saxonia with three different editions in yellow, white and pink gold references. There is no change neither in the movement (L941.1 still in use) nor the case size at 37 mms. Yet; small differences created tremendous impacts on the collection's overall appearance.
First noticeable difference is the connected minute chapter markers. An update I did not enjoy, as it limits the space and makes the watch looking less fresh. Probably to counterbalance the more crowded dial, the double baton indices on 15-30-45 quarters are gone. Alas, this adds even more inconsistency; as if the watch could not decide what it wanted to be…
The 2011 collection was discontinued only after four years in 2015. Knowing that Lange is not a brand to discontinue pieces or update designs if the line is successful, I can imagine that the bitter reception might be the reason for the quick renewal.
Third Generation, minute chapter and baton indices update:
216.021 – Yellow gold/champagne (2011 – 2013)
216.026 – White gold/argenté (2011 – 2015
216.032 – Pink gold/argenté (2011 – 2015)
2015 – The Current Saxonia Collection
In 2015, with a rather interesting move, Lange decreased the case sizes for hand wound Saxonia collection by 2 mms, to 35 mms. On the dial side, the baton markers as well as the minute markers got longer with the removal of the minute chapter ring – slightly resembling the 2007 collection. All the appliques are made of solid gold whereas the hands are rhodiumed gold.
Indeed, the size update to 35 mms seems surprising at first, however a quick glance to the 2015 catalogue helps to decipher the reasoning behind the decision. In the catalogue, alongside the manual versions, one can also see the new Saxonia Automatic references 380.033 and 380.027. Both lines (manual and automatic) are so alike, it would be illogical to offer both at the same size. Hence, Lange introduced the manual Saxonia watches such as 219.032 above at 35 mms and automatic versions at 38.5 mms in order to avoid cannibalization.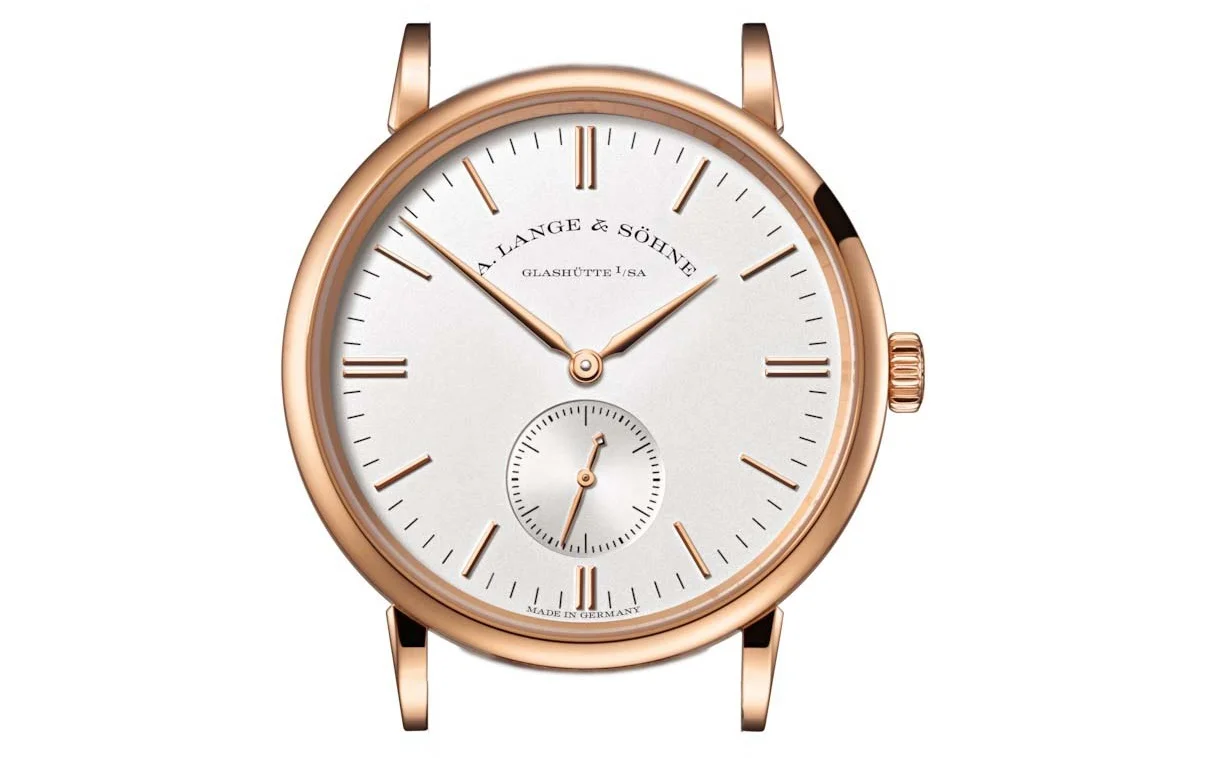 In recent years, from blue dials to lively boutique editions and mother of pearl versions, A. Lange & Söhne offered many variations of the reference 219.xxx. Granting that the watches are finely made; they unfortunately lack that needed special touch. They are beautiful, yet not as defining. I believe another proof to my evaluation is the brand's sales strategy: Currently only 35 mms, which are rather straightforward models can be bought via retailers whereas the 37 mms hand wound versions with lively dial colors are reserved only for boutique purchases.
One plus of the 35 mms case size is that the caliber L941.1 fills the caseback much better compared to previous editions, thus offers a better view.
Fourth – Current generation, 35 mms Saxonia and 37 mms Boutique Editions:
219.026 – White gold/argenté (2015 – available)
216.027 – White gold/grey (2015 – available, boutique edition)
219.028 – White gold/blue (2017 – 2019)
219.032 – Pink gold/argenté (2015 – available)
216.033 – Pink gold/grey (2015 – available, boutique edition)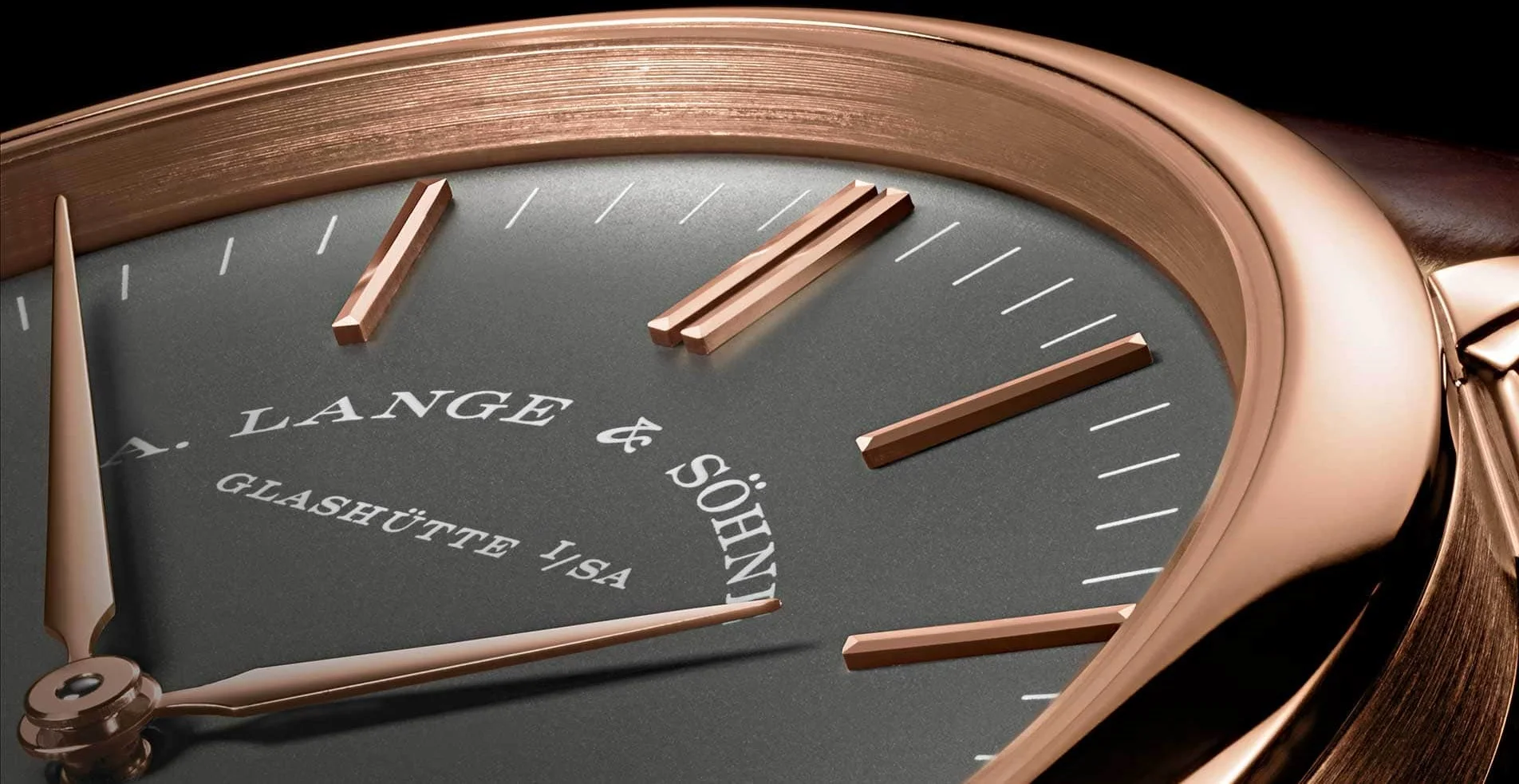 The lovely boutique edition. Courtesy of Lange Uhren GmbH
The same year which A. Lange & Söhne improperly (for my own taste) updated the Saxonia, their atonement came alongside the sin: the Saxonia Thin; one of their best ever value propositions from the brand. It was the cheapest entry to A. Lange & Söhne; yet, in terms of craftsmanship, finish and character, the watch is anything but cheap. As short and chunky Mike Tyson, Saxonia Thin punches way above its weight.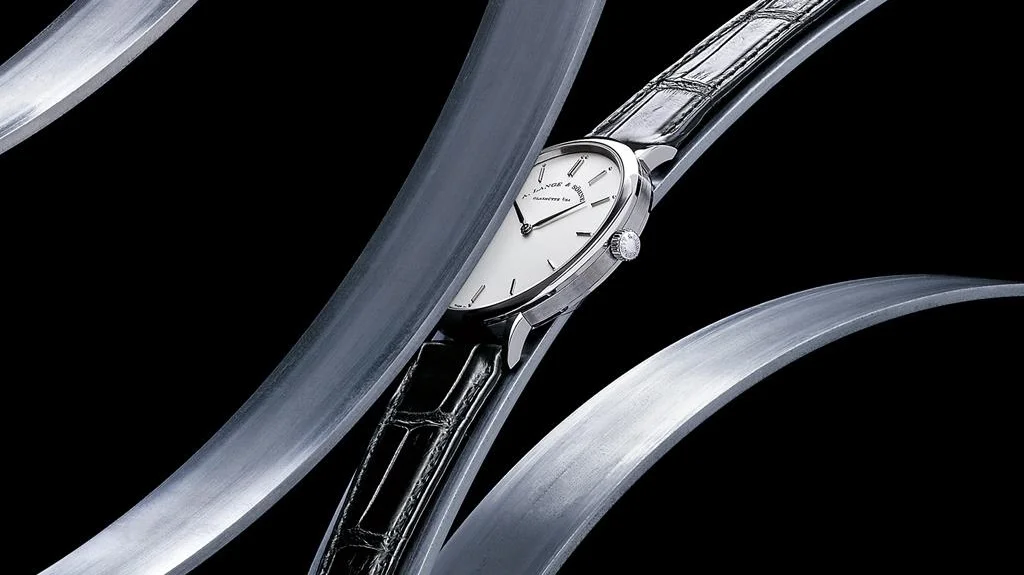 As of 2021, Saxonia Thin was produced mainly in three different editions: 37 mm (pink– white gold), 39 mm (white gold / aventurine dial) and 40 mm. While the 37 and 40 mm version have a thickness of a mere 5.7 mm, the aventurine dials due to the thickness of the stone adds 0.5 mm more.
The solid silver dial is poetic. It has that candor that still manages to reflect the character and functionality in the best possible way with a myriad of details to enjoy. Such as the multi-faceted, masterfully beveled and polished baton markers, little dots next to them and only hours and minutes hands… This is a no-nonsense watch from A. Lange & Söhne. There is nothing to distract or catch the eye apart from the allure of simplicity and the way the indices catch the light.
The arched logo, written in custom typeface is placed at the top half portion with a flat top ampersand to balance its curvature. The other text is the small Made in Germany inscription below 6 o'clock; which I would much preferred it to be on the back. Slim, sword shaped hands have just the right length – the hour hand barely touches the indices, whereas the minute hand seamlessly overlaps. Most importantly; even with only baton indices and two hands – if one takes out the logo, the watch is still recognizable as A. Lange & Söhne and that is what I can call a success.
In 2018, A. Lange & Söhne introduced one of their most ornate watches other than Handwerkskunst collection: Saxonia Thin with Gold-flux coated Copper Blue dial. The reference 205.086 is surely one of the most interesting and captivating watches that the brand put out in recent years.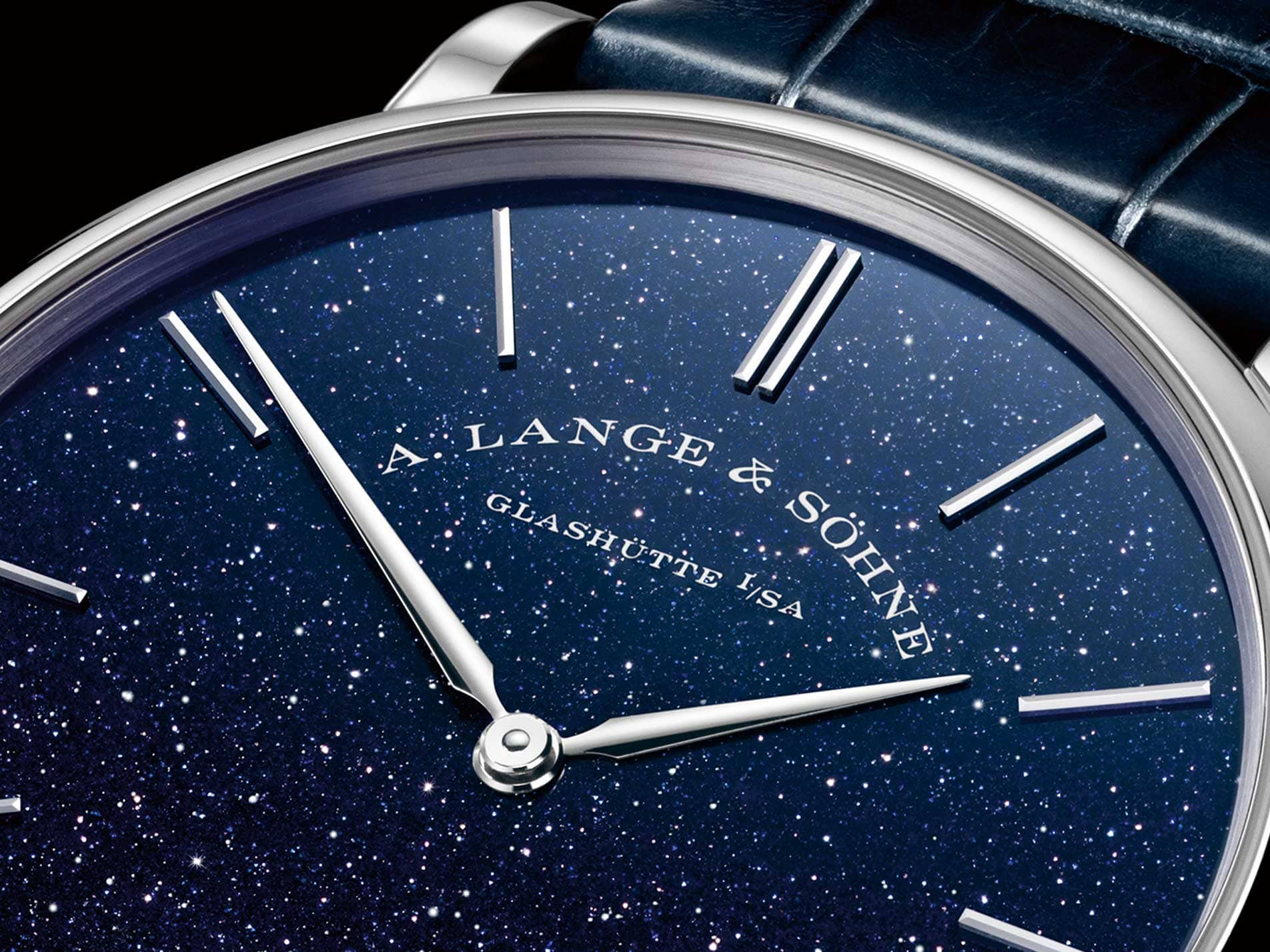 The dial is actually made of solid-silver then coated with Aventurine (goldstone) glass – which houses copper oxide crystals within. The goldstone is an artificially created glass. As the legends go, some alchemists in 17th century were trying to produce gold; yet ended up with Aventurine. Its first production goes back as far as 13th century to Persia. Although there are various production techniques the most common approach is as follows:
The initial batch is melted together from silica, copper oxide, and other metal oxides to chemically reduce the copper ions to elemental copper. The vat is then sealed off from the air and maintained within a narrow temperature range, keeping the glass hot enough to remain liquid while allowing metallic crystals to precipitate from solution without melting or oxidizing (Wikipedia).
As I repeatedly heard from Lange's watchmakers; it is an extremely sensitive material and very hard to work with. Ergo, the production of this model is highly limited. Thankfully, the result is worthy of such labor.
Please see all the Saxonia Thin versions since 2011 below:
In my opinion, 37 mms Saxonia Thin references are the ones to get. Unfortunately the 40 mm version has a rather disturbing space on the dial. Moreover, the movement is too small for a 40 mm case, which is an experience I wouldn't want from A. Lange & Söhne. On the other hand, Saxonia Thin Copper Blue at 39 mms brilliantly utilizes the space in its own advantage to showcase its irresistable spark.
Below please find the reference numbers for Saxonia Thin:
211.032 – Pink gold 40 mm / silver dial (2011 – 2018)
211.026 – White gold 40 mm / silver dial (2012 – 2018)
201.027 – White gold 37 mm / silver dial (2016 – Present)
201.033 – Pink gold 37 mm /silver dial (2016 – Present)
205.086 – White gold / copper blue dial (2018 – Present)
211.087 – White gold / copper black dial (2020 – 50 pieces limited)
As mentioned in the very beginning, A. Lange & Söhne had a one watch one movement principle. Although broken at the starting line, Lange still tries to honor the promise and caliber L093.1 of the Saxonia Thin is yet another worthy example. In my humble opinion, in terms of craftsmanship, it is the best movement of its range, and a bit above. Even more so in comparison with what is inside, say, Patek Philippe 5196.
Saxonia Thin's proprietary caliber is built in a classical Lange fashion with three-quarter plate, hand-engraved balance cock, gold chatons, blued screws and flat polished escape wheel cap. As an extra sauce, the ratchet-wheels are exposed which brings a whole new identity to the movement. With such a pure dial; giving a bit more lift to the movement was definitely the right choice; so, Kudos Lange! The movement beautifully fills the case back and offers a beautiful view through and through. Nevertheless, I must add that the caliber looks much better in the 37 mms version compared to 40 mms as it is much proportional to the former.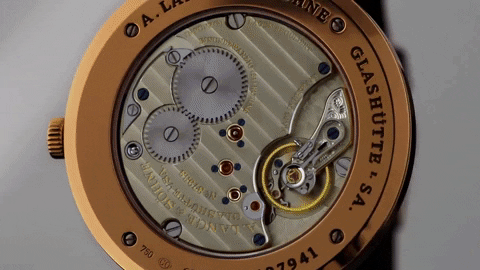 Caliber L093.1. Courtesy of A. Lange & Söhne
1997 - Saxonia Automatic / Langematik
A manually-wound watch movement has something different, a soul living – purposefully living with its owner so to speak. Winding the mechanism, giving it life and observing the passing time through it. Perhaps Philippe Dufour explains the best in an interview at veryimportantwatches.com:
I have never received a request to make an automatic watch. Because people who buy such objects know, they are artworks, and they like living with it, caring it and winding once per day. On the other hand, automatic watches, you put on and do not care about the rest.
I believe that from the purist, philosophical and aesthetical point of views, none can argue against the quote above. Yet, there are some automatic movements that are so well done, they defy the traditional and aesthetic constraints. Patek's 12-600 AT of 2526 from 1953 is one of them with a brilliant architecture, chronometric performance and stunning pattern on the rotor. For Lange however, the first and without a doubt the best automatic movement of the manufacturé arrived in 1997, seven years after the brand's re-birth and it was named as Sax-0-Mat, beating inside the now discontinued legend Langematik.
The History of Self-Winding Watches at A. Lange & Söhne
A. Lange & Söhne started very strong in 1994 both complications (Tourbillon Pour le Mérite) and design wise (Lange 1). The historic king of German watchmaking was signalling a strong comeback and the success was imminent. The collection was original, modern and traditional – an utterly hard balance to catch. The watches were not mimicking the past, but passing down the torch by staying true to characteristics and adding meaningful novelties on top both technically and visually.
Still, the traditional side was weighing more and therefore, perhaps an automatic movement, at least at the start was out of the question. Because in its 100 years of existance, A. Lange & Söhne produced only for about 40 pocket watches with self-winding mechanisms.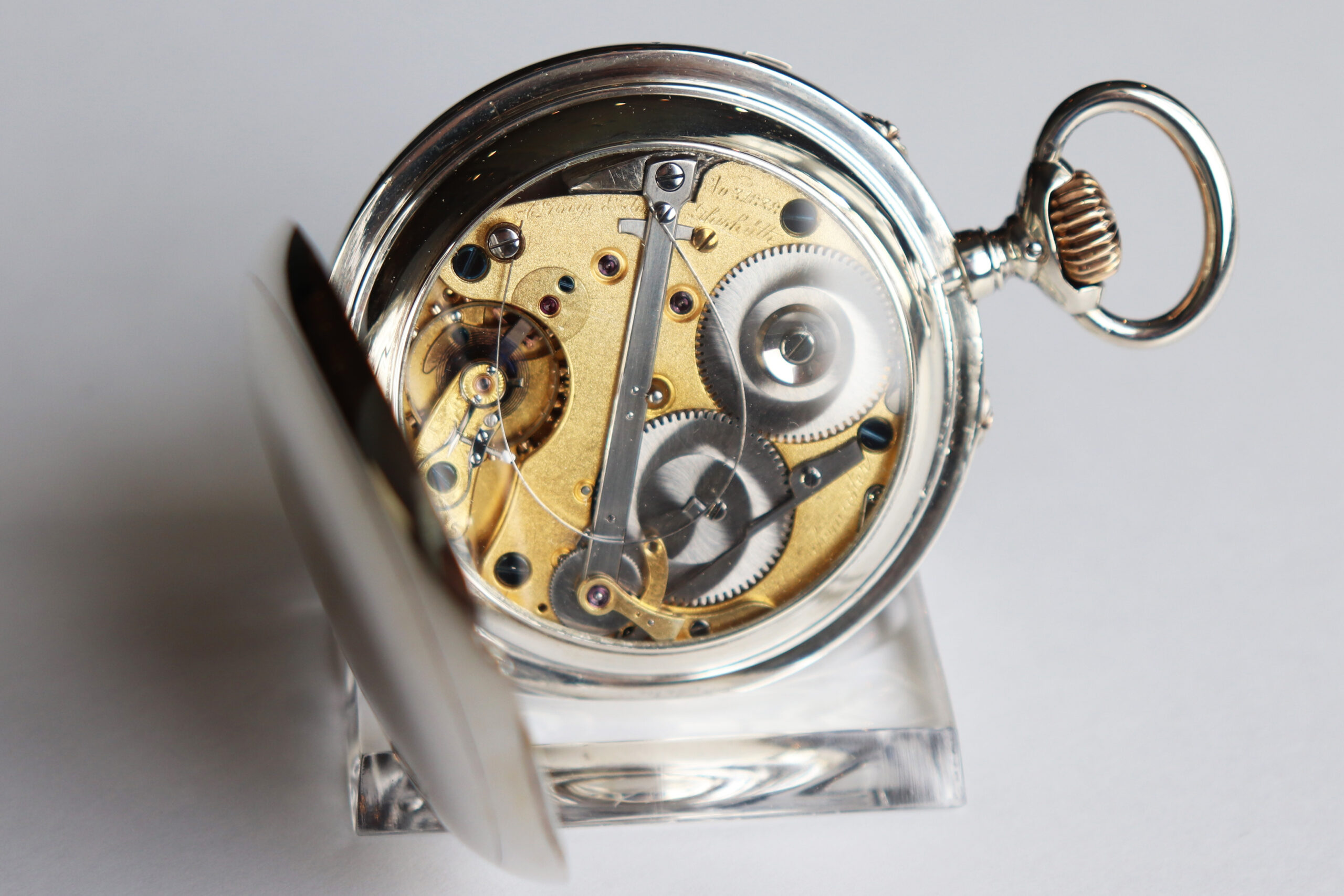 A very rare A. Lange & Söhne self-winding pocket watch. Seen at Glashütte Watch Museum
However, Blümlein strongly emphasizes that modern A. Lange & Söhne is not the epigone of watchmaking legends. This was proven by big-date, or the combination of different mechanisms such as fuseé & chain with tourbillon in a wristwatch for the first time by making use of modern technologies. Following the mentioned two, I believe one of the best examples of the notion above was put together by one of the two movement constructors that A. Lange & Söhne had at the time; who would be instrumental to many mechanisms: Helmut Geyer.
Langematik is a collection that needs to be learnt from the inside-out. Hence, I'd like to start from the movement.
Caliber L921.2 or better known as Sax-0-Mat is a result of the 5 years work and the genius of the now retired movement designer Helmut Geyer. Even today; the caliber L921 is the automatic movement to have from A. Lange & Söhne.
Its story is rather interesting, too. I was told by several long-time employees of the brand, Geyer came up with the movement idea by working in his spare time and then showed it to Blümlein. Amazed by its beauty, the manager decided to put this mechanism into a watch; which led the way to Langematik. It has been 23 years since its birth, and A. Lange & Söhne created several automatic calibers in the meantime; but none is even close to Sax-0-Mat, neither in aesthetics nor in technicality.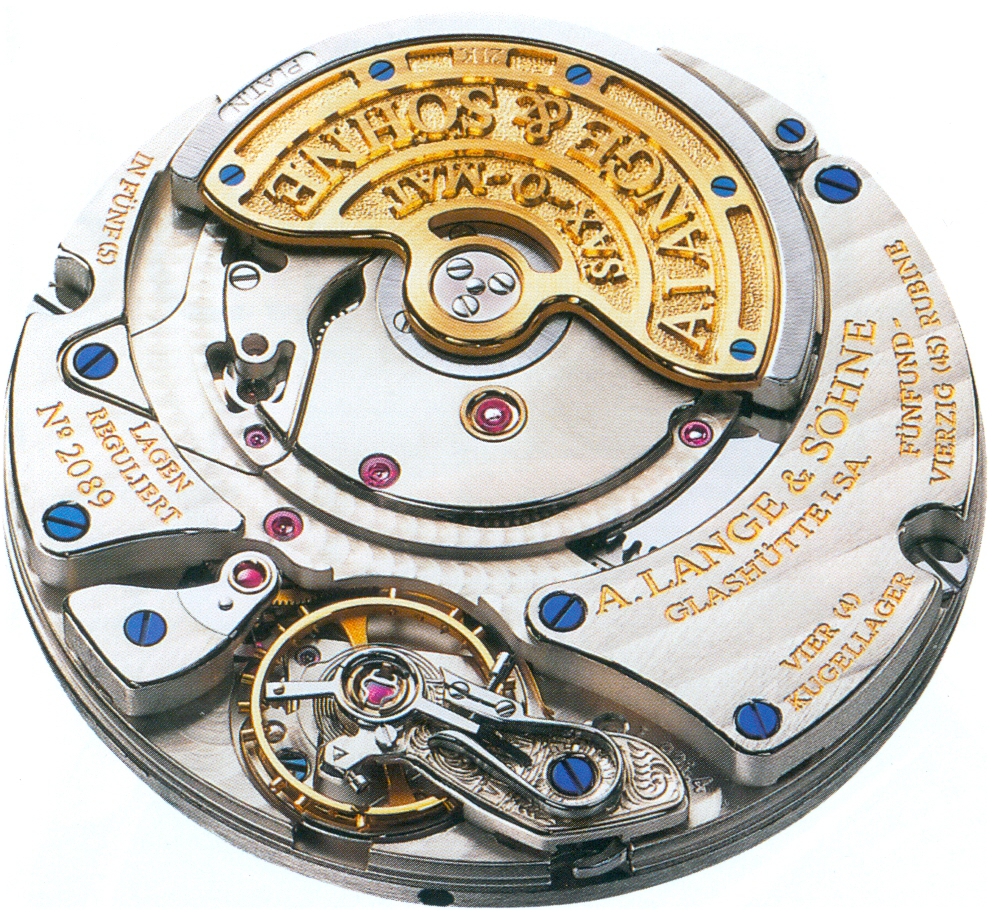 Its design is exactly how one would imagine an automatic caliber from A. Lange & Söhne. A gorgeous view, born out of a contrast – an automatic movement coupled with 150 years old traditional hallmarks. Geyer managed to splendidly brew historic aesthetics such as three-quarter plate, blued screws with modern technicality, and the result of such synthesis is something inimitable and nothing but exceptional.
Blümlein describes how Lange cases ought to be, I want people to get the feeling of closing a Mercedes door, he says. He wants heft. Hence, Geyer adds the platinum centrifugal mass; just to give it a bit more feeling. The solid gold rotor is fully engraved to accompany the soulful carves in the balance cock. The finish is sublime as usual from Lange, and the area to actually trace that finish is wide and compelling unlike the current L086. The color harmony is extremely compelling. I do not know if there is ever going to be a better automatic movement from the brand; but I highly doubt it as the bar was already set at 10/10 in 1997.
On the technical side, Langematik's caliber houses 46 hours of power reserve and beats at 3Hz. It winds to both directions and requires for about 1500 turns to fuel-up the power reserve. The thick, superbly engraved solid gold rotor carries a platinum mass for the increased efficiency which runs over ruby bearings.
Seems normal until now; but its super hero power is hidden behind its thick layer of glass as Clark Kent's: Sax-0-Mat. the zero in the middle refers to the ingenious, patented complication which Geyer implemented: the zero-reset function. Developed for precise time-setting; upon pulling the crown, the function simply stops the balance and resets the seconds hand back to zero.
The system works as follows: Under the seconds hand, there are two levers positioned over each other. When the crown is pulled, the lever (braking disc) on the top grips the brake disc and stops its movement. Since the disc is connected to the seconds hand, its movement stops. Moreover, there's a heart-shaped cam attached to the seconds' hand. When the first lever of the two touches the heart cam, thanks to the cam's asymmetric rotation and the shape, it always travels back to its final position when touched. Hence, the seconds hand jumps back to zero. Moreover, another lever gently contacts the balance wheel and keeps it from moving. When the crown is pushed back, the levers return to their resting position and movement starts again.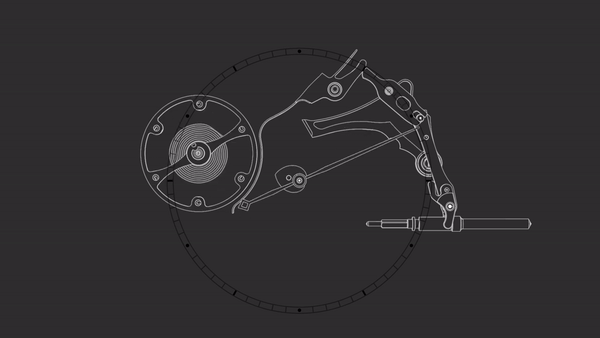 There is however one possible drawback of this function: When the crown is pushed back, the minute hand might jump a little bit; which cancels the precise adjustment the owner made. Funny enough, it was the neighboring company Glashütte Original who further developed the zero-reset concept with their Senator Chronometer. In this model, when the crown is pulled, the minute hand jumps to the closest minute marker and when the owner adjusts the minute hand, it ticks to the next marker rather than dragging; therefore, offers the most precise time-setting, ever. An absolutely ingenious development and an example of what happens if one stands still.
All in all, the caliber l921.2 of the Langematik family is without a doubt the best automatic movement A. Lange & Söhne has offered. It pains me to say but the self-winding mechanism is the only area that the brand went backwards. Unfortunately, the current Saxonia Automatic Series' caliber L086.1 pales compared to the glory of its ancestor.
Langematik / Langematik Big Date
As mentioned, with the invention of the exceptional automatic L921.2 caliber, it was a necessity to introduce a new line. In 1997 the brand presented Langematik. The first automatic watch family of A. Lange & Söhne.
Langematik was introduced with and without the big date function. The difference translated the sizes as follows: Langematik without date measures 36.8 mms in diameter and 8.2 mms in thickness; whereas Langematik big date is slightly bigger and thicker at 37 mms and 9.7 mms respectively. The difference arises from the big date mechanism – the same relationship between Datograph and 1815 Chronograph later on. Consequently, the calibers have different references: L921.2 for the no date, and L921.4 for the big date version.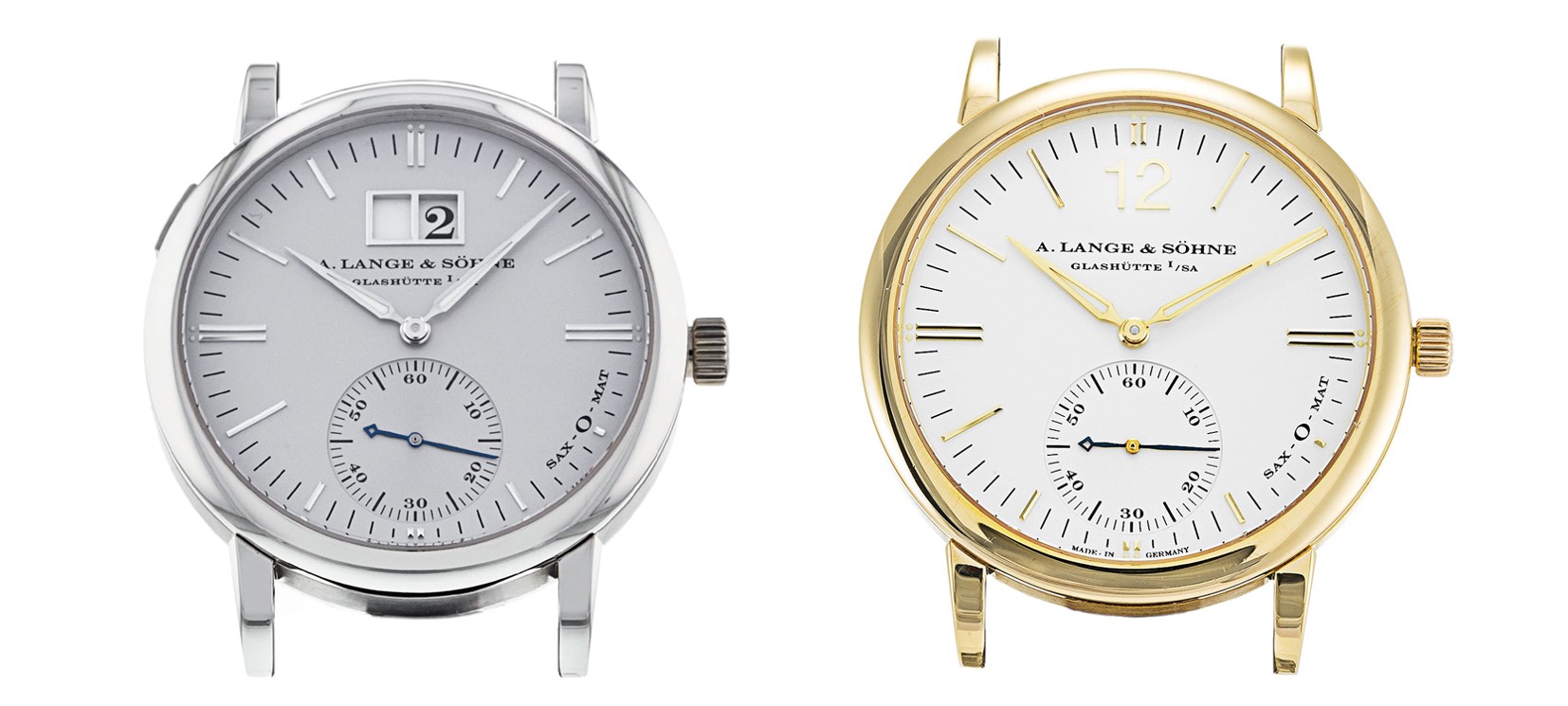 Langematik models carry sharp, lumed hands and elongated baton hour markers. The size, hence the use of space is just right. Appearing completely symmetrical, the Sax-0-Mat inscription on 4 o'clock adds just the needed spice. I would go as far and say it is one of the first sporty-elegant watches of the brand. This was the early Lange who was not afraid of doing things differently and adding a bit of unconventional flavor here and there.
The blue seconds hand in platinum and yellow gold variants is delightful touch as well. It adds just the right amount of color to the dials and differentiates itself from the broad hands. Langematik watches have something that the current generations don't. These pieces do not try too hard to become something, their markers, lines are utterly simple but the combination subtly delivers a strong character.
I have owned the platinum reference 301.025 for a while and all I can say is that the watch is extremely versatile; at times very classy on the wrist and casual when needed with its 37 mms size. I can only imagine that the black dial is an absolute joy – which I have in mind for some time now.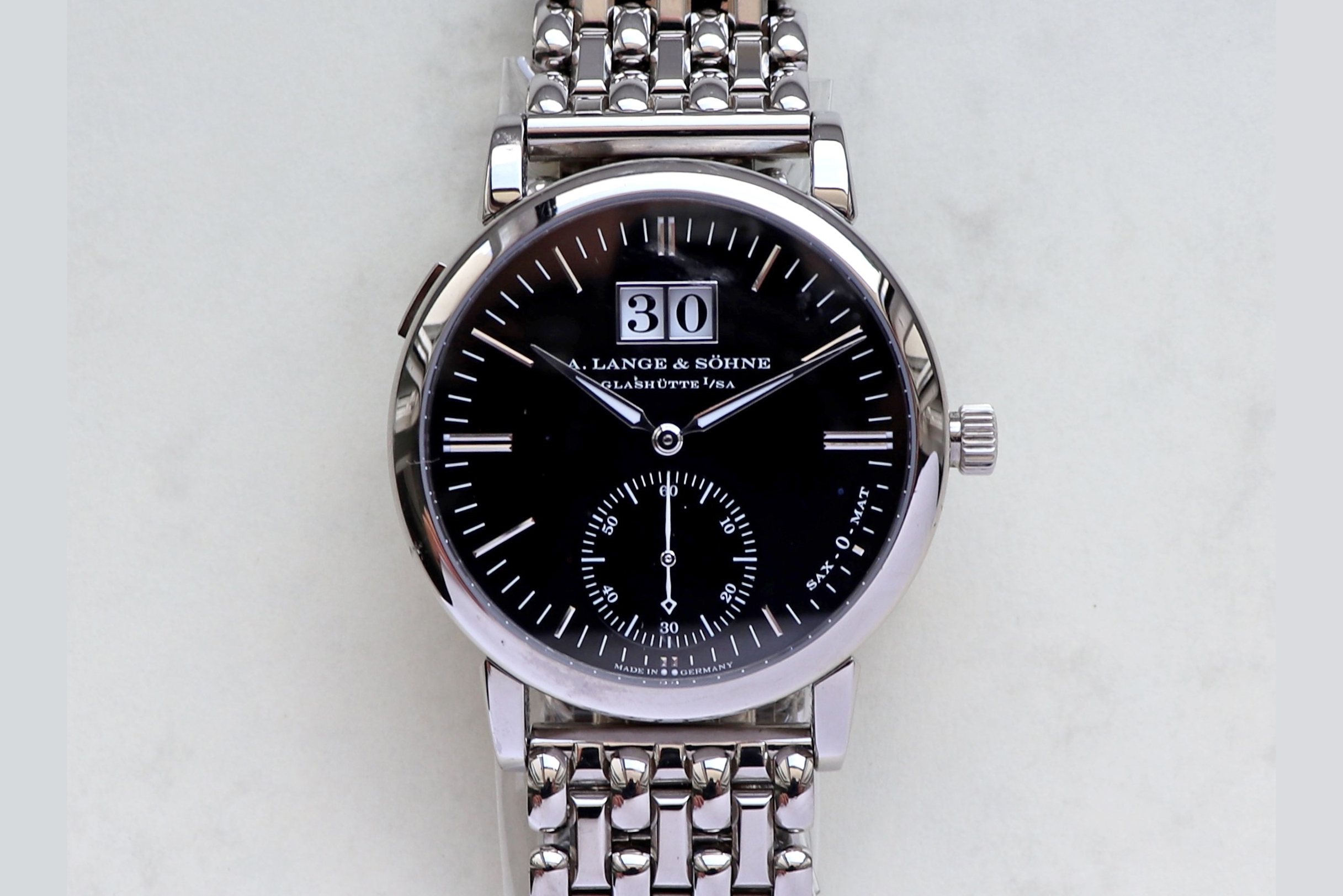 Lange offered Langematik in all precious metals and with accompanying bracelet combinations. Below, please find the reference list and their production years:
Langematik Big Date:
308.027 – White gold/black dial (1997 – 2007)
308.021 – Yellow gold/champagne dial – blue seconds hand (1997 – 2007)
308.025 – Platinum/rhodium dial – blue seconds hand (1997 – 2007)
308.032 – Pink gold/argenté dial – blue seconds hand (2003 – 2007)
Langematik without Big Date:
301.027 – White gold/black dial (1997 – 2004)
301.025 – Platinum/rhodium dial – blue seconds hand (1997 – 2005)
301.021 – Yellow gold/champagne dial – blue seconds hand (1997 – 2005)
Both versions were introduced in 1997, though the Langematik w/o date became available in 1998. In 2000, the retail price for no date version was €11.4k against the big date's €15.9k.
In the following years, to accommodate the growing big watch trend, A. Lange & Söhne unveiled the Große Langematik in 2003 and kept it in production until 2007. The big Langematik measures 40.5 mms in diameter and 10.7 mms in thickness while housing the same caliber L921. In 2003, the retail for gold versions was €17.7k and €26.3k for the platinum. The model breakdown is as follows: 
Reference 309.025 Grand Langematik
309.021 – Yellow gold/champagné dial (2003 – 2007)
309.025 – Platinum/rhodium dial (2003 – 2007)
309.031 – Pink gold/black dial (2003 – 2007)
As you'd remember, the caliber L921.4 was created for the 37 mms Langematik Big Date. Hence, unfortunately, the Grand Langematik looks a bit weird due to placement of indications, especially the space between the big date and the center. However; a friend of mine, a true connoisseur, summarized the allure of Grand Langematik in the best way possible. Words of @alangejourney:
This rarely-seen reference epitomizes Lange's "symmetrical asymmetry": the indented markers on the upper half to fit the discreet branding, the elongated indices at 2 and 10 and 3 and 9 that frame the big date, and the single line of text on the central axis that ties together the two assymetric halves. I think it is one of the purest expressions of Lange's aesthetic outside the Lange 1 family.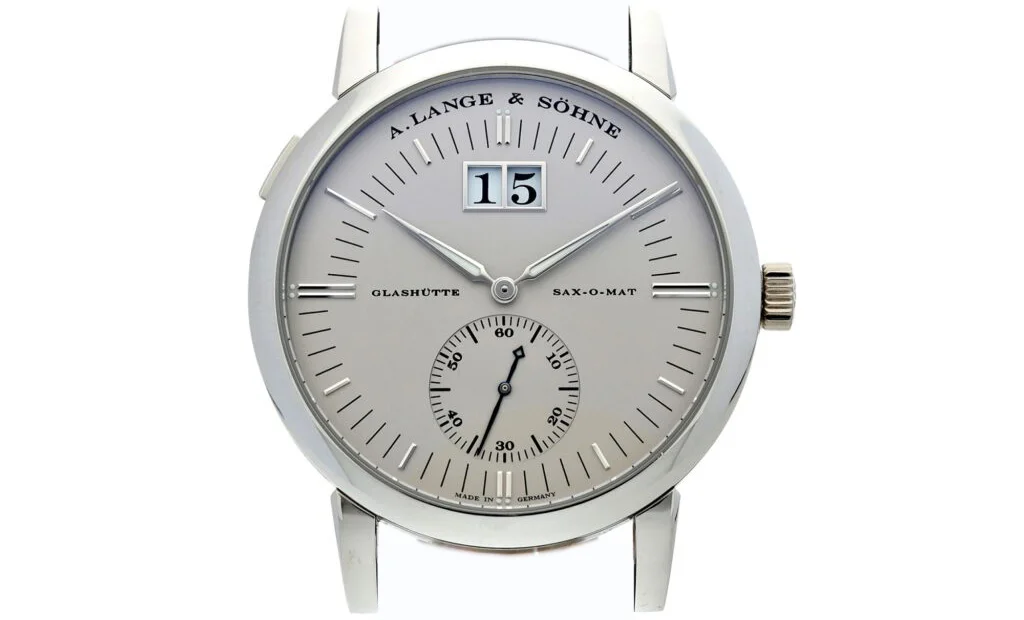 In 2007, A. Lange & Söhne consolidated the catalogue and transferred the Langematik collection under the Saxonia line. So, following the said year, the collection's name is Saxonia Automatic. And in my opinion, hence started its demise.
Langematik design was noteworthy because it was an outlier. With eccentric touches like the elongated baton indices and minute markers and the symmetry breaking Sax-0-Mat inscription stretching through 4 o'clock, it was not something one would instantly imagine. However, with the update, it became something ordinary and predictable; thus, monotonous. Still beautiful, but less fun and without essence. Apparently just throwing the big date into the mix is not enough sometimes.
First Generation Saxonia Automatic pieces:
315.026 – White gold/silver dial (2007 – 2011)
315.032 – Rose gold/silver dial (2007 – 2011)
315.033 – Rose gold/grey dial (2007 – 2010)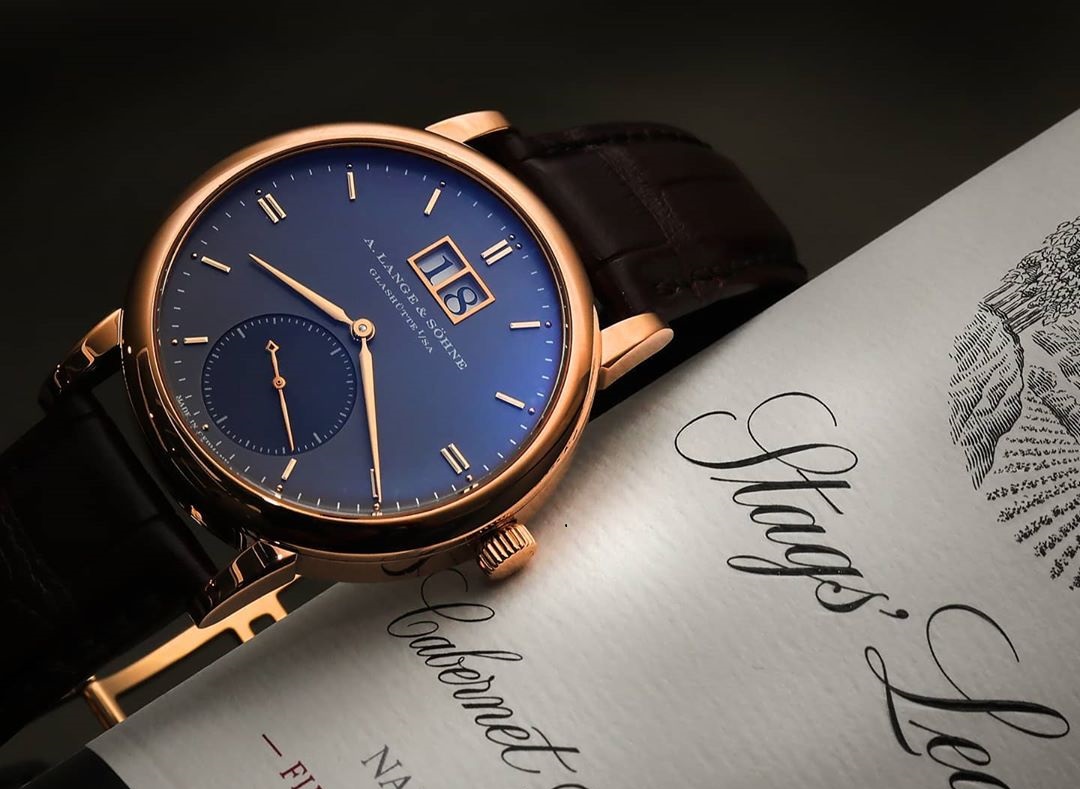 The 2007 Saxonia Automatic pieces came in a much restrained appearance with shorter baton indexes, dot-like minute markers and a huge sub-seconds at 6 o'clock. It was more spacious, however just like Saxonia Thin, if you do not have something good to show, do not leave much space. Even though the reference 315.033 covers it quite well with an unusual pink gold/grey dial combination, it is hard to say the same for the rest.
Nevertheless, the new collection was still utilizing the beautiful and partly unrivaled Sax-0-Mat caliber back then. And just for this, I value the 2007 Saxonia Automatic higher than any of its successors.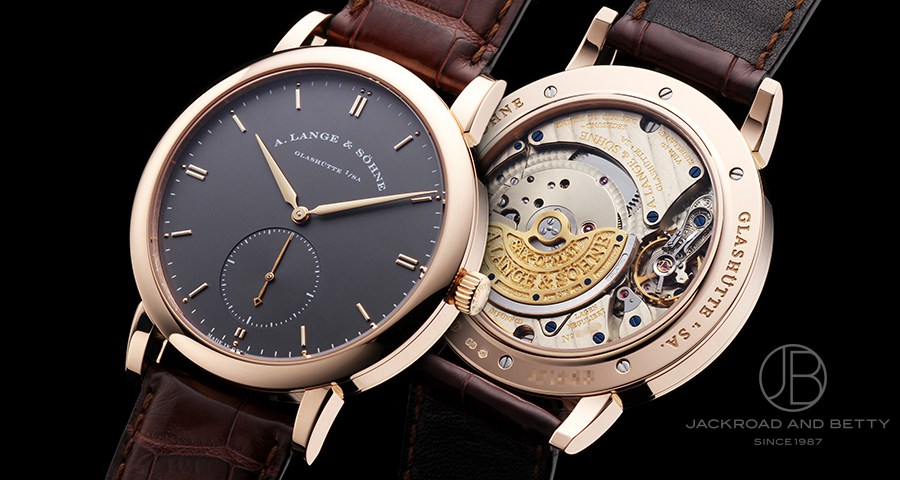 The brand also introduced the Große Saxonia Automatik in 2007 – with a dimension of 40.6 mms x 8.2 mms without the big date. Same "simplification and ordinary" effect is also present here. Still beautiful; but not even comparable to early Große Langematik in terms of character and uniqueness. Nonetheless, Lange launched a couple of well received experimental pieces for the collection; most notably the pink gold/grey dial (307.033) which is perfectly compatible with the new and reserved look.
Saxonia Automatik with Date remained in the catalogue until 2011 with a short life span of 4 years; and the Große Saxonia Automatik until 2010. The design of the 2007 Saxonia Collection watches laid the backbone for the future evolution of the series.
2011 – The New Era of Saxonia Automatic
In 2011, the Saxonia Automatic collection received another update. This time, it was not only a slight cosmetic touch; but an introduction of a new movement. The legendary caliber L921 Sax-0-Mat was removed from Saxonia Automatic pieces and replaced with the thoroughly inferior (in comparison) new caliber L086.1 – whilst ditching all the technical and aesthetical hallmarks that made A. Lange & Söhne's automatic movements worthy of admiration.
The watches were and still are straightforward and beautiful looking; but what is under the hood is disappointing for someone who knows the brand's offerings in the olden days. It is like Lamborghini abandoning its determined proportions, clear contours and precise lines and presenting something like Fiat 500 with round lines and open contours. Still serving the same purpose, the car is still running – but without its crux.
Lange was Not Standing Still; alas was going backwards.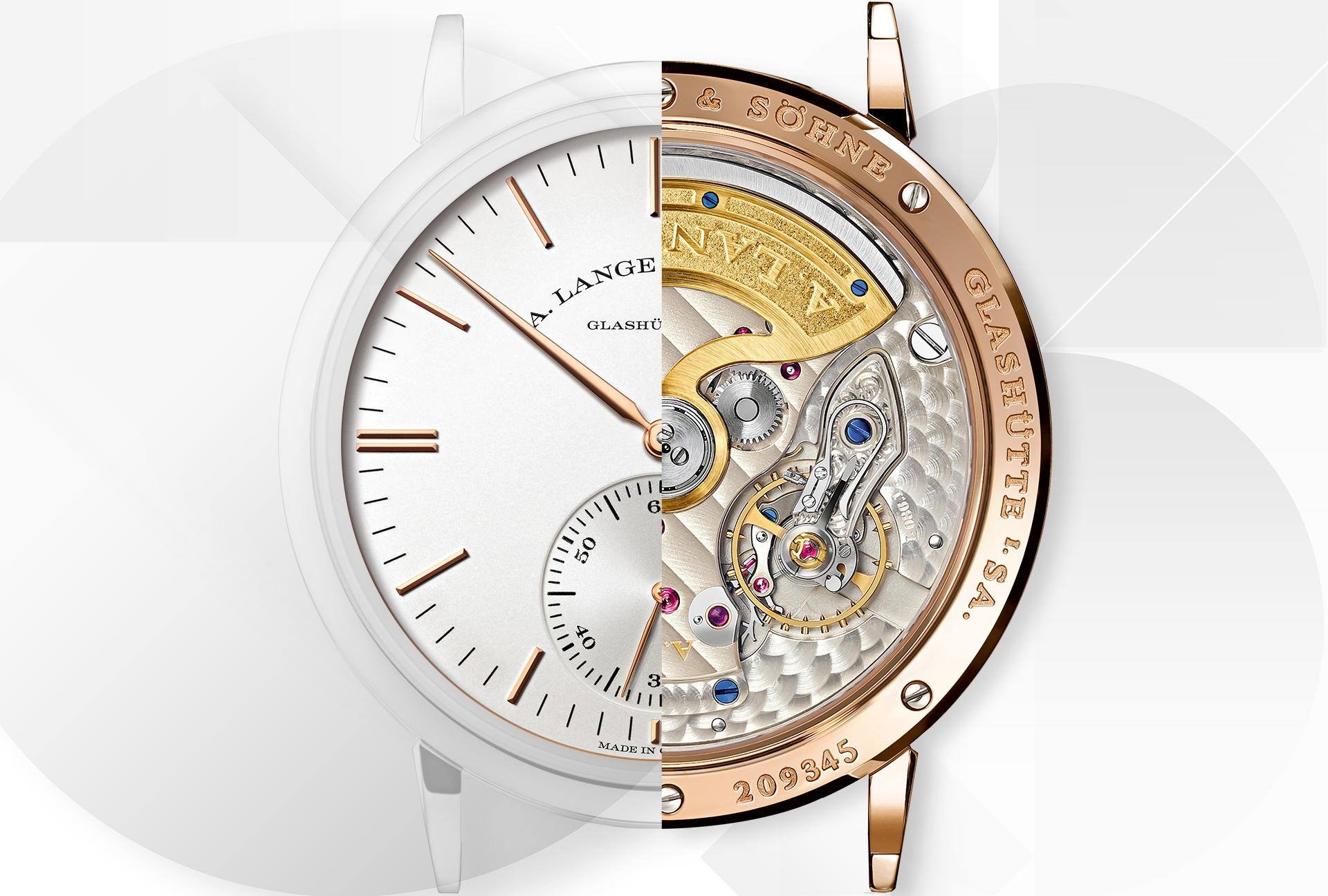 A brilliant illustration from A. Lange & Söhne
Before going deeper into the movement, I want to clarify one thing: Caliber L086.1 is by no means a bad movement in terms of industry standards. It still retains a good finish and has an ordinary movement architecture. Problem is; if you set the bar very high, you cannot pull it down – which is exactly what A. Lange & Söhne did. Unfortunately, in comparison with its predecessor L921 Sax-0-Mat series, the caliber L086.1 suffers from vital aesthetic and technical flaws.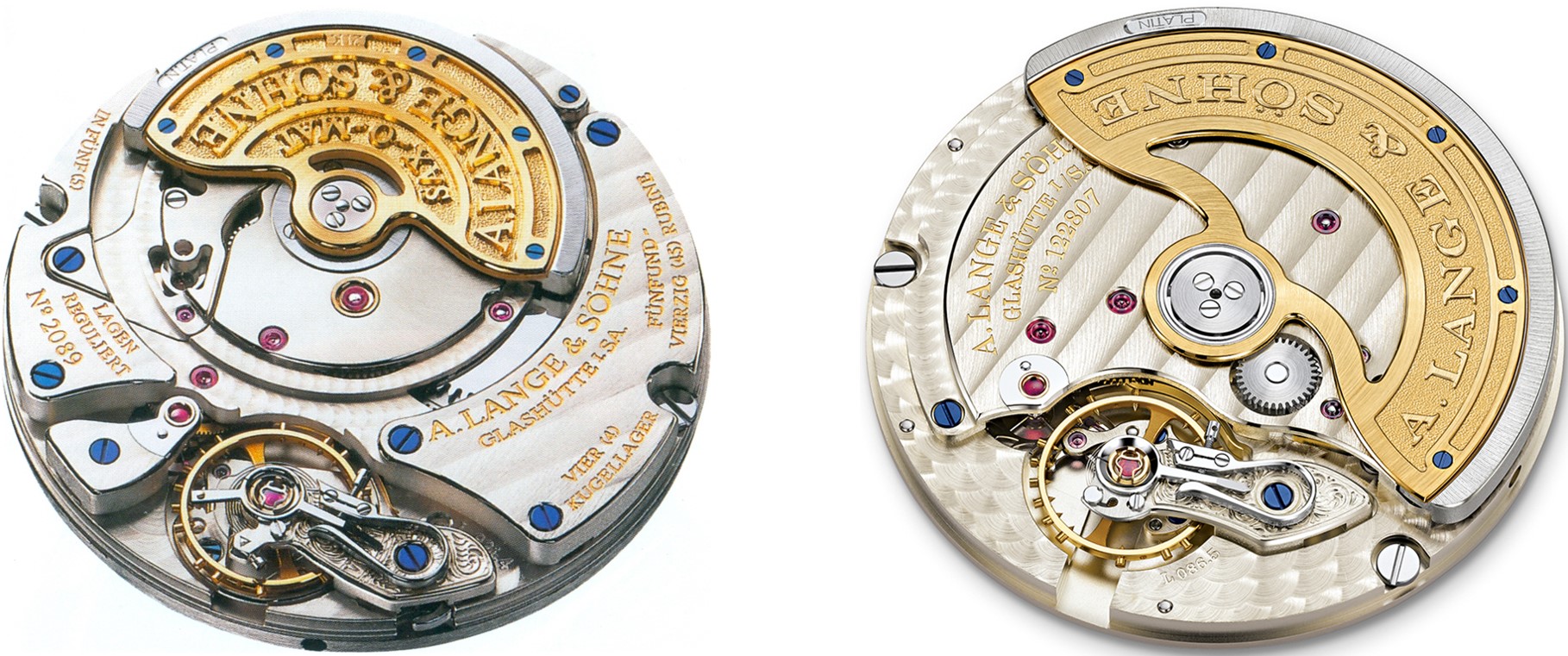 Sax-0-Mat (left) and L086.1
In order to understand the rationale behind the drastic change (movement L086.1) happened to Saxonia Collection in 2011, we need to dive into the conjuncture in the 2000s.
Before 2010, Lange was a rather different brand compared to what we know as 2020. It was a manufacturé fueled by creativity, differentiation with a target market of connoisseurs. It was a house that does not hold back whatever the design or movement development costs in order to differentiate and stand out – as there was no other choice for survival. E.g. one of a kind, exceptional pieces that truly deserve the "special edition" title such as Langematik Anniversary or ReferenzUhr…
Then the financial crisis hit hard– as it did to the whole industry and the brand went through a change in the mindset. Consequently, Lange's product strategy evolved over time. Gone the mentality to introduce super niche and worthy limited editions; replaced with an almost Hublot-ish mindset – 165th Anniversary collection or Lange 1 25th Anniversary Set (with few exceptions)…
Set on this, the new Saxonia Collection was born in 2011 along with the renewed manual wind offerings and Saxonia Thin. Albeit the latter two were decent; Saxonia Automatic– I am sorry to say this – was and still a complete miss with the new and cheapened caliber L086.1.
The movement does not actually measure at 30.7 mm. A careful look reveals the caliber hence the gear train sits in the center portion, surrounded with the perlage finished movement ring to fill the caseback. Although this part is necessary for the rotor to roll over – it is very much excessive in comparison to Lange 1 Daymatic's caliber L021.1 or Patek's 324. The fact that this part horribly fades against the German Silver main plate under natural light is another pet peeve of mine.
You might rightfully ask; Why did they develop this then?
According to A. Lange & Söhne the main motivation was to bring a thin, automatic movement with 72 hours of power reserve; and it was impossible to improve the L921.2's power reserve (from 46 hours) without increasing its thickness. Same reason also applies to the use of a gold-plated rotor; as a solid gold would have been unstable with such thin dimensions. You might also ask; Why there is no gold-chaton? A. Lange & Söhne says; There was simply no place.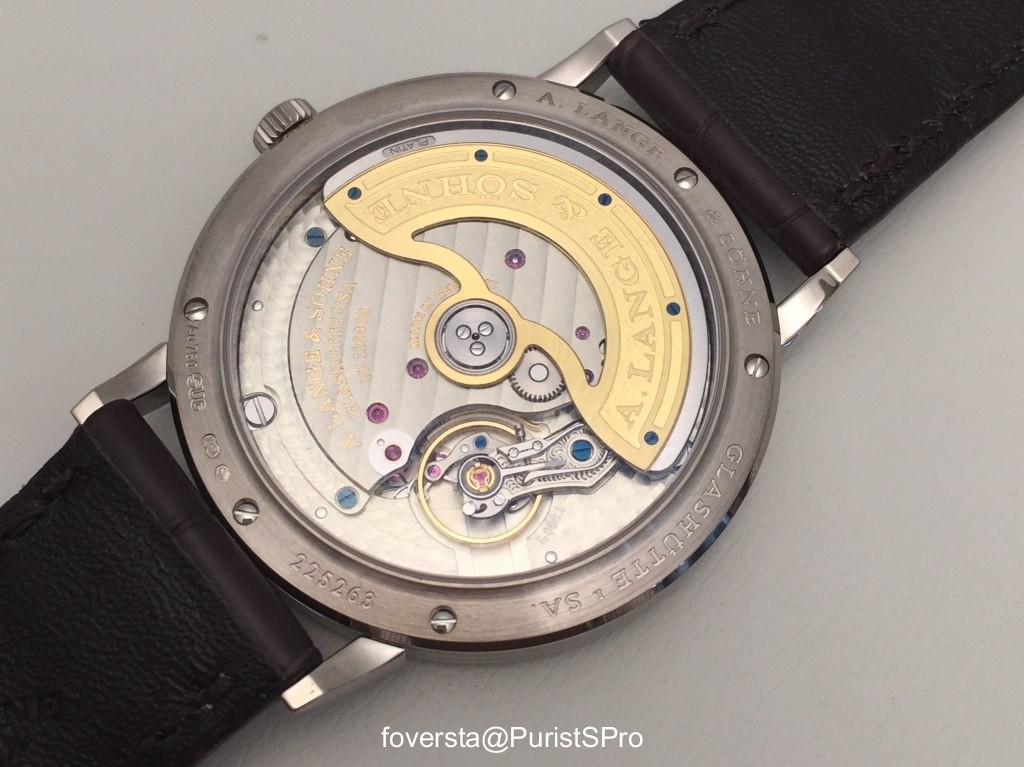 What I can recommend here to you is to take these answers with a grain of salt. One example I can give is: Well-known now that the Odysseus' caliber L155.1 is based on (no, it is not built from the ground-up as advertised) L086.1 and it has a gold-chaton on the escape wheel cap – I assume simply because the brand took a lesson from the collectors' critiques; not due to "technical" reasons.
All in all, the reason I am so critical towards L086 series is because I know the pathway that led to its creation and the missing Lange design hallmarks. It is still a good looking, average high-end movement and has no technical flaws whatsoever; but it does not inspire as others – as a Lange caliber should. As these watches are mostly marketed as heirloom pieces, as an avid enthusiast, I do not want to see such inconsistency from my favorite manufacturé which gave us much better pieces.

308.047 (left) and regular edition 380.032. Source: Lange Uhren GmbH.
In 2011, new Saxonia Automatic collection was presented in white (380.026) and pink gold (380.032).
The case measures 38.5 mms in diameter and a slender 7.8 mms in thickness. The case construction as well as the dial structure is identical to 2011 hand wound Saxonia models and still suffers from the same pain as its predecessor: It is a pretty watch with splendid attention to detail; but uninspiring and ordinary in general.
One might even say that even the brand itself knew this. Indeed, A. Lange & Söhne launched a special edition of Saxonia Automatic in 2013 which resembles exactly old Langematik and all its brilliant details.
In 2015, Saxonia Automatic received the same design update as hand wound versions: Longer minute markers, deleted minute marker ring, double baton indices on each quarter – and additionally; 10 seconds markers for small seconds dial. Lange further introduced blue, terra brown and grey dial colored versions for boutiques in the following years; probably to spice up the line a little bit.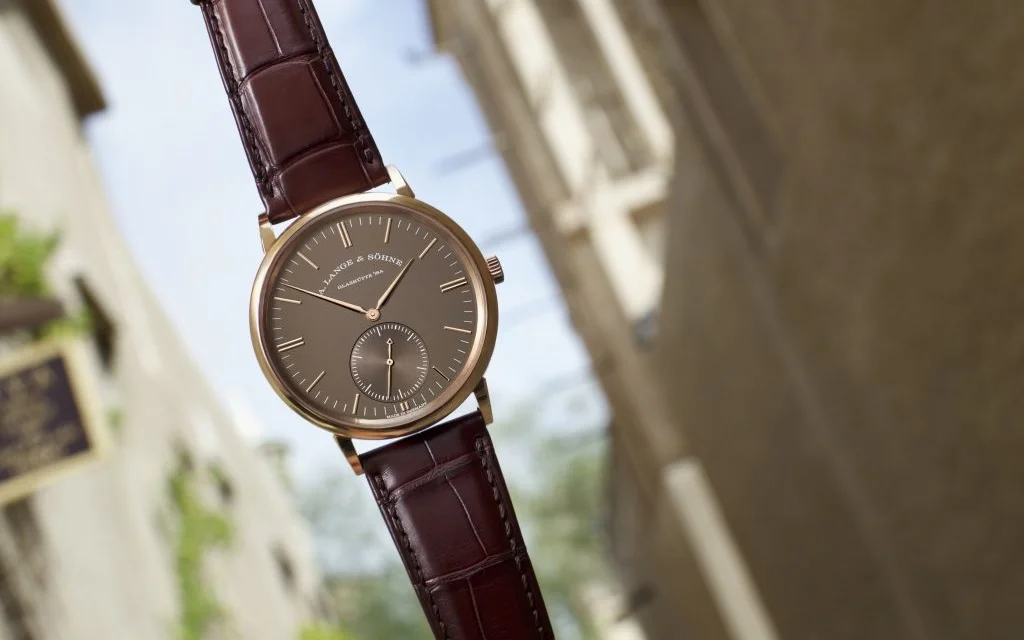 In 2018, A. Lange & Söhne brought back the outsized date to Saxonia collection with the introduction of white (381.029) and pink gold (381.031) versions with black dial and black date discs. The design template got even closer to early Langematik Big Date pieces, which is certainly for the better of the collection.
Saxonia Outsize Date is simplicity done extremely well. Both pieces measure at 38.5 mms in diameter, and exude absolute class in every angle. It is surely one of the best three-hand + date watches A. Lange & Söhne has ever made from the front. Again, the Langematik inspiration is quite obvious.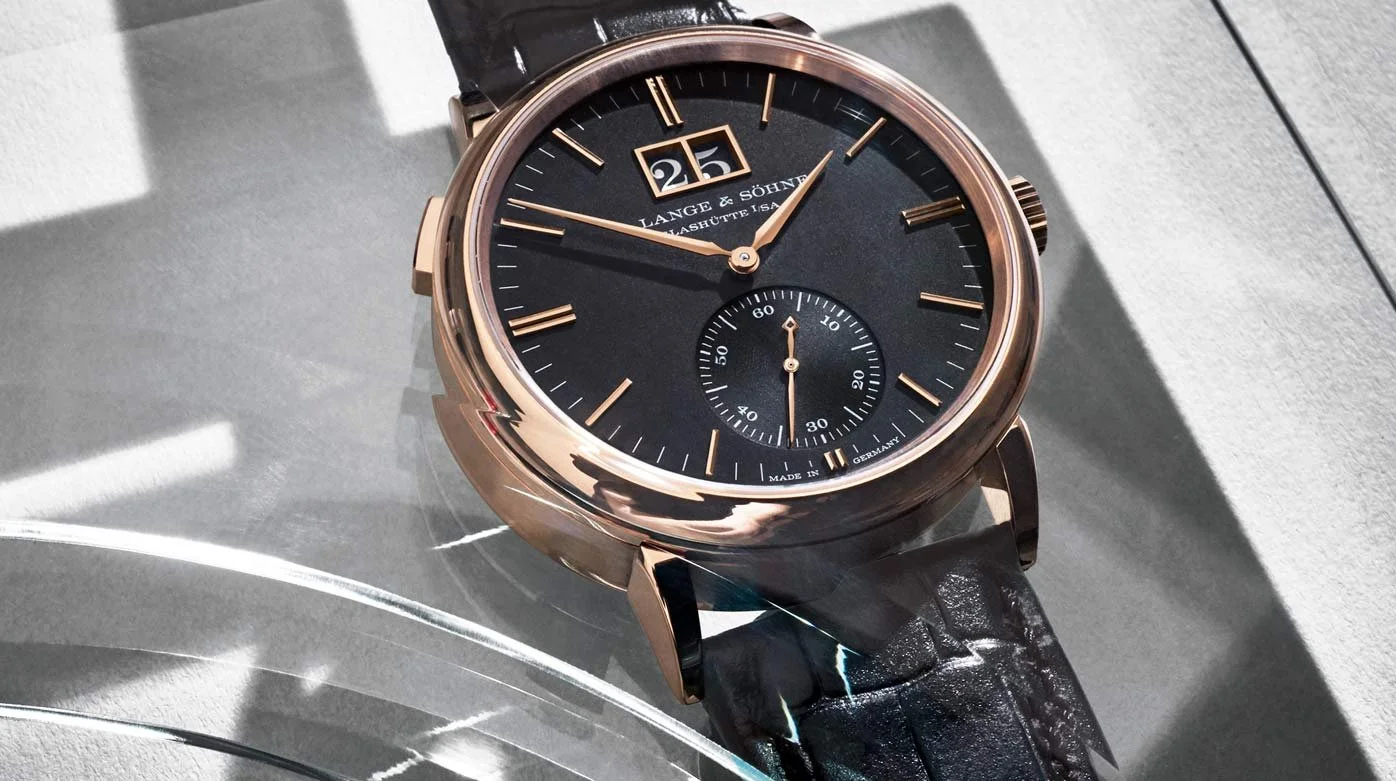 I must add that the pink gold version is much more lively and joyful compared to the white gold edition. Source: Lange Uhren GmbH.
The post 2011 Saxonia Automatic collection is as follows:
380.026 – White gold/silver dial (2011 – 2017)
380.032 – Pink gold/silver dial (2011-2017)
380.027 – White gold/silver dial, updated version (2015 – 2017)
380.032 – Pink gold/silver dial, updated version (2015 – 2017)
380.042 – Pink gold/brown dial, Ginza BTQ special edition (2016 – )
380.044 – White gold/brown dial, Ginza BTQ special edition (2016 – )
381.029 – White gold/black dial, outsize date (2018 – )
381.031 – Pink gold/black dial, outsize date (2018 – )
381.026 – White gold/silver dial, outsize date (2020 – )
381.032 – Pink gold/silver dial, outsize date (2020 – )
Saxonia collection is one of the main pillars of A. Lange & Söhne since the brand's re-birth in 1994. Even though it was given life in exchange of a betrayal to one of the guiding principles of the brand; soon Saxonia attained its own character through and through and sailed out to its adventure with much more confidence and nothing to hide.
Gone through many changes, I believe that the post 2007 Saxonia Manual collection (including the astonishing Saxonia Thin) offers tremendous value both in retail and perhaps even more so in the second market. I could say the same for the 1997-2007 Langematik collection which is utterly unique, characteristic with a stellar movement that truly reflects what A. Lange & Söhne about: No corners-cut, ahead of the curve and inspiring.
However, I am not a fan of the post 2011 Saxonia Automatic collection one bit. All I can hope for Lange is to bring an inspiring and daring design to the line.
Thank you.
I hope this was a valuable guide for whomever is looking for a Saxonia or just want to learn the details and history of these pieces. If you'd like to chat, sell or buy a Saxonia, please kindly reach out to me via [email protected]
Please feel free to contact:
Follow Langepedia on Instagram:
Watch "A. Lange Story" Documentary, in partnership with WatchBox:
Sign up for the newsletter to get to know first about rare pieces at Marketplace and in-depth articles added to the encyclopedia, for you to make the most informed choice, and first access!